"A New Pandemic": Healthcare Staffing Shortage in Ontario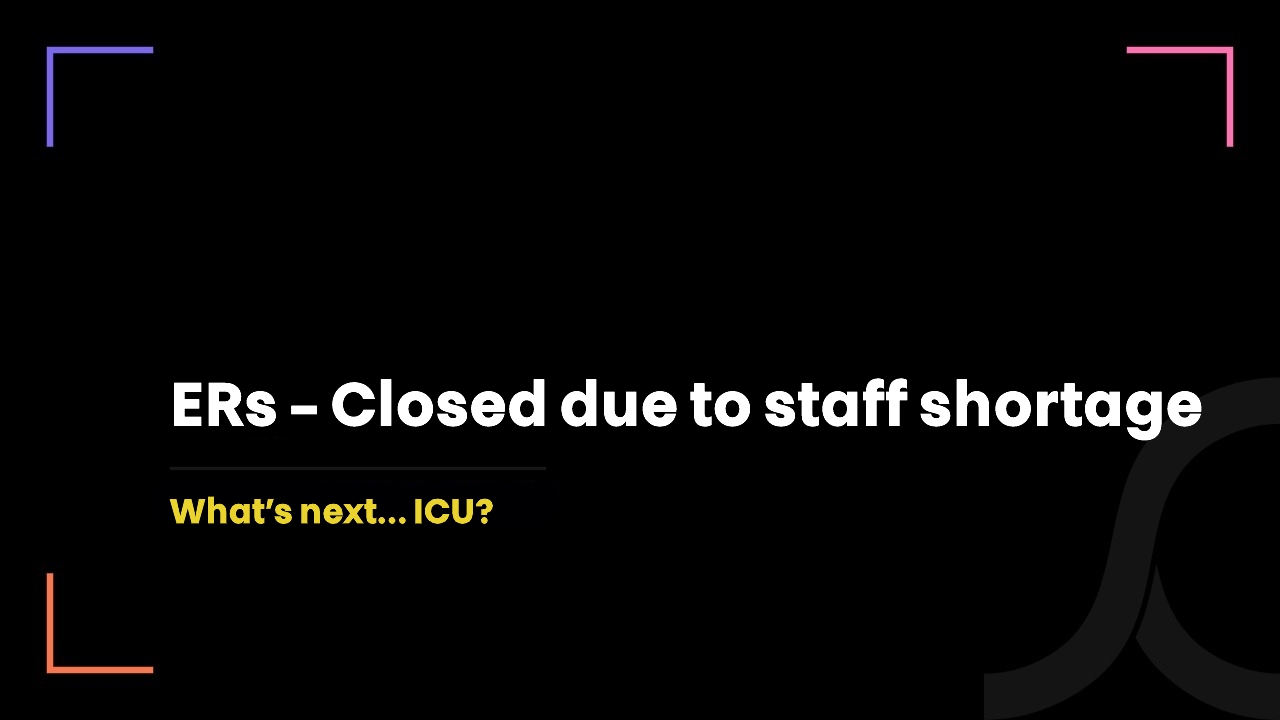 1 year ago
Healthcare staffing shortage is the new pandemic!
And here is the proof!
The situation is hazardous!
"The entire system is breaking down"
70,000 hospital workers are demanding to fix the staffing shortage as emergency rooms are forced to shut down.
The OCHU (Ontario Council of Hospital Unions) and SEIU Healthcare have sent a letter to Premier Doug Ford to take necessary actions such as raising wages and offering financial incentives to speed up the hiring process and encourage existing workers.
"Tens of thousands of nurses on the sidelines"
The situation is exhausting 🤯
Dear media,

Once again, please start profiling the stories of thousands of Internationally Educated Nurses #IENs in Canada, working in retail, factories due to layers of bureaucracy. Meanwhile, Emergency Rooms continue to close down all across Canada because we have no nurses.

— Birgit Uwaila Umaigba (@birgitomo) July 25, 2022
Ontario's largest multi-site hospital is looking for hope!
🧵To our community: Our hospitals are under immense pressure. Severe staffing shortages, high demand for hospital services, and the arrival of the 7th COVID wave are burdening our teams. These are the highlights. For more details, visit our website. 1/15https://t.co/XHaPfh5xvL

— Hamilton Health Sciences (@HamHealthSci) July 21, 2022
The entire healthcare ecosystem is collapsing as of the flawed impact on patients and healthcare workers
Healthcare staffing shortage is becoming a prominent headache.
It is poorly influencing the patients' care experience, outcomes and medical costs.
What's more important is that the existing healthcare professionals are under immense pressure because,
Not able to provide ideal care solutions at the right time
Failing to focus on a patient's needs due to repetitive tasks
Frustrated and disheartened due to the old-age care system
Mentally and physically exhausted
As a result, the burnout rate is rapidly rising among healthcare professionals.
In fact, many healthcare workers are ending their journey in a healthcare career.
It's a simple thing, who wants to work in an intense healthcare environment with a tremendous amount of workload, health risks, violence possibilities and not getting paid enough! 
And if the situation remains the same, you'll see the signboards in every healthcare entity like,
But how to overcome the healthcare staffing shortage in Ontario?
There are two feasible solutions here.
Solution-1: Speed up the hiring process
Forgot the old-age hiring process. Adapt something new that delivers experience in the true sense.
Here are a few ideas for it.
Promote work-life balance. Not just a job
Offer flexibility in scheduling
Ensure an ideal and pleasing work environment
However, as per the current scenario, it's not easy to hire new healthcare workers.
Means, focus on the existing staff in order to not let them experience the same exhausting situation.
But how to do it?
Solution-2: Implement health tech solutions
It offers positive results in the true sense.
Using robust tech solutions in the healthcare ecosystem helps in,
Reducing the workload for the healthcare professionals
Faster, reliable and efficient care solutions
Streamlines the workflows that save time and costs
Ensures operational efficiency
Enables to focus on improving the care experience of the patients
Lowers the burnout of the healthcare workers
Improves the work-life balance of the medical staff
Enrich physical and mental well-being
In fact, it helps you in retaining the new healthcare talent as you are offering more than just a job.
So, here is the list of the outcome-driven health tech solutions to put a full stop to the healthcare staffing shortage not just in Ontario but the entire Canada and the USA.
#1: Automation
Healthcare professionals almost spend 80% of their time on repetitive tasks such as data entry into EMR/EHR.
This process is tedious and complex, especially at the point of care. In fact, there is a high possibility of medical errors.
Using healthcare software automation, you can eliminate the need for manual data entry which directly helps in reducing the work burden on the medical staff while at the same time improving patient safety and care experience.
#2: Integration
Integration opens a wide range of solutions to reduce medical staff burnout and retain more talent as it enables,
Reduces repetitive tasks for the staff
EMR integration, medical device integration and IoT integration are the most common integration solutions.
#3:Patient education platform
The patient education platform is the thing that most large-scale hospitals avoid. But it holds the potential to reduce the workflow of the medical staff.
For instance, it eliminates the medical staff's need to focus on patients' medication management, nutrition requirements and many more other key responsibilities as patients can be able to self-care effectively.
#4: Remote patient monitoring
What makes it a special tech solution is that it enables the healthcare entities to improve patients' care experience and optimize the workflows for the medical and administrative staff.
Remote patient monitoring offers flexibility and transparency without any hassle.
#5: Patient intake
Patient intake apps or software give peace of mind to the entire healthcare ecosystem.
As it eliminates – waiting in the waiting room for patients, manual data entry, and hassle of the data collection.
#6: Healthcare staffing app or software
A solution to register a victory against the healthcare staffing shortage crisis!
It enables healthcare organizations to hire on-demand healthcare talents hassle-free.
For instance, the BookJane app is fulfilling the real-time staffing requirement of the care facilities.
Let's fix it together! (With your guts and with our healthcare IT knowledge)
Based in Ontario, we are full-fledged healthcare IT company.
We only entertain healthcare IT projects.
We have a solid vision to fix the broken leg of the healthcare ecosystem.
We offer experience. Not just a product.
We strive to add up big results to our healthcare clients' vision.
We have 50+ healthcare IT professionals who hold a combined 250+ years of experience.
So, let's address the biggest concern of the healthcare industry together!