Business Model of Pharmacy App: How to Make Money With Medicine Delivery App?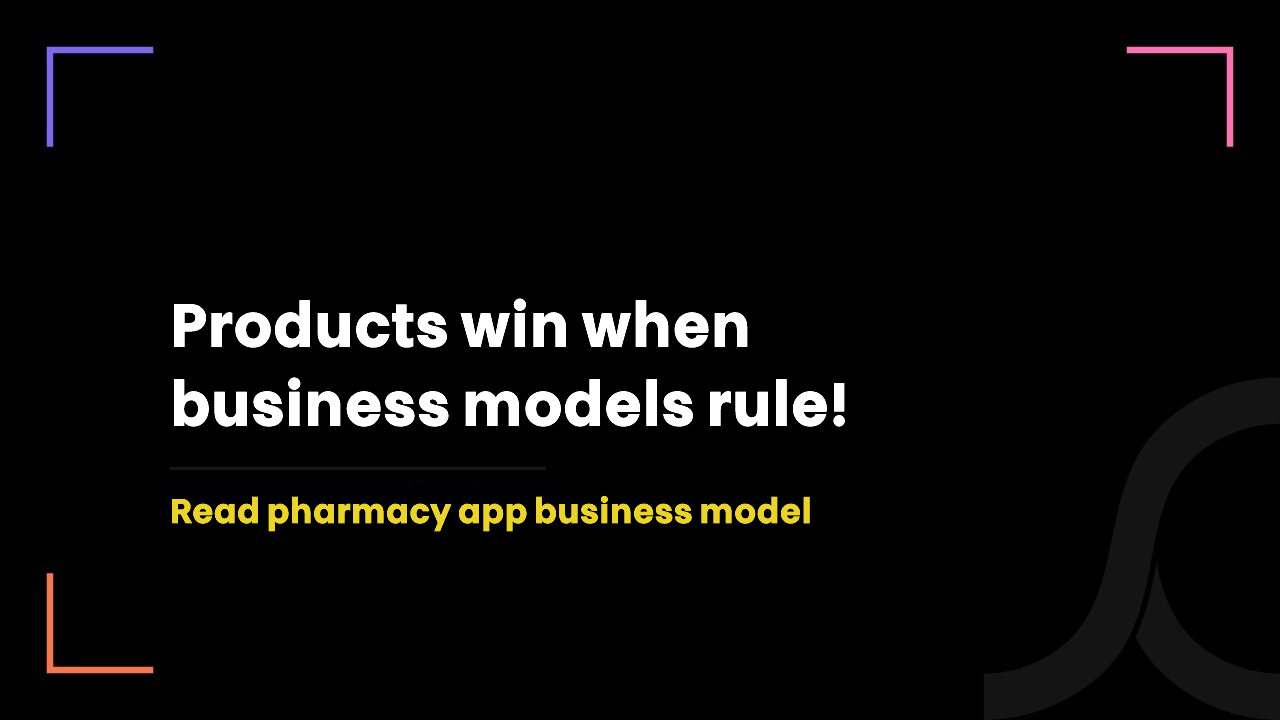 6 months ago
Do you wish to be the most financially literate man in the room full of pharmacy app owners?
If yes, then you've landed on the perfect page to gain knowledge for making profitable decisions as a medical delivery app owner. 
Join us to get all your questions related to online pharmacy app business models answered in this blog post.
Our other useful resources:
Which are the top pharmacy app business models?
There are two major types of business models for medicine delivery apps.
The type of your pharmacy app defines the right business model that you should opt for.
First, let us discuss the types of business models based on your pharmacy app. 
Type #1: Pharmacy app owned by pharmacy stores
Pharmacy stores that run their business operations in a locality, build a mobile app to expand their operations and get higher sales through the digital medium.
They receive new prescriptions and refill orders online through a mobile app.
The data gets stored in their Pharmacy Management Software then, they fill the prescriptions and deliver them to the patient's houses. 
Business model:
It is suitable for large pharmacies that can store a huge stock of medications. It is also suitable for companies wanting to expand their business with the help of digital media.
This model offers multiple benefits. One of the main is brand recognition, making it easy for the pharmacy to attract new customers and build a large user base. 
As the major revenue stream is the prescription fee, the pharmacy can boost its income by getting more prescription orders.
There's just one limitation: the pharmacy must have a large inventory to offer.
Type #2: Pharmacy app marketplace
This type of pharmacy app works as an independent app that acts as an intermediary between patients and third-party pharmacies listed on the marketplace.
As you don't have to manage medicine inventory and other pharmacy workflows, it becomes very easy to run operations of the pharmacy app marketplace. 
You just have to provide the address of the listed pharmacies to your delivery drivers to fetch the prescriptions from pharmacies and deliver them to patients.
Business model:
You get a fixed percentage of incentive on each prescription order that is placed by users through the platform.
This business model works the same as DoorDash, Uber, and Airbnb.
You just need to provide an online medium to the pharmacies for increasing their sales and earning a fixed portion of their income through the platform.
You will have to choose one of these two business models before building your medicine delivery app. It will help you in organizing the development process better, use the best features, and find an experienced vendor.
Monetization strategies: how to make money with pharmacy apps?
To avoid any confusing situation, we are going to share monetization strategies for you regardless of the type of your pharmacy app.
In any of the above cases, you can let the third-party pharmacy utilize your online platform to find new customers and sell medicines online.  You can take a fixed percentage of commission on every order as discussed above.
You can offer several subscription plans to your users which can help them to save money in the long term and help you to build customer loyalty.
Each subscription plan offers extra benefits such as free delivery, priority delivery, assured discount, family plan, free consultation, etc.
Patients need to have medical consultations before placing prescription orders. You can add the feature of teleconsultation so the patients can consult the physicians virtually and order medications from your pharmacy app.
The addition of this feature will not only increase your user base but also, lets you generate one more very profitable revenue stream.
Mobile ads are one of the most popular monetization strategies. However, you'll have to be careful during its execution as it may affect your users negatively.
Here, you show third-party relevant ads on your app and get paid based on the number of clicks on that ad banner.
In addition to medicines, you can also sell medical and wellness devices, supplements, self-care equipment, oral care products, skin care products, OTC medicines, etc.
Built-in Promotion feature
This feature is only suitable for apps that act as marketplaces for third-party vendors. You can generate revenue by allowing the pharmacies to promote their business inside the application.
How much capital is required to build and launch a pharmacy app?
In case you are wondering, the capital cost is the money you would require to successfully build and launch a pharmacy app.
The total capital cost required to start an online pharmacy includes,
It will vary from $10K to $90K+, based on your needs.
For instance, if you build an MVP version of a cross-platform app, it would cost you somewhere between $25K to $50K, and in many cases even more.
But if you end up building a web app, it would cost you 20% to 30% less than the mobile app.
And if you want to build a custom full-fledged pharmacy app, it will cost you even more than $50K as it accommodates advanced features working on cutting-edge technologies.
(Please note, it is never feasible to estimate development cost without knowing your exact requirements as there are too many factors that influence the total cost.)
You need to have dedicated people to make sure all pharmacy operations performed online via the app are running seamlessly.
The most basic requirement is for the customer support team to answer the queries of users.    
If you are also offering telemedicine service, you need to hire or onboard physicians too. You also need to hire delivery drivers for seamless logistic operations.
And if you are running your online pharmacy operations on a large scale, you must also have an in-house IT team to look after and maintain the app. (You can outsource it too.)
You need to allocate a budget for your app marketing as it is difficult to survive in the overly intensified market of online pharmacies without a proper marketing strategy.
For high ROI and desired outcomes, you must have separate budgets and plans for pre-app-launch marketing and post-app-launch marketing because marketing is an ongoing process.
How much is the operating cost of a pharmacy app?
Operating cost is nothing but the money you need to spend to keep your pharmacy app running.
Two major operating costs include,
Developers do not have any practical option other than integrating APIs to achieve some features easily and not letting development costs skyrocket.
However, each of these API providers charges you either a fixed monthly fee or a monthly fee based on usage.
For instance, payment API providers charge a fixed percentage of commission on every transaction. Communication (chat, voice call, SMS, video call) API provider also charges based on usage.
App Maintenance & Upgradation
A pharmacy app is a piece of technology and it needs to be maintained for flawless working.
With changing scenarios of the market and changing needs of the users, you also need to upgrade existing features or add new features.
Some other common operating costs include,
Customer support and service
Ongoing marketing
Staff management
So, planning to build a medicine delivery app? We can help you with development, compliance & business model
We're an Ontario-based healthcare-focused IT company.
Or, we are a Canadian IT company that has only been entertaining healthcare IT projects.
But why only healthcare?
Well, because we strongly believe that healthcare requires specific knowledge.
With generalized knowledge, you can't assure the clinical outcome our healthcare industry is known for.
Talking about pharmacy app development, we have built several full-fledged pharmacy mobile/web apps for Canadian and American pharmacies.
We do have ultimate expertise in Kroll integration and integration of other Pharmacy Management Systems.
Our dedicated healthcare developers, UI/UX designers, business analysts, and compliance specialists are known for their Canadian standards of work and American standards of innovation.
What we promise to deliver in addition to our development expertise is help with every business aspect including defining the business model and finding revenue streams.
Meaning, we're well-equipped to lead your way through technical, business, and compliance challenges to the core of your users' hearts!