How to Not Start a Healthcare SaaS Startup?: Art of Starting Healthcare Business in 2022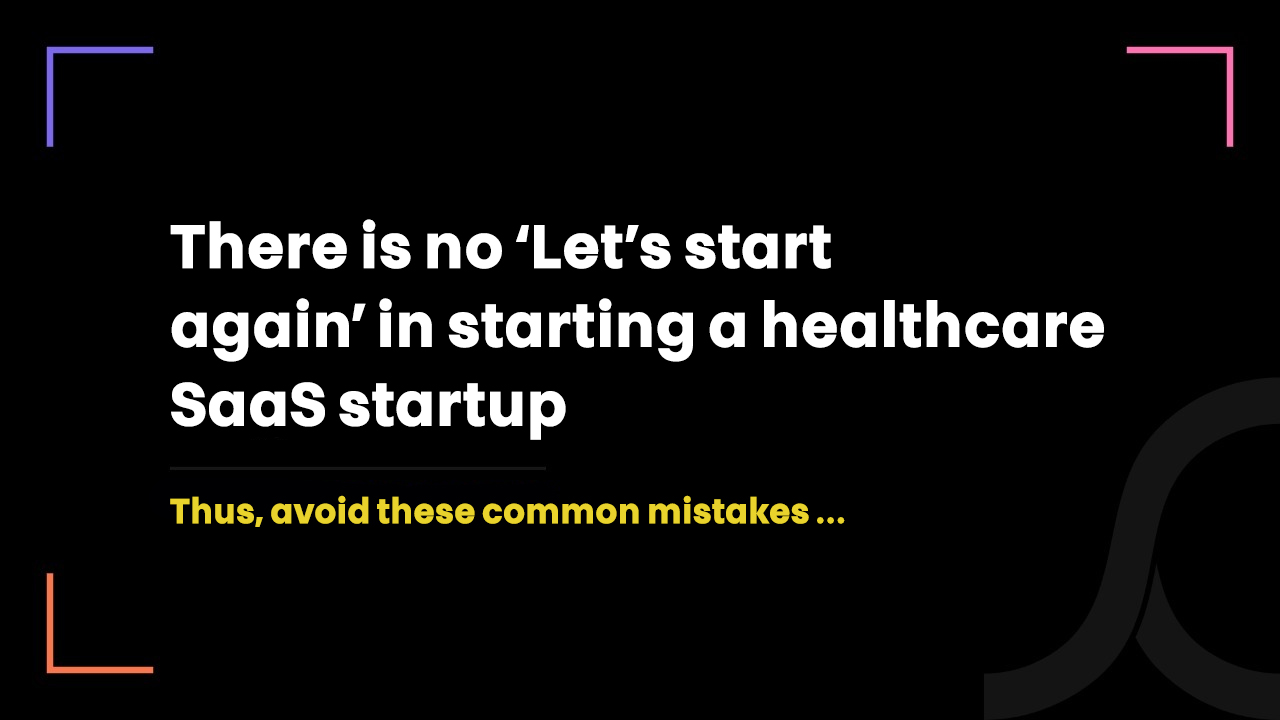 2 years ago
Sitting in Starbucks near my office in downtown Burlington, me and one of my business friends who turned healthcare entrepreneur in 2018 were discussing possible reasons why his healthcare SaaS startup failed to attain market share.
A little background of his healthcare startup:
His name is Arin. And due to obvious reasons, I cannot share his 'failed' startup name.
But I was permitted to share his startup story so that others can learn lessons from it and start a healthcare SaaS company successfully.
He built a telemedicine platform for providers and was letting providers use his telemedicine platform under the SaaS model.
His target audience was healthcare providers, nursing homes, LTC homes and home care agencies.
He launched his healthcare SaaS startup in 2018. In 2020, during the first wave of the pandemic, while other telemedicine startups were witnessing unprecedented growth, Arin's startup was struggling to survive.
And that was - like you - strange to me as well. So, I finally decided to meet Arin and decode why his healthcare SaaS startup failed and learn the art of starting a healthcare business.
The following is our conversation. You can take it as a practical guide on how to not start a healthcare SaaS startup.
Our other very interesting healthcare resources:
How to not start a healthcare SaaS company? - Learn lessons from Arin's mistakes
Me: Arin, what did you do next once you got the healthcare startup idea?
Arin:
Well, I made the first blunder.
I shared it with my friends and family members and they all encouraged me to implement the idea.
Instead, I had to ask my real users, study the market, find my potential competitors & evaluate their strategies.
Since I blindly followed my gut feeling and my friends and family members who by the way are always ready to support me even if I am doing something wrong, I hurriedly hired the app development company and paid 50% of fees in advance.
Me: Did you even validate your startup idea?
Arin:
No, I undervalued the importance of healthcare startup idea validation. If I had validated it, I would have all the information of my users, competitors and how I should provide them with value.
But I didn't. Thus, I ended up estimating the wrong market and user needs.
For instance, one of my target audiences - home care agencies - requires a remote patient monitoring system more than a telemedicine platform. But I neither built it nor integrated it with my telemedicine platform and none of the home care agencies showed interest in my platform.
If I have to start a healthcare SaaS startup now, I would invest almost 1 month in just validating my startup idea. That's the most important thing.
Me: What about the business model? Do you think there was something wrong with your business model?
Arin:
Yes, I failed to generate multiple revenue streams.
When I launched my SaaS startup in 2018, I was generating revenue with a single revenue stream. My customers were paying me a fixed monthly fee for using all features of my platform.
It was going fairly well till 2020. Once the pandemic hit us, all telemedicine SaaS companies quickly started introducing new services for the sake of generating new revenue streams.
They introduced online pharmacy services, virtual mental health services and healthcare eCommerce services from the same telemedicine platforms to let their users make more and pay more as monthly platform fees.
And you know what, the majority of providers were ready to pay extra as their patients were also demanding multiple services from the single platform.
I figured it out very late. And when I figured it out, I did not have the budget to add such features to my SaaS telemedicine platform.
This way, even though I wanted to generate multiple revenue streams, I was not able to achieve my target.
Me: Talking about budget, did you make mistakes in budgeting as well?
Arin:
Unfortunately, I did.
I hired a non-healthcare-specific IT company to build web and mobile apps for my startup idea.
They did not help me with healthcare compliance as they didn't have any healthcare compliance experts. So, I had to hire healthcare compliance consultants from the open market by paying them extra.
Secondly, my hired tech company - due to their inability into EMR/EHR integration - left me with no choice but to hire interoperability experts by paying extra to integrate EMR/EHR with my platform.
My hired tech company did not only negatively impact my budget but they also delivered my telemedicine platform after almost 1 month of the deadline.
Another major mistake I made was building a full-fledged platform rather than an MVP platform.
If I had chosen the MVP platform, I would have the flexibility to launch the platform with basic features and invest more to add new features only after testing it in the real market. This way, I could have kept financial risk to its minimum.
So, you can say, from the first day, I was building a failed healthcare SaaS startup.
Me: Okay. You launched your startup the wrong way. But what about running it? Did you run it the wrong way too?
Arin:
I didn't run it the wrong way. I ran it manually.
I hired almost 40 people to keep my SaaS startup running by simply solving the queries of the customers and addressing their payment dispute requests.
They were spending most of their time doing the same repetitive back-office tasks on computers and taking a huge salary.
Later I found out that I could have saved more than $50,000 on manpower each month by deploying automation to complete all back-office tasks and a chatbot to solve all questions of customers.
But this time too, when I realized, it was too late. I did not have capital.
6 lessons you must learn from Arin - an entrepreneur who founded a failed healthcare SaaS company
It isn't one mistake that fails your startup. But it is a series of mistakes as a result of that one mistake that fails your startup.
Don't get excited over the healthcare startup idea. Validate it first.
Don't rely on only one revenue stream. Generate as many revenue streams as possible.
Always hire a healthcare-specific app agency or IT company. Knowledge should be specific in the healthcare industry.
Keep financial risk low. MVP model helps you a lot here.
Don't hesitate to replace humans with automation who are doing not-so-intelligent tasks.
And by the way, if you are wondering, I am leading the group of Canada's most intelligent healthcare app developers, designers, business analysts and compliance experts.
We can brilliantly help you build a successful healthcare SaaS startup or help you starting any healthcare business with our 7+ years of experience and expertise in healthcare IT.
Because we know how to not start a healthcare SaaS company!