How to Develop a Better Telemedicine App than Teladoc or the Best Teladoc Clone?
3 years ago
Short answer:
With 7 years of expertise, a micro-level of work and a well-defined SOP & team!
Long answer:
Not all app development companies out there feel confident to share their working methodology.
But we are!
Because, we are so confident that others' will surely learn something - but they can't copy our passion, mindset and work.
And this will also help our clients and business partners to know how we take their telemedicine app ideas to reality with accuracy, persistence and team efforts.
Our other very useful and interesting research:
Our expertise + Micro-level work = Your guaranteed success with Teladoc clone!
Step #1:
It all will start with you filling out our contact us form or mailing us at hello@syscreations.com. 
Step #2:
The moment you submit this form, we both will get automatic emails.
We will get the email with your filled details.
And you will get an email similar to the following. 
Step #3:
Once we get your message, we will get back to you within 4 hours or less than it.
And yes - our CEO himself will get back to you as we don't have salespersons.
Because we strongly believe the person who contacts us should get the opportunity to get the knowledge from CXOs. 
He will fix the virtual meeting and in that virtual meeting, he will,
Understand your requirements
Give you

complimentary business, technical and compliance consultations

(such as monetization strategies, app type, app features, EMR/EHR integration, market trends, privacy laws, PIA, TRA, etc)
Make you familiar with how SyS Creations will help you (such as business model, business strategies, app deployment, compliance audit, post-app-launch support, etc)
Give you a rough estimation
(You will be paying for not the app we deliver - but for the telemedicine tech, business and compliance expertise we are delivering exclusively.
And you won't spend, you will invest - with high ROI possibilities!)
Once you make your mind to invest - we will instantly start working toward your dream project.
Step #4:
Our CEO himself will make the team - dedicatedly for your telemedicine app project only.
The team will have,
The client success manager
The development lead + healthcare app developers
The design lead + app designers
The QA lead + QA engineers
The compliance specialist
The coordination manager (to keep you updated and to solve all your doubts)
Step #5:
We will study your market, competitors and business goals.
Why?
Because it will help us to define the best strategies for you to outperform your competitors and dominate the market.
Step #6:
We will prepare the app requirement document. It will include,
Business requirements
Mobile app objectives
User journeys
List of app features
Monetization model
App's technical specifications
API/EHR/EMR integration requirements
Top risks
Risk mitigation strategies
Step #7:
The compliance specialist will prepare the compliance requirement document. It will include,
Applicable data privacy laws
Requirements of applicable data privacy laws
Compliance strategies
Compliance audit method
PIA/TRA strategies
Possible risks and risks mitigation measures
Step #8:
The design team will design the wireframes of your telemedicine app.
They will utilize all modern app designing approaches and make a user-friendly and minimalist design based on user journeys.
Here is the telemedicine app wireframe. (Our in-house design!) 
Step #9:
Based on wireframes, the design team will complete the frontend design of the app.
The following is the final design of the telemedicine app.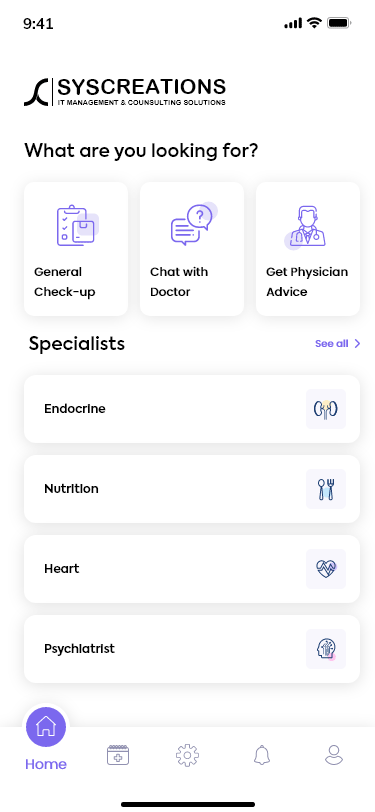 Step #10:
The development team will now take over.
They will now develop each and every app module.
They will spend here 8 hours a day with a goal to develop the telemedicine app users have never used before! 
All of them are equipped with high-performance desktops and laptops because we believe in productivity and on-time delivery!
The features they will add in your telemedicine app like Teladoc are,
Doctors App Features:
Doctor Profile
Speech Recognition
Mass Messaging
Easy Access to Patient's Data
Appointment Management
Appointment Reminder
Communication Methods
Medical Notes
Sick Notes
e-Prescribing
Analytics
Appointment History
Billing & Earning
Users App Features:
User Profile
Nearby Hospital/Pharmacy Finder
Symptom Checker & Tracker
Appointment Booking
Appointment Reminder
Communication Methods
Medication Tracker
Medication Reminder
Payment
Review & Feedback
Appointment History
Talking about the technology stack,
Android App: Kotlin, Java
iOS App: Swift
Backend: Node.js
Video Calling: Twilio, WebRTC
Chat: Twilio, Vonage APIs
Database: Amazon Relational Database Service (RDS)
Notifications: OneSignal
Geolocation: Google Maps Platform
Meanwhile, the compliance expert will guide the development team to address all technical requirements of data privacy laws.
Step #11:
The compliance expert will now carry out compliance audits on every app module and workflow.
If he will find any privacy violation, he will ask the development team to fix it.
This way, he will make sure that your telemedicine app will be compliant with all data privacy laws such as HIPAA, PHIPA, PIPEDA etc.
Step #12:
The QA team will come into the picture. It will test the app in different scenarios to test its performance and identify bugs.
If there are bugs, the QA team will submit the report to the development team and it will fix the bugs.
With every small change in the app, the compliance expert carries out a fresh compliance audit.
This way, we won't leave anything unnoticed and unsolved!
Step #13:
Once everything will be validated by our CEO himself (and you of course), the development team delivers you the codebase and adds the app on Google Play Store and Apple App Store.
Step #14:
Even after the app launch, we will provide you support for any technical, business and compliance issues.
Imagine your success if your technical partner works at so micro-level with a well-defined SOP!
Let's connect to develop the telemedicine app - working and looking better than the Teladoc app!