How Will Telemedicine After COVID-19 Look Like?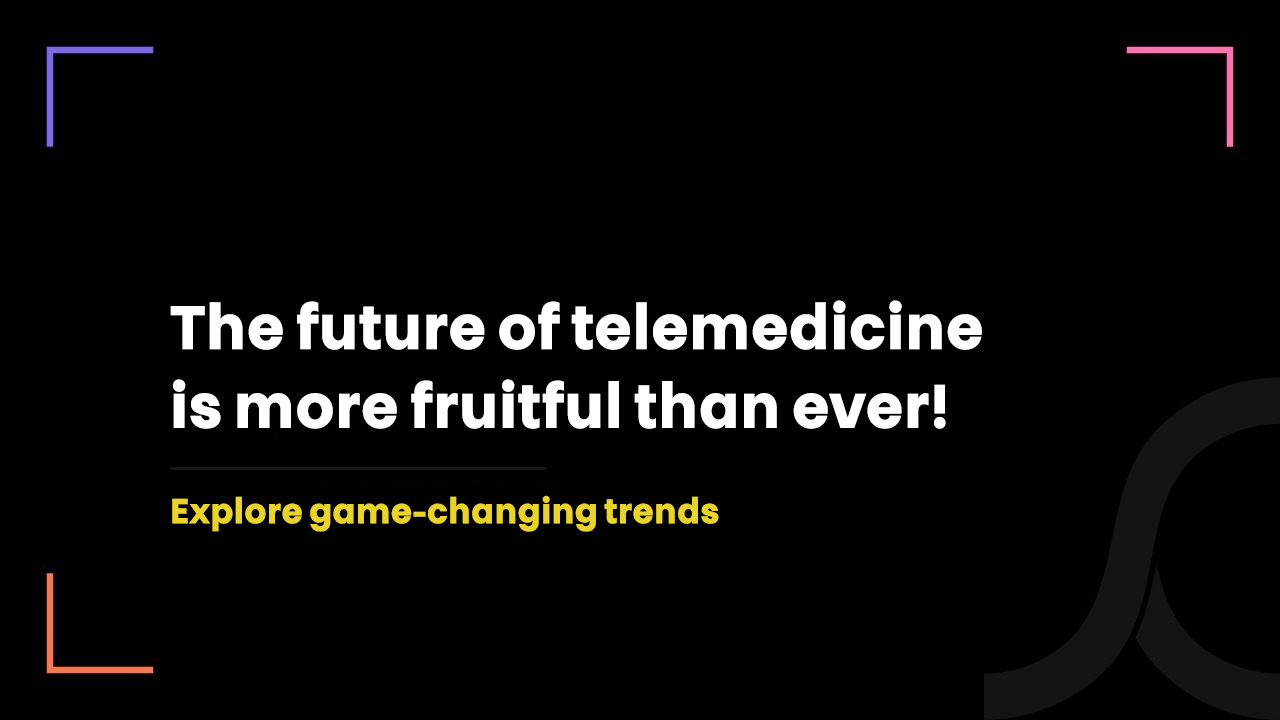 2 years ago
If you are planning to acquire a telemedicine platform in Q3 or Q4 of 2021, you must have a very valid question, does telemedicine have any future after COVID-19?
Future of telemedicine after COVID-19
Well, the fact is telemedicine is here to stay. However, it won't sustain its current state. Meaning, telemedicine will stay here but in a different form.
Let us simplify this.
Telemedicine tech has evolved greatly since the first wave of the pandemic and has now attained a significant state of innovation.
For instance, it started as a video communication medium between patients and clinicians to avoid any direct contact.
But fueled by the pandemic, it evolved to a more advanced version which wasn't just limited to consultation but online appointments, virtual waiting room, ePrescription, medication reminder etc.
And in the first two quarters of 2021, it advanced into the most innovative healthcare tool that aims to streamline entire clinical workflows and patient journeys.
Developers and healthcare startups have introduced several new use cases of telemedicine and align several useful technologies with telemedicine to leverage it.
The best examples here are integrating an online pharmacy module with a telemedicine solution and utilizing remote patient monitoring tech to monitor patients remotely from the telemedicine platform itself. 
Our other very interesting healthcare resources:
Here is how telemedicine after COVID-19 will look like
Yes, this is imagination but we make sure it will be the most accurate one!
Telemedicine apps will have more users than ever. Why? Because people - during the pandemic time - have discovered and experienced how useful telemedicine can be.
They now agree that telemedicine saves their healthcare cost and time. And that's what matters most to all patients.
Additionally, wait time in hospitals will be at an all-time high after COVID-19 as both clinicians and patients have delayed non-COVID-19 related healthcare issues to a great extent.
As a result, more patients will opt-in for telemedicine to seek healthcare services within hours.
Televisits will become more affordable as more telemedicine providers will roll out family subscription plans.
With high demand at the user front, the majority of private healthcare insurance providers will provide full coverage for televisits.
The government will also bring televisits under the coverage of health cards by introducing permanent televisit billing codes for clinicians.
Telemedicine + online pharmacy
From a single platform, patients will be able to talk to clinicians, receive ePrescription and order medicines prescribed by the clinicians. Patients can also purchase over-the-counter medicines from the telemedicine platform without any prescription.
PocketPills - an Ontario-based Canada's top online pharmacy - has last year rolled out telemedicine features from its online pharmacy platform.
Telemedicine + remote patient monitoring
One of the limitations of telemedicine is that clinicians, caretakers or patients themselves have to manually measure the vital body signs of patients.
But in the post-pandemic era, telemedicine with a built-in remote patient monitoring system will enable clinicians to know the real-time as well as historic data of vital body signs from the telemedicine platform itself.
Telemedicine + healthcare eCommerce
All telemedicine platforms will have a dedicated module to let patients or users buy wellness and healthcare products including medical devices, supplements, hair care products, oral care products etc.
Telemedicine + wellness + mental health
Use cases related to wellness and mental health will be introduced in the telemedicine model. For instance, patients can track their mood, overall mental health, weight, food intake, sleep, workout etc from the telemedicine platform itself.
And when needed, they will be able to connect to healthcare professionals for any clinical, wellness or mental health purpose with a few clicks.
Televisit will start with a symptom checker
Almost all telemedicine apps will have a symptom checker where patients can check their symptoms and validate whether there is a matter of concern or just a simple winter flu.
This symptom checker will work on AI and machine learning technologies and diagnose symptoms very accurately.
As of now, only a few telemedicine apps provide a symptom checker. One example is Babylon by TELUS Health.
In-video voice and gesture analysis
Sophisticated AI and machine learning algorithms will be analyzing a patient's voice and gesture while being in the live video call with clinicians to estimate how severe symptoms and pain are.
Because, unlike in-person visits, clinicians are not able to understand the severity of healthcare issues in virtual visits.
Telemedicine assisting in clinical decision-making
Clinicians see telemedicine as the basic mobile app useful to deliver care remotely. And they are right. They need more advanced tools that telemedicine platforms haven't yet provided them. One such tool is the clinical decision support system.
But in future, there will be a built-in module for clinical decision-making in the telemedicine platform that assists clinicians to make accurate clinical decisions or validates the already made clinical decisions.
The module responsible for clinical decision making will be working on data science, AI and machine learning techniques and large datasets of historic clinical data.
Get your own telemedicine solution with advanced features for the post-pandemic market
We're an Ontario-based healthcare-focused IT company and have been dealing with telemedicine tech and compliance for more than 7 years.
To empower all clinicians with telemedicine tools and technology, we last year launched a white-label telemedicine platform that is much more affordable than a custom one.
Based on client reviews and market trends, we kept adding new features and updating the UI for more than 14 months.
And now, we've achieved its 2.0 version - which is a more advanced and technologically masterpiece - specifically developed and designed while considering the post-pandemic market.
Here, we are sharing some of its real screenshots which we will also show you in action in a free demo session.