Best Telemedicine App for Doctors in Canada & USA: Get Live Demo of our HIPAA-compliant Telehealth App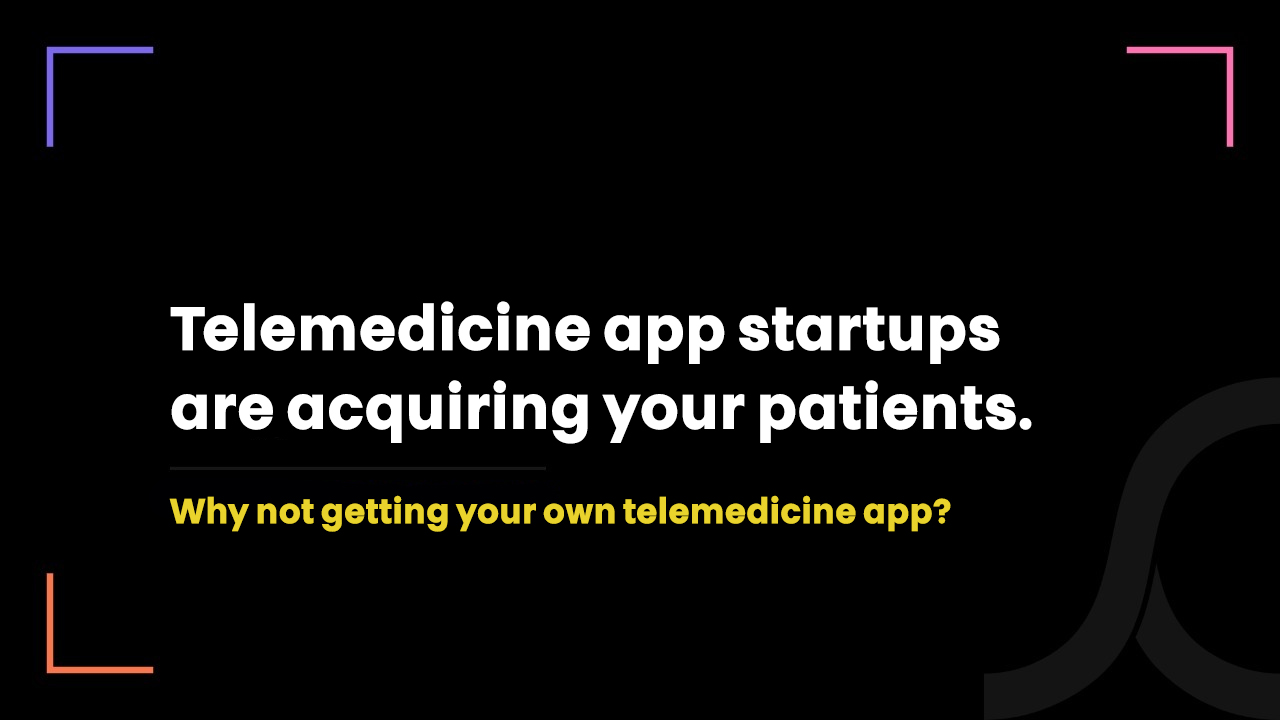 2 months ago
With patients preferring online consultation over in-person meetings with healthcare professionals, doctors leave with no choice than adopting virtual care or telemedicine solutions.
According to our internal survey, around 37% more healthcare providers are providing online consultations in March 2021 as compared to March 2019.
And around 62% of healthcare providers are considering switching to telemedicine platforms due to rising demand for virtual care solutions.
So, if you are one of them and planning to build a telemedicine app, this blog is for you.
To help you understand it better, we have also shared the links to the live demo of our white-label telemedicine for doctors.
Are online consultations legal for doctors in Canada and the USA?
Yes, it is.
In fact, the government, universities and medical organizations are promoting the use of virtual care due to its safety, affordability and ease of access.
However, they are recommending a few technical and clinical steps to ensure quality care and to ensure the privacy of ePHI.
For instance, the Canadian federal and provincial governments have imposed several data privacy laws which apply to the mobile/web apps doctors are using for online consultation.
The only goal of these laws is to make sure adequate measures are taken to protect the personal and medical data of patients.
Same way, OTN (Ontario Telemedicine Network) has published some basic technical, privacy and security requirements for all telemedicine solutions or apps in Ontario.
You can read OTN requirements here.
Thus, if you follow all guidelines - especially government guidelines - you will not get trapped in legal trouble.
But if you offer online consultation with a non-compliant telemedicine app or website, privacy commissioners will send you the summon!
A complete overview of telemedicine app for doctors
Virtual care is much easier, faster and more convenient than in-person consultation.
The resources you would require:
You just need 3 things to start your online consultation solutions in any part of the world.
Telemedicine for doctors app
Smartphone, tablet or computer
Internet connection
If you are thinking of Skype or Zoom for telemedicine, you must drop that idea right now.
Here is why: Skype or Zoom for telemedicine
The step-by-step process for online medical consultation:
Step-1: The patient himself books the appointment or you book it on behalf of him if he is your existing patient.
Step-2: Personal details and health card details are required to book the appointment. (If a patient is uninsured, payment details are required.)
Step-3: You and the patient both get a reminder for the upcoming appointment.
Step-4: By clicking on the joining link, you and the patient can join the secure video call.
The patient onboarding workflow in telemedicine for doctors:
Things you can accomplish using telemedicine for doctors:
Telemedicine app is not just limited to video consultation, there are several other clinical tasks you can easily perform using it.
And here is the complete list of it.
EHR/EMR integration, you can easily access the patient's medical history and other details from the telemedicine app itself.
You can prepare the medical note while having the video call.
You can explore the drug directory and write the ePrescription.
If you need to refer the patient to a specialist, you can write the referral note and send a referral to the specialist from the app itself.
The referral note is auto-generated. You only need to add the refer message. The app adds the rest of the things such as the patient's details and introductory message by itself.
You can write the ePrescription which gets stored under the patient's profile.
The patient now needs to select the pharmacy to get the prescription delivered to his doorstep.
The patient can download the medical note and sick note in PDF format.
If he is uninsured, he can make the payment from the app itself.
The app reminds him to take the medication on time.
The app also reminds him to book a follow-up appointment.
You must also read:
The basic virtual care workflow for your easy understanding:
What physicians and telemedicine experts have to say about an online consultation app?
We on average meet 5 physicians and telemedicine experts in a week.
All of them tag online consultation as the future of healthcare.
They everyday experience how telemedicine solves major 2 challenges of our healthcare system – long waiting times and costly care.
Talking about the global leaders, well, emergency room physician Dr. Brett Belchetz has launched the telemedicine platform named Maple to connect physicians and patients virtually.
He said that Maple works like the Uber model where they just provide a platform where physicians and patients can talk virtually.
In this video, he explains how virtual care transfers healthcare.
However, Aude Motulsky, a research scientist at the University of Montreal Hospital Research Centre has highlighted a major limitation of virtual care delivery.
He said, "The biggest issue with such services is quality of care when physicians don't have access to a patient's medical history."
This is why it is very crucial to integrate EHR/EMR with telemedicine which facilitates doctors to know the medical history of the patients from the app itself.
Which is the best telemedicine app for doctors?
A dozen technology companies have launched a telemedicine app for doctors in Canada and the USA in the last couple of years.
The following are the top online consultation apps for doctors.
Individual doctors can register on these apps and provide online consultations.
They can also buy a subscription to one such app to deploy it at their clinics and provide virtual care to their patients.
1. Maple
Maple is the top-rated telemedicine for doctors in the market.
It simply lets patients connect with the GP via chat, audio or video consultation.
What makes it special is that – it offers round-the-clock telemedicine solutions 24/7!
Pros:
Prescriptions
Sick notes
Portable medical records
You should read: How to develop a telemedicine app like Maple?
2. Babylon by TELUS Health
Both Maple and Babylon are almost the same.
However, there is one thing that sides apart Babylon.
It's an AI-based symptom checker that helps patients 24/7 with their symptom-related queries.
Pros:
Fixed fee
AI-enabled chat-style symptom checker
Save clinical record
3. Akira
Pros:
Top-rated telehealth app
Treat a wide array of mild medical issues
Users can access dietitians and mental health specialists
Encrypted conversation
Referrals for lab tests and specialists
4. Dialogue
It is the largest virtual healthcare clinic in Canada.
What makes it special is that – it also enables patients to get prescription delivery services.
Pros:
Instant call with a healthcare provider
Talk to a doctor via text, call, video
Easy follow-up appointments
Clean and appealing UI of the app
Referrals to in-person specialists
Coming back to the question - which is the best telemedicine app for doctors?
The answer is - none of these.
Why?
Because, if you want to use these apps in your clinic or hospital, you should pay them a monthly or yearly fee which is either fixed or based on the number of patients.
In return, you get the app that they have developed for all – not for you!
And the one-fits-all approach does not work in healthcare.
For a better understanding, here is the difference between custom and third-party telemedicine apps.
Your own telemedicine app vs third-party apps
There are multiple reasons that showcase that developing your own online consultation app is the only way to add value to your virtual care solutions.
When you develop your own app, you own it completely and are free to make the changes the way you like.
Whereas, in subscription-based apps, you own nothing – even if you pay monthly fees.
In fact, they have control over your and your patient's data.
And since you don't have ownership, you can't make changes to it according to your clinical and business needs.
The upfront cost to develop your app is high. But it guarantees high ROI.
Whereas, subscription-based apps cost you less. But after some time, it starts burning your pocket.
Because, if you are paying $20 per patient as the subscription fee and you annually see 1500 patients, you can develop your own app with this money rather than paying $30000 as an annual subscription fee to that 3rd party app!
Customization according to clinical workflows
You can develop a custom telemedicine app for doctors based on your clinical workflows which assure high patient outcomes with quality care.
Whereas, the subscription-based app does not let you customize it based on your clinical workflows.
And if they allow it, they charge you a hefty amount for it.
Thus, developing a custom telemedicine app for doctors is the best solution for you.
However, in case you have low capital to invest and less time-to-window, we also have a perfect solution to it.
Our white-label telemedicine for doctors!
We're Ontario-based telemedicine tech and compliance experts.
We have delivered more than 30 custom telemedicine apps to Canadian and American doctors in the last few years.
And we recently launched a HIPAA-compliant white-label telemedicine app that we customize it according to your market, workflows and compliance needs.
Meaning, you can skip 80% of the development lifecycle – and can save 80% of the cost too!
To understand it better, here are real-screen images of it.
1. Master admin portal

In which –
Username: admin@admin.com
Password: Admin@123
2. Patient side portal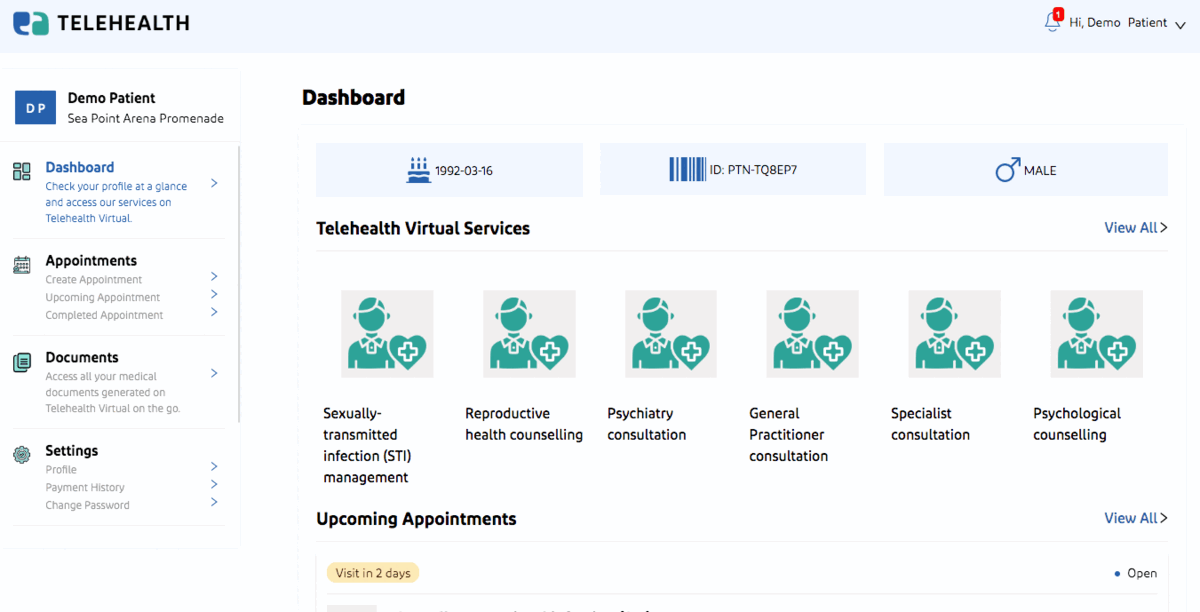 3. Provider portal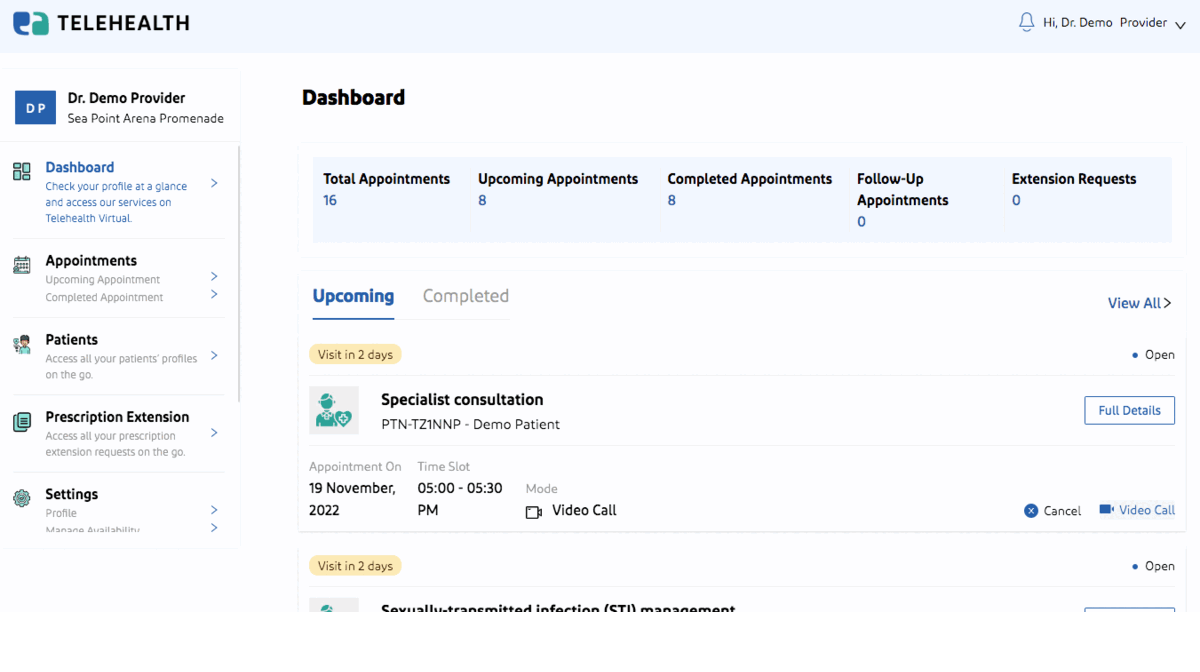 Here, the username and password are auto-filled.
A few things that make it the best telemedicine app for doctors in Canada and the USA:
It is compliant with HIPAA/PHIPA/PIPEDA and other provincial privacy laws.
Has user-friendly interface
Seamless integration with your preferred EHR/EMR, LIS, HIS and IoT or wearable devices
Send ePrescription and sick note via SMS, email and in-app
HIPAA-compliant document storage
(Note: The demo we provided is a telemedicine web app. But we have also launched a mobile version of it. So, as per your need, you can either acquire both or individually.)
Our other useful resources on telemedicine: