Telemedicine App for Doctors: Demo, Features, Functionalities, & Tech Stack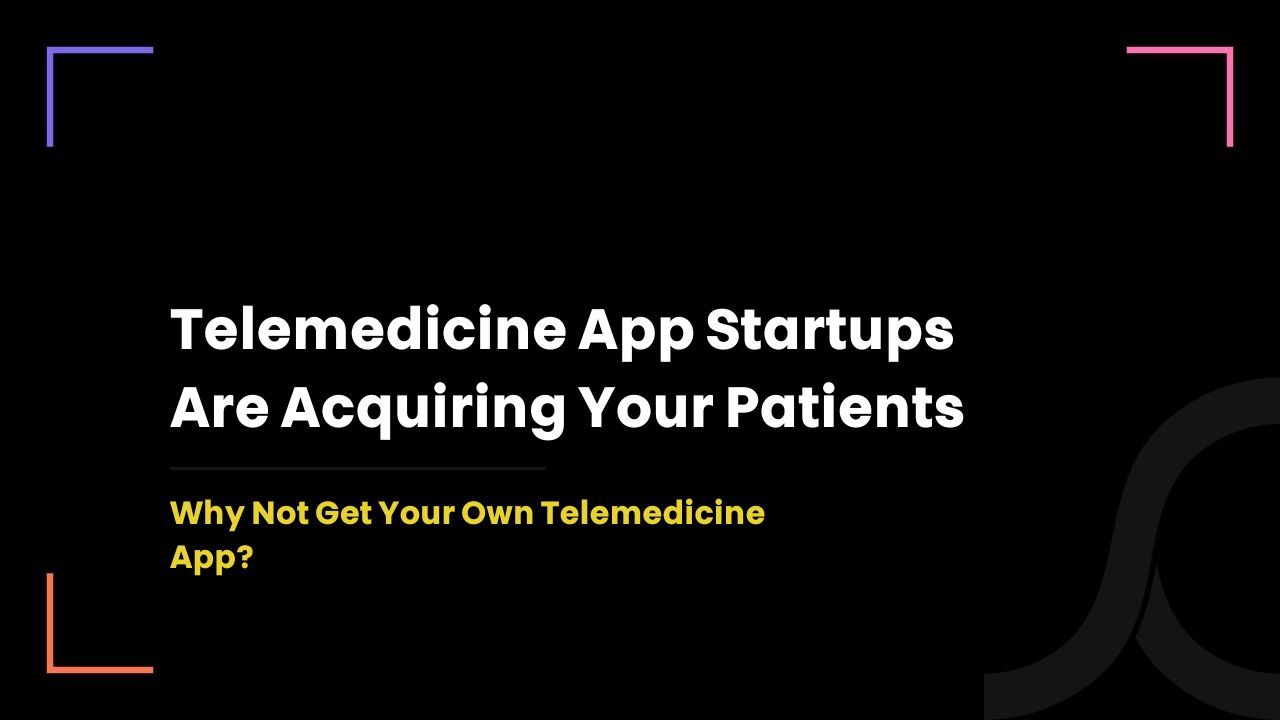 2 weeks ago
Are you tired of searching for the perfect app to provide seamless virtual care to your patients?
We understand that finding the right platform to fit your unique needs can be quite a challenge.
Look no further because we have an ideal solution for you.
Our white-label telemedicine app for doctors is designed exclusively for the North American market!
And we're excited to share everything about it in this blog post – from its amazing features and functionalities to its user-friendly workflow and even live demo links.
So, what are you waiting for?
Let's dive in and explore the endless possibilities of our solution!
A Quick Overview of Our White-Label Telemedicine App For Doctors 
You might have a question like what is white-label?
Let us explain.
It is a ready-to-use solution that also gives you full freedom over customization.
In other words, if you have unique needs, you can customize our solution accordingly.
These needs commonly include,
Branding
Features and functionalities
Workflows and usability
Compliance
Integration
And since the product is ready, the customization process will not take weeks.
You'll get your customized telemedicine app within a few days.
This way, you'll acquire a solution that is built as per your requirements.
For a better understanding, here are real-screen images of our telemedicine app for doctors.
(Please note: The demo we provided is a telemedicine web app. But we have also launched a mobile version of it. So, as per your need, you can either acquire both or individually.)
1. Master admin portal

In which:
Username: admin@admin.com
Password: Admin@123
2. Patient side portal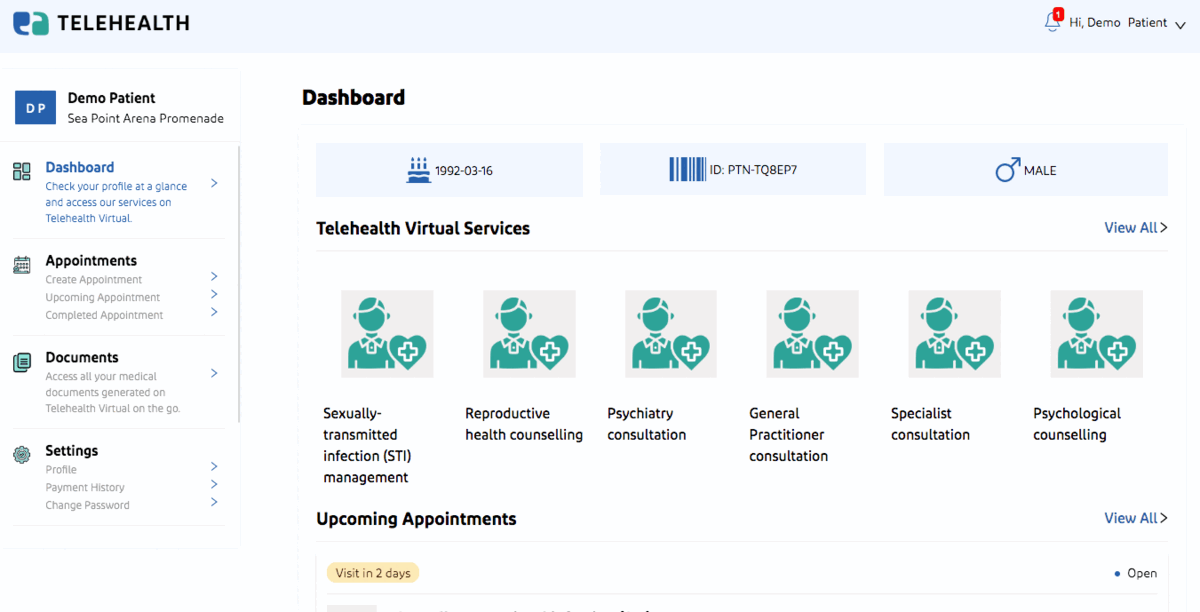 3. Provider portal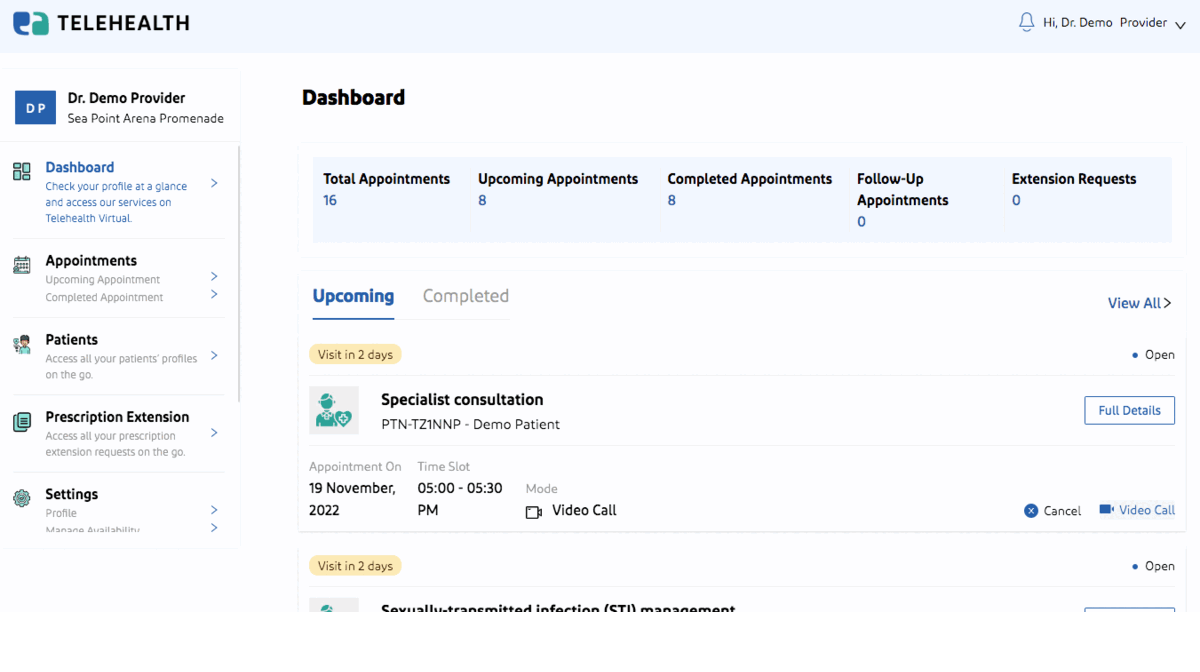 Here, the username and password are auto-filled.
The Architecture of Our Telemedicine App for Doctors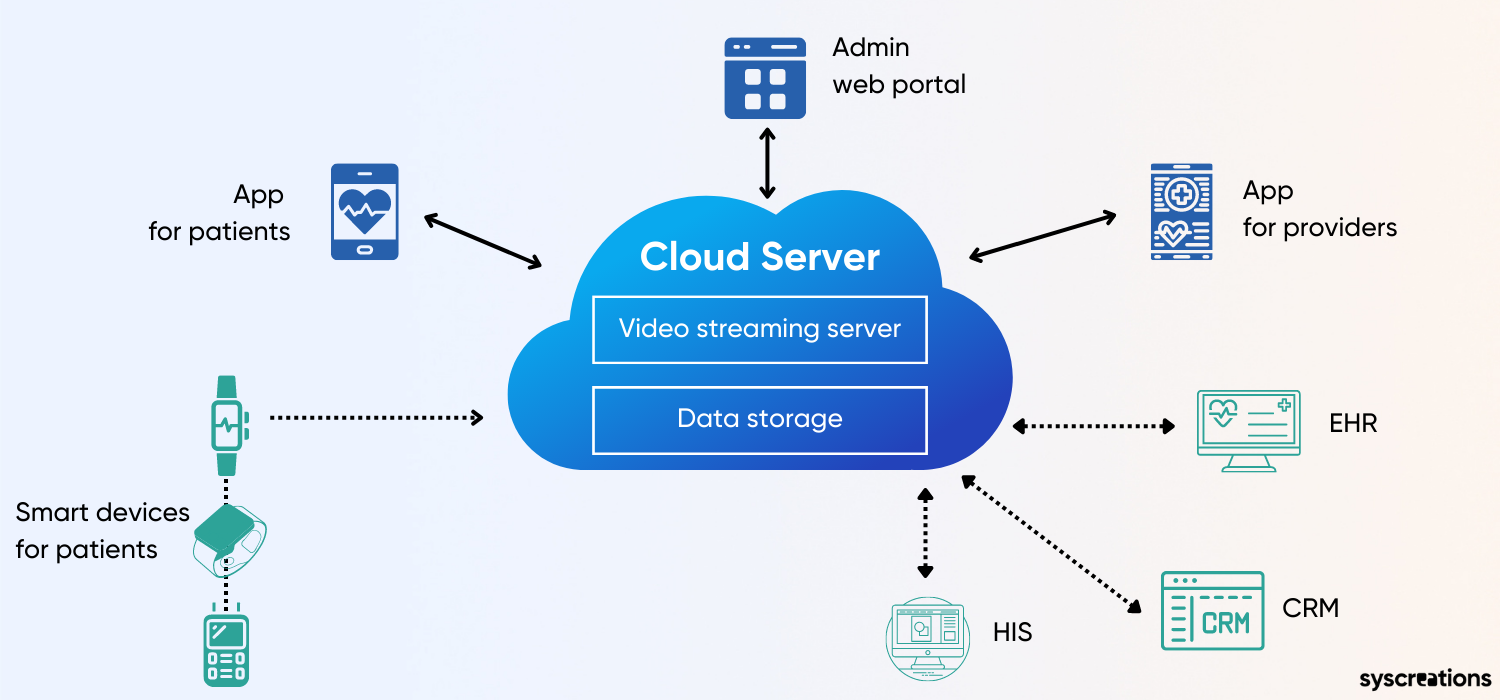 Explore the architecture of our telemedicine app for doctors in detail here.
1. Admin web portal
View analytics from the dashboard
View a list of all patients in detail
View a list of all healthcare providers with personal information
View all appointments in detail
Set app availability and services
Accept and reject healthcare provider request
Assign healthcare provider
2. App for providers
Manage appointments from the dashboard
View upcoming and incoming appointments
View and access profiles of all patients
Access prescription extension requests
Manage profile and availability
3. App for patients
View telehealth services
Creative and manage appointments
Upload and access all medical documents
Manage profile
View payment history
4. Cloud data storage
Manage patients' and providers' information
Manage images shared by patients and providers during the telemedicine visit
5. Video streaming server
To connect patients and providers in real-time
Now, Take a Look at Our Telemedicine Mobile App for Doctors!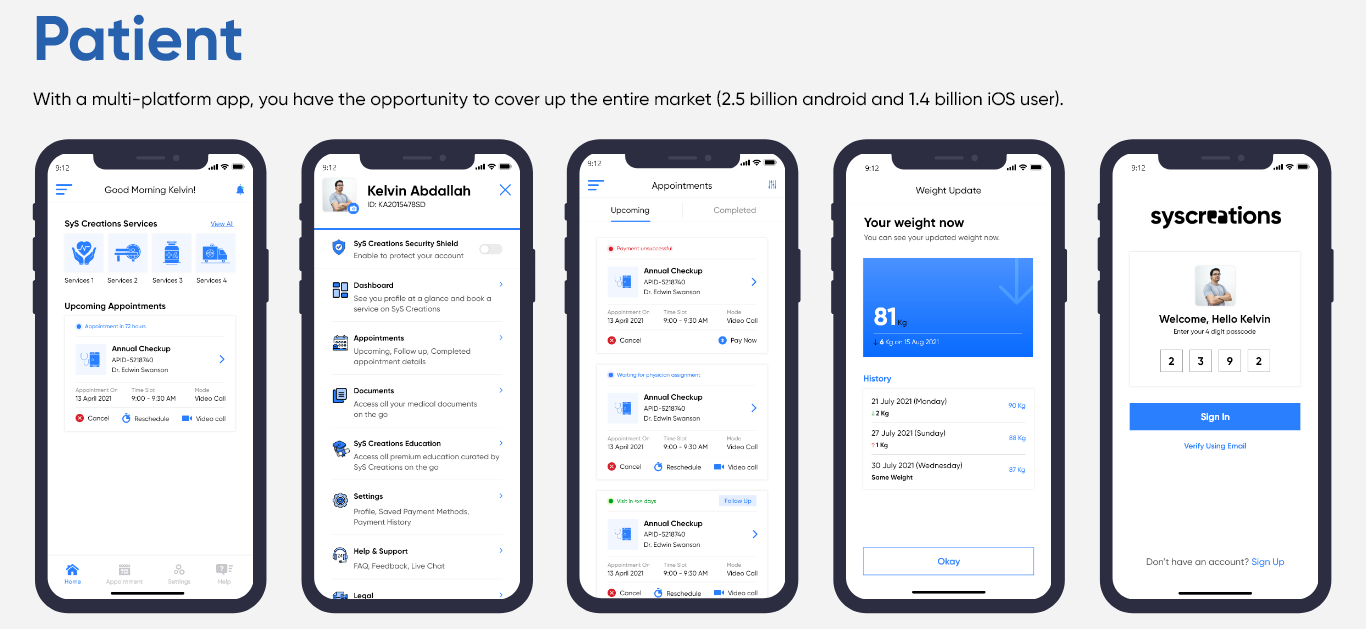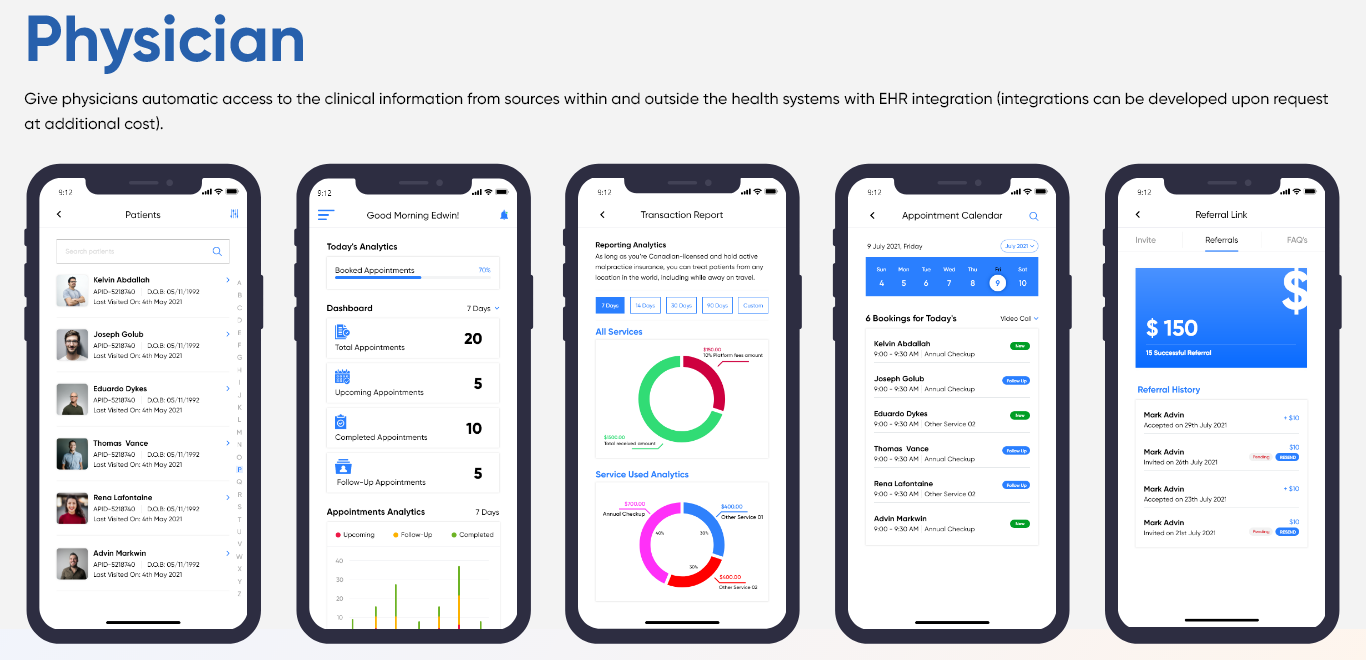 The Unique Functionalities of Our Telemedicine App For Doctors
Our solution is not just another run-of-the-mill telemedicine platform.
Its unique functionalities have huge potential to revolutionize the way you perform virtual healthcare.
However, due to the several functionalities available, we have listed some of the most unique ones here.
It is compliant with HIPAA/PHIPA/PIPEDA and other provincial privacy laws.
You have full freedom over customization.
It has a user-friendly interface and workflow.
Seamless integration with EHR/EMR, LIS, HIS, and IoT or wearable devices
Send ePrescription and sick note via SMS, email, and in-app
HIPAA-compliant document storage
You'll get your own branded solution.
If you want to explore all the functionalities of our telemedicine app for doctors (in detail), just fill up the contact form.
We'll connect with you over video call within hours and decode all of your queries related to our solution.
Top-Notch Features of Our Telemedicine App for Doctors
With our solution, you'll gain access to a range of features that will make your virtual healthcare experience as smooth and convenient as possible.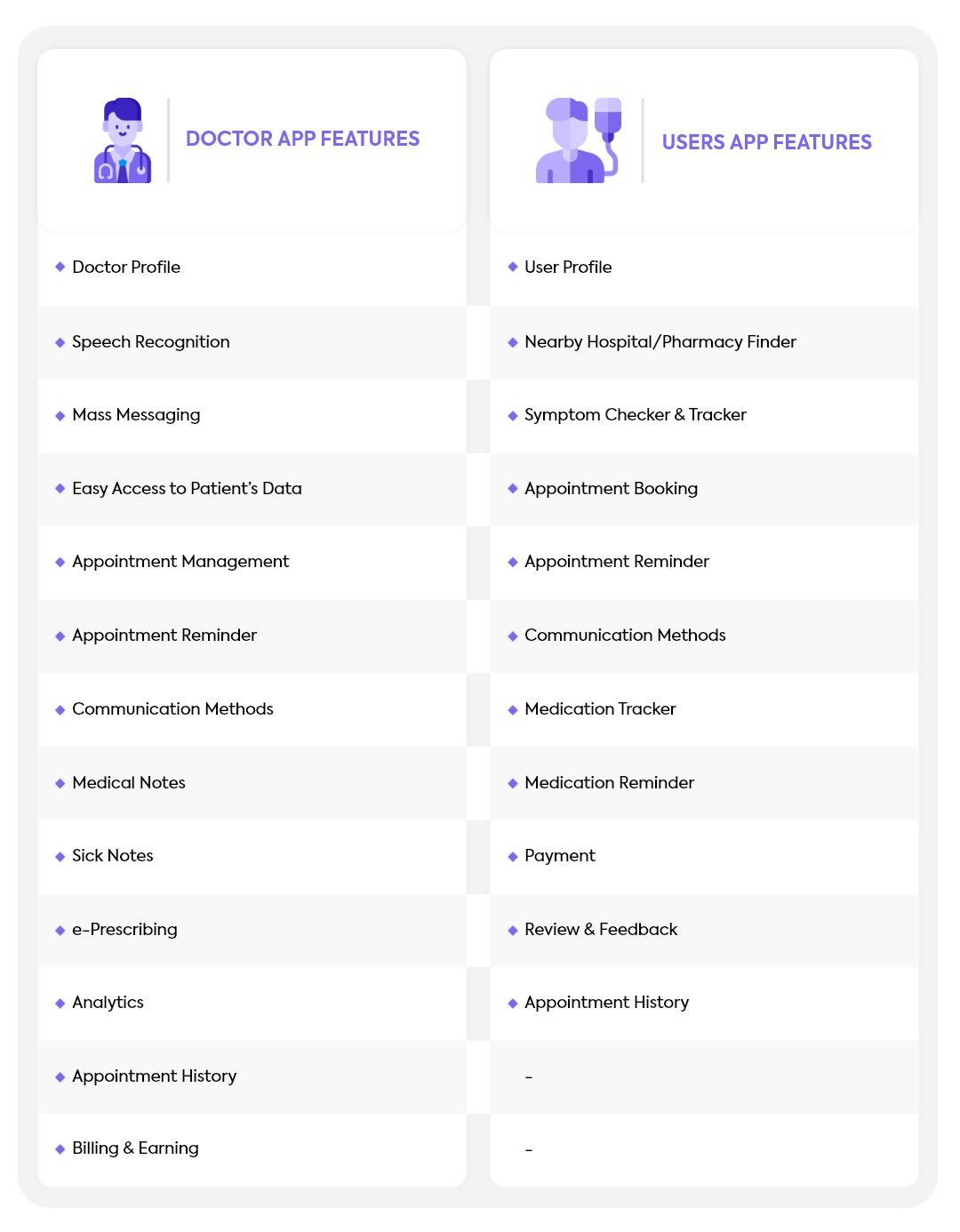 We Used Future-Proof Technologies to Build a Telemedicine App For Doctors
The telemedicine business is growing rapidly, not just in North America but in almost every part of the world.
Because patients are finding telehealth services more convenient (and affordable at the same time) compared to in-person visits.
As a result, we have built our solution using the most robust and futuristic technologies so that you can perform virtual care practices even beyond 2030!
The following is the tech stack that we utilized for our telemedicine solution.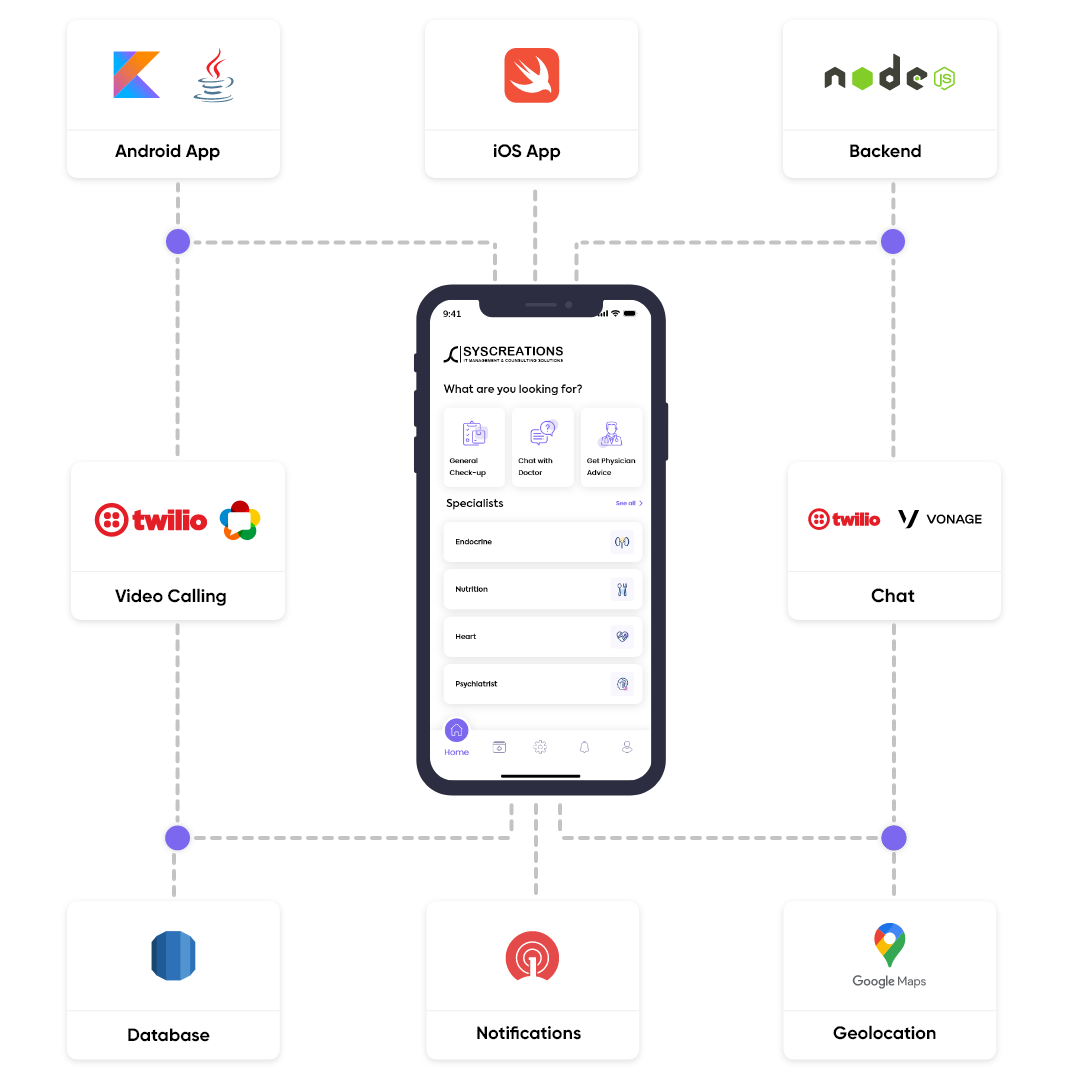 Our Telemedicine App For Doctors has Seamless Integration Capabilities!
Integration is the key:
To improve patient safety
To enhance patient care experience and outcomes
To lower the operational time and cost
You can achieve all the above benefits with just integration.
That's the reason, our telemedicine solution for doctors comes up with seamless integration capabilities.
In other words, you can integrate any of your preferred health tech solutions hassle-free.
These solutions commonly include,
EMR/EHR
IoT or wearable devices
HIS (Hospital Information System)
LIS (Laboratory Information System)
PACS (Picture Archiving & Communication System)
But in case you aren't aware of 'what integration is' and 'how to perform it' – don't worry, we got you covered!
We have a dedicated team of health tech integration experts.
Our team has all the expertise you need as they have been performing only integration solutions since the first day of their professional careers.
They will work as your extended team and perform integration (as per your need) with all the interoperability standards in action.
What is The Pricing of Our Telehealth App For Doctors?
To be honest, we're not in a position to reveal its cost publicly.
Because many companies out there are following our strategies and products (as we've been in this health tech game for the past 8+ years.)
However, we can assure you that our solution will cost almost 70% less compared to a custom solution.
But how?
Because the product is ready.
What we'll do is; customize it according to your unique needs.
Talking about customization cost, there is peace of mind too.
You just have to pay a nominal hourly-based fee for the number of hours our team will spend on customization!
How to Acquire Our White-Label Telemedicine App For Doctors?
The process is simple.
Just fill up the contact form.
We'll give you a live product demo (with an in-detail explanation) over the video call within hours.
If it suits your needs, you can directly acquire it.
But in case you have customization needs, we'll listen to it and provide a complete lifecycle of the customization along with its cost.
We'll start customization and since the product is ready, it'll take only a few days.
After that, we'll perform QA testing and compliance audit to ensure the product has no vulnerabilities that might put data privacy at risk.
Now, we'll give you a live demo of the working product and hand over the product to you!
Our other useful resources on telemedicine: