Are There Any Telus Health Kroll Alternatives in Canada?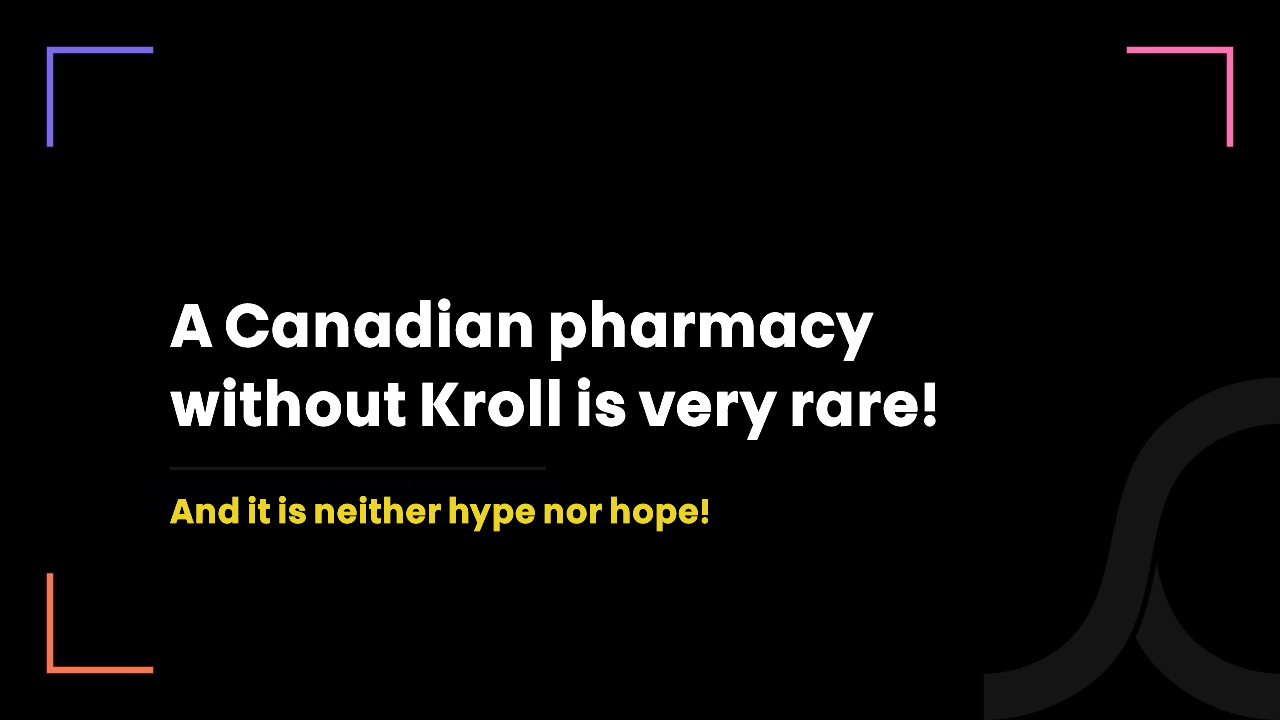 1 year ago
Yes, there are a few alternatives. But none of it can even come close to what Telus Kroll offers.
Because when it comes to practicality, use cases, usability and ROI, Telus Kroll is an unbeatable pharmacy management solution!
And that's why almost 70% of pharmacies in Canada are using Kroll for their day-to-day pharmacy operations!
In case you want to explore more about Kroll, keep reading this blog. 
Our other very useful resources you should not miss out:
What does Kroll's latest version 10 offer?
Kroll version 10 is its latest version launched during the pandemic - April 2020.
Kroll made several useful changes in it to enhance its usability and user experience. The following are some of them.
When patient notes exceed 2000 characters, a warning message is now displayed.
A patient profile is now displayed while dispensing an Rx.
Shows users an alert message when the user is trying to add a separate client id for the claim and ADAP plans
Updated Alberta Frequency of Dispense Consent form
Newly added Yukon Rx Extension functionality
Easily insert the patient name in the report section
You can explore the entire newly launched feature set in this official PDF.
Possibilities with Telus Health Kroll are endless
Telus Health Kroll is known as pharmacy management software that optimizes or digitalizes day-to-day pharmacy operations such as prescription filling, customer service, employee onboarding etc.
However, Kroll offers a lot more than what it is known for. Following are the 3 most unique and very useful possibilities with Kroll.
1) Kroll Add-ons
To enhance the use cases of Kroll and leverage it to its full potential, Kroll offers several add-ons services that users can easily integrate with their Kroll PMS.
A few very purposeful Kroll PMS add-ons include,
Online appointment booking
Virtual patient consultation
Virtual signature tablet
Online faxing
Central fulfilment
Long term care support
Electronic medication administration record
2) Kroll PharmaConnect
Telus Health Kroll understands the importance of having a mobile app for pharmacies. But due to high development costs, pharmacies could not own the pharmacy app.
Thus, Telus Health Kroll offers a white-label pharmacy app named PharmaConnect. It is a feature-rich and ready-to-use app.
Telus Health also offers flexibility to customize it as per your needs.
Talking about its cost, Telus also charges $650 as a one-time setup fee and $150 as a monthly subscription fee.
You must read: How to get started with Kroll PharmaConnect?
3) Kroll integration with your custom mobile app, web app, software
Running a pharmacy in Canada without Kroll is almost impossible. Even if you have your own pharmacy mobile or web app or software, you must rely heavily on Kroll for prescription processing and filling.
However, running and utilizing Kroll and a custom mobile app individually creates chaos and mismanagement rather than efficiency.
Thus, the most practical idea here is integrating your custom app/software with Kroll PMS.
With this integration, your app or software is now able to fetch all data stored on Kroll and is now also able to add prescription and patient data stored in the app/software directly into Kroll PMS.
If achieved successfully, Kroll integration increases the clinical value of your custom pharmacy solution by 10X!
You must read: A complete Kroll integration guide
Our past experience with Telus Health Kroll as healthcare IT experts
In 2021, we worked on 2 major Telus Health Kroll projects for Canadian pharmacies.
Experience #1:
We have been building a custom online prescription and medicine delivery app for an Ontario-based pharmacy.
The pharmacy has already been using Kroll. So, Kroll integration with its new app is the prime requirement of the project.
With successful bi-directional integration between Kroll and the custom pharmacy app, we make it seamless to fetch and share data with Kroll from the custom app and vice versa.
Experience #2:
A small-scale pharmacy wanted to own a pharmacy app but an investment cap was a major barrier for them. So we suggested the PharmaConnect white-label app.
Working as the technical partner, we helped that pharmacy to design the custom theme of the app, define custom workflows, coordinate with the Telus team for design customization, Kroll integration and launch the app on Apple App Store and Google Play Store.
The outcome was a customized pharmacy app with branding at an almost 80% fewer price than the custom pharmacy app development.