How to Validate a Healthcare Startup Idea? & What's Next?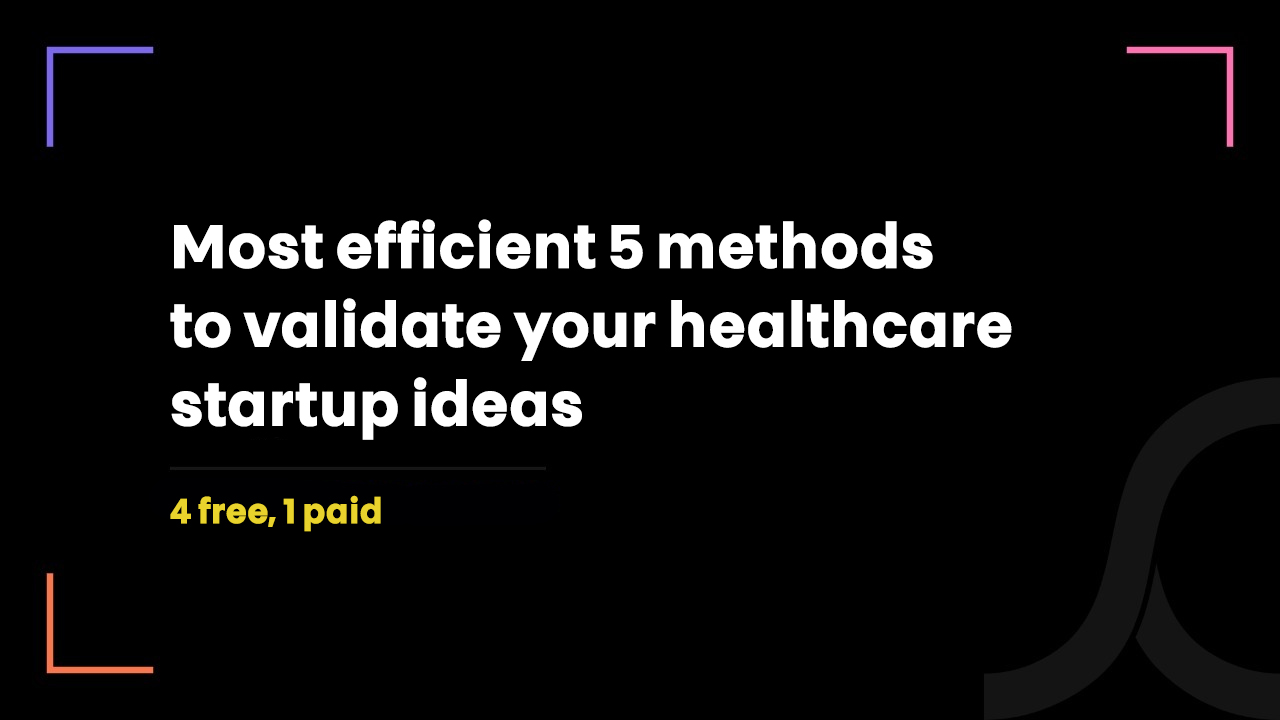 2 years ago
If you have an innovative idea for your healthcare startup and are thinking of launching your startup with zero risks, you can get a clear idea by investing 4 minutes from your busy life into this valuable content. 
Our other very interesting healthcare resources:
Does healthcare startup idea validation make any difference?
Yes, of course, market validation makes a difference. It is helpful for you to know how your idea will work when it comes to actual implementation on the ground or in the market.
If your startup idea will not undergo an idea validation process, you may end up making a financial loss, waste of resources and a big disaster which you will be known for in the startup ecosystem. So, validate your healthcare startup idea first.
It can correlate to examine the actual need of the startup. Market validation is the key to know the customer's point of view because a lot has been going through customer behaviour ever since the pandemic.
It is very important to complete this process earlier because it will boost up your knowledge with more deep learning of market potential, consumer segments, and barriers of the target market.
So, let's now discuss the healthcare startup idea validation process.
You are 5 steps away from successful healthcare startup idea validation
1. Identify your goals and objectives
Well, in order to launch any kind of healthcare service or product, you have to ask yourself some questions. In the meantime, while answering these questions step-by-step, you will verify your service/product on its own.
Questions for yourself:
How will my product be valued?
Who is your target audience?
Why will my product differ from other products in the market?
While questioning yourself, list the different factors that come to your mind, the pros and cons of the product/service, the financial feasibility of your target audience, top competitors etc.
2. Know your market appraisals
You have to ensure a few things that are ongoing in the market. The major thing is to determine the penetration rate of your product/service. For instance, if someone wants to open a laptop store, the penetration rate is high because, in the world of technology, everyone needs laptops. Similarly, does your healthcare service/product have a high penetration rate?
Analyze market sales of your competitors and estimate yours, by learning case studies of similar ongoing businesses which can help you more in evaluating the estimates.
There are many toolkits available in the market. Even we have our toolkit in the form of our healthcare IT and market knowledge to estimate the startup potential & our business analysts will help you in executing market, business and technical feasibility studies while considering the current emerging market trends.
3. Take help from Google
When the customers need something, they search for services/products directly on the search engine. So you can make a quick analysis of targeted words and check whether your product's name/ service falls under that category or not.
Sometimes you bear with not finding your particulars, then you should search with the "other specific query or problems". For instance, if someone is planning to launch a face wash, and has not found many surroundings in that product, then searching "get rid of pimples" may fulfill your goal.
By searching with specific queries or problems of users will provide good knowledge and judgment to your idea of the healthcare startup. You can also use the Google Trend tool to understand what people are currently - and in past - interested in.
4. Organize feedback sessions
You can meet different types of stakeholders and can have focussed group discussions with them about the product's importance, their preference, their inputs in making the particular product best.
You can also run several surveys online or on social media to know people's opinions. You can even collaborate in forum discussions to know experts' opinions.
If you find that your product is not up to the mark in the market analysis, you can increase the offerings on your product and follow the idea validation process again.
5. Build an MVP version of the healthcare app or software (a paid method!)
In the last few years, one thing we have observed in the startup ecosystem is that entrepreneurs prefer to build the MVP version of their mobile app ideas. Why?
Well, an MVP version of a mobile app or software only contains basic features and UI. Meaning, it requires very little time to build an MVP product, so does the cost.
This way, you can be able to launch the basic app working on your healthcare idea with the only purpose of testing it in the market. Once you test it in the real market, evaluate the initial market performance of your app and collect user feedback. And once you have confidence, invest more in your idea and add new features to your app or software. The perfect risk-free and budget-friendly strategy.
Great! You've just validated the healthcare startup idea? But what's next?
Once you're done with the idea validation, you can go ahead with the remaining 6 phases before the official market launch. These 6 phases include,
Here, we define workflows for your digital healthcare product. For instance, if you are building a virtual care platform, we define online appointment booking workflows, EHR data access workflows, online referral workflows, follow-up appointments workflows, sick note request workflows etc.
Our business analysts document everything from a feature set to the technology stack, compliance requirements, project timeline, budget, workflows and even business model to define the scope of the project and keep everyone on the same page.
Our healthcare-focused designers design the front end of the mobile app or software while considering workflows and user journeys to deliver 2X faster and smoother patient journeys via your digital product.
Utilizing their technical compliance and interoperability knowledge, our developers build the app or software while following clean code architecture and making sure of performance, scalability and reliability.
The QA team carries out testing on the developed product in a real environment and on different devices to test its usability and all functionality.
Before we launch your ready product in the market, we give you a live demo of it along with training and a basic understanding of all features including features of the admin panel.
The most exciting part is here. Our developers using their developer account submit your app for Google Play Store and Apple App Store listing.
So, looking for professionals to validate your healthcare startup idea and give wings to it?
We're a Canada-based healthcare-focused IT company. We only work with healthcare providers and entrepreneurs to ease their technical, business and compliance challenges.
We have a very resourceful team including healthcare app developers, designers, business analysts and compliance specialists who work parallel on your idea.
All of our team members have very successful professional careers in the healthcare IT industry. And that's what makes us one of a kind healthcare IT company.
What exclusive we have is on-ground knowledge of the healthcare industry such as clinical workflows, clinical protocols, patient needs, billing structure, clinical terminologies etc.
This enables us to deliver you what others cannot!
Because, in healthcare, you must need everything specific, especially knowledge! (Have you ever heard of a doctor treating both eyes and teeth?)