What is Virtual Healthcare? A 2023 Guide For Healthcare Providers and Entrepreneurs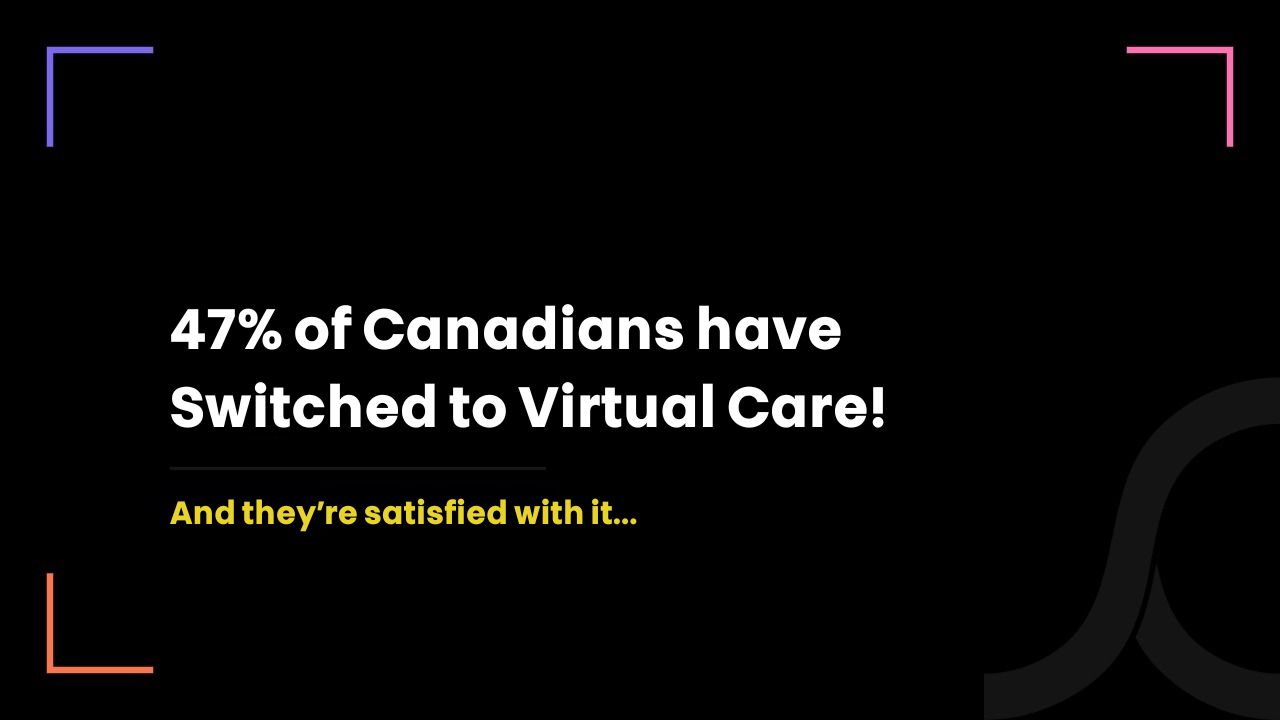 1 month ago
The year 2020 busted our myth.
The loopholes our healthcare system has have already surfaced.
In the first wave of the pandemic until May 2020, Canada reported a heartbreaking 5324 COVID-19 deaths in long-term care homes.
Whereas the almost similar country in terms of healthcare spending by the percentage of GDP - Australia - reported only 26 deaths in long-term care homes.
The question here is not about which country is doing better.
The question here is only about, how well you optimize care delivery so that healthcare professionals have enough time.
It is not just about long-term care homes.
Canada also struggles to keep the number of overall COVID-19 deaths low.
And look at the extremely good condition in the nation having a population difference of just around 12% than Canada.
If we dig deep inside, factors making the COVID-19 situation worse in Canada are the shortage of healthcare workers and overwhelmed healthcare workers!
The reason we're discussing this is that virtual healthcare can solve these teasing challenges.
Virtual health technology cannot ease the COVID-19 scene in Canada directly, but it can trigger many indirect 'life-saving' effects.
Our other useful resources:
What is Virtual Healthcare & How Does it Work?
It refers to virtual or telephonic visits between patients and physicians without being physically available to each other.
In other words, it is the delivery of healthcare services using chat, video calls, and voice call options - remotely and rapidly to the patients.
The three most essential reasons virtual delivery of care emerged separately from communication solutions like WhatsApp & Skype are,
Healthcare Compliance
Clinical Workflows
Integration with Other Clinical Software like EHRs
Yes, remote or virtual communication between patients and physicians should be carried out according to the dedicated healthcare compliance laws imposed by the government.
Healthcare compliance laws apply to the overall working mechanism of virtual or online care platforms.
This requires dedicated discovery and development of such platforms that actualize remote medical communication.
However, it is not just a medical communication platform. It aims to optimize the entire clinical workflow and many administrative works.
It takes virtual doctor appointments.
It enables physicians to write prescriptions and share them with pharmacies.
It promotes internal team collaboration & communication.
It creates a patient profile with the medical history.
It allows patients to make payments.
It reminds patients of medication.
As you can easily measure the impact of virtual or remote care, it facilitates healthcare professionals to provide remote and quality care without wasting time in traveling.
Healthcare professionals can also have easy access to all medical information of the patients as the solution seamlessly integrates with the EHR software of the clinic or hospital.
This eventually makes care delivery fast and reliable results in more time available with physicians and with more time, they can treat more patients - even from their homes.
We told you! A simple virtual health solution can optimize the entire healthcare infrastructure of Canada.
But the real challenge is, that many people cannot decide to adopt a healthcare app or platform as happily as they adopted Uber, Netflix, and Airbnb!
Top Virtual Care Providers in Canada
We've been active as a technology partner in the Canadian healthcare sector for 8 years.
In 2020, we witnessed a sudden shift toward virtual delivery of care like never before.
Many new startups launched, many startups raised funding, and many launched new patient-centric online services!
The following are top virtual or online care apps or solutions we've come across and found very useful and innovative.
Co-founded by the founder of SyS Creations, Writi is a cloud-based solution dedicatedly developed to streamline senior care operations in long-term care facilities.
It does not only actualize secure and remote communication, but it also eases billing, reporting and document management.
Recently, Canada's one of the largest healthcare networks - Jack Nathan Health - has acquired Writi.
Lumino Health Virtual Care
Lumino Health connects patients with the right healthcare provider within minutes.
Users can search healthcare providers based on specialty, name, and address.
Additionally, Lumino Health provides virtual doctor appointment services.
There are more than 150,000 healthcare providers registered on the Lumino Health platform.
It also publishes several useful articles on different healthcare topics to educate Canadians.
Wello provides an employee-centric healthcare platform to help employers create a healthy and sustainable work environment.
It ties up with companies and lets their employees access digital healthcare solutions anywhere anytime even from mobile devices.
It lets employees talk to physicians about all healthcare-related issues through chat, video call, or voice call.
From the dashboard, the employer can track the spending, health status & progress of each employee.
Appletree is one of the most popular platforms in Canada that offers remote medical care, specialty care, and even dental care.
It also provides OHIP-covered virtual medical services.
Meaning, that patients who are covered by the OHIP insurance plan do not need to pay anything for the virtual visit.
One drawback of the Appletree virtual care platform is that it does not offer instant televisit with physicians.
Patients always need to first book the appointment.
The Medeo platform enables users to connect with their preferred clinic or healthcare professionals.
However, that clinic or healthcare professional should also be registered on the Medeo platform.
Once both registered, patients and physicians can severely exchange messages, share files, and send photos.
They can even talk through a secure video call.
Medeo claims that users using its platform saves 98% of the time!
Top Virtual Care Solution or App Ideas
It is a huge market.
According to the discussion paper published by CMA Health Summit, 41% of Canadians would like to have video visits with physicians, but only 4% of physicians offer such an option.
The same discussion paper also mentioned that around 71% of the patients would like to book appointments online, but only 9% of the physicians currently offer such an option.
You can bridge the gap between patients' demands and physicians' concerns by developing your own virtual healthcare app or solution. The following are the top 4 app ideas.
A General-Purpose Telemedicine App
The major difference between the virtual healthcare app and the telemedicine app is the functionalities they both offer.
A telemedicine app simply aims to solve communication, appointment booking, and prescription-related challenges.
Thus, it has limited use cases.
Whereas the virtual or online care app can also be used for internal team communication, documentation, and other administrative work.
But now, both of these terms are used synonymously.
Using your general-purpose telemedicine app, users can talk to dietitians, dentists, dermatologists, specialists, gynecologists, sports medicine specialists, etc.
Maple is the best example of a general-purpose telemedicine app. Read this blog to develop a similar app to Maple.
A Medical Specialty-Specific Telemedicine App
Such a type of app connects patients with a specific medical specialty.
The major reason for developing a medical specialty-specific telemedicine app is its ability to address dedicated challenges only in one specific area.
PetCoach is the best example of such a type of app. It accommodates vets and lets users ask pet health-related questions only.
Automated Virtual Health App
This is the future of virtual or remote care delivery.
With it, clinics or hospitals can virtually communicate with patients automatically.
Conversa healthcare platform is the best example here.
Clinics or hospitals can set it up to have automated yet personalized care conversations with patients around chronic condition management, post-hospital discharge, pre and post-surgery, and medication adherence.
It also asks patients to add various biometric data such as blood pressure into the app. It later analyzes it and if needed, suggests the patient book an appointment with the physician.
Recently, Conversa raised $20 million in its series B round.
Proud of the fellow Conversans caring for customers & patients while growing 6x. And still growing (and hiring)!@conversaHealth #VirtualCare https://t.co/HXMzp6mztr

— Chris Edwards (@chrissedwards) January 19, 2021
Telemedicine Chatbot With Symptom Checker
This is a cost-effective app when it comes to the development cost. It outfits with fewer but all important features.
And it does not offer a video or voice call televisit option.
Using such a type of app, users can know the cause of the pain or uneasiness they are experiencing.
The built-in chatbot and symptom checker employ sophisticated machine learning and AI algorithms to analyze the current health condition the user has inputted.
And then it shows the real cause behind the health trouble.
If a prescription is needed, the app can connect users with the physician.
But they can only chat with each other.
K Health is the best example here.
It raised $132 million and kicked off telemedicine for kids service.
Thank you to our amazing team and investors for helping to realize our vision of creating a high quality, more accessible health care system for billions of people and their families. We're just getting started! https://t.co/z3HZz8tYSC

— K Health (@khealth) January 19, 2021
Check Out Our Highly Customizable Telemedicine Platform, Starting From $20000
Developing a telemedicine app is a complex task as it requires meeting business, legal, technical, and operational requirements - some even imposed by the government.
Because of this reason, the cost of telemedicine or virtual health app development surpasses $70000 very easily.
To solve this problem, we've developed a white-label telemedicine app.
A HIPAA/PHIPA/PIPEDA Compliant Telemedicine Solution Starts at $20000
Delivery Within a Week
Scope for App UI and Features Customization
Integration with Top EHRs & EMRs (Telus PS Suite, Oscar EMR, PointClickCare EHR, MED e-care EHR, Accuro EMR)
Healthcare Compliance Consulting and Audit
You can know more about the solution and pricing in detail from here.
The following are some of the real screenshots of the solution.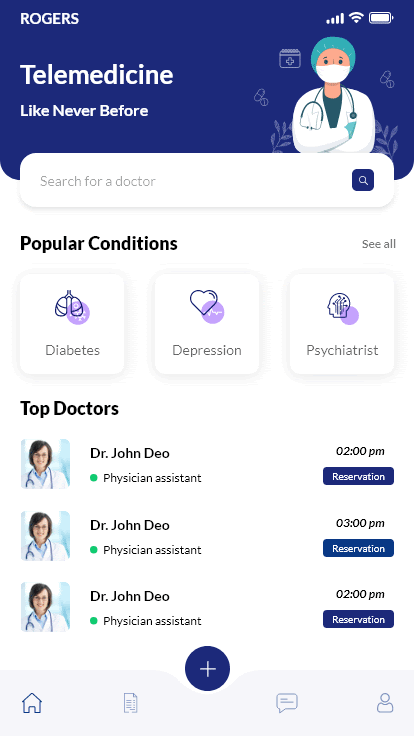 Just drop us a message.
Our most experienced healthcare technology leader will contact you back with a free live app demo and free business consultation.