Telemedicine for Acute Care: Architecture, Functionality & Demo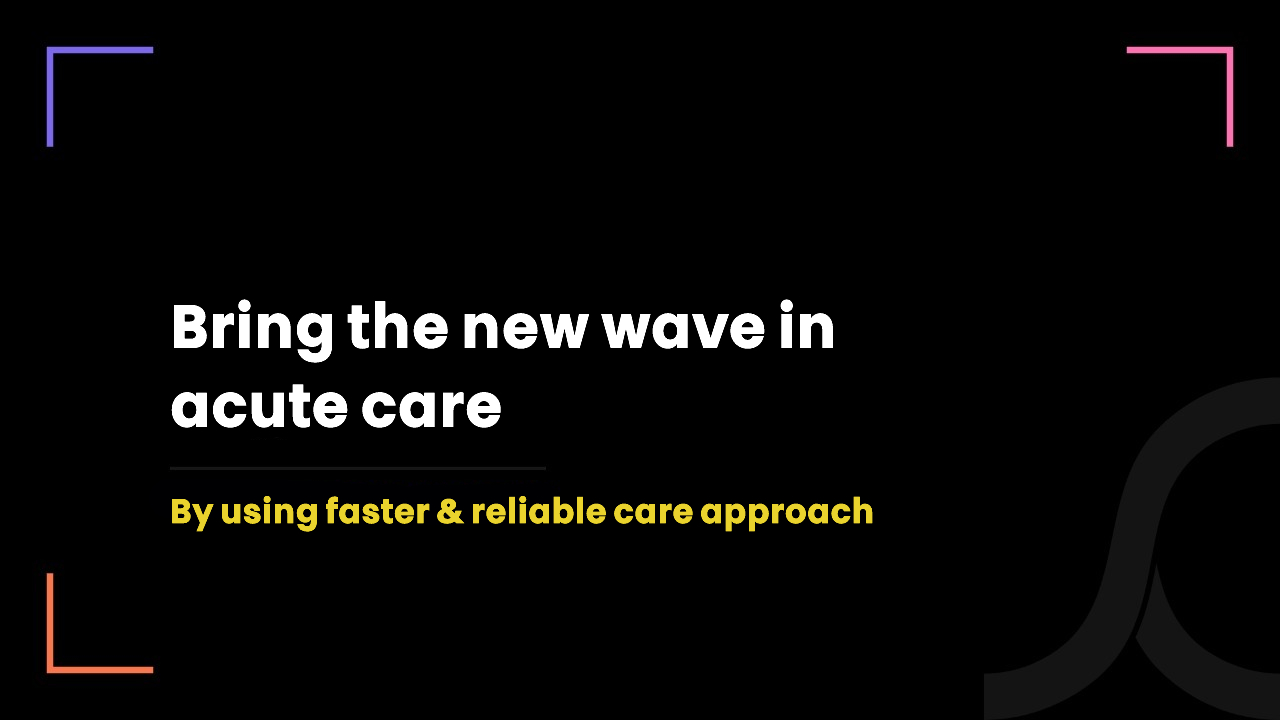 11 months ago
Telemedicine for acute care is the way to help people at their most vulnerable time!
From improving access to care and reducing healthcare costs, telemedicine is fundamentally changing the entire healthcare system.
But in acute care, it is proven as more than just a tech solution!
For example, hospitals around the world are implementing acute care telemedicine to improve their practices.
Moreover, individual healthcare providers are partnering with telehealth vendors to expand their acute care services and improve the overall quality of care.
So in this blog, we're going to cover how telemedicine for acute care is improving the lives of patients along with sharing the links to the live demo of our ready-to-use telemedicine app!
What is telemedicine for acute care?
The purpose of telemedicine in acute care is to improve access to care and overall patient outcomes.
For that, it allows the emergency care team to connect with remote acute care specialists over chat, voice and video conferencing for diagnosis and treatment guidance.
This helps them in delivering faster acute care services – at the same time, drastically improves the care outcomes.
A basic architecture of telemedicine in acute care
1. App for an emergency team
On-demand or real-time acute care solutions over chat, voice call or video conferencing
Share the patients' health records (lab tests, medical imaging etc) with the acute care specialists
View and edit the treatment plan
Update the clinical information of patients
2. App for the remote acute care professionals
Provide on-demand remote acute care
Perform real-time health examination
Accessing patients' clinical information
Create, view and edit treatment planning
Viewing and editing the patient's information
3. Master admin panel
Manage the user access of remote acute care specialists and emergency medical staff
Analyzing and assigning the acute care telemedicine consultation
Viewing the list of patients
Performing billing process
4. Video streaming server
Secure and real-time communication between emergency care staff and remorse acute care providers
5. Cloud data storage and processing
Secure storage of patients and treatment information
Data generated by integrated medical devices
Telemedicine consultation recordings
A functionality of telemedicine app for acute care
As a healthcare IT company, we've been developing telemedicine apps or software since our inception in 2015.
And we make a result-oriented plan for features as per the requirements of healthcare providers.
So, here is the list of some commonly requested features for acute care telemedicine app development.

1. Real-time and accurate care coordination
Online request for an acute care consultation
Real-time alerts to remote acute care specialists regarding the upcoming or requesting consultation
Remote acute care consultation over chat, voice call or video conferencing
Direct communication between the patient and the remote acute care provider in case of trauma or other mental health emergencies
Easy to create custom and editable treatment plan templates
Follow-up consultation to analyze the progress of patients
2. Analytics to provide data-driven care to the patients
Analyze the vital body signs data of the patients (collected by wearable or medical devices)
AI-enabled medical imaging for rapid and accurate diagnostic
An AI-based support system to make a better acute care decision
3. Patient monitoring from the ICU
Real-time alerts in case of abnormal vital body signs
Remote ICU monitoring via voice and video calls
4. Secure data storage and access
In-app access to a patient's medical records
View real-time vital body signs data
Analyze the consultation recordings
5. Data security
HIPAA, PHIPA, PIPEDA and GDPR compliant
Multi-factor authentication
6. Training for emergency care teams
AR/VR-based training for various acute conditions
4 Valuable integration for acute care telemedicine app
Imagine if a remote acute care specialist is unable to access the clinical data from the EHR/EMR software in its telemedicine acute care!
There is a high possibility that – he or she will not be able to provide the ideal acute care to patients, right?
What's more, in many cases, it can result in a life-threatening situation for patients!
To avoid such an unappealing outcome, integration of the various health tech systems with acute care telemedicine is must needed.
It helps in accessing the clinical data of the patients from various health tech systems for diagnosis and treatment assistance.
And here are some important integrations, you must consider for an acute care telemedicine app or software development.
Integration with EMR/EHR software:

to access the patient's medical history, allergies, chronic conditions etc. from the EMR/EHR software of the healthcare setting.
Integration with IoT or wearable medical devices:

to analyze the vital signs (blood pressure, glucose level, oxygen level etc.) in real-time for better diagnosis and treatment assistance.
Integration with medical imaging software:

to access the medical imaging data of the patients to provide better acute care solutions.
Integration with laboratory information system (LIS):

to analyze the various lab reports of the patients.
Integration with practice management software: to schedule or request a consultation with remote acute care specialists, manage billing processes etc.
Check out our resources on health tech integration:
3 Factors that define the success of telemedicine app for acute care
As a healthcare IT company, we have successfully delivered more than 30+ telemedicine apps and software in Canada, the USA, the UK, Africa and beyond.
Thus, we have a comprehensive understanding of the global telemedicine market!
Meaning, we know, what works and what's not.
And that's the reason, we've identified the top 3 factors that can bring clinical value and peace of mind to your acute care telemedicine app.
The app must have smooth communication (audio and video) between the ER team and remote acute care providers in order to deliver the rapid acute care solutions
The app must be compliant with data privacy and security laws to restrict cybercriminals from stealing crucial data of patients and organizations.
The app must have reliable integration in order to let both ER staff and acute care professionals deliver the topmost care solutions.
The benefits of telemedicine in acute care for healthcare organizations
First, telemedicine lets healthcare organizations improve access to acute care.
This can help them in expanding their remote acute care solutions to rural areas.
Second, it enhances the ER staff performance.
Because a telemedicine acute care app allows them to spend less time on the administrative workflows of each patient.
Third, it helps the healthcare settings to allocate the bed to the neediest patient without any hassle.
And because of these 3 major benefits, there is a rise in clinician-to-clinical telemedicine for acute care.
In fact, healthcare entities are looking forward to improving their spending on acute care telemedicine from 5% to 10%.
How we can help you with telemedicine for acute care?
We're an Ontario-based healthcare IT company.
In the past 8+ years, we have successfully delivered 250+ powerful health tech solutions for startups, enterprises, entities and individuals.
What makes it distinct from the rest is that each one of us is healthcare-specific.
Meaning, we have a team of 50+ healthcare-specific IT professionals that includes – UI/UX designers, web and mobile app developers, business analysts, compliance specialists and QA experts.
(And they've been performing health tech projects since the first day of their professional careers.)
Here is how we can add clinical value and peace of mind to your healthcare business vision.
Telehealth acute care consultation:
Our healthcare-focused consultation team will help you in –
Analyzing the market potential (including comprehensive competitive analysis)
Deciding the functionality of the app and software that suits your all clinical and business requirements
Creating a list of the most appropriate features
Selecting the futuristic tech stack of the acute care telemedicine app
Identifying the result-driven approach for health tech integration with (IoT, EMR/EHR, LIS, HIS etc.)
Helping you stay compliant with all the regulatory laws and regulations
Custom telemedicine app or software for acute care:
Custom solutions mean – we'll develop the app or software from scratch as per your requirements (branding, features, usability and workflows).
And here are the three most common development methods for it.
1. Native app development:
It comes up with speed, high performance and full flexibility.
Because in native app development – developers create separate apps for iOS, Android and other OS (Operating System).
However, it eventually influences the development costs and time-to-market.
But if you have a large capital to invest, this is the best solution for you!
2. Cross-platform app development:
Cross-platform apps are best if you have a low capital to invest along with – a vision to cover the global market.
Because here, developers don't need to write separate code for iOS and Android.
This saves development time and costs – at the same time, gives flexibility in time-to-market.
However, compared to native, cross-platform comes up with limitations on performance, UI/UX and overall functionality.
3. MVP app development:
If you have a unique concept and want to build an app that suits your users' all needs, MVP is the best option for you.
For that, we first hand over the basic app (with common features and usability) to your early-stage users.
And as per their valuable feedback regarding the performance, features and functionality, we'll improve the app that meets your users' requirements.
(But in case you don't want to go for custom app solutions as of low capital to invest and time-to-window, we have the best option for you!)
Our white-label telemedicine app for acute care:
It's a ready-to-use telemedicine app.
And here is a small glimpse of it.
1. Admin portal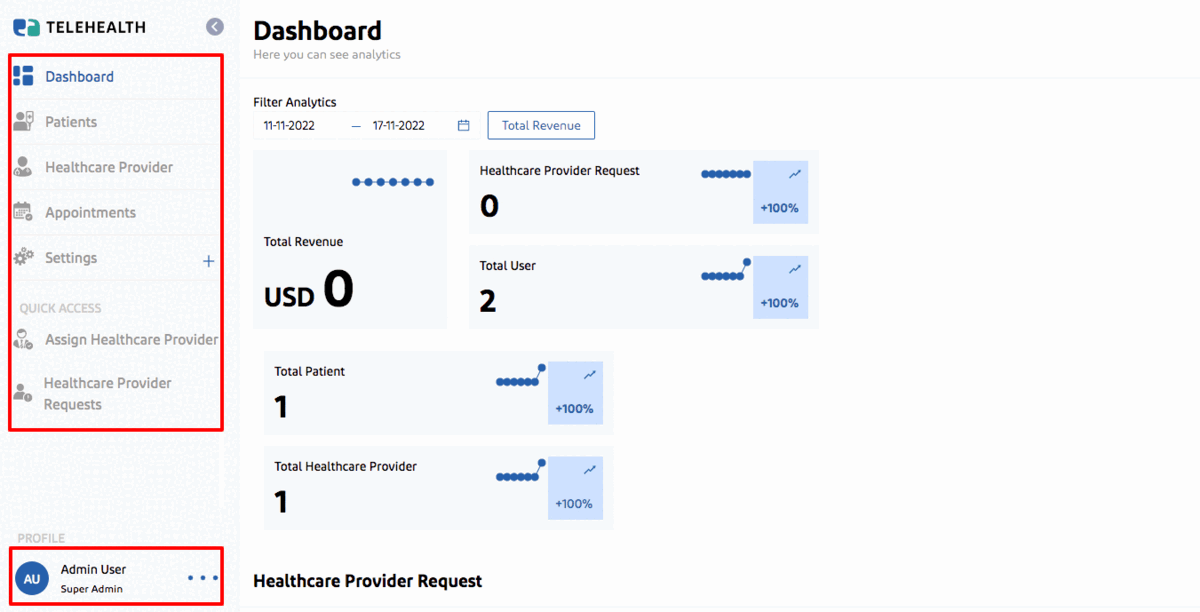 Following are its credentials.
Username: admin@admin.com
Password: Admin@123
OTP (2-factor auth code): 123456
2. Provider portal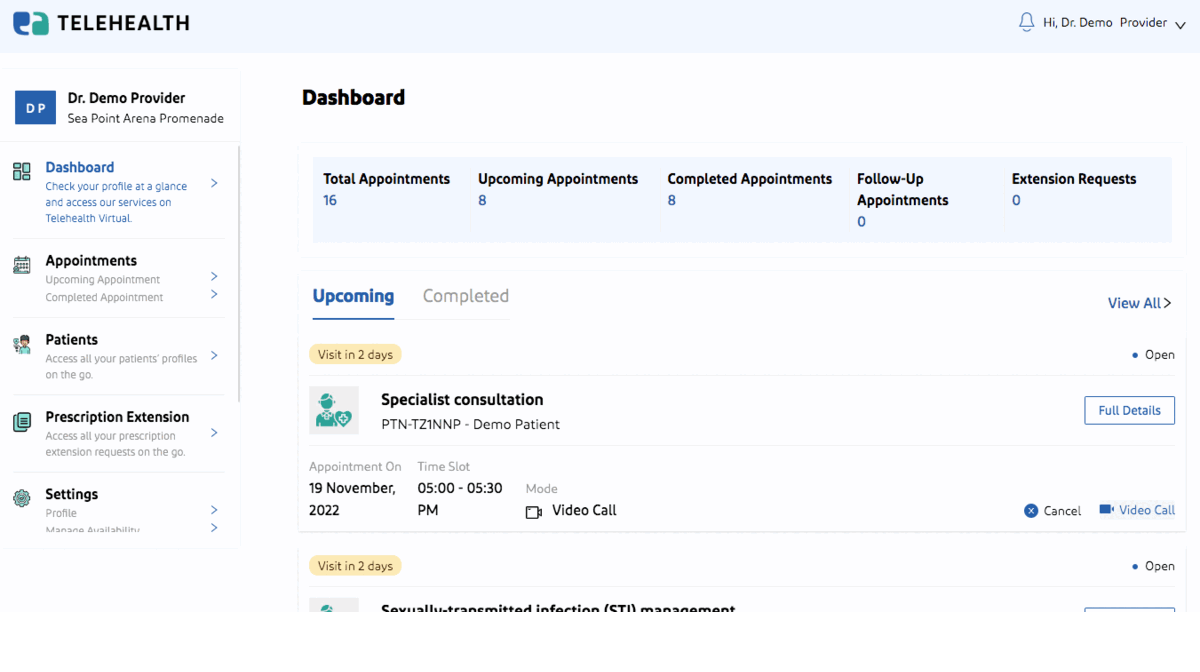 3. Patient side panel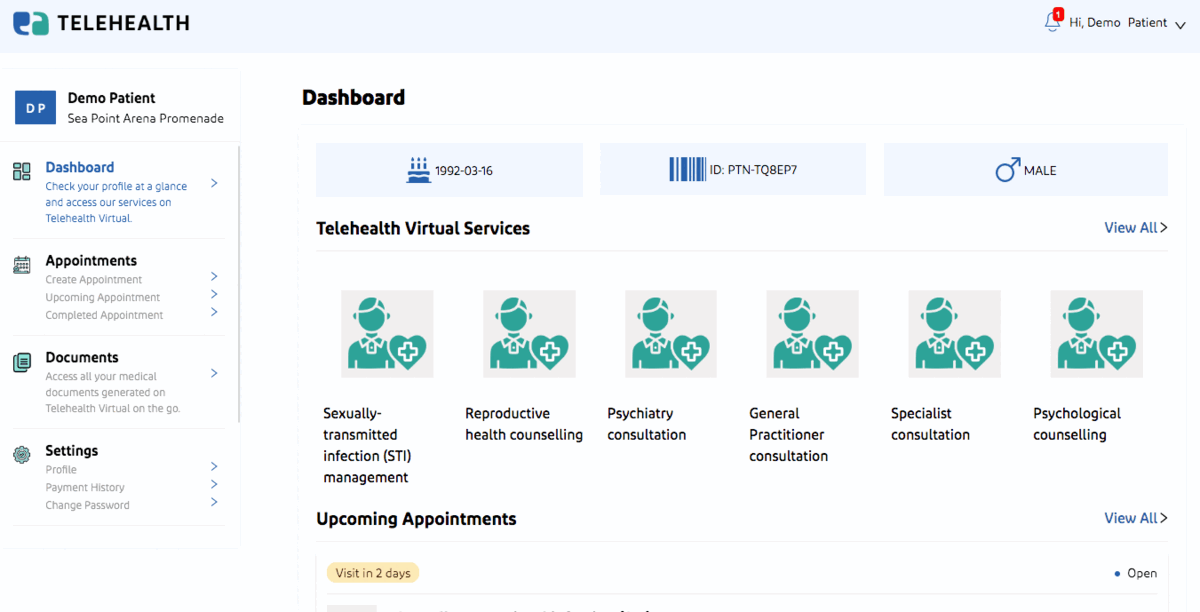 In which, username and password are auto-filled.
Few things that makes it the best telemedicine app in the market.
It's HIPAA, PIPEDA and PHIPA compliant app.
User-friendly interface
Customize as per your unique requirements
Easier integration with EMR/EHR, HIS, LIS and IoT or wearable devices
You can provide ePrescription and sick notes via SMS, email and app
HIPAA-compliant document storage