5 Alayacare Alternatives to Improve Home Health Care Business in 2023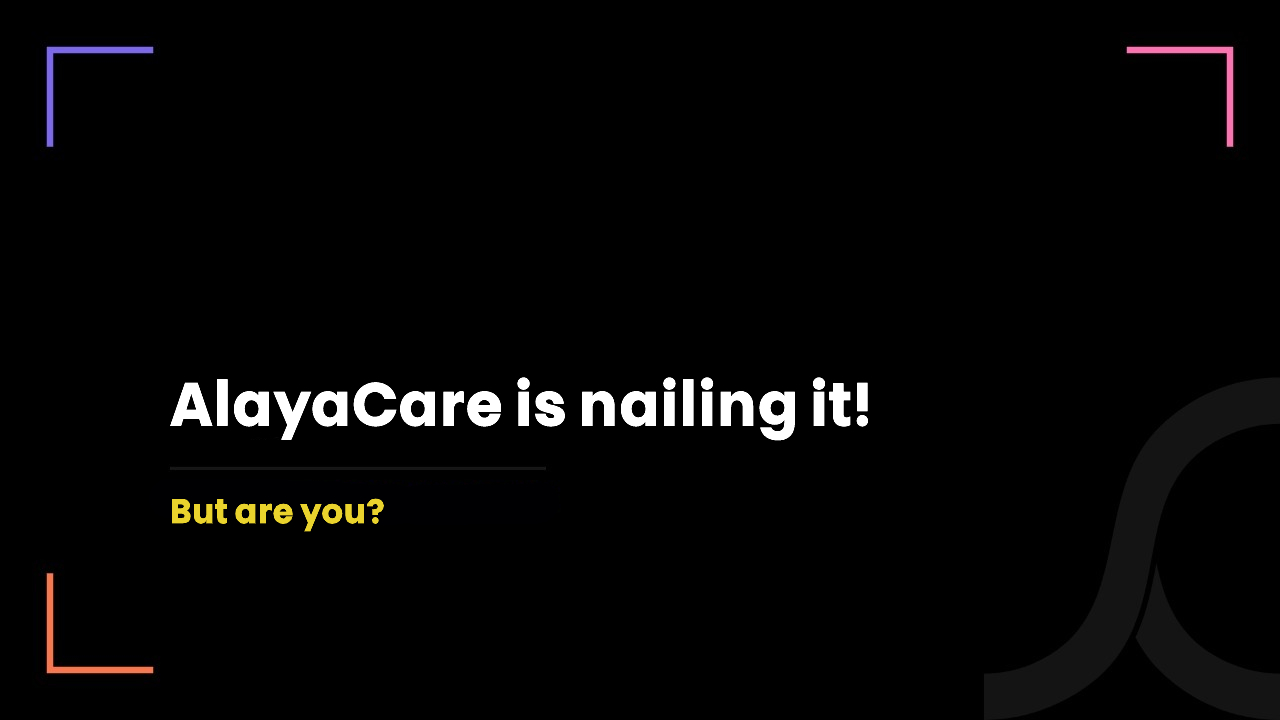 1 month ago
AlayaCare is enough. But …
AlayaCare is the best home care software. You can surely consider it for your home care needs.
However, like every pre-built healthcare software, it works best in specific cases.
If you have a long-term vision with unique requirements which can only be accomplished by custom development, you must look for AlayaCare alternatives.
And the best alternative to AlayaCare in such a case is custom home care software development.
But how do you define - whether custom or pre-built?
Here is the evaluation matrix
Deciding between custom or pre-built home care software is overwhelming. So, let us help you.
The following is an evaluation matrix.
You need to prioritize the things which matter to you by rating it on a scale of 0 to 10. Here, 0 shows its least value and 10 shows its highest value.
For example, if your unique requirements are extremely high, fill 9 out of 10. And if you have very little investment cap, fill 1 out of 10.
If the total is greater than or equal to 25 = Go for custom home care software development
If the total is less than 25 = Go for pre-built AlayaCare
Let's understand this matrix with two examples for more clarity.
Example #1: Home care startup (A newly founded company)
They have almost no unique requirements, very little investment cap and time window but want to have code ownership. So, the following is what they would fill out.
The startup must go for AlayaCare as their total score is less than 25.
Here, it is worth mentioning that even though the startup requires code ownership, they cannot be able to get it because they first don't have a high investment cap and large window. And secondly, they don't require code ownership itself as their operational size is too small - as of now.
Example #2: A nationwide home care agency
They have a high level of unique requirements which need customization, a high investment cap and also require IP rights. So, the following is what they would fill out.
The agency must go for custom software as their total score is more than 25 - even though the scope for a time window is less than 5.
Need an easy evaluation method?
There is nothing easier than a simple comparison table.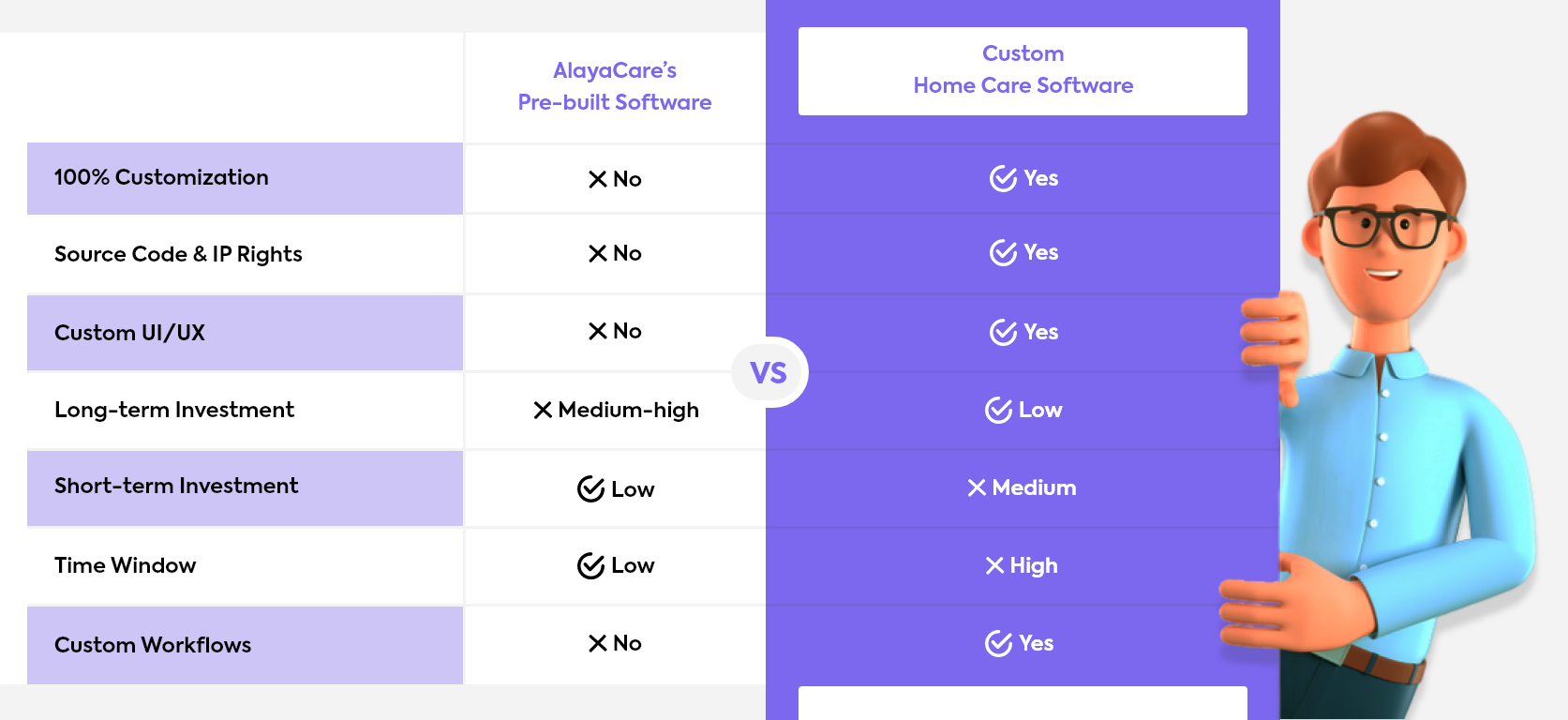 You can now easily evaluate whether you should go for AlayaCare or custom home care software development.
If you choose AlayaCare, you can contact their team from here.
But if you choose custom, first of all, we appreciate your vision and guts to choose something which is exclusively built for you.
Still, if you don't want to go for either Alaycare or a custom solution, check out the top alternatives and competitors to Alaycare in 2023.
5 Best Alayacare alternatives and competitors to improve the quality of home health care
Before you invest in any alternative to Alayacare, it's important that you select the right one for your home healthcare needs.
However, it's crucial to do it in the first place because there are tons of alternatives available in the market.
Luckily, we've done the homework for you!
We've created a compiled list of the best Alayacare alternatives and competitors along with features, pros, cons, and pricing.
Let's get started!
1. Our white-label home health care software – the best Alayacare alternative in the market
We said "the best" and we'll prove it in the next 2 minutes.
First, it's white-label software.
That means – we deliver the customized product as per your unique workflows and branding needs (which you'll never get in any other Alayacare alternative).
Second, we've built it with the help of 20+ home healthcare business owners.
This will allow you and your team to easily perform point-of-care and back-office operations with best-in-class clinical experience.
Third and most importantly, it comes up with no-code functionality.
Meaning, you can configure the software workflows without any coding knowledge!
And last, solid features that come up with peace of mind!
Caregivers and client management
Client document management with expiry setup reminder
Real-time notification and reminders via SMS and email
No-code checklist maker
HIPAA authorization tool with eSignature and expiry reminder set up
Portal for caregivers, clients, and their families
HIPAA-compliant messaging app for clients and caregivers
Order and contract management
Client intake forms
Vendor management
Activity planning or task management
User permission management
Product management (for vendors)
Inventory management
Pros:
It is HIPAA-compliant home health care software.
It comes up with no-code capabilities.
A multi-user architecture (means a separate web portal for the internal-external team and vendors)
Unlimited numbers of users can access
Customization as per your unique needs
Cons:
The base is already ready. However, it's not ready-to-use.
We do customization on the top of the base as per your unique branding and clinical workflow needs.
Because we aim to deliver the topmost clinical experience and it is only feasible when you have software that perfectly fits your unique requirements.
And for that, we take a maximum of 60 business working days for customization.
Pricing:
The pricing model of our white-label home healthcare software makes it one of the best Alayacare alternatives in the market.
Because here, you don't need to stick with the monthly and yearly fees hassle.
You just need to pay a one-time licensing fee and get unlimited user access for a lifetime!
In case you're wondering, here are the real-world screenshots of our product.
(Note: These are not the final image of the software. This is what we have created recently. And we customize it as per the unique workflow needs of the clients.)
 👉 Get a Live Product Demo for Free
2. Alora Home Health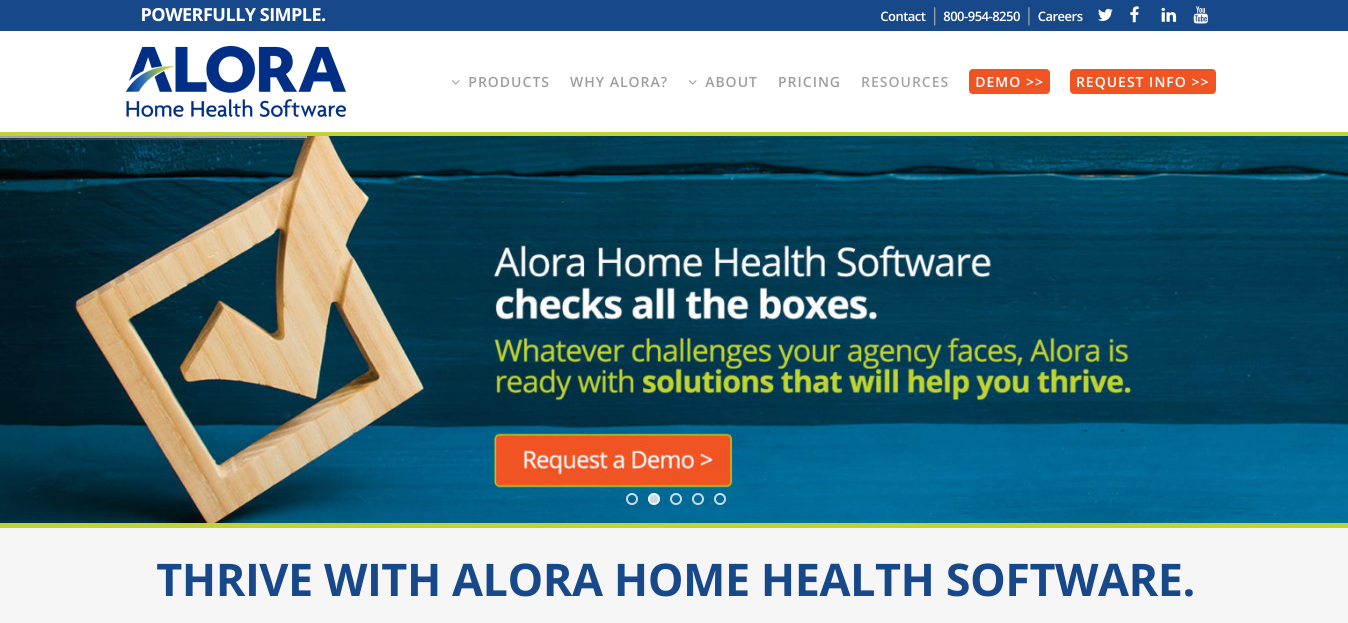 Alora Home Health is designed to fulfill almost every need of the home health care agency.
It includes – clinical, operational and financial areas of the ecosystem.
Meaning, it is completely optimized for improving the efficiency of administrative and clinical workflows.
And it is suitable for both skilled and non-skilled home healthcare agencies.
Top features of Alora Home Health:
Effective patient and caregiver scheduling
Simplifies billing and invoicing
Faster claims management
Mobile access
Electronic signature
Efficient care plan and patient record management
Payroll management
Easy-to-use compliance management
Patient and physician portal
Pros:
Paperless workflow
Works on any device
Faster and efficient billing
Easy documentation
Cons:
High training required
Complex to understand in the first place
Low-grade notification and alert system
Pricing:
Its pricing starts from US $295/month which is suitable for a small home healthcare agency.
3. AxisCare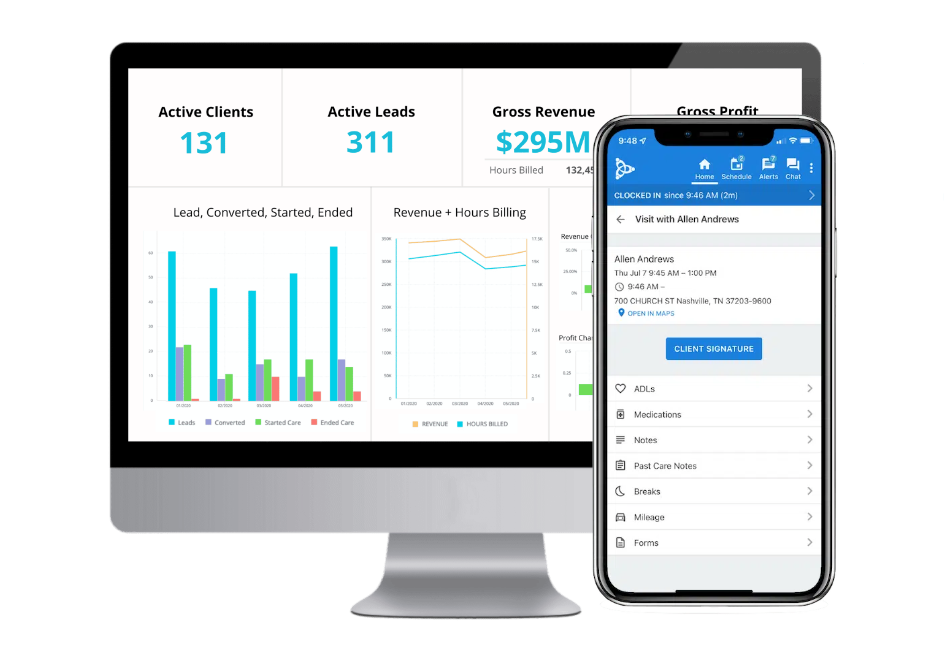 This Alayacare alternative is a combination of home health care software and EVV (Electronic Visit Verification) solution.
It offers point-of-care and back-office solutions in the USA and 10 other countries.
For instance – it allows you to track essential growth metrics, stay compliant, streamline cash flow, and deliver an extraordinary experience to patients and caregivers from onboarding to billing.
Top features of AxisCare:
Automatic invoicing and quicker payments
Make better decisions with business intelligence
Mobile app for caregivers
Portals for both clients and caregivers
Custom form builder
Customizable reporting
EVV solutions
Track and analyze the hospitalization data
Medication reminders
Effective scheduling
Pros:
Sufficient onboarding and training program
Gives you flexibility in customization
Simple to use
Made by home health care owners
Cons:
Complex to manage authorization
Forms and chat feature requires improvement
Pricing:
Its prices can vary depending on your needs.
However, as per GetApp (software review site), its pricing starts from US $150/month.
4. MatrixCare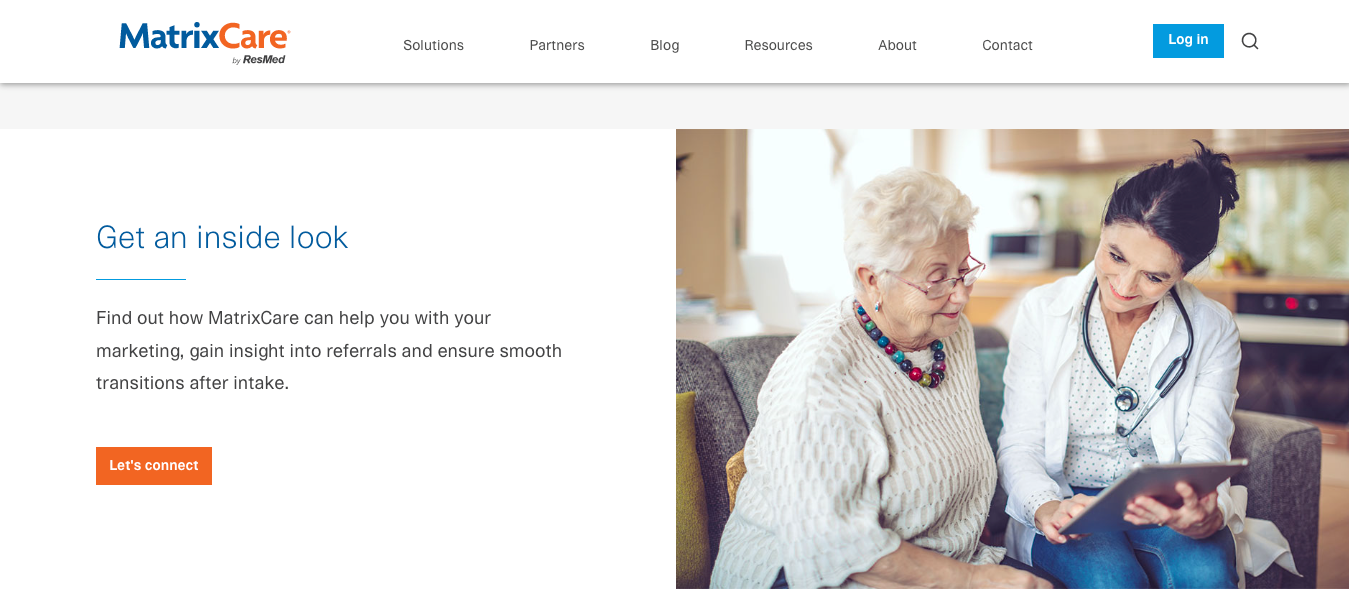 MatrixCare is one of the best Alayacare alternatives and competitors that is designed by clinicians, for clinicians – to improve the quality of home health care!
Its smart technology is perfectly suitable for home care hospice, skilled nursing facilities, private duty, and palliative care.
The primary focus of MatrixCare is to maximize compliance, enhance the quality of care, improve operational efficiency and simplify the billing process.
Top features of MatrixCare:
Efficient claims management
Easy activity planning
Hassle-free client and their records management
Streamline staff scheduling
Point of care system
Finance and compliance management
Pros:
It has advanced scheduling technology.
High-level data security program
Powerful back-office tools
Provides home health-specific content to clients
Cons:
No customizable templates
Complex to learn and use
Time-consuming documentation process
Pricing:
Its pricing is not revealed by the vendor.
5. Axxess Home Health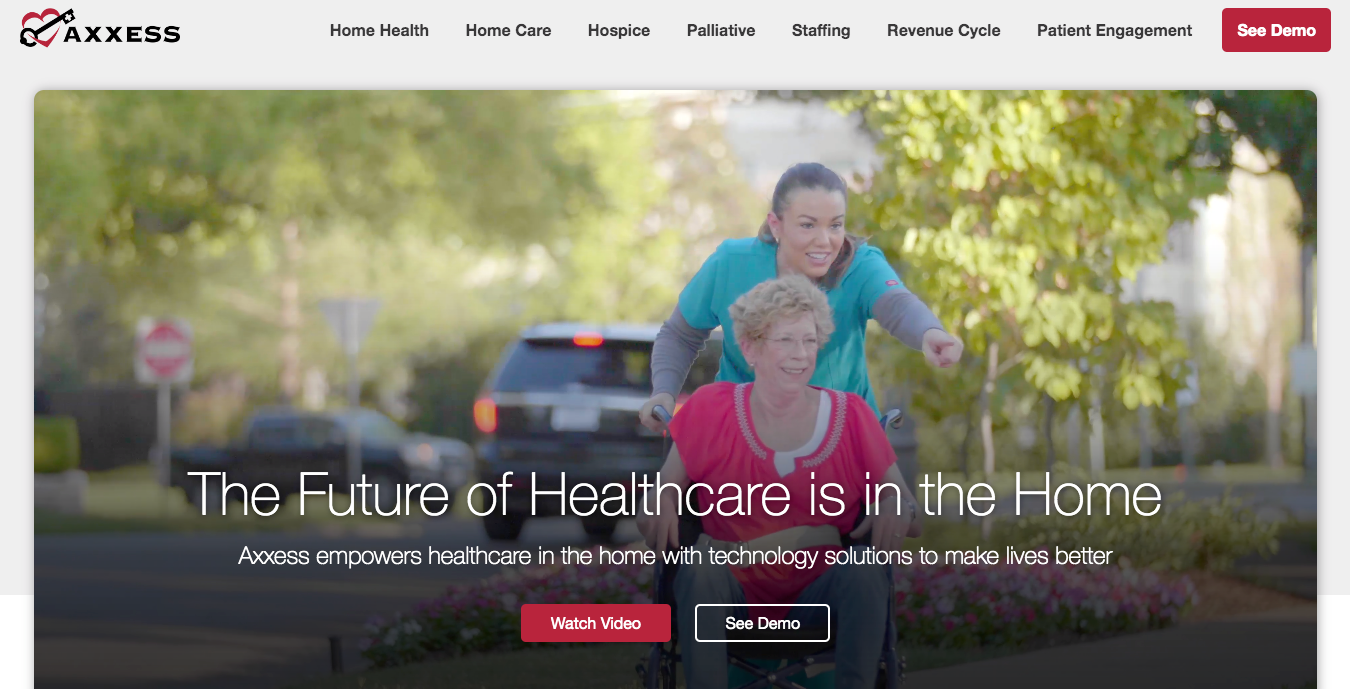 Axxess' powerful home health care software is trusted by over 9000+ organizations worldwide.
And that's why it is one of the top competitors and alternatives to Alayacare.
Its software offers a round-the-clock solution that aims to improve the quality of care and productivity of caregivers.
Top features of Axxess:
Client Case Study
Intake and Scheduling
Mobile Solutions
Electronic Visit Verification
Quality Assurance
Claims Management
Financial Reporting
Patient-Driven Groupings Model
Medicare Conditions of Participation
Revenue cycle management
Staffing solutions
Pros:
Effortless scheduling process
Comes up with communication notes
Easy workflow
Simplifies billing process
Cons:
Stressful readmission process
Poor training and support
Order management is frustrating
Pricing:
It comes up with a monthly subscription plan + you need to pay for the installation.
However, the pricing is not revealed by the company.
And we? Well, we are health tech masterminds!
Based in Ontario, Canada, we plan, design, build, test and deliver robust and scalable health tech solutions that are comfortable in usage but lethal in ROI.
When we say we, we are talking about our 50+ healthcare IT professionals who include healthcare developers, UI/UX designers, business analysts, QA engineers and compliance specialists.
The home care industry is where we have been proactive since our inception in 2015.
During the pandemic, we helped several Canadian LTC homes to ensure continuity of care and keep our seniors safe with the help of cutting-edge technology.
We are always thrilled to work with healthcare startups and healthcare enterprises that have the level of madness we have for the healthcare industry!