Build Mental Health Chatbot Like Woebot Which Raised $90 M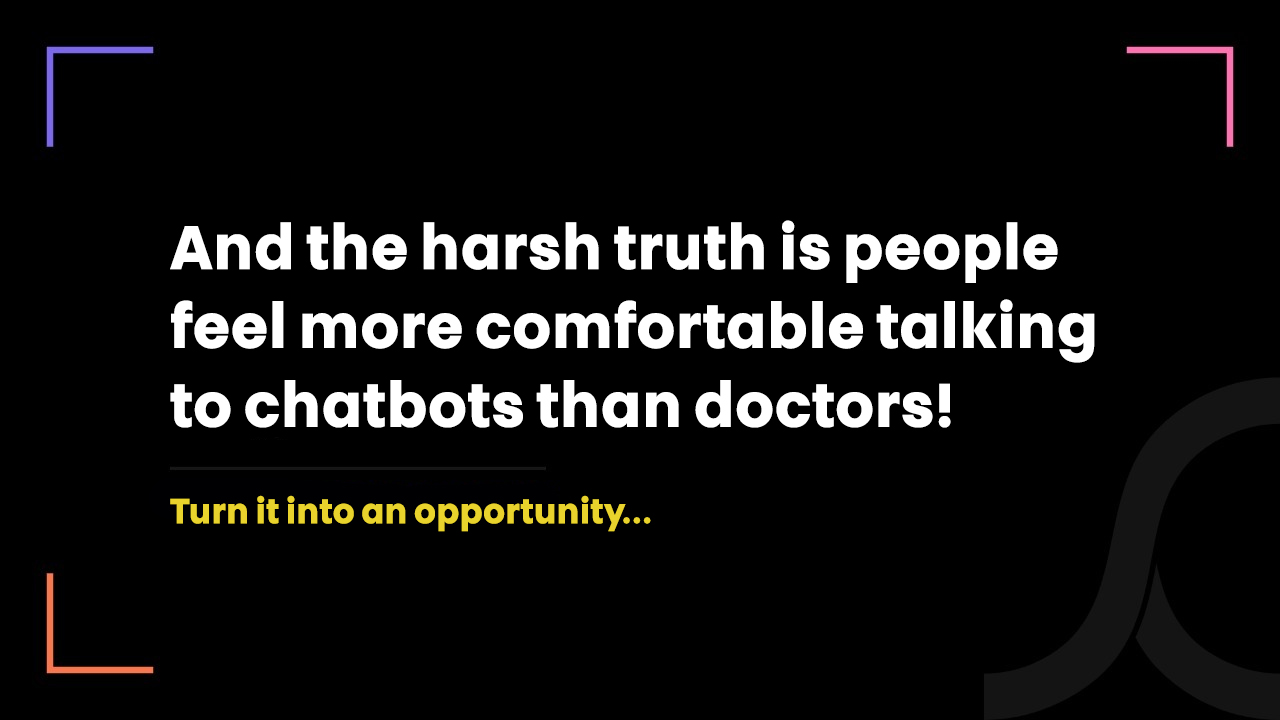 2 years ago
One of our clients is a mental health therapist.
He told us in our last weekly meeting that patients having a mental illness are not comfortable with the idea of interacting with a therapist for every small need.
This not only eats up time at both ends but also increases the overall cost of mental health therapy.
What we suggested to him was a mental health chatbot like Woebot.
If you are wondering, a chatbot is a mobile/web program that is smart, capable of answering all questions of patients, recording the data and providing personalized suggestions to patients.
A mental health chatbot can successfully eliminate the need for a patient to contact his therapist to know every little information of his care plan.
How does a mental health chatbot work?
A major pillar of chatbot architecture is AI technology. It makes a simple program smart enough to understand search intent of the patients and form personalized answers for them.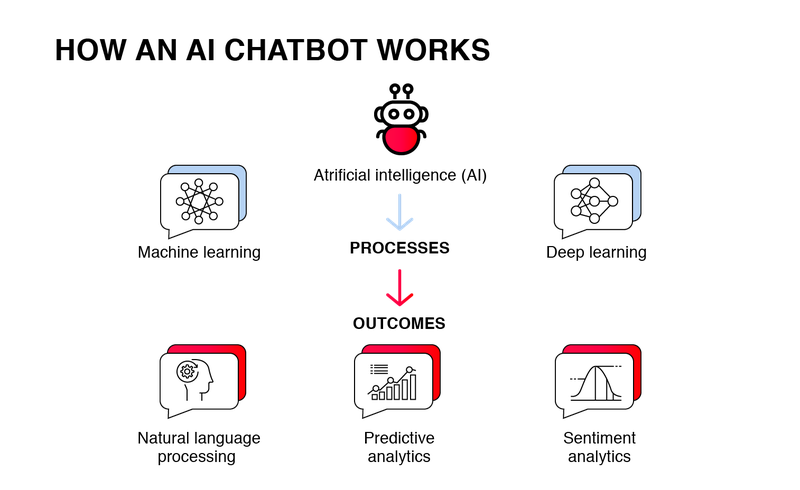 Here, other branches of AI such as machine learning, deep learning, natural language processing, predictive analytics and sentiment analytics are also used to analyze user requests and process them.
Machine learning enables chatbots to learn from unorganized data, identify patterns and make decisions without human interaction. It majorly achieves such tasks with sophisticated machine learning algorithms and lots of data that we use to train machine learning models.
Deep learning is the advanced version of machine learning. In the case of deep learning, we don't need to train the model. It automatically classifies things and understands the data.
Natural language processing
Natural language processing plays an important role. It deals with the human language. It understands & manipulates words said by humans. It is capable of understanding even voice commands as well.
Predictive analytics analyzes current and historical facts and data to predict about future. It uses statistical modelling, data mining techniques and machine learning.
Sentiment analytics is nothing but the contextual mining of text. In other words, it identifies the real meaning behind text or in which context it belongs.
Check out these top mental health chatbots dominating the market
If you are planning to build a mental health chatbot for your clinic or for launching it under the SaaS model, you must first study already performing chatbots.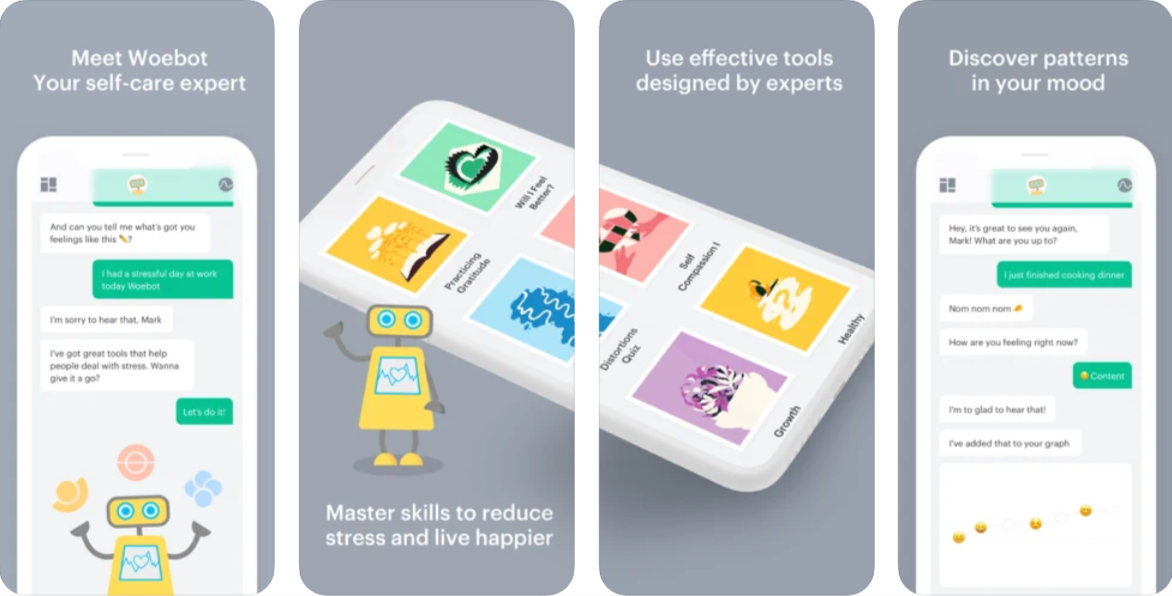 Founded in 2017, Woebot is a mental health-focused text-only chatbot that has recently raised $90 million.
It targets both clinicians and patients. Clinicians can utilize it for their patients whereas patients can individually use it through Woebot's mobile app to monitor their mood and get personalized suggestions.
It was initially built for adults and graduate students. But now it works as the full-fledged platform for Cognitive Behavioral Therapy (CBT).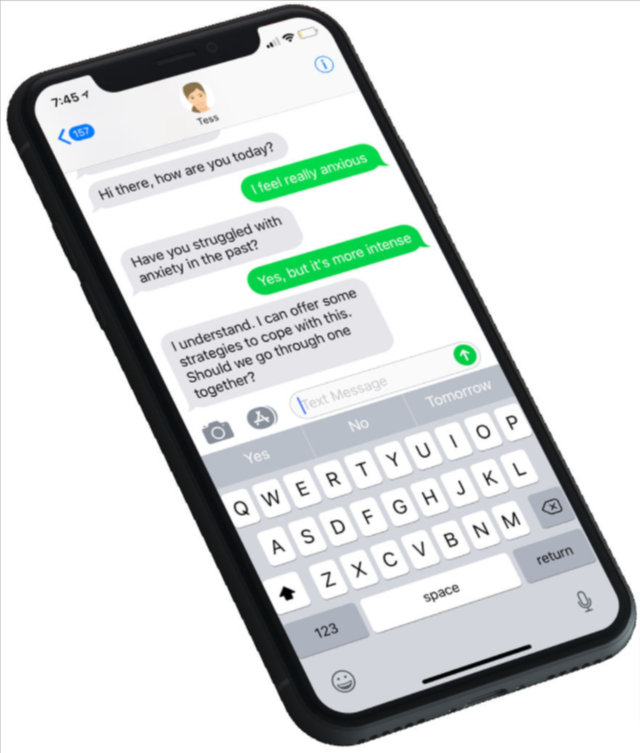 Tess is the most feature-packed mental health chatbot developed by clinical psychologists. It is focused on text-based conversation and thus, it does not need any mobile app. One can easily access it with just a simple mobile phone and phone number.
It also supports both English and Spanish language. Tess also provides a white-label solution to integrate it into 3rd party mobile apps or websites.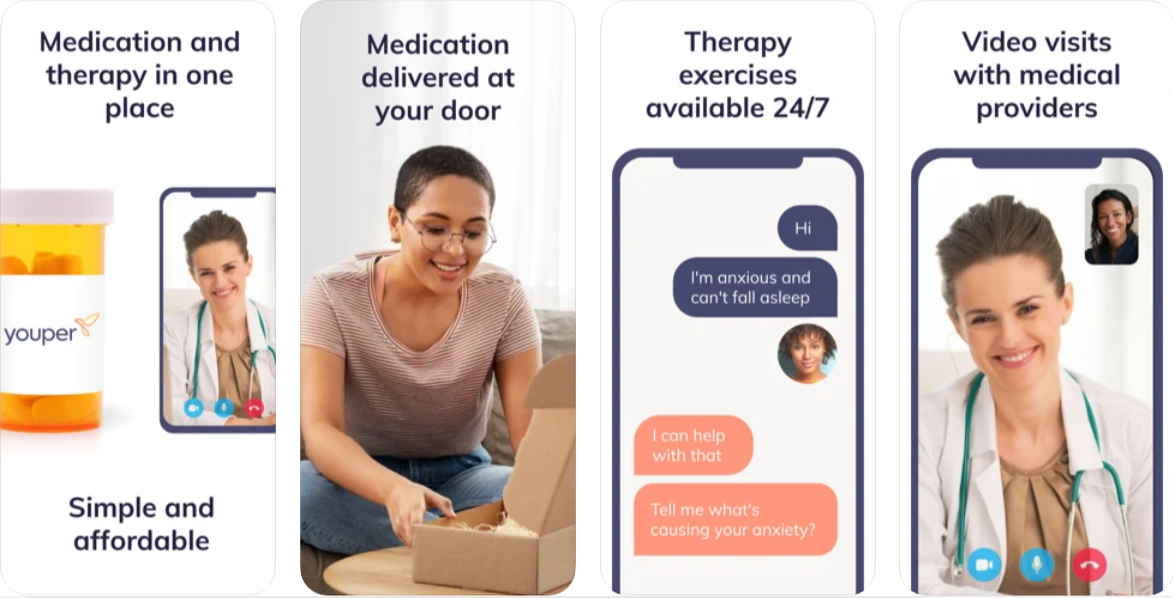 Youper offers a complete mental care solution with a mobile app having useful features such as chatbot and virtual care.
It enables patients to get free mental health assessment and track mood, mental health symptoms and progress.
Additionally, if a patient feels he needs to talk to a therapist, the Youper app lets him virtually connect to the therapist within minutes.
Youper also delivers medications at patients' doors every month.
This is how it streamlines the entire patient care cycle from assessment to consultation and prescription delivery.
Benefits of building a mental health chatbot like Woebot
Mental health chatbot is commercially and clinically rewarding. However, it depends on your use cases whether you will derive more commercial benefits or more clinical benefits.
For instance, a therapist building a mental health chatbot for his clinic will derive more clinical benefits than commercial benefits.
But a healthcare entrepreneur building a mental health chatbot for launching it in the market under the SaaS model will derive more commercial benefits than clinical benefits.
Let's focus on clinical benefits as there is only one - but a major one - commercial benefit which is high profit!
Easy acquisition of new patients
With a chatbot, a therapist can easily acquire more patients from outside of his locality. Patients who interact first with a chatbot and require more professional mental health support can directly contact the therapist from the app itself.
With a chatbot, a therapist facilitates his patients to seek mental health support at any time. Patients can also track their healing progress and record every data related to their mental health.
Thanks to a chatbot, a therapist can gain access to a lot of crucial information patients haven't shared with him. Therapists can also know data recorded by the patients which enables them to provide personalized care that ultimately enhances the patient outcome.
Keeping patients engaged throughout their therapy period is a major challenge for therapists. But now with a chatbot, therapists can provide opportunities and flexibility to patients to be engaged in care plans and carry out self-care in a well-organized manner.
How to make money with a mental health chatbot?
If you're planning to build a mental health chatbot like Woebot, you must not be planning to derive just clinical benefits. There must be your financial goals too. So, let's discuss different ways to make money with this beautiful piece of technology.
To implement this model, your chatbot should have several features such as text-based conversation, voice-based conversation, virtual care, database, mood tracking, personalized suggestions, goal setting etc.
You can offer a few basic and common features for free and charge a fixed fee for advanced features such as virtual care, database, tracking, personalized suggestions, goal setting.
Here, you allow clinicians to use your mental health chatbot for their clinical purposes. And in return, they pay you either a fixed fee or a fee based on usage.
Under this model, you build a white-label mental health chatbot that you let other startups, clinics and enterprises acquire with their branding and theme options.
Read our related guide on: Healthcare app monetization
How much does it cost to build a mental health chatbot? And how long does it take?
We're an Ontario-based healthcare-focused IT company and have the expertise & all resources to build an AI-enabled healthcare chatbot.
When it comes to the cost of chatbot development, we avoid telling you the cost without knowing your requirements. Why?
Because we can never be able to tell you the cost of chatbot development without knowing your requirements.
And if somehow we do, it will be like giving you a false promise or false hope for our benefit.
So, the more rational idea is, you share your requirements, our business analysts assess them and give your personalized quote along with free consultation.
Talking about the time of chatbot development, it is also uncertain as it depends on multiple factors.
However, once we know your requirements and we define deliverables, we can easily estimate how many days it will take our UI/UX, development, and compliance teams to deliver your project successfully.
We follow the agile methodology and always promote a strict timeline in the workplace.
What we and our clients are most proud of is our healthcare-specific knowledge and experience.
Because, we're truly healthcare tech experts - only entertaining healthcare IT projects!
Check out our other mental health-specific tech solutions: