Telemedicine for Psychiatrists: Explore Our Ready-made Telehealth App with Free Live Demo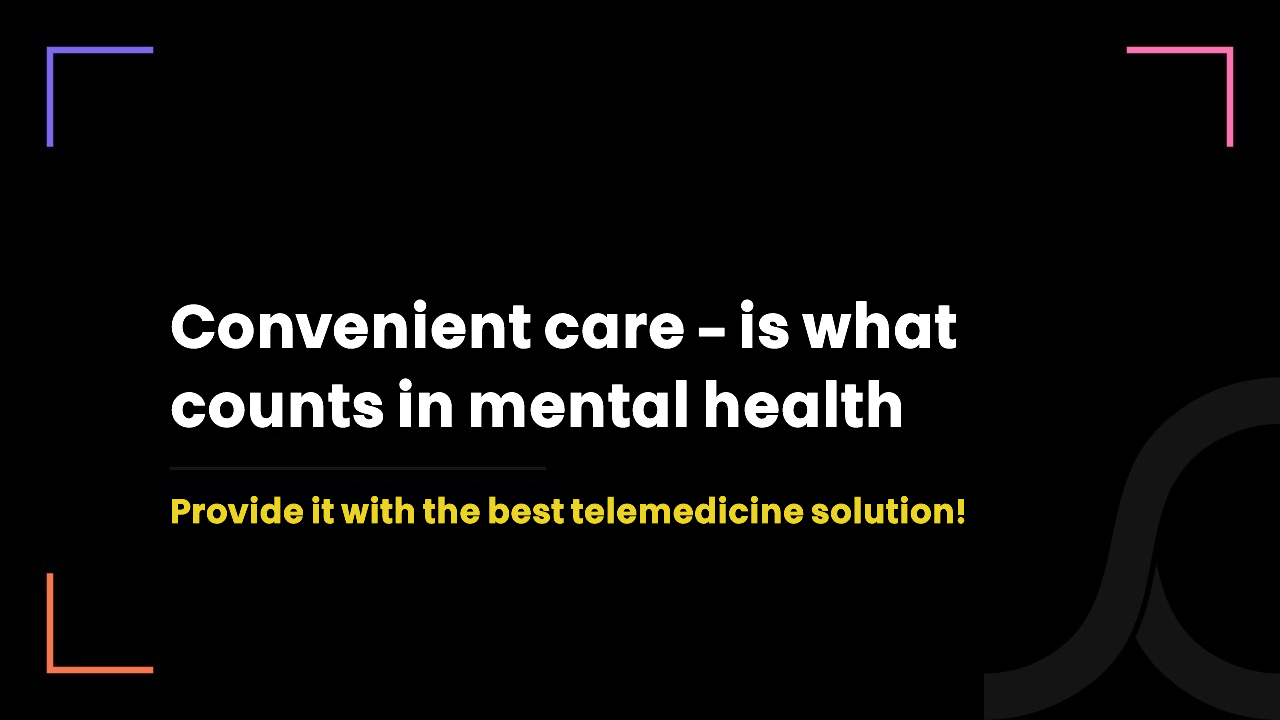 7 months ago
We recently launched ready-to-use telemedicine for psychiatrists.
And in just one month after the launch, it has been adopted by more than 50 Ontario-based psychiatrists so far.
Because it comes up with unique functionalities that you'll never find anywhere else.
For example,
It is a HIPAA, PHIPA, and PIPEDA-compliant app.
You can customize it according to your needs. 
Have in-build ePrescription and sick note feature
Seamless integration with EMR/EHR, HIS, IoT, wearable devices, etc.
And in this blog, we have shared everything about it.
From its real-screen images to links to a live demo and features to the tech stack.
A glimpse of our telemedicine app for psychiatrists
Note:
The screenshot we have shared here is a telemedicine web app.
You can access it from any device or browser.
However, we have also built a mobile version of it.
So, as per your needs – you can acquire either one or both.
1. Super admin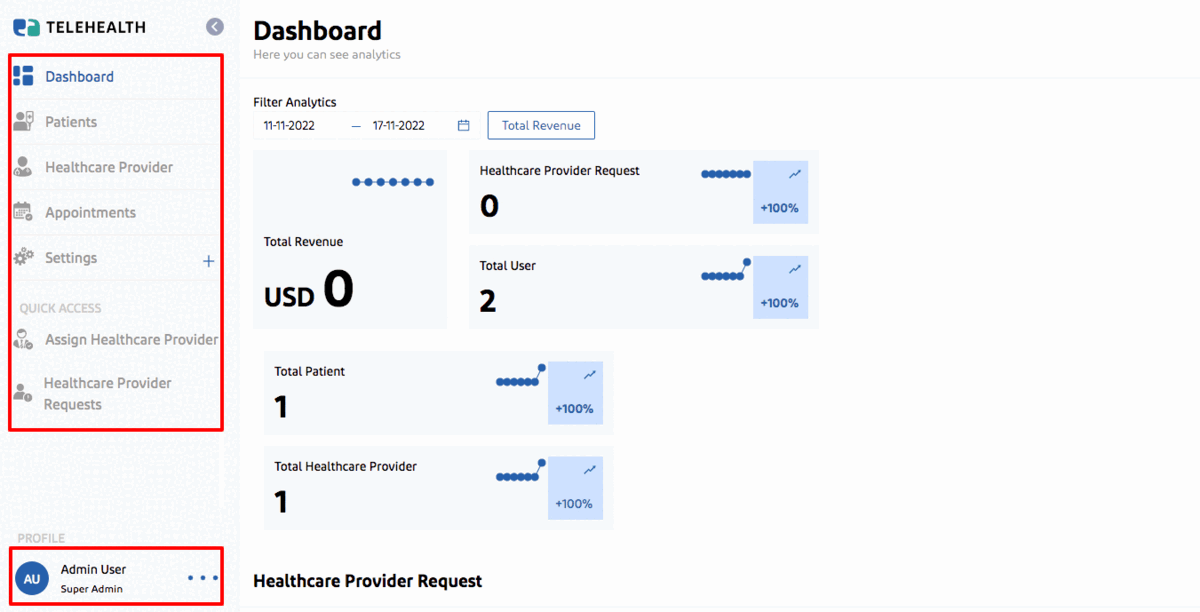 Log-in details:
Username: admin@admin.com
Password: Admin@123
OTP (2-factor authorization code): 123456
2. Psychiatrist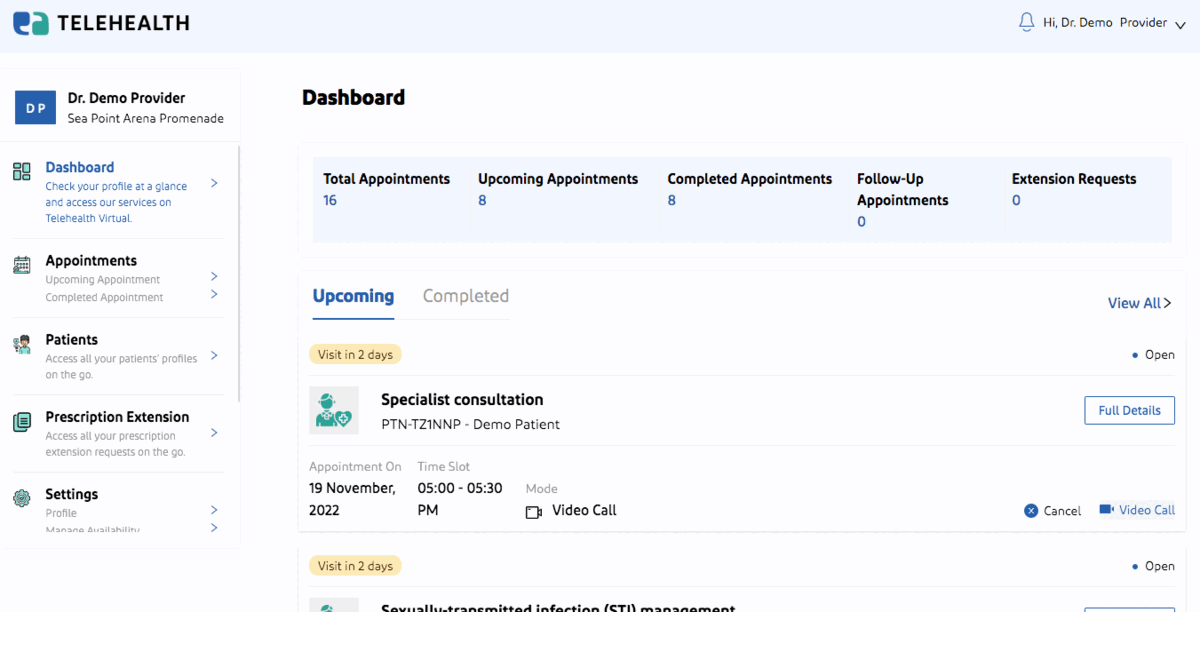 3. Patient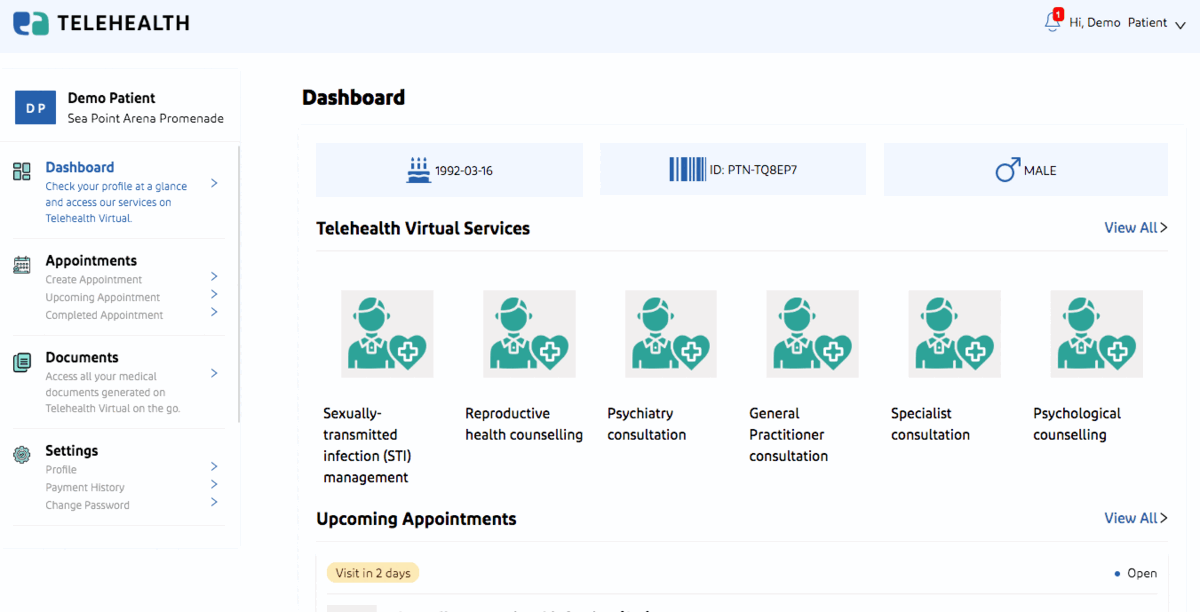 (Note: For the patient and provider panel, username and password are auto-fill.)
Now, let us reveal our mobile app for telepsychiatry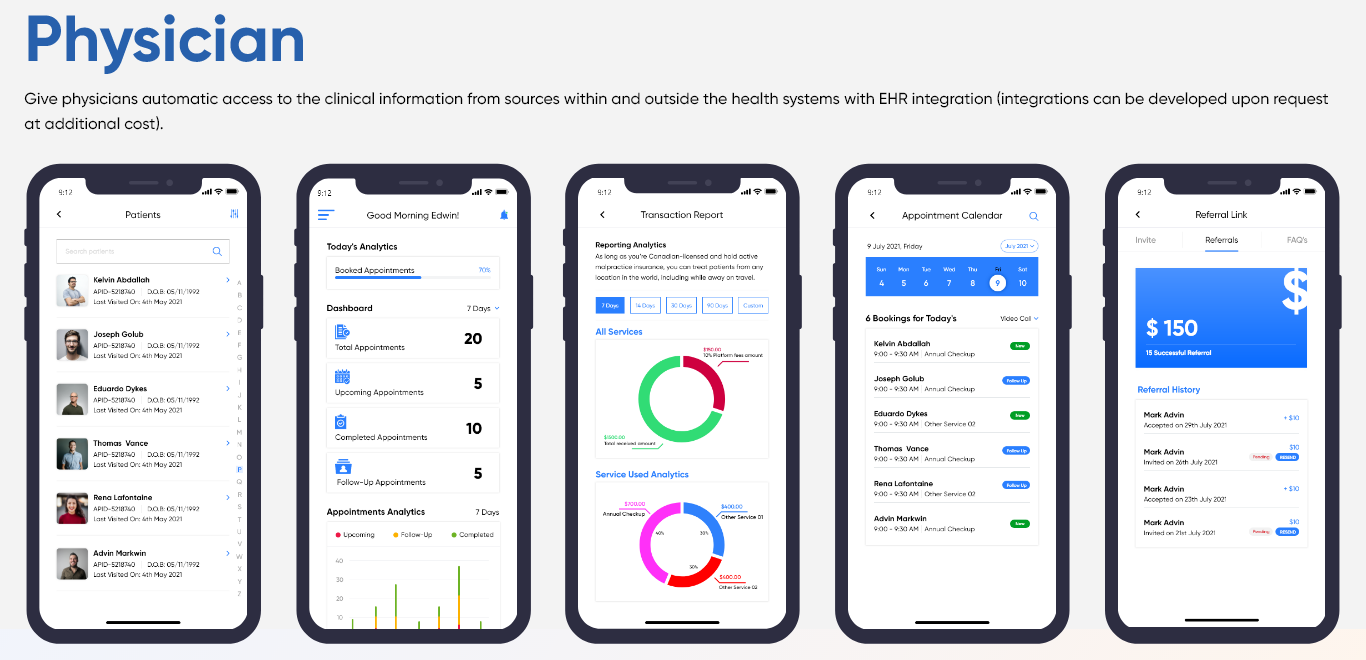 Take a sneak peek into the architecture of our telemedicine for psychiatrists
Being healthcare-specific IT professionals – we understand the importance of having a simple (yet powerful) architecture of a telemedicine app.
Thus, we have designed our telehealth app architecture (along with its workflow) by brainstorming with 30+ Ontario-based psychiatrists.
The following is how our telemedicine app for psychiatry fulfills the modern demands of patients – at the same time – streamlines your clinical workflows.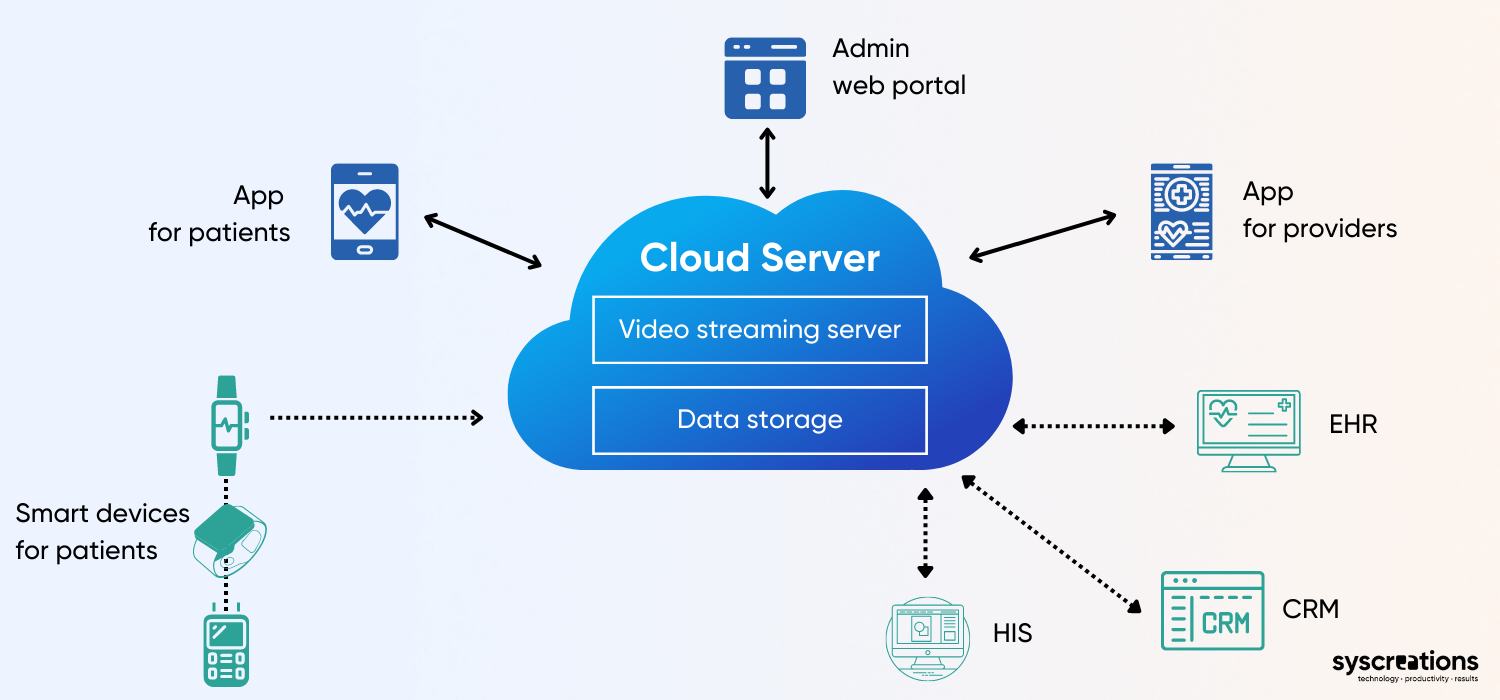 1. Admin web portal
View the list of patients and psychiatrist
Assign the ideal psychiatrist to patient
Accept and reject the psychiatrist platform joining request
View all the appointments
Set availability and services for virtual psychiatry solutions
See earning reports
2. App for providers
Manage telepsychiatry appointments
Connect with a patient via chat, audio, or video conferencing
Access medical records of patients
Manage the telepsychiatry solutions availability
Provide ePrescription (in form of PDF)
Track earnings
3. For patient
Book, manage and cancel an appointment
Manage personal and health information
Access, manage and share health records
4. Secure cloud storage
Store crucial information about patients
Store telepsychiatry consultation history
Manage images and PDFs – shared by patients
5. Video conferencing server
It connects psychiatrists and patients in real-time.
For better understanding, explore our resource: How to Start a Virtual Psychiatry Clinic? Telepsychiatry Workflow
You'll get mind-blowing features for telemedicine app for psychiatry
We bet you.
You and your patients will love these features.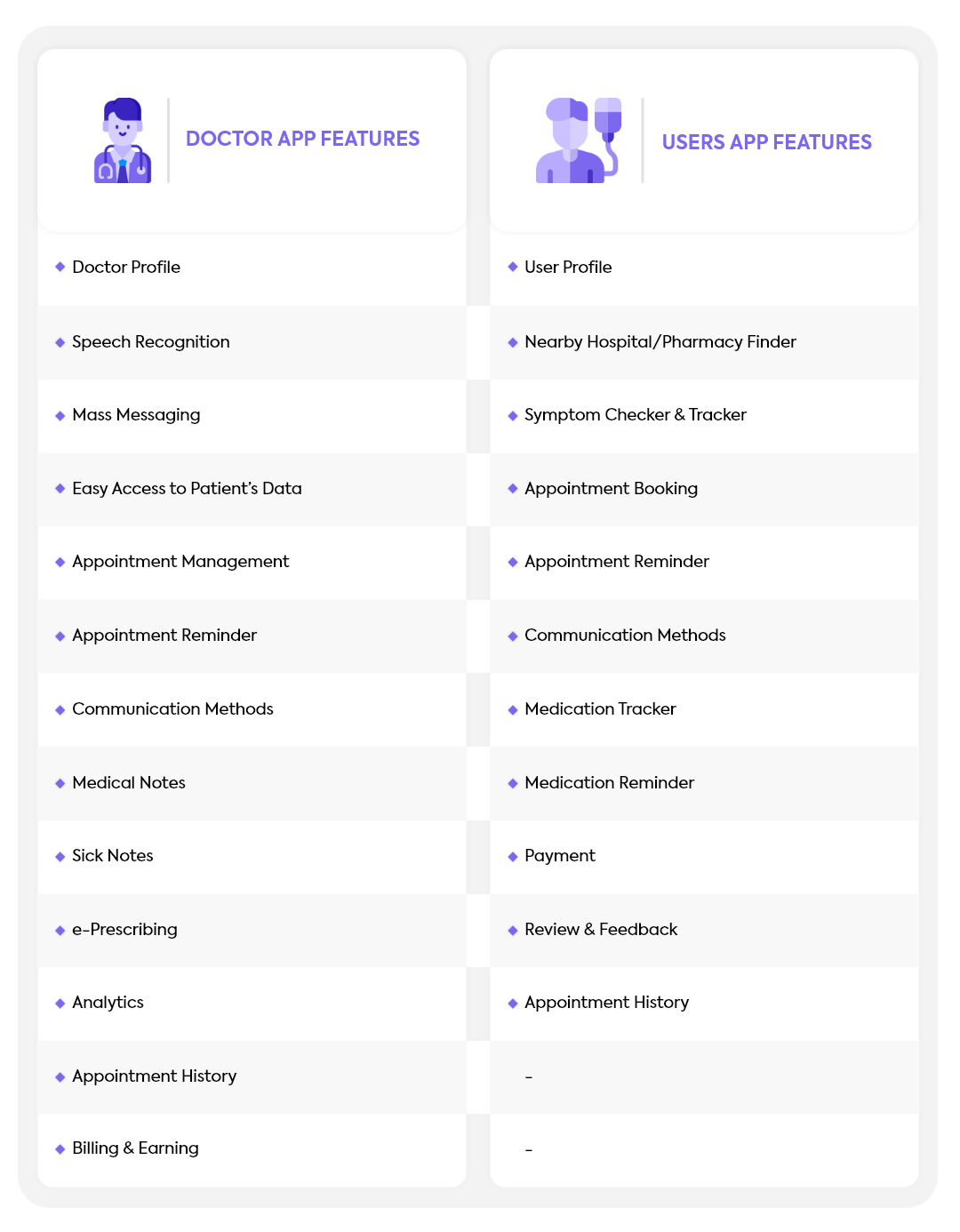 And our telehealth app has a future-ready tech stack. That will perform – even after 2030!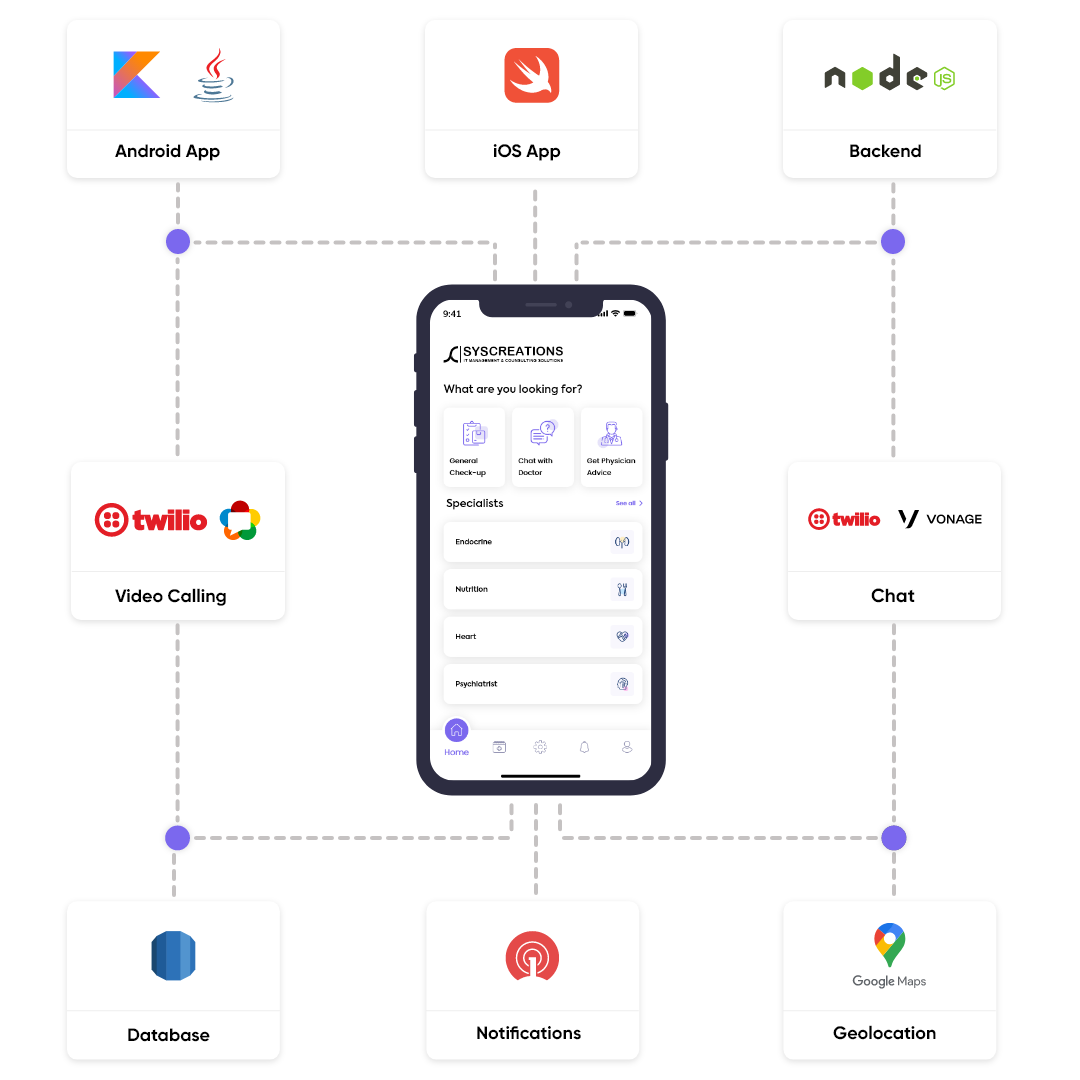 Our other useful resources on telemedicine:
The perks of having our telemedicine app for psychiatry
Psychiatry and technology look unusual together.
But like we busted the myth by flourishing an unparalleled industry - Pharma - with technology, psychiatry practices modernization is within the bounds of possibility!
The following are 9 game-changing benefits of telemedicine for psychiatry.
1. Anxiety Disorder
A patient having severe anxiety struggles in daily life due to a lack of expert observation.
Through telemedicine or telehealth for psychiatrists apps, a psychiatrist can carry out regular treatment including counseling and medication without the barrier of time & place and give real-time suggestions for self-care.
The ultimate outcome would be personalized care and quick recovery!
2. Bipolar Disorder
A patient having bipolar disorder sometimes feels so manic that he cannot visit the therapist's office.
The only workable solution in such cases is the online assessment.
Online psychiatrists are able to diagnose and treat multiple types of bipolar disorders with embedded digital care toolkits in online mental health solutions.
3. Somnipathy
Care delivery time does matter.
Like a superstore owner leverages the Friday evening rush hours when demand is at its peak, a mental health specialist should treat somnipathy when its effect is at its peak - during the evening or night.
However, providing rapid care at odd hours is difficult without using online resources such as telemedicine for psychiatrists.
4. Talking Therapy
A psychiatrist can use many free tools to talk to patients online.
But talking therapy is not limited to 'talking' as interaction and collaboration are more important.
The uniquely developed telehealth tools for psychiatry practices actualize interactive talking therapy.
Such tools offer the ultimate freedom to patients to not share an identity as many patients prefer to go anonymous.
5. Post-Traumatic Stress Disorder
A person having post-traumatic stress disorder (PTSD) which is triggered by a terrifying life event usually gets upsetting dreams or nightmares.
With a telemedicine app, a psychiatrist can keep a record of a patient's nightmares and mental state for the sake of analysis to come up with personalized treatment.
6. Medication Reminder and Management
Taking the medication on time and managing refills are major challenges for a person having any kind of mental illness.
A custom telehealth solution not only helps patients get medicine on time but helps them to order and receive medications from the comfort of their homes.
PocketPills is one such kind of online pharmacy that coordinates with therapists to deliver medications for free and manage the refills of patients.
7. Eating Disorders
People having eating disorders are either overweight or underweight. A feeling of being physically different from others can cause many mental issues.
By using a telemedicine app, a psychiatrist can guide patients anytime from anywhere on balanced food and exercise to boost confidence with good physical shape.
He can even track the patient's activities and diet plans to personalize and enhance the therapy.
8. Passive Symptom Tracking
Many times, a patient with mental illness hides crucial information.
For instance, a patient generally does not feel confident to share his poor relationship with his loved ones.
In such cases, passive symptom tracking reveals the actual cause of his mental illness.
A uniquely developed mobile app records a patient's movement patterns, social interaction in terms of texts and phone calls, behavior at different times, vocal tone, and more.
With this passively collected data, a therapist can automatically or manually find the real reason behind a patient's mental instability.
(Your app should not collect any data without the permission of patients.)
9. Convenience and Accessibility
Telemedicine for psychiatrists has the potential to improve the accessibility of mental health care for patients in underserved or remote areas.
Virtual psychiatrist appointments reduce the care barriers and eliminate the travel need making it convenient for the patients and providers.
Telemedicine for psychiatrists also offers:
Scheduling appointments
Virtual consultations
Location and time flexibility
Want a custom telemedicine solution for psychiatry?
Based in Ontario, we are a healthcare app development company.
Since our inception in 2014 – we successfully delivered 30+ telemedicine apps (including telepsychiatry).
We have accomplished it with our 50+ healthcare-specific IT team.
It includes – mobile and web app developers, UI/UX designers, business analysts, compliance specialists, QA engineers, integration experts, AI and ML specialists, and RPA engineers.
What's so special about us is our "outcome-driven approach!"
It helps us develop any healthcare app as to the unique expectation of our clients – whether it's business, technical, or compliance.
The following is the entire process that we execute for every telemedicine app development.