Want to develop App like Ask a Doctor? Check brilliant ways to overcome 5 challenges associated with Telemedicine App Development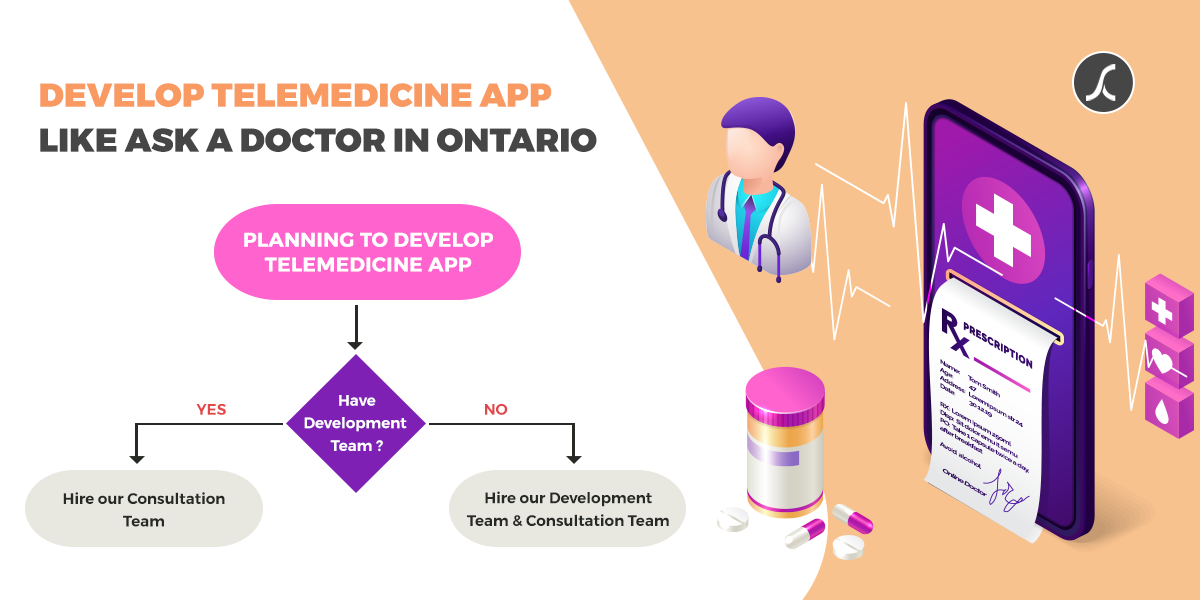 3 years ago
A telemedicine app brings a full array of basic but much-needed healthcare services with effective care to the mobile phone of the patients.
A telemedicine app connects patients to physicians through video calls, voice calls, or chat.
It enables physicians to treat patients remotely with the same effectiveness, thanks to a complete digital toolkit for physicians almost all telemedicine apps are equipped with.    
Ask a Doctor app doesn't provide a complete experience of 'telemedicine app' as it lacks many fundamental features such as live doctor visit, prescription, medical notes, and health record-keeping options.
However, Ask a Doctor app is a popular healthcare app because of its straightforward and easy working method.
It allows anyone to ask health-related questions to doctors by typing a message. Same way, the doctors can only answer questions in the text format. Patients can also attach images or reports along with their questions.  
Considering the business opportunity in the telemedicine market fueled by the coronavirus outbreak, if you are planning to develop a telemedicine app like Ask a Doctor in Ontario, it is a rational idea to add both missing and available features of the Ask a Doctor app to come up with a complete telemedicine solution.
Our other very useful and interesting research:
In this blog, we will discuss a step-by-step guide to develop telemedicine app like Ask a Doctor in Ontario.

We will share 5 challenges associated with telemedicine app development as the 5 steps. By overcoming these 5 challenges, you will satisfy the 5 steps to successfully develop a telemedicine app or develop telehealth app in Ontario.
Challenge #1: Decide the feature set
The Canadian telemedicine app market has already been intensified. Meaning, your app should have groundbreaking features along with a few AI-enabled features to give a reason to the users of other telemedicine apps to give up on those apps and start using your app. 
Here, we will make you familiar with the top features you should add in your telemedicine app. The following are a few features that aren't there in Ask a Doctor app but you have to add these features in your telemedicine app.
Missing features in Ask a Doctor app (Add these features in your app):
Live doctor visit:

In Ask a Doctor app, patients can only ask questions to doctors by typing the message. There isn't a way to schedule or take a video call with a doctor.

Prescriptions:

In Ask a Doctor app, doctors cannot give you the prescription. They can also give answers to your questions.

Medical notes:

In Ask a Doctor app, doctors cannot write the medical notes and share it with you.

Health record-keeping solution:

In Ask a Doctor app, both patients and doctors cannot save prescriptions and medical history.
Other features for your telemedicine app:
Log in or sign up

Profile

Search

Appointment booking

Appointment history

Communication

Notifications

Payment

Rating & review
Challenge #2: UI of the app
If you are planning to develop a telemedicine app like Ask a Doctor in Ontario, you should know the fact that UI matters the most when it comes to any kind of app related to healthcare.
Because the most percentage of the users of apps like Ask a Doctor are those who are undergoing illness. And, it is very obvious that a sick person never spends time understanding the functionalities of the app. He wants to navigate quickly through the app to get rapid care. 
This is the reason why you should allocate well-versed resources to decide the design of the mobile app or user journey.
Following is the best user interface design practice for telemedicine app development in Ontario.
Keep the design simple.

Use mild colour and textures to differentiate things. 

Put easily understandable icons.

Keep the description as short as possible. 

Keep the number of app pages as low as possible.  
Challenge #3: PHIPA compliance
A telemedicine app like Ask a Doctor saves many confidential patients' personal information and medical data. To avoid the abuse of this data and ensure data privacy and security, the government of Canada has imposed many rules under PHIPA which you as the app owner should know. 
PHIPA known as the Personal Health Information Protection Act was established in 2004 to govern personal health information. PHIPA establishes the rules for data collection, data use, and disclosure of personal health information of the patients.
Your telemedicine app should be PHIPA compliant and to make it PHIPA compliant, you have to follow the guidelines.
The following are a few basic rules imposed by the government under PHIPA.
Collect, use, or disclose the data of the patients only if they voluntarily agree.

If other information will serve the purpose, do not collect, use, or disclose the data.

Do not collect, use, or disclose more patient data than requirement.

For marketing purposes and fundraising purposes, express consent is required.

If an individual is found guilty of committing an offence under PHIPA, he can be liable for the fine up to $100,000. And if an organization commits an offence under PHIPA, it can be liable for the fine up to $500,000.
In addition to the app development team, we accommodate a consultation team that can consult you to make your telemedicine app a PHIPA compliant app.
Challenge #4: Bring licensed doctors on-board
Even if you have the telemedicine app, you cannot provide telemedicine services to patients without doctors. Thus, you have to overcome this major challenge. You have to select the doctors and bring them on-board. You should select the doctors according to the routine medical conditions you claim to treat through the mobile app. For instance, if you are treating medical conditions related to mental health, you should select psychiatrists and bring them on-board.
Not only this, but you should also train them to use your telemedicine platform effectively to provide rapid and quality care to patients. This training is vitally important as these doctors directly talk to the users of your app and your users decide to continue using your app or download another one based on the service your registered doctors provide them.
Challenge #5: App deployment in the market amid coronavirus outbreak
Deploying a developed and PHIPA compliant telemedicine app is very easy unless there isn't a coronavirus outbreak! The unsettled situation created by the coronavirus makes the telemedicine app deployment in the market a tough task.
Coronavirus outbreak has changed the behaviour of the people and their way to access the healthcare service. You should identify their changed behaviour and promote your app based on how your telemedicine app supports their current needs. Fortunately, telemedicine apps are offering them what they are looking for.
You should make them familiar with the benefits your telemedicine app can provide during the COVID-19 period. You should also promote the ways your telemedicine app helps non-COVID-19 patients.
The following are the top reasons why people would use your telemedicine app during the COVID-19 period and after COVID-19. This is the result of the behaviour analysis, performed by our business experts.
Top reasons why people would use your telemedicine app during COVID-19 period
They do not want to visit the hospitals to be easy victims of coronavirus.

They want to get rapid healthcare service during the healthcare crisis.

People are now more concerned about their health like never before.
Top reasons why people would use your telemedicine app after COVID-19 period
People want to avoid the high cost of urgent care.

On weekends or on special occasions, doctors are not easily available.

People hate to wait in the waiting room.

People don't want to travel to visit doctors for mild symptoms.

People don't want to take a day off from work.
How can we help you overcome these challenges and develop telemedicine app like Ask a Doctor in Ontario?
We are the top Ontario-based IT consulting and development firm.
We accommodate business experts, legal experts, app developers, and app designers to make your business journey painless.
Our designers and app developers are well-versed enough to develop the unsurpassable telemedicine app with all disruptive features.
If you have your own team of app developers, you can hire only our consultation team to get expert advice on legal concerns, user-centric app design, app development strategy, and even marketing campaigns.

On the concluding note, we would like to share our most recent case study on telemedicine app development.