How to Develop School-Based Telehealth App like Hazel Health? (Raised $51.5M Recently)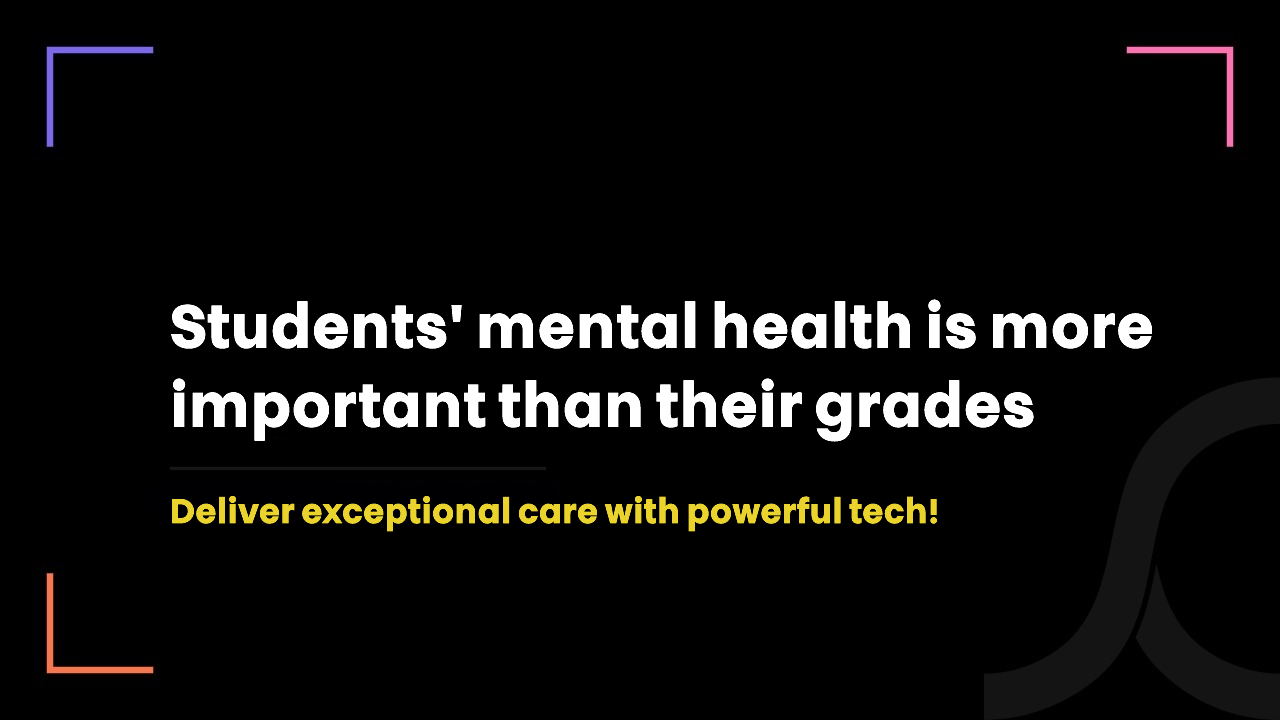 11 months ago
Want to start a school-based telehealth business?
Or want to develop a telemedicine app for kids?
Don't worry, this blog has all the answers to your question regarding it!
We have covered all the technical, business and compliance aspects of it.
Along with a process to build an app like Hazal Health which has recently raised $51.5M as telehealth for kids.
What does Hazal Health do?
Hazel Health is the largest school-based telehealth provider in Canada and the USA.
It offers a complete solution for pediatric mental health and physical health needs.
For that, it partners with schools and families to help the students live better and feel better.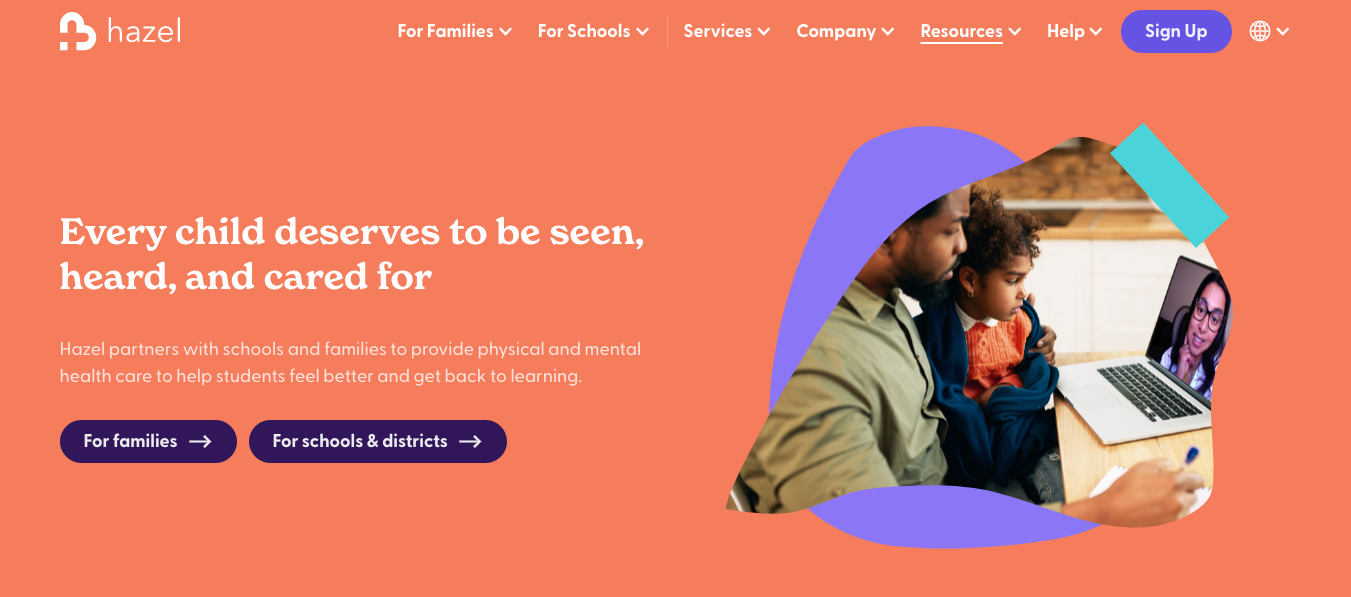 Read our useful resource on: Telemedicine for Pediatricians
How does its school-based telehealth platform work?
Its platform is divided into two parts – one for families and another one for schools and districts.
For families:
It allows families to get faster and effective care for their children when they need it – at school or at home!
What they need to do is – connect with the care provider over a video call from the app.
For schools and districts:
Getting appointments for mental and physical health is challenging.
Because of the huge staff shortage.
But Hazel Health helps the schools to get on-demand appointments for their students with its large community of health care providers.
This helps students to get back to their learning by avoiding long wait times for accessing care.
Why this is the best time to invest in a telehealth app for school kids?
There is no doubt that our healthcare system has collapsed.
A huge staffing shortage of qualified healthcare professionals is the primary reason behind it.
For that reason, it takes weeks or sometimes months to get an appointment for mental and physical health needs.
You must also read: How to Fix Waiting Time in Emergency Department?
And this is impacting the lives of millions of people around the world.
On the other hand, mental health concerns are rapidly rising among students.
However, telehealth is proven as the best solution to overcome this challenge along with reducing the rising healthcare costs.
Because it allows students to get the care they need in real-time from their comfort zone.
Moreover, it helps families to reduce spending on their children's health.
Because it eliminates live-in person clinical visits which saves time and money.
And that's why the adoption of telemedicine solutions is rising at a rapid pace not only for school students but for every age group.
For example,
The telemedicine market size was valued at USD 91.2 billion in 2022 and is estimated to reach USD 380.3 billion in 2030! (Source)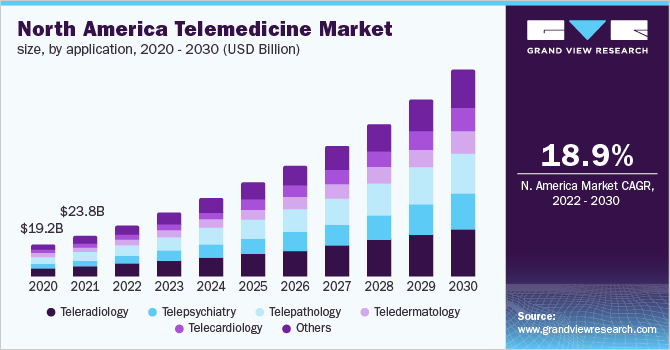 (Please note: We are not in any circumstances promoting the idea of building clone apps. The Hazel Health app we mentioned here is merely for the inspiration of new entrepreneurs.)
How to develop a school-based telehealth app or platform?
You just need to follow the bellowing steps to develop telehealth for school students in Canada, USA, UK and beyond.
Step-1: Define your clinical and business goals.
Step-2: Do plan to select the features, functionality and tech stack.
Step-3: Hire a healthcare-specific healthcare IT company (will explain it soon).
Step-4: Review app design, usability and functionality.
Step-5: Make sure your school-based telehealth platform is compliant with all the data privacy laws and regulations.
Step-6: Launch the app in the market as MVP (Minimum Viable Product).
Step-7: Collect the feedback from the students, families and schools.
Step-8: Improve the app performance and services as per the feedback from the users.
How long does it take to build a telehealth app like Hazel Health?
There is no fixed time.
Because telehealth app development is not just about doing the coding.
It requires an in-depth analysis to meet usability, app workflow and compliance requirements.
For that reason, no one can estimate how exactly it will take time to develop telehealth for kids.
However, there are multiple factors that impact both time and cost to build any telemedicine app.
Workflow needs and their complexity
Feature requirements and their complexity
Tech stack you want to use
What services should you offer in your telehealth app for school kids?
If you want to attract more families and schools to your telemedicine app for kids, offer both mental health and physical health solutions just like the Hazel Health app!
For mental health:
Anxiety
Depression
Family issues
Trauma
Self-esteem and concentration
Sleep problems
Loneliness and motivation
Anger management and self-harm
Bullying
Relationships
Physical health:
Heartburn
Sore throat
Headaches
Rashes
Ear pain
Lice
Allergies
Constipation
Pink eye
Ear infection
Diarrhea
Cold/flu
Nausea
Asthma
Insect bites/stings
Cramps
Fever
Acid reflux
Nose bleeds
Stomach ache
Minor injuries
Acne
Vomiting
How to generate revenue from it? Telehealth business model
There are mainly two ways to make money from the school-based telehealth platform.
1. Pay per visit
Here – you'll generate revenue whenever a student conducts a telehealth visit.
It gives complete flexibility and affordability to those students who are healthy and requires less amount of consultation.
2. Subscription-based pricing model
Here – a student needs to pay a fixed amount of fee for monthly or yearly usage of the telehealth app.
It is suitable for those students who are suffering from mental health issues or require a high number of consultations in a year.
To give complete freedom over the app, offer both pricing models in your telehealth app.
How to generate additional revenue and attract a larger user base to your school-based telehealth app?
By implementing these ideas, you can also dominate the telehealth market without any hassle!
Offer an online pharmacy solution
It allows both families and schools to order medicine online from the app itself.
This eliminates the need to travel to the pharmacy store which eventually saves time and lowers the spending on healthcare.
As a result, it helps in attracting more families and schools to your telehealth platform.
This helps you in generating more revenue without compromising the quality and access to care.
You can start an eCommerce store within your telemedicine app and can offer health and wellness products for students and their families.
This idea is one of the major trends in the telehealth business as it helps users to get everything they need in one place.
Our useful resources on both ideas:
Why you should always hire healthcare-specific IT experts?
Healthcare apps are totally different from the rest of the apps.
Because it is not just limited to the designing and coding part.
It should have a reliable workflow that suits both patient and healthcare professional needs.
On the other hand, the app needs to comply with all the data privacy and security laws in order to avoid crucial data breaches which can result in hefty fines from the government.
However, non-healthcare IT professionals lack all this expertise.
Because they are unaware of the complexity of the healthcare app – features, usability, functionality and workflow requirements.
Therefore, it's important to always hire healthcare-specific business, technical and compliance experts.
Because,
They are passionate about healthcare.
They have a comprehensive knowledge of healthcare workflows.
They understand what works and what does not work in the shifting healthcare market.
They only work for healthcare IT projects.
They understand the perspective of patients and healthcare professionals.
They have an in-depth understanding of interoperability standards like HL7 and FHIR.
They consider patient data privacy and security as the top priority.
They have ultimate expertise in health tech integration.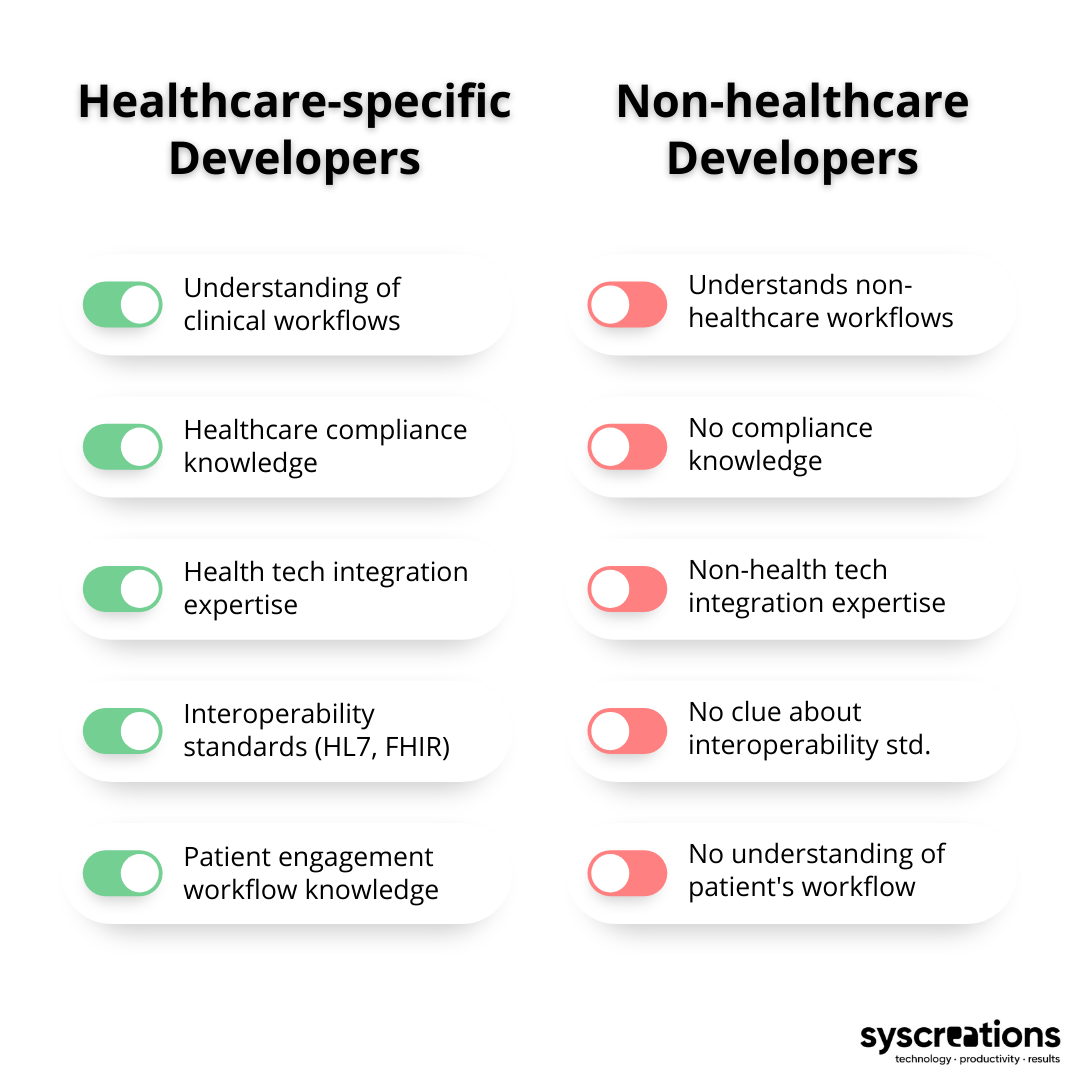 Want to build a telehealth app? Know how we can help you as a healthcare-specific IT experts
We are an Ontario-based healthcare IT company.
In other words, we only perform healthcare IT projects for startups, organizations, enterprises and individuals.
And in the past 8+ years, we have successfully delivered more than 40+ telehealth solutions.
But what makes us unique is that – each one of us has a passion to bring peace of mind into the intense healthcare IT environment.
It includes our 50+ healthcare-specific IT professionals too!
In which we have – web and mobile app developers, UI/UX designers, business analysts, compliance specialists, QA engineers, integration specialists, RPA engineers and AI & ML experts.
And if you want to experience the true expertise of our visionary team, explore the real-screen images of our white-label telemedicine app.