How to Get the Best Telemedicine for Pediatricians Solution in Canada?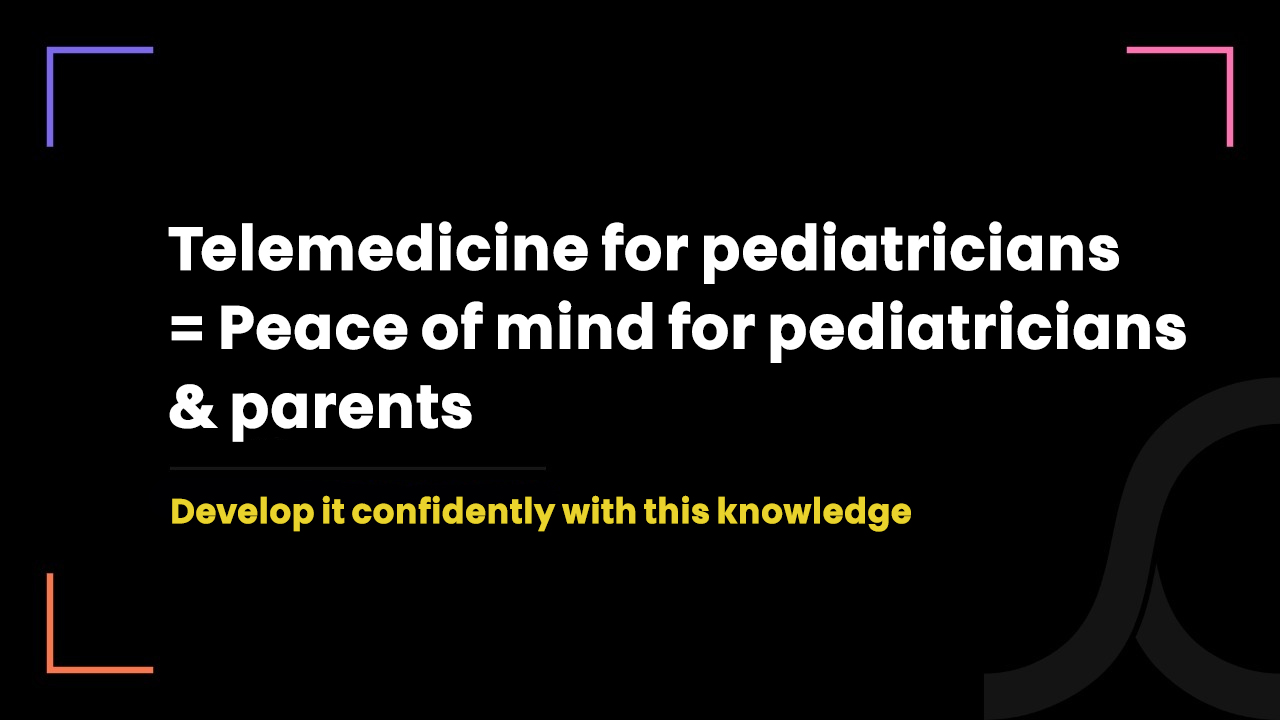 3 years ago
Being a pediatrician is rewarding yet challenging work.
Worsening the situation, the COVID-19 had doubled their challenges.
According to our internal survey, Canada's 74% of pediatricians have admitted that their before-COVID-19 child care practice has not been working effectively since the pandemic.
The major challenges pediatricians have been facing are,
More anxious parents with poor emotional health

Parents delaying care due to fear of COVID-19

Parents looking for affordable care due to economic crisis in the pandemic

Chances of an outbreak due to close contacts at the pediatric clinic
The best way to eliminate all of these challenges in a single shot is adopting new child care delivery practices with virtual care or telemedicine solution.
Our other very useful and interesting research:
Top benefits of telemedicine in pediatrics
We've delivered telehealth for pediatricians solutions to many pediatricians and during impact analysis, we found groundbreaking benefits of this affordable tech.
With a telemedicine solution, the parents do not need to bring their kids to pediatricians.
From anywhere in the world, pediatricians can talk to kids and their parents and write medical notes, ePrescription and even sick notes from the mobile phone.
Parents do not need to take a day off from work.
Parents do not need to travel.
Parents can claim insurance.
Parents can opt-in for an affordable subscription plan for their single or multiple kids.
These all allow parents to save money (and time) on their kids' care.
Kids aren't immune enough to fight against illnesses they might catch while at the pediatric clinic.
The real threat is COVID-19. There were many COVID-19 outbreaks reported in Canada's pediatric clinics.
The telemedicine solution which actualizes remote care reduces the chances of exposure as there is no physical contact with anybody!
So, if you are planning to go for telemedicine for pediatricians solution, here is the guide from our business and tech experts who have been helping pediatricians select and deploy the best virtual care solution out of many useless solutions.
How to get the best telemedicine for pediatricians solution?
You will have several choices and that's what makes it difficult to select the most suitable solution for your virtual child care practice.
Here is a quick guide based on real-life experiences.
Don't choose to pay monthly fees for others' telemedicine products. Instead, develop your own!
When it comes to telemedicine software acquisition, you can either develop your own solution or use a SaaS telemedicine solution by paying monthly fees.
Here, it is worth mentioning that the 3rd party solutions do not support your custom clinical workflows and they lack the scope of customization.
As a result, you cannot leverage it even after paying a huge amount every month.
On the other hand, if you develop your own solution, you can add the features you want and develop the solution according to your custom clinical workflows.
This enables you to claim high ROI and deliver an exceptional patient experience online.
Don't go for a custom solution with a limited investment cap. Instead, go for white-label or MVP
The only limitation of a custom telehealth solution is that it costs you more as the developers have to develop it from scratch.
A white-label telemedicine solution and the MVP version of telemedicine solution are the best alternatives to a custom app.
The white-label telemedicine solution costs you very affordable and is equipped with all useful features.
We provide it with your own branding and it is compliant with all data privacy laws of Canada and the USA's HIPAA.
Whereas the MVP version of the telemedicine solution accommodates only useful features and due to fewer features, it costs you very little.
With it, you can test the market with a no-risk approach and once you learn more about the market and your patients, you can upgrade it by adding more features.
We know - this is very complicated for any non-technical person to understand and implement. Thus, our business experts help you with free consultations.
Don't use telemedicine solution without EMR/EHR integration
EHR/EMR integration is the vitally important yet very complex 'technical' part of telemedicine app development.
Because of technical difficulties, many app agencies skip it. But you should not skip it.
After all, it enables pediatricians on the telemedicine platform to gather all medical data of the patients including allergies, medical history and historic prescriptions.
Without EHR/EMR integration, the pediatricians do not have access to these very important data which contribute high to delivering quality care.
Don't use telemedicine solution which is not compliant with data privacy laws
You must know the fact that healthcare in Canada is a highly regulated industry.
One federal-level privacy law - PIPEDA and several provincial-level privacy laws apply to telemedicine solutions.
If your solution does not address the privacy laws, you can be liable for the hefty fine.
Thus, you have to make sure that there aren't any data privacy issues in your telehealth software.
Here, it is worth noting that when you deploy a new digital solution in your clinic, the entire clinic can be prone to data privacy issues.
Thus, you also need to ensure that there are no data privacy issues at the organization-level.
For that, you have to execute PIA (Privacy Impact Assessment)
You should also read: How to execute PIA? - A case study
Don't just look for video call - aim to optimize the entire clinical process
For many healthcare providers, telemedicine is only about video calls.
But the fact is - a video call is just one of the features of telemedicine solutions.
All modern-age telemedicine solutions aim to optimize the entire care delivery cycle from appointment booking to video consultation to prescription delivery.
With this, the parents get all required healthcare services from a single platform that offers the ultimate convenience to them.
You can even integrate healthcare eCommerce with a telemedicine solution to take the virtual care experience of parents to the next level.
We are Canada's best telemedicine tech experts. And here is how we work!
We offer complimentary business and compliance consultation.
We only know how to build a compliant telemedicine solution.
We can't deliver a solution within days - as it takes time to deliver a masterpiece!
We not only become your technology partner - but become your strategic partner without charging extra.
We integrate EMR/EHR with telemedicine solutions like a piece of cake.
We not only deliver you a telemedicine solution - but our 7-year old expertise in telemedicine tech, compliance and business.
We communicate and coordinate with you in a professional and business-centric manner.
On a concluding note, we would like to share a case study of how we developed a HIPAA/PHIPA/PIPEDA compliant telemedicine app during the pandemic.
And here are the screenshots of the telemedicine app we developed recently.