Develop Virtual Care Tool Like Wello in Ontario, Canada: Business Model, Value Proposition, Apps Like Wello, Cost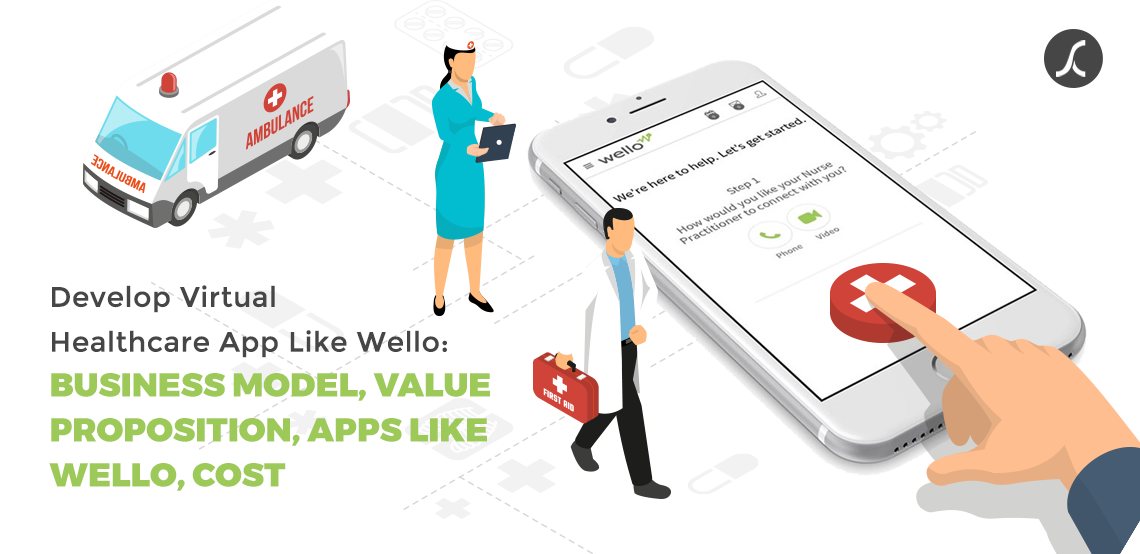 3 years ago
Doctors are sounding alarm bells. They have finally revealed what they have observed - more people are dying of other illnesses than COVID-19!
Many Canadian doctors claim that people are staying away from hospitals as they are scared of coronavirus.
Calgary-based cardiologist and internal medicine specialist Dr. Jeff Shaw tweeted that he lost the battle to save a patient last night because they waited too long to come to the hospital.
Many healthcare experts and business experts believe that coronavirus is causing a permanent shift in the ways people have been accessing essential services, especially healthcare services. 
However, this new behaviour of people is beneficial for entrepreneurs planning to develop a virtual healthcare app.
Because a virtual healthcare app brilliantly targets people's fear! It enables people to access healthcare services without leaving home and without being easy victims of coronavirus. 
If you believe the same, we've got your back. In this blog, we will discuss everything about the top virtual healthcare app or platform - Wello - and cost to develop a virtual healthcare app like Wello.
Insight Into Virtual Healthcare App/Platform - Wello 
Wello is the virtual healthcare platform or app that helps employees and their families get well when they are sick. It was founded in 2017 and headquartered in Calgary.
Wello aims to provide direct and easy access to healthcare services without patients having to visit the hospital or doctors.
It actualizes virtual healthcare with an on-demand phone or video calling feature. It connects patients with nurse practitioners and empowers nurse practitioners to diagnose patients, manage acute & chronic illness, write & review prescriptions. 
Recently, Wello announced that it is expanding its existing partnership with the Royal Bank of Canada (RBC) to offer support to businesses during the COVID-19.
After establishing a new partnership, Wello will now offer its telemedicine services to  RBC small business clients. 
This partnership clearly depicts that Wello is making a profit through multiple revenue streams.
It is targeting individuals & families and also targeting organizations to bring their employees under its sales life cycle. 
Our other very useful and interesting research:
How Do Virtual Healthcare Apps Like Wello Work?
If you are planning to develop a virtual healthcare app like Wello in Ontario, Canada, you should know the working of such sophisticated healthcare apps or platforms.
Step 1: Create an account

 
An individual user can easily sign-up in Wello by filling out the necessary information. However, Wello asks to contact the Wello team for setting up a corporate plan.
Step 2: Book an appointment

 
Users or patients can talk to nurse practitioners by phone or video call. They can also chat with nurse practitioners.
Step 3: Get professional care  
Nurse practitioners provide treatment, medical advice, and even write prescriptions.
Step 4: Access patient records  
Wello app stores patient records safely and allows patients and nurse practitioners to access crucial health data anytime, anywhere.
The Business Model of Virtual Healthcare App - Wello
Canadian telemedicine market has already been intensified. Only a precisely-crafted and people-centric business model facilitates telemedicine companies to make money.
Talking about Wello, it targets more than one user group. Individuals, their families as well as big and small organizations are the top user groups of the Wello.
An organization is Wello's 'premium user group' which makes Wello earn more by keeping revenue per employee very high.
By partnering with Wello, organizations can provide their employees with convenient care. Organizations can integrate Wello simply and seamlessly into their existing health benefits plans.
Not only this but Wello engages and educates employees. Organizations can even get actionable data to customize their internal health and wellness strategies.
Wello for individuals and families: 
To satisfy the different requirements of individuals and families, Wello consists of multiple plans. 
Monthly family plan: $65 per month  
Monthly personal plan: $35 per month 
Single-visit: $49 per appointment  
The Value Proposition of Wello
Defining the value proposition is the first step to define the feature set of the virtual healthcare app or platform.
A value proposition is nothing but a promise of the value to be delivered. The following is the value proposition of the Wello or app like Wello. 
For Users: 
Mental health support

Health education and coaching

Infant, child, and teeth health

Support while travelling and vaccine advice

Prescription and referrals

Lab and diagnostic tests

24/7 support for urgent care
For Nurse Practitioners: 
Diagnose and treat patients

Manage acute & chronic illnesses

Health coaching and education

Order and interpret tests

Make specialist referrals

Write and renew prescriptions
Cost to Develop Virtual Healthcare App Like Wello 
SyS Creations is the Ontario-based top IT consulting and healthcare app development firm that has been working with many LTC homes in Ontario.
We accommodate teams of well-versed business experts, app developers, app designers, and legal experts who all work together to deploy your PHIPA compliant app in the market within 45 days. 
If you have your own team of app developers, you can derive benefits from only our IT and compliance consultation service to develop virtual healthcare app. 
Talking about the cost of virtual healthcare app development, it depends on many factors such as the number of features, the complexity of the features, technologies, platform etc.
But if we take an average of every factor into account, the virtual healthcare app development cost would be somewhere between $25000 to $75000. 
On the concluding note, we would like to share our case study on virtual care or telemedicine app development.
We would also like to share our white-label virtual care platform.