How Can Telemedicine Solve All Ghana Healthcare Issues?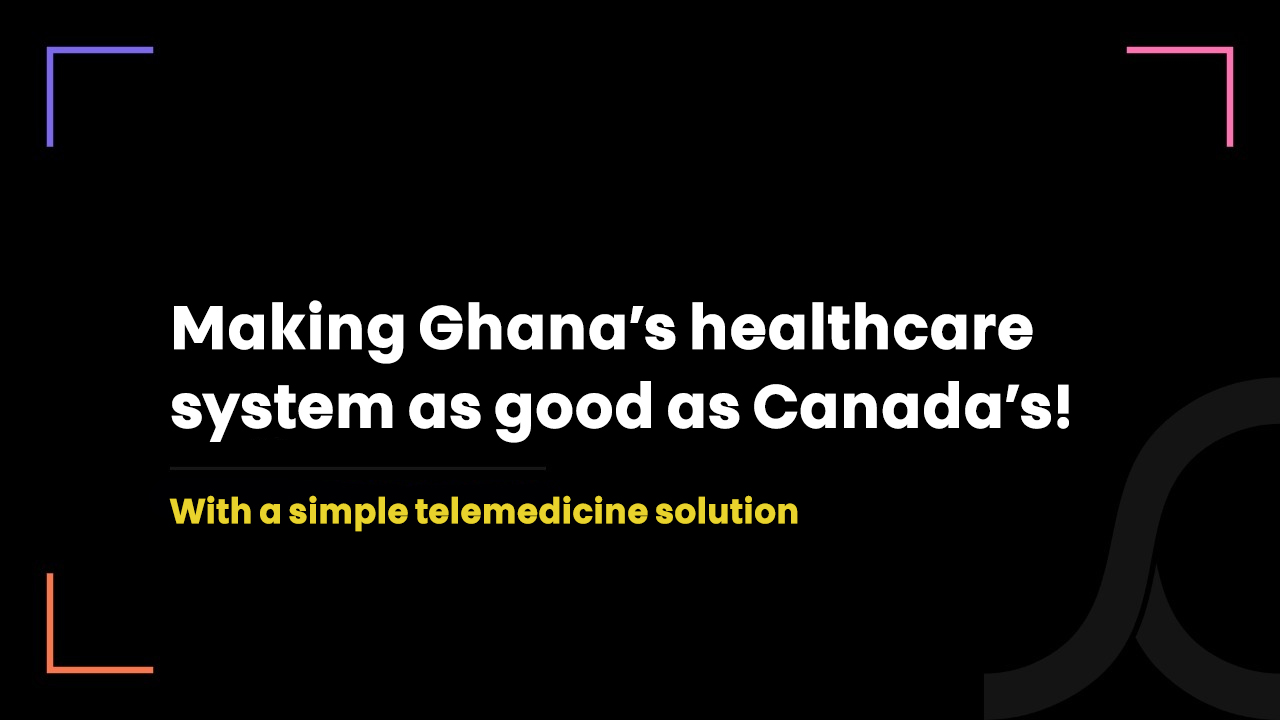 2 years ago
Ghana is politically stable and one of the fastest-growing economies in the Africa region.
From $20B in 2005 to $67B in 2019, Ghana's GDP is ever-increasing.
But even though its GDP numbers are well-performing, almost 29% of the population is living under the poverty line.
And when there is poverty, there is a healthcare crisis.
Yes, there are a few major public health schemes introduced by the government. But many poor and middle-income residents still struggle to satisfy their basic healthcare needs.
So, let's discuss how with telemedicine, we can eliminate all healthcare challenges of Ghana. 
Our other very interesting research:
Role of Telemedicine in Solving Ghana Healthcare Challenges
Telemedicine is something developed nations and healthcare providers are trusting most, especially since the pandemic hit us.
Be it the USA or Canada, governments have announced many millions of dollars to make telemedicine services available to each citizen for offering healthcare services affordability and rapidly.
Talking about Ghana, neither the government nor the private health sector is encouraging the use of telemedicine solutions on a larger scale.
Considering the fact that Ghana has a large percentage of the population using mobile phones, telemedicine can be game-changing.
The following are the top medical challenges of Ghana and how telemedicine solves each of them.
Challenge #1:
No access to healthcare in remote areas
As compared to urban areas, Ghana's remote areas and communities living there face severe healthcare challenges.
A fact which worsens the situation is that they cannot afford to travel to urban areas for getting quality healthcare.
However, the government has planned a strategy for making healthcare in remote areas more accessible and affordable.
They have built community health clinics and deployed community health workers in those remote areas.
But the problem here is: these community health workers are only trained to provide primary care.
They cannot manage emergency and life-threatening healthcare situations.
How telemedicine solves this challenge?
The Novartis Foundation has run the telemedicine pilot program in remote areas of Ghana for communities living in those areas.
They provided telemedicine access to community health workers working in those remote areas.
So that community health workers could talk to medical specialists virtually and seek help to handle the emergency condition of patients in remote areas.
This increases the patient outcome dramatically and decreases the number of unnecessary referrals.
Challenge #2:
Inaccurate record-keeping
The reason Canada and the USA's healthcare system is very well-known for its quality is the way they save clinical data of patients and make it available to all clinicians in a secure way.
They are storing data on either EHR or EMR software and share it with other clinicians while addressing data privacy laws.
But in Ghana, many healthcare providers still practice paper-based record-keeping systems.
There is no centralized patient record-keeping system that stores and makes patients' crucial data available to clinicians for quality care.
If you are wondering, clinical data includes patients' allergies, previous medical notes, prescriptions, vital body signs etc.
Imagine the care healthcare providers can provide with easy access to these important data of patients!
How telemedicine solves this challenge?
Telemedicine is not just limited to video calling between patients and healthcare providers.
It is a complete care and patient data management solution with lots of useful features.
For instance, it allows healthcare providers to write medical notes, prescriptions, other health complications etc which get stored under each patient's profile automatically.
And every authorized user can access these important clinical data of patients.
Moreover, the telemedicine solution can also be integrated with the EMR/EHR software.
With this integration, every data stored on the EMR/EHR becomes accessible through the telemedicine solution itself in real-time.
Challenge #3:
High child mortality rate
In 2019, the child mortality rate for Ghana was 46.2 deaths per 1,000 live births.
Though this was much lower as compared to previous years, it still depicts the limitations of Ghana's healthcare system.
Because, in developed countries such as Canada, it is only 4.9 deaths per 1,000 live births!
Malnutrition or ineffective diet and poor access to pediatricians are the major reasons behind the high child mortality rate in Ghana.
How telemedicine solves this challenge?
With telemedicine, parents can seek specialized healthcare consultation from pediatricians and child nutritionists without stepping out of their home.
For more affordable care, they can purchase the family subscription plan offered by the telemedicine solution providers if they have more than one child.
Challenge #4:
Poor maternal healthcare services
Women in many areas of Ghana have no access to medical specialists throughout their pregnancy.
They mostly rely on traditional solutions and sometimes on community health workers.
It is also recorded that women from poor and remote areas lack knowledge regarding personal care and hygiene standards during pregnancy, childbirth, and the postpartum period.
In case of any complication during pregnancy, the patient needs to be shifted to a specialized care unit which is only there in urban areas.
But as discussed earlier, it is not financially feasible for many families of Ghana to travel and shift to modern care facilities.
How telemedicine solves this challenge?
Medical specialists sitting in Ghana's urban areas can educate pregnant women living in remote areas regarding personal care and hygiene standards.
They can even provide virtual medical consultations and write prescriptions for pregnant women.
And if needed, they can guide the community health workers to provide maternal care and even tackle any life-threatening pregnancy emergencies.
Challenge #5:
More cases and mortality with HIV/AIDS, malaria
Ghana is among the 15 highest-burden malaria countries in the world with 3% of global malaria cases.
Ghana has also recorded the highest increase in absolute case numbers, (500,000 new cases) from 2017 to 2018.
Ghana is also battling against a soaring number of HIV/AIDS cases.
To make the situation worse, both the HIV/AIDS and malaria crises in Ghana are persisting in remote areas where there are neither awareness nor healthcare services.
How telemedicine solves this challenge?
In such cases, telemedicine can act as an easy and fast communication medium between healthcare providers and patients having malaria and HIV/AIDS.
Using it, patients can receive primary care very rapidly before the situation worsens.
Because in most cases, if the patient receives good primary care within a time limit, we can avoid further complications very easily.
This single and simple help from telemedicine - timely access to primary care - can save many patients having HIV/AIDS and malaria.
Yes, we don't have to deliver specialized care to every patient. We simply need to provide primary care to every patient within the time limit to not let the situation go out of hand!
We feel honoured to offer our tech help for solving healthcare issues in Ghana
We are a Canada-based healthcare-focused IT company.
In the past 7 years, we have worked with several Canadian and USA-based healthcare centers and providers to solve Canadian and USA healthcare challenges.
We provided them with our healthcare and telemedicine tech expertise, experience and experts.
So, now to support Ghana's healthcare system with the Canadian standard of telemedicine solution, we have formed a dedicated tech team for Ghana.
Our Ghana-specific telemedicine tech team can help you to build telemedicine solutions to address Ghana's local healthcare issues.
We also provide a ready-to-use white-label telemedicine solution for Ghana.
We have a very real vision to make Ghana's healthcare system as good as Canada's healthcare system!
If you share the same vision, let's get it done!