Start Telemedicine Startup in Ghana with Canada's Best Telemedicine Tech & Experts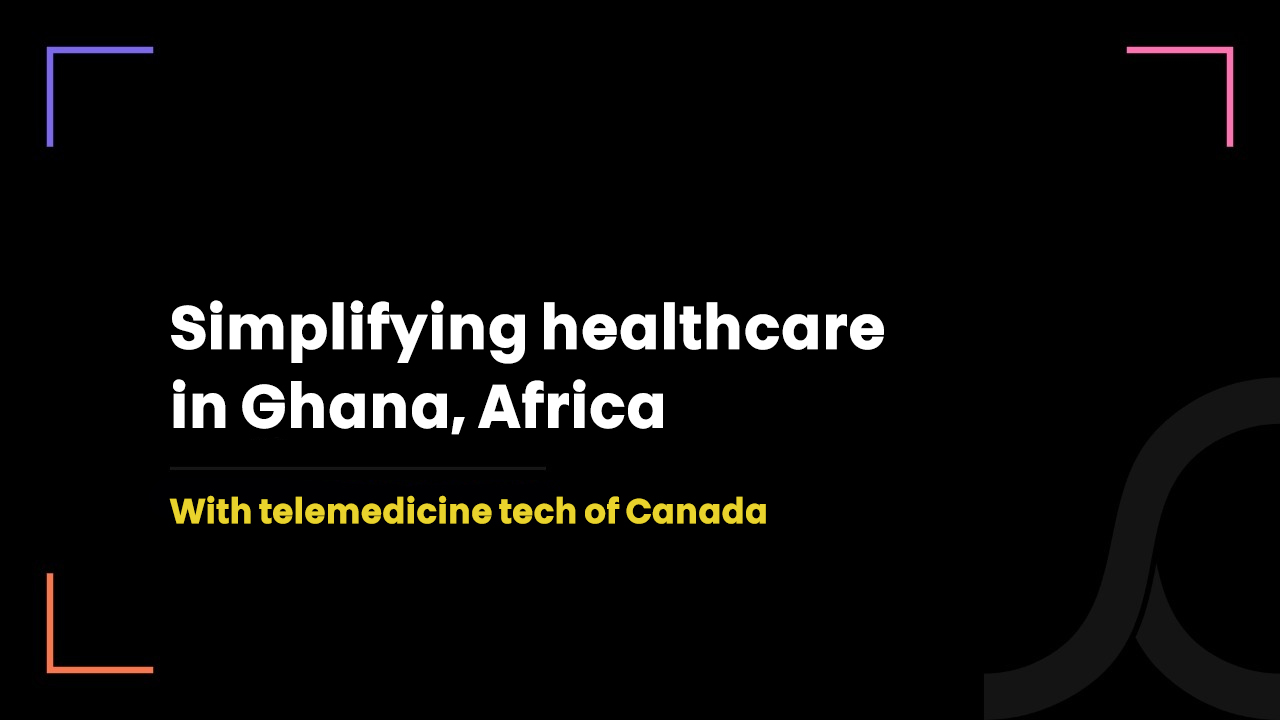 3 years ago
We are Canada-based telemedicine tech and compliance experts.
With 7 years of specialization in telemedicine, we have been working closely with the several USA and Canada-based startups and healthcare providers. 
We work with the only vision to make healthcare in every country accessible and affordable. 
On our way to 'global vision', we have earmarked dedicated resources to ease healthcare in Ghana, Africa with game-changing yet affordable technologies. 
Yes, we are excited to help healthcare providers and healthcare startups in Ghana in developing telemedicine apps or start telemedicine startups that address local healthcare issues.
Meet our telemedicine tech, business and compliance team for Ghana
We have 3E - experts, expertise and experience. 
Talking about our experts, their expertise revolves around telemedicine tech, business and compliance.
The telemedicine tech team includes, 
Healthcare app developers
Healthcare app designers
Healthcare interoperability experts
QA engineers
The telemedicine business team includes, 
Business experts
Market analysts
Client success managers
And the telemedicine compliance team includes, 
Telemedicine compliance consultants
PIA and TRA experts
Mobile app security experts
Types of telemedicine platform we can develop for you brilliantly
We understand the fact that not all telemedicine startups in Ghana have the same requirements. Thus, we offer 4 types of telemedicine app development in Ghana.
Addressing your unique needs and clinical workflow, we follow the entire life cycle of mobile app/software development and develop your platform from scratch. 
Check out our case study on custom telemedicine app development.
We find inspiration from other popular telemedicine apps' features and UI and develop your telemedicine platform similar to it.
To deliver you the best telemedicine solution even with your low investment, we develop telemedicine app or software with useful and minimal features.
Once you test it in the market, we add more features to it and scale it up.
White-Label Telemedicine Solution 
We offer a mobile and web-based white-label telemedicine solution which is very successful among the USA and Canada-based healthcare providers and startups.
Explore real screenshots of our white-label telemedicine solution for Ghana, Africa
This is the outcome of our 2 years of smart efforts put in the right direction with the pre-defined goal of revolutionizing healthcare.
We kept clinical workflows, healthcare challenges of Ghana and on-ground requirements of the healthcare providers & patients in mind while building this masterpiece. 
Doctors App Features:
Doctor Profile
Speech Recognition
Referral
Mass Messaging
Easy Access to Patient's Clinical Data
Appointment Management
Appointment Reminder
Communication Methods
Medical Notes
Sick Notes
e-Prescribing
Analytics
Appointment History
Billing & Earning
Patients App Features: 
User Profile
Nearby Hospital/Pharmacy Finder
Symptom Checker & Tracker
Appointment Booking
Appointment Reminder
Communication Methods
Medication Tracker
Medication Reminder
Payment
Review & Feedback
Appointment History
Technology Stack: 
Android App: Kotlin, Java
iOS App: Swift
Backend: Node.js
Video Calling: Twilio, WebRTC
Chat: Twilio, Vonage APIs
Database: Amazon Relational Database Service (RDS)
Notifications: OneSignal
Geolocation: Google Maps Platform
API Integration: 
Video API integration with Mesibo
Chat API integration with Sendbird
SMS API integration with Vonage
In-App Notifications Integration with Amazon SNS
Payment API Integration with Stripe
We only know to develop and deliver the most secure telemedicine platform
We are well aware of the fact that telemedicine platforms should be compliant with all data privacy laws and it does not have a single privacy issue.
Thus, our in-house app security and compliance experts work parallel with the development team to ensure compliance readiness.
The telemedicine platform is also equipped with several security features such as 2-factor authentication for patients and doctors, administrative controls and encrypted personal health information of patients.  
We provide personalized telemedicine solution for every medical specialty
The 'one fits all' approach does not work well in the healthcare industry as every medical specialty has different requirements and clinical workflows.
Thus, we offer personalized telemedicine solutions for each medical specialty in Ghana.
Most feature-rich payment module - allows you to generate several revenue streams
With specific and unique features, we let you charge differently to patients and generate several revenue streams.
For instance,
You can charge patients on a per-visit basis.
You can charge extra for the televisits on weekends or national holidays.
You can also charge extra for televisits after midnight.
You can even offer a family subscription plan.
You can accept several private insurance plans as well.
You can integrate healthcare eCommerce with a telemedicine platform.
We become your true strategic and tech partner to deliver success beyond your expectation
We not only just deliver you the telemedicine software developed for Ghana. But we also become your strategic partner to guide you through market challenges. 
We can help you to carry out market research, draft the most profitable business model and plan the marketing campaigns. 
We can also help you to meet all compliance requirements at your organization level through a series of compliance consultations.
See the below table to get the idea of how we not only deliver just the software but deliver you the success with great ROI. 
We would like to give assurance to Ghana's healthcare providers and startups
Our vision is real. We will change Ghana's healthcare system by making it more virtual, rapid and affordable. 

We will deliver you 100% of what we have learned in the Canadian and USA healthcare industries. 

We will solve each on-ground challenge patients in Ghana are facing. 

Like always, we will celebrate your gain over our own gain. 

Our team will work on your project as if it is our own project. 

We will be with you throughout your journey beyond telemedicine software. 

We will never charge for knowledge-sharing. 
We are more than happy to give you a live demo of the telemedicine solution and offer free consultations. 
Let's together make Ghana the healthiest place! Or rather the place where there is the fastest and easiest access to healthcare!