Save 100+ Hours & $2000+ Every Time You Generate Kroll Reports with Our Telus Kroll Report Automation Solution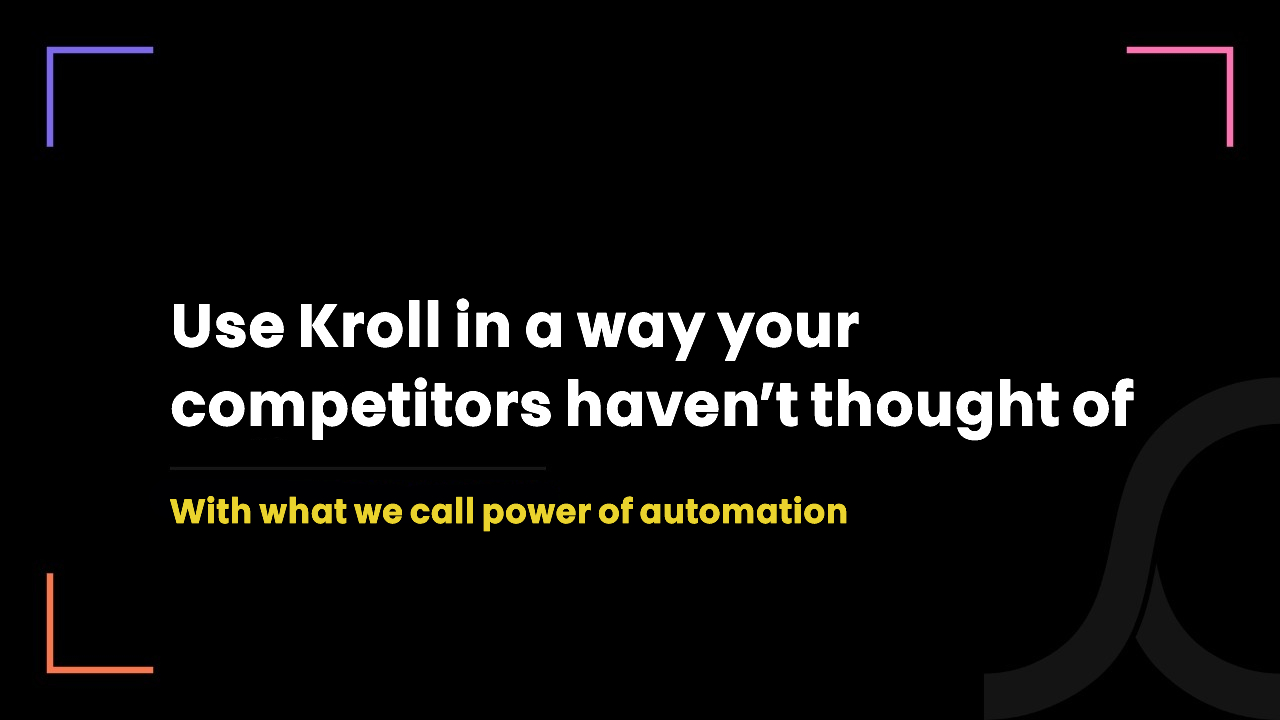 2 years ago
Do we really save your Kroll reporting time and money?
The two claims we made in the blog title are damn real. We in fact prove it every time we work with pharmacy clients.
One of the pharmacies, serving long-term care homes in Ontario, every month generates 800+ custom and complex reports without having any pharmacy tech or data entry personnel do that tedious job manually. 
For your context, that pharmacy saves 3 minutes on each report as that's the minimum time its data entry personnel used to take for one report generation.
This is equivalent to saving 2400 minutes each month for all 800+ reports generation and 28800 minutes or 480 hours each year. 
That's the power of Kroll reporting automation!
100% accuracy and non-stop operations are additional benefits of automation over manual Kroll report generation practice. 
How to evaluate whether you really need Kroll reporting automation at your pharmacy?
Automation technology might be somewhere close to taboo for you.
But let us tell you, it is the future of work and it must be there in your pharmacy to execute repetitive tasks much faster, accurately and efficiently. 
The following are the top questions you must ask yourself to evaluate whether your pharmacy needs a Kroll report automation solution.
Do you use Kroll at your pharmacy?
Do you have to generate multiple reports every month and every quarter?
Do you think the Kroll report generation task requires multiple days and wastes your manpower?
Do you often have typo errors in reports?
Do you want to put report generation on autopilot and save impressive dollars while ensuring ultimate accuracy?
If yes, welcome to the world of automation. 
Which are the Kroll reporting tasks you can automate?
Frankly, there is no restriction. You can automate almost every manual move on your Kroll software. But to be specific, you can automate the following reporting tasks. 
Monthly or quarterly reports generation
Customized and complex reports generation
Reports generation and saving it in a specific folder
Generate any individual's report
Generate conditional reports
Generate reports and collect meaningful data from it
Generate reports and send it to any individual, entity or organization
How do we automate reporting tasks on Telus Health Kroll?: Team, Process & Delivery  
1. Our team members at work:
Business analysts: Our business analysts understand your requirements, put each of the requirements on paper, define the scope and prepare a requirement document.
RPA engineers: Our RPA engineers using RPA technology and tools such as UiPath and Automation Anywhere build and train a software bot to automate your Kroll reporting tasks. They perform the most crucial tasks.
Client success manager: He makes sure that your project gets delivered on time & within budget and helps you solve other business and compliance-related issues to deliver you not only solution but success.
Support engineers: Our support engineers help you passively and actively. Passive support in the form of a detailed support document and active support in the form of instant remote support through email and call.
2) Our process:
Assessment: We assess your requirements in a virtual call with you.
Documentation: Our business analysts prepare a very detailed requirement document where they mention everything including workflows, each deliverable and estimated time.
Automation: Our RPA developers build the software bot while considering the requirements mentioned in the requirement document.
Testing: We test the working of the software bot in different real-life conditions to measure its performance and accuracy.
Piloting: Before the final deployment of the software bot, we pilot it to show you it in live action and solve your queries related to its working.
Deployment: We deploy it in your system where you are already running Kroll software.
Support: We provide you with a detailed support document and also 24/7 email and phone access to our support engineers.
3) How do we deliver you a Kroll automation solution?
Well, the Kroll automation solution which we call software bot exists in the form of a .exe file which you might already be familiar with. 
We install this .exe file on your system or computer where you are using Kroll software.
If it is an unattended software bot, it gets activated automatically at the scheduled time and generates reports automatically.
But if it is an attended software bot, you have to activate it every time you need to generate reports with a single click.
Don't worry if you are finding these technical things confusing. We will solve your all doubts in our first discovery call. 
#AdvancedLearning
You have tremendous data in Kroll. Why not make it a major cause of higher profit?
So, here is the thing. Data is the most valuable asset unless you use it correctly.
You have very important data in Kroll which can generate more profit for you. But the problem is, you are not using it correctly. So, let us help. 
How?
Well, we will build a machine learning-based analytics tool for you that draws out meaningful information and insights from the data you store on Kroll. 
You will receive these insights in graphical ways which you can easily understand.
Based on these insights, you can make some strategic decisions that would result in 2X growth and profit. 
The best thing is, you can provide better patient care as you now have insights into the factors with real data that drive better care. 
Conclusion: Leaving you with some valuable resources