Custom HIPAA compliant telemedicine app development to actualize secure and integrated virtual healthcare like Writi
4 years ago
Canada's publicly-funded healthcare system is the world's one of the most prominent healthcare systems.
According to the Legatum Institute, the Canadian healthcare system is among the best.
One of the reasons why Canada is leading the chart is the early and quick adoption of the technology.
In 2003, the Canadian government decided to improve timely access to quality care and to achieve it, they launched an action plan named Accord.
In Accord, they put emphasis on information technology e.g., electronic health records and telemedicine.
Talking about telemedicine in Canada, it has successfully revolutionized the way doctors treat patients.
Considering its benefits, the government is promoting telemedicine solutions in Canada.
Recently, the Ontario government announced the expansion of telemedicine or telehealth provincial resources.
Sensing the opportunity, if you want to develop a telemedicine app in Canada but not sure about the business strategies and telemedicine app development strategies, you have come to the right place.
In this blog, We will share everything which you should keep in mind to successfully plan, develop, and deploy the telemedicine app.
We will also share how we have successfully planned and executed business and development strategies for the top Canadian telemedicine app - Writi.
Our other very useful and interesting research:
The usefulness of the telemedicine app
High availability of medical services
Telemedicine app seamlessly provides healthcare services to patients who are living in remote places and cannot find easy access to clinics.

It also enables patients living in urban cities to access the healthcare service through their mobile phones, without visiting clinics.
Time-efficient medical care
A telemedicine app facilitates patients and healthcare workers to connect to each other through the mobile phone.
In-built communication features like chat, voice call, and video call dramatically reduce the time a doctor requires providing treatment to a patient.
This app also saves a lot of time for healthcare workers.
Easy and secure access to patient data
In a telemedicine app, each patient has his individual profile where patients and doctors both can store data of patients and their medical history.
This feature makes it very painless to access crucial data of a patient's medical history during health emergencies.
Moreover, a telemedicine app must be HIPAA compliant to ensure patient data privacy and security.
It keeps healthcare workers away from infected patients
This is a very significant advantage of telemedicine app. While treating patients having a contagious disease like COVID-19, the healthcare workers are at the greatest risk. But a telemedicine app allows them to treat the patients having a contagious disease remotely.
How SyS Creations has planned and executed business and development strategies for Writi?
What is Writi?
Writi is the most advanced telemedicine solution for senior care.
It bridges existing and new relationships with physicians, healthcare professionals, pharmacies, and patients by building a digital space where all stakeholders can collaborate remotely.
The team of Writi is in existence with an aim to tackle the challenges our healthcare system is facing by working with industry experts for front-line staff and other medical professionals.
The Writi telemedicine solution works on mobile phones, tablets, and computers.
Through this solution, prescribes, nurses, pharmacists, and support staff can work virtually from anywhere. It also lets doctors treat patients remotely.
Writi is PHIPA and PIPEDA compliant.
It accommodates many other features like two-factor authentication and modern encryption to ensure the privacy and security of patient data. One can also integrate Writi with the EHR system.
Writi can also be integrated with pharmacy software (Telus Health – Kroll) and it supports the Ontario Ministry of Health's new billing codes for virtual visits.
Remarkable success of Writi
75+ physicians and 700+ users have already been registered on Writi. It has also processed 10K+ prescriptions.
Top Canada-based pharmacies and other healthcare organizations have been using Writi.
Sensing the popularity of Writi, recently Jack Nathan Health joined hands with Writi.
How SyS Creations led the way of Writi toward success?
SyS Creations believes in proactive consultation and solution delivery. From the first day, we provided insightful consultation to the team of Writi.
We precisely understood their requirements and prepared business and development strategies.
In the first phase, we helped them to decide on the business model and feature set.
We also guided them on the legal ways to obey all government regulations. We later planned extensive marketing strategies to build a strong user base.
In the second phase, we allocated a dedicated team of app designers and app developers for them.
They worked ceaselessly and developed the telemedicine solution which works on all the latest technologies. They integrated all disruptive features and actualized an unsurpassable telemedicine solution in Canada.
Our efforts have been recently showcased in Collision Conference.
Writi has successfully secured a position in top innovative Ontario-based companies. You can know more about Collision Conference and Writi's grand entry here.
Game-changing features of the Writi
Safe and convenient scheduling of virtual visits and appointments

Virtual visits via high definition video call on a mobile phone, computer or any mobile device

Secure instant messaging for enhanced communication with staff and patients

Electronic physician prescribing with automatic transmission to pharmacy

Orders are automatically added to the resident's digital record in Writi

Billing report for Physicians
So, after reading so far, if you are thrilled to develop a telemedicine app in Canada like Writi, here is the successful telemedicine app development roadmap.
Our successful telemedicine app development roadmap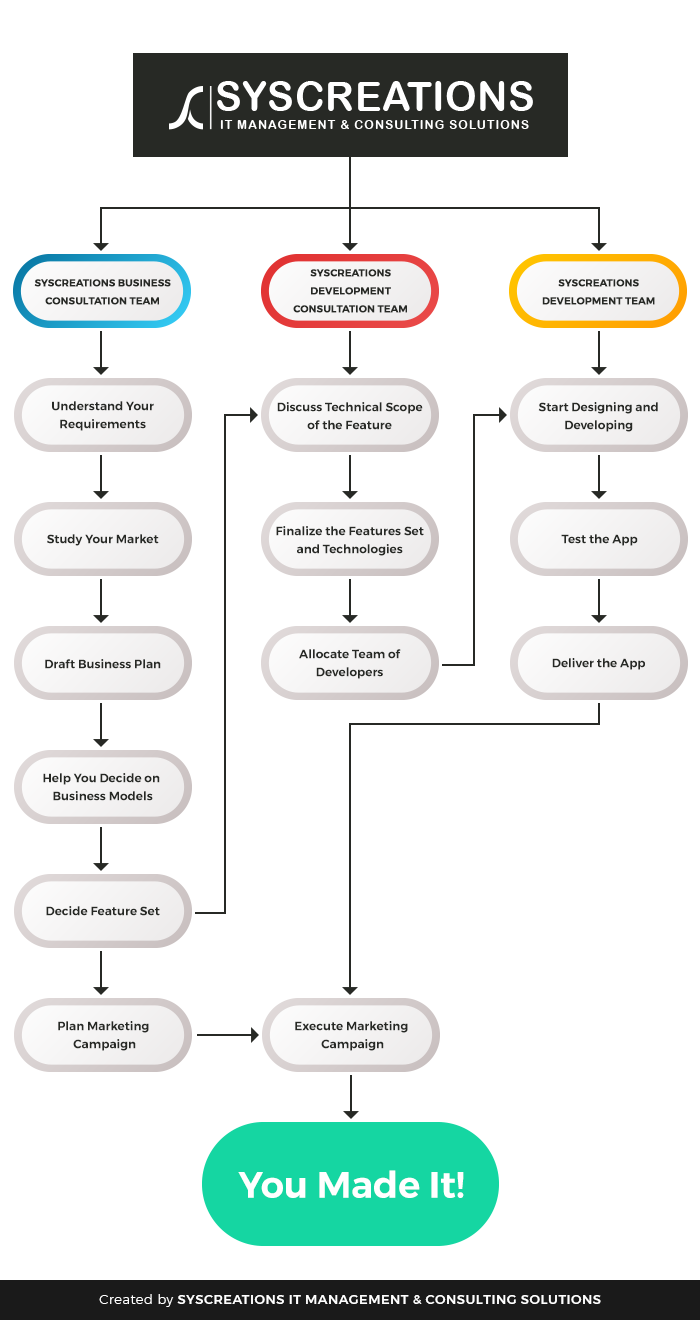 In the nutshell:
SyS Creations accommodates developers, designers, business experts and legal advisors who make your business journey painless.
We will provide you with proactive consultation as well as app development services.
We will become your true business strategic partner and help you plan out and execute data-driven business strategies.
Check out our case study on custom telemedicine app development.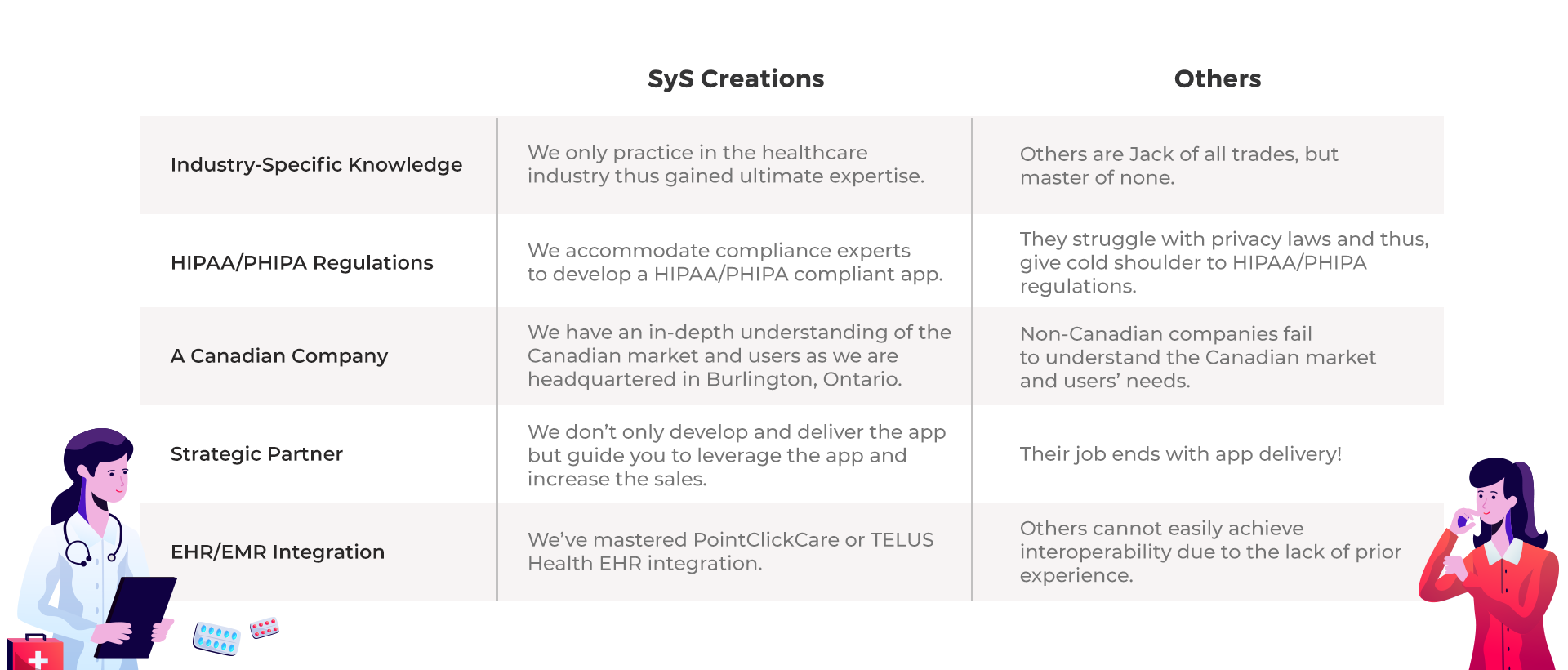 We also provide a white-label telemedicine solution that is compliant with all data privacy laws.
Our white-label telemedicine app which we can deliver at rapid speed and even customize to meet your unique needs.
You can read our dedicated blog to have a look at the screenshots of our white-label telemedicine app.
Here are some of its real screenshots.