Telemedicine App Development For USA: Get Answers to Your All Questions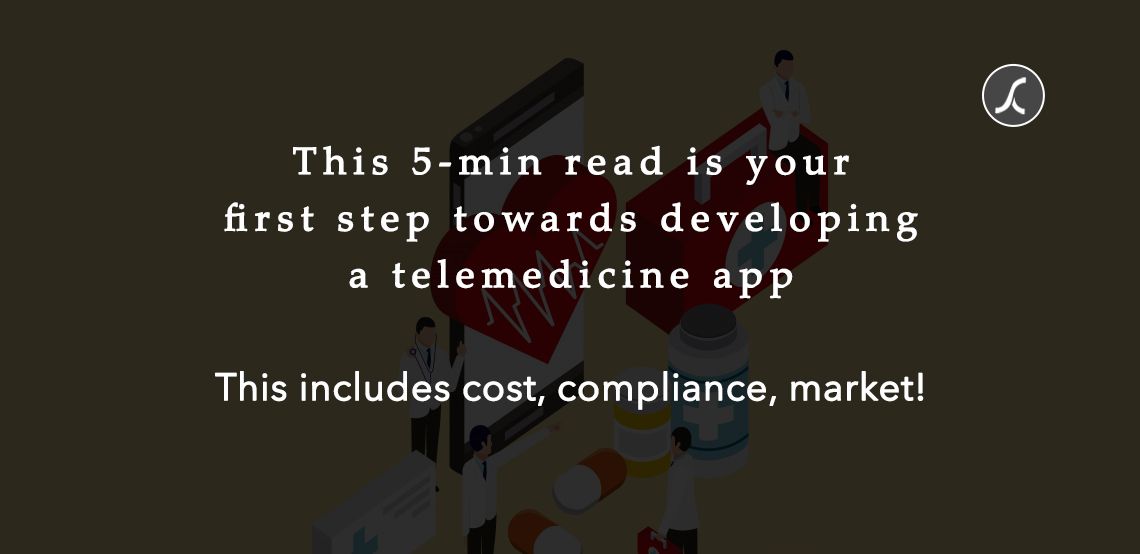 3 years ago
6 Years (At Service)
60 Healthcare Solutions (Developed)
600 Entrepreneurs (Met)
6000 Questions (Answered)
Out of all, the following are 9 most-asked and crucial questions and their answers related to telemedicine app development in the USA.
But before that, we would like to share our most recent case study on telemedicine app development.
Question 1: How much does telemedicine app development in the USA cost?
The cost to build a telehealth app in the USA depends on the type of app you want to develop.
For instance, the custom app costs you around $80000 and a white-label telemedicine app costs you around $25000.
This blog will clear all your doubts: Actual cost of telemedicine platform
Question 2: What's the difference between the custom and the white-label telehealth app?
On paper, the difference is huge. But on-field, they both work the same way!
The following is a quick comparison.
White-Label
Telemedicine App

Custom App

Development Cost

It costs less than $30,000.

It costs around $80,000.

App Delivery Time

It can be delivered within 5-10 days.

It requires at least 90 days to deliver the app.

App Compliance

Generally, white-label telemedicine apps are HIPAA compliant.

If your hired development agency lacks the compliance knowledge, you need to hire a compliance consultant separately.

App Customization

If you have any new ideas, a white-label app can easily be customized, without increasing the development cost significantly.

Customization increases the development hours, and development agencies charge at least $40 per development hour.

App Features

It accommodates all the important features. And since it is customizable, you can add missing features later on.

App development agencies charge you based on the complexity and time required to add features.
Question 3: In which cases, should I opt for a white-label telemedicine app?
The deciding factors are cost, app delivery time, compliance and app features.
A white-label telemedicine app is the best option when you want to test the market with little investment.
Once successful, you can add a few more advanced features in the app and expand the business reach.
It is also the most suitable solution for healthcare providers such as hospitals, clinics, pharmacies, insurers and nursing homes as they generally have basic requirements.
Acquiring a custom app is similar to paying a huge amount to the apple farm owner to cultivate the apples dedicatedly for yourself and waiting until apple seeds transform into apples.
Whereas, acquiring a white-label app is similar to buying already cultivated apples instantly.
In both cases, the output remains the same. Only the acquisition process is different which you should not care about!
In case you're thrilled to know more about white-label telehealth apps, here is everything about our white-label telemedicine app.
Get Live Demo of Telemedicine App
Question 4: How much money do I need to invest to start a telemedicine app business?
With a white-label app, you only need around $35000 to start the telemedicine app business.
The areas where you need to spend the majority of your capital are,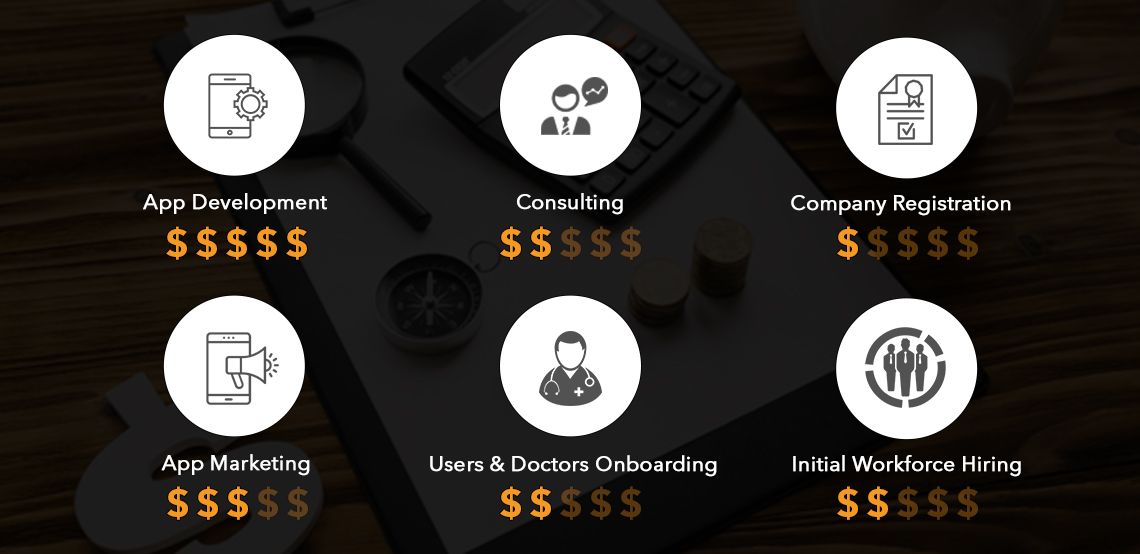 Question 5: What will be the operating cost of a telemedicine app?
After interacting with our several clients who have developed telemedicine apps recently, our business experts found out that the major percentage of their revenue goes into API fees and customer service.

Our other very useful and interesting research:
1. What is the telehealth marketplace and how does it work?
2. What is the future of the telehealth market?
3. Technology trends in the telehealth industry
4. How to develop a telemedicine app?
5. Telemedicine business ideas
Question 6: Can I ask users to pay for televisits?
If the user is covered by any healthcare plan and it includes free televisits, the app should not ask users to pay for the healthcare services.
Let's understand this with a few scenarios.
Medicaid is a federal healthcare plan for people with limited income. Medicaid supports free televisits.
Meaning, a user who is covered by Medicaid is not liable for the televisit fee. The government pays the televisit fee on behalf of that user.
Another such healthcare plan is Medicare - for people aged more than 65. This plan also supports free televisits.
People generally prefer healthcare plan-covered telehealth apps.
Question 7: Which are the API integrations required for the seamless working of the app?
We can easily achieve app functionalities i.e. video calling, SMS through third-party API integration. These include,
Video/Voice Calls API Integration

Chat API Integration

SMS API Integration

In-App Notifications API Integration

Payment Integration
Question 8: Which are the top telemedicine apps in the USA?
This list will help you to carry out competitor analysis if you are already planning to go for telemedicine app development in the USA.
App Name

Pros

Cons

LiveHealth Online

No Appointment Needed

Virtual Doctor Visit in Multiple Languages

Extensive Health Insurance Plans Support

Can't Download Sick Note from Smartphone

Limited Options to Connect with the Doctors

MDLive

Patients Can Choose their Own Doctor.

Online Pharmacy Support

Free Sign-Up

Higher Fees

Appointments Only Last About 15 Minutes.

Doctor On Demand

Clear Pricing Information

Extensive Health Insurance Plans Support

Therapy and Psychiatry Services

Additional Fee to Extend the Call

No Option to Text or Email with Your Doctor

No Instant Access to Doctor

Teladoc

Urgent Appointments

No Call Time Limit

Therapy, Dermatology, Sexual Health Services

You Can't Choose Your Doctor.

No Clear Pricing Information

Amwell

Affordable Fee

Talk to Your Preferred Doctor

Three Minute Wait Time

No Appointment Option

The Call is Just 10-Minute Long.

Limited Communication Methods
Question 9: What are the top healthcare laws in the USA?
A healthcare entity as well as a healthcare startup stores and shares many important financial and personal information of the patients and their family members.
To make patient data security the ultimate priority of healthcare providers, the government has imposed many healthcare laws and guidelines.
There are major four healthcare laws in the USA which you should be aware of.
Health Insurance Portability and Accountability Act (HIPAA)

Federal Food, Drug, and Cosmetic Act (FD&C Act)

Federal Trade Commission Act (FTC Act)

FTC's Health Breach Notification Rule
Read our dedicated blog to know which healthcare laws apply to your telemedicine app and its requirements.
Question 10: Sorry! It has been allocated for your question.
Ask anything related to app, market, laws, business models. Ask an app demo too! Our CEO himself will meet you in a one-on-one free virtual meeting.