How Much is Telemedicine Startup Cost? [An Interview with Telemedicine App Owner]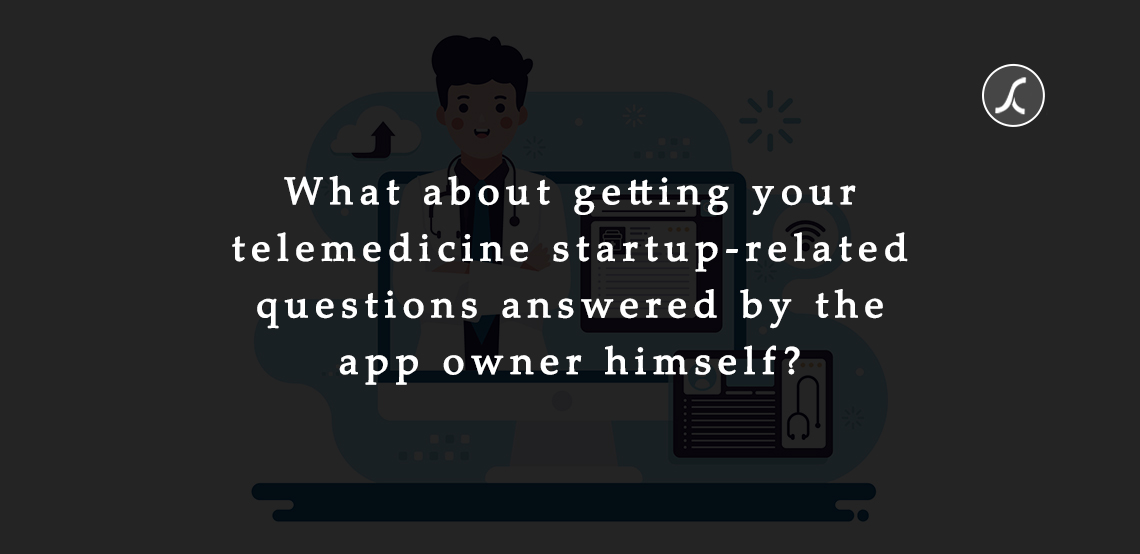 3 years ago
It was a pleasant morning in September.
I was in a hurry to catch the morning train between Toronto and London, Ontario.
Because of my last-minute hustle, I made it on time.
The train departed at its scheduled time.
Holding a coffee cup in one hand, I was checking out the telemedicine app design my UI team had emailed me last night.
Suddenly, I heard a voice so close to my ears. I kept my laptop aside and turned around.
There was a tall muscular man wearing a blue suit giving me a big smile.
"Good morning!", I greeted back, still wondering why someone would just greet me with such a big smile at 6:45 in the morning.
"Is this your telemedicine app?", his smile turned into a grin and he took a seat next to me.
"Not mine. It is a client's app.", I replied, "But how do you know that this is a telemedicine app?"
"I own one.", He said as he took his mobile phone out of his pocket and showed me his telemedicine app on PlayStore.
I had met and also worked with many telemedicine app owners. But no one had smiled so incredibly while seeing others' telemedicine apps!
It fueled my interest to take that conversation to the next level.
"Your app has a great UI.", I paused for a while and then added, "Would you like to experience how an interview on the train looks like?"
"Absolutely yes!", he exclaimed, "I strongly believe in knowledge sharing."
"I will publish your interview on our company blog. It will be helpful for all entrepreneurs who are wondering about telemedicine startup cost.", I said as I unlocked my phone and started voice recording.
After a formal introduction, I started asking him questions on behalf of all entrepreneurs planning to develop a telemedicine app.
Our other very useful and interesting research:
Is the COVID-19 outbreak the only reason you decide to invest in a telemedicine app?
Many believe that because of COVID-19, people are switching to telemedicine apps and avoiding hospital visits.
It is not the complete truth.
If we look into the past - market before COVID-19 - people have already become too comfortable with the on-demand service delivery model.
For instance, on-demand food delivery apps have already been very popular.
On-demand taxi apps have also been very popular for a long time.
So, in my opinion, COVID-19 is only taking the telemedicine trend to the next level.
But the trend had already been built - before COVID-19.
And the same success of telemedicine apps will continue for many more years.
What was your major concern? Is it a telemedicine startup cost?
To be honest, healthcare compliance was my major concern.
The healthcare laws in Canada and the USA are not so easy for all development companies to comprehend and implement in the app.
Luckily, one of my friends suggested hiring a healthcare compliance consulting firm.
The healthcare compliance consultant helped my hired app development company a lot to meet all HIPAA, PHIPA and PIPEDA requirements.
But that overshot my budget.
Thus, I would suggest all to hire an app development company which has expertise in Canadian and USA healthcare laws. This will save a lot of money!
Custom app vs MVP vs white-label app? What would you suggest?
First of all, there are major differences between these three in terms of cost, app delivery time and feature set.
For instance, the custom app costs you more than $80000 and it takes 90+ days for delivery. But it supports custom clinical workflows.
MVP costs you less than $20000 and 50 days, but it has limited features.
Whereas, the white-label telemedicine app costs you around $20000.
So, I would suggest a white-label app.
It costs less. It accommodates all features. And a development company can deliver it within a week.
I must confess that I selected a custom app and I still regret the decision!
How do you make money with your telemedicine app?
The possibilities are endless.
I charge differently for the weekday doctor visits and weekend doctor visits.
I also charge differently for day doctor visits and night doctor visits.
I tie up with employers to provide telemedicine services to their employees.
I also tie up with healthcare providers such as hospitals, clinics to use my telemedicine platform for their healthcare practice.
How much is telemedicine startup cost?
In my case, the capital cost I required to start a telemedicine startup was around $50000 because of the blunders I made.
But it can be just around $40000 if you plan well and select a white-label app.
The white-label telemedicine app contributes most with just $20000.
You also need to run a few marketing campaigns.
To provide a telemedicine service, you need doctors. So, doctor onboarding is also a major cost.
You also need to pay monthly fees for video and voice calls to video/voice call API providers such as Twilio.
You also need to hire a team of customer service executives to address user queries.
So, the average telemedicine startup cost is around $40000.
You Should Also Read: Business Model of Telehealth App
Can you sum up how to start a telemedicine startup in just 5 steps?
Step 1: Identify your future competitors.
Step 2: Analyze their business models, user groups, app, marketing channels.
Step 3: Come up with a better business plan to outperform your competitors.
Step 4: Develop an app.
Step 5: Make sure step 4 is followed by step 1,2,3. (Most important!)
Meanwhile, the train reached Aldershot station and he got off the train.
I later typed a message for him. We had already exchanged phone numbers.
I typed and sent,
"A white-label telemedicine app can be HIPAA/PHIPA/PIPEDA compliant.
It can support custom clinical workflows.
You don't have to pay monthly fees for voice/video calls.
Still not believing? Explore our white-label telemedicine app or read our case study.