Telenursing App: A Comprehensive Guide With a Demo of Our White-label Solution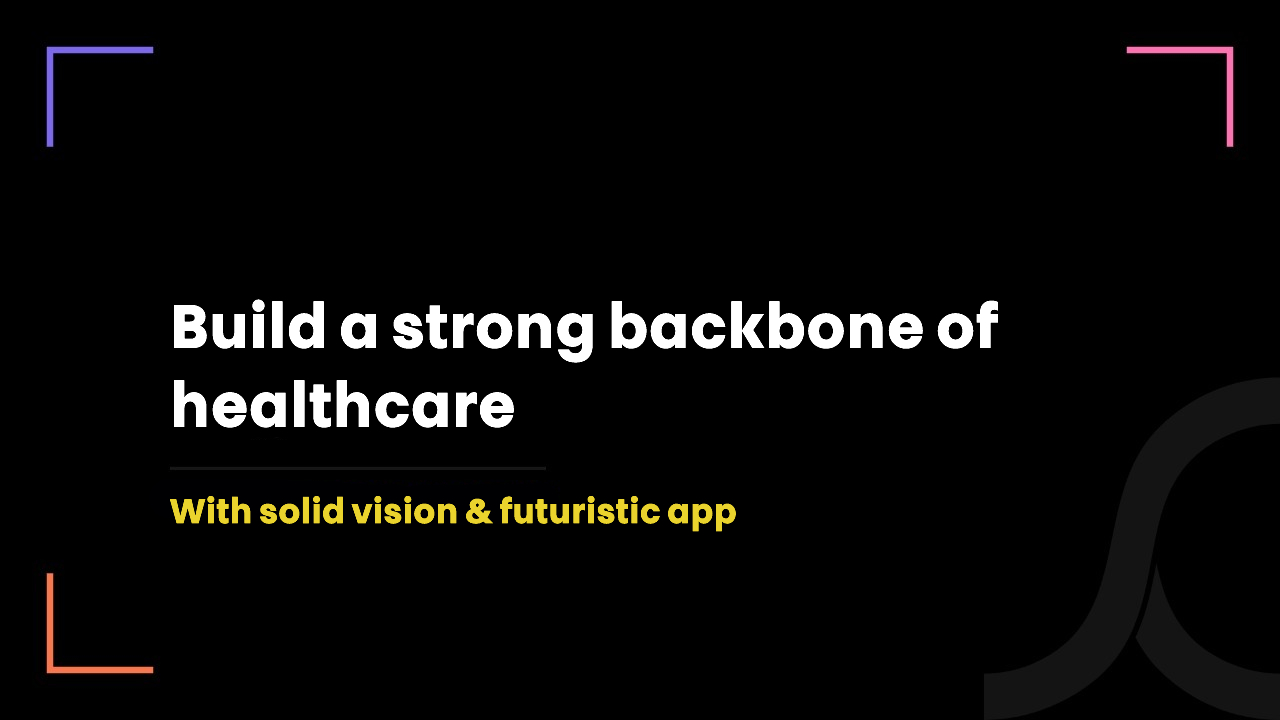 11 months ago
Nurses are the heart and backbone of healthcare!
Because they play a vital role in 3Cs – care, comfort and compassion for patients and their family members.
However, healthcare institutions that rely on these professionals are facing a massive nursing staff shortage right now.
For that reason, almost 70% of them – failing to provide the best patient care experience in a timely manner.
So what about the other 30%?
They're using telehealth nursing or telenursing solutions!
It's a technology that allows nurses to provide care via chat, voice and video calls – using any computer, tablet or smartphone.
So, let's take a deep dive into it!
Telenursing or telehealth nursing market overview
The telemedicine market size was valued at USD 91.2 billion in 2022 and is estimated to reach USD 380.3 billion by 2030 with an annual growth rate (CAGR) of 19.5%. – (Source)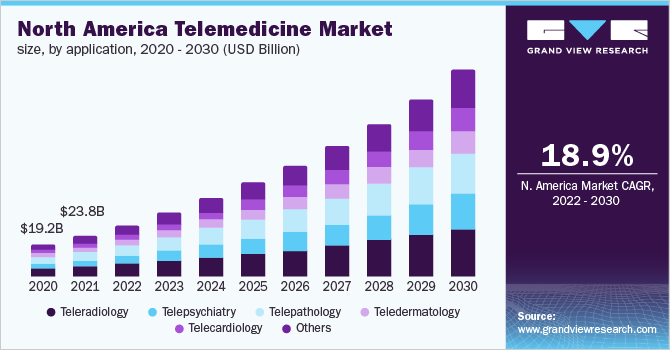 But what are the primary reasons behind this skyrocketing market?
Massive healthcare staff shortage
How telenursing app works? A complete architecture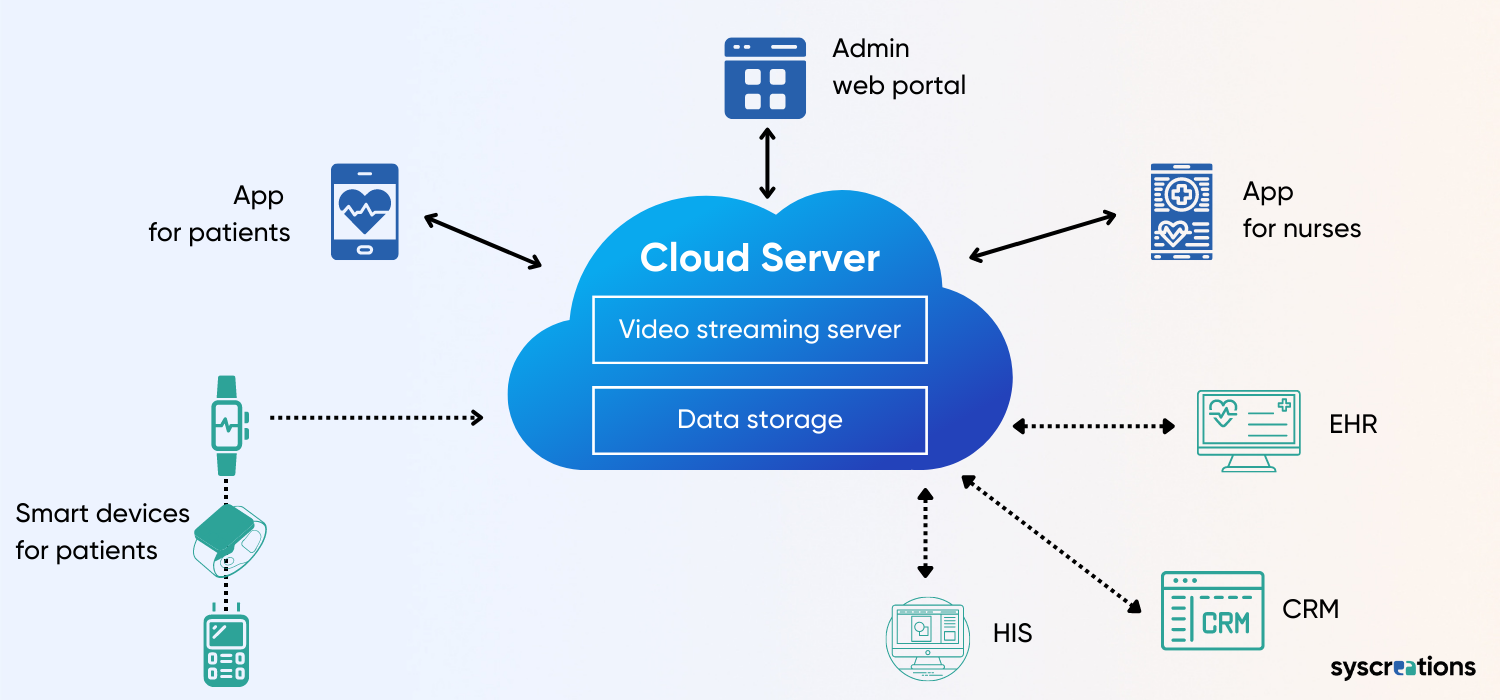 The common elements of the telenursing app or software include –
1. Admin web portal:
View the telemedicine nursing staff list
Grant and manage the access of nurses and patients
Nurses and patient profile management
2. App for nurses:
Connect with patients via chat, voice and video calls
Access patient medical history
Analyze the patient's real-time vital body signs data
Accept, cancel and manage appointments
3. App for patients:
Connect with online or virtual nurses
Access and share the health data
4. Cloud data storage:
Manage patients' and nurses' information
Telenursing voice and video call history
Manage images shared by patients and nurses during the telenursing visit
5. Video streaming server:
To connect patients and nurses in real-time
3 Common healthcare IT integration of the telehealth nursing app
Integration is nothing but connecting two healthcare IT systems together in order to – exchange critical data, improve operational efficiency, and reduce overall costs and time.
These common integrations include –
Integration with EMR/EHR:
The purpose is to exchange the patient's health data to help the nurses in providing better care services.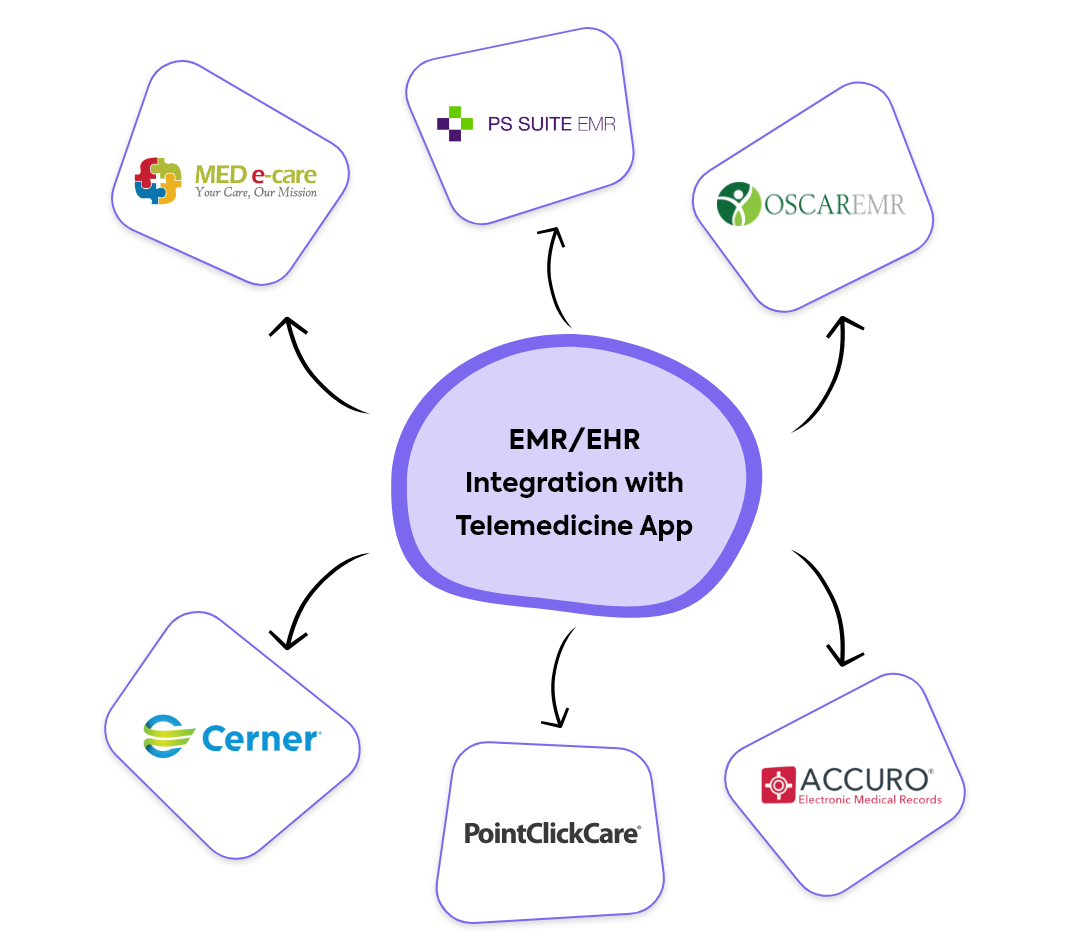 Integration with IoT or wearable devices:
The purpose is to fetch vital signs data (blood pressure, sugar level, oxygen level etc.) from the wearable devices to monitor the patient's health in real time.
You must also read: Healthcare IoT integration
Integration with HIS (Hospital Information System):
The purpose is to directly fetch and share the data into HIS to eliminate the need for manual data entry that saves operational time and costs.
Top 5 applications of telenursing (use cases)
1. Preoperative and postoperative care:
To provide it effectively, the telenursing app or software must be integrated with medical or wearable devices.
Because it's important to continuously monitor the vital signs of patients for both preoperative and postoperative care.
By analyzing those data, nurses can easily connect with the patients via video conferencing in order to guide them through pre-surgical preparation.
And this entire process is the same for postoperative care too.
The only difference is that – here a virtual nurse communicates with patients to simplify their recovery and help them with their physical and psychological needs.
2. Chronic disease management:
A telehealth nursing app improves adherence to chronic care plans!
But how?
It helps in managing the symptoms in real-time.
Gives a real-time view of patients' vital body signs
Allows to manage patients' symptoms by giving real-time instructions remotely
For a better understanding, explore how apps are improving the standard of chronic care management.
3. Home care:
Telenursing app is widely used in senior home care or long-term care facilities.
Because it helps in fulfilling the special healthcare needs of seniors in real-time.
In fact, telenursing is a blessing for seniors who are going through some serious chronic conditions.
4. Prenatal and postpartum care:
The app allows nurses to provide both prenatal and postpartum care via video communication.
For example,
Prenatal care: Monitoring the vital signs of mother and baby, guidance on maintaining pregnancy, exercise and dieting tips, and childbirth preparation
Postpartum care: Monitoring the health of mother and infant, providing mood and emotional support, guidance on infant care and feeding
5. Mental health:
This is one of the best use cases of the telehealth nursing app.
It enables patients to schedule video or voice calls with the psychiatric nurse for various mental health disorders like depression, anxiety, stress, trauma etc.
You must also read: Mental health telemedicine
6 Mind-blowing features of the telenursing app with their purposes
1. Live video conferencing:
Provide care instructions
Guidance for pre-surgical preparation and post-surgical follow-ups
Analyze medical test results in real-time
2. Remote patient monitoring:
Understand the symptom patterns
Give instruction to maintain symptoms effectively
3. Image and video sharing:
Examine the condition and healing (in case of injury)
Analyze the medication side effects
Give instructions for exercise
4. Offline chat:
Nurses or patients can communicate with each other in case of a poor internet connection
5. Teleconsultation with experts (if needed):
To provide care or guidance on abnormal health parameters
6. Self-guides for patients via educational videos and articles:
Help the patients to manage their own health effectively
Lower the follow-up visits that saves time and costs for the healthcare organizations
You must also read: Telemedicine app features
Technology stack in telemedicine nursing app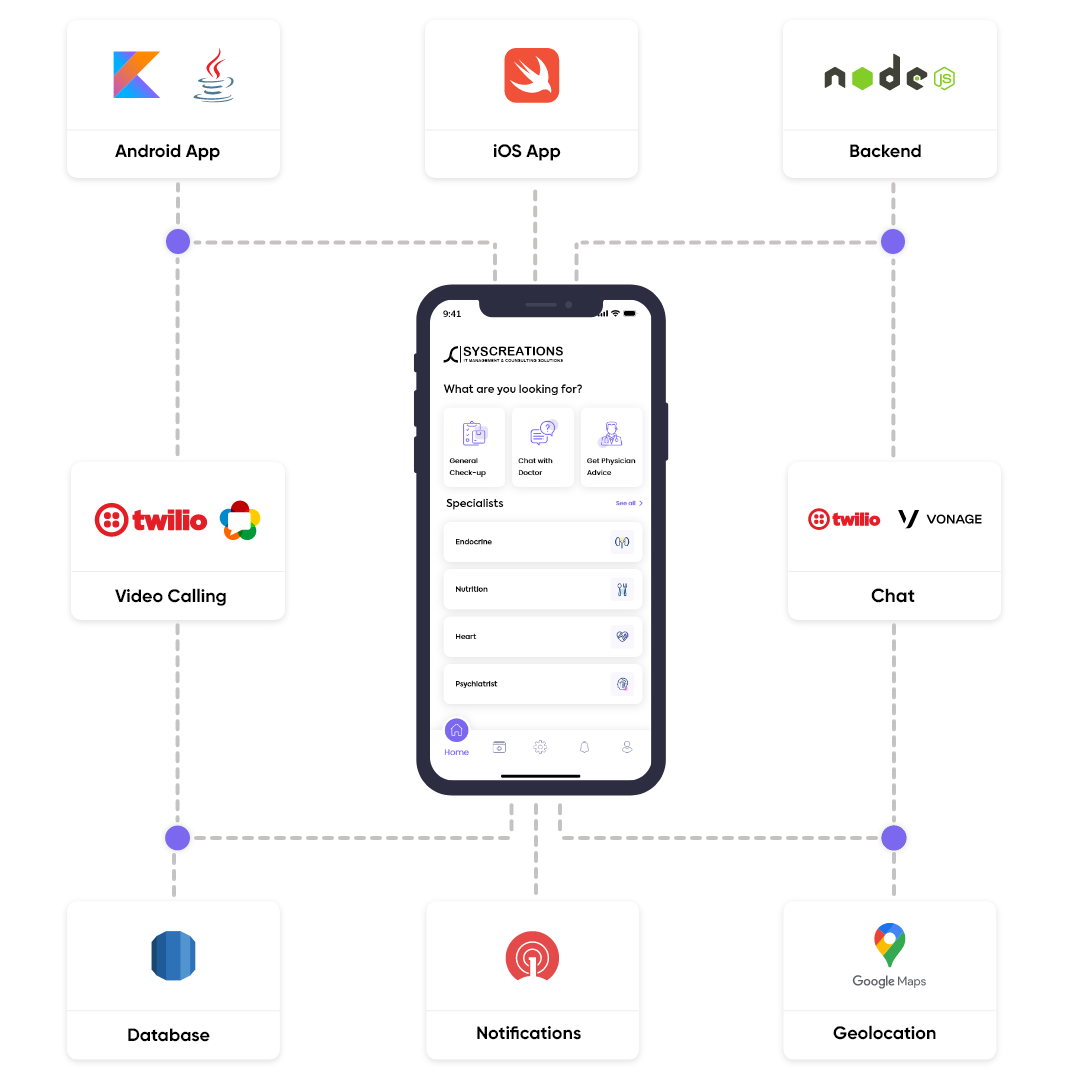 2 Prior challenges with a telehealth nursing app (and its solutions)
Challenge-1: Technology adoption
For some age groups, using a telenursing app is quite difficult.
As an example – elderly age patients!
And a technology gap is the major reason behind it.
Similarly, a lack of engagement also plays a big role in the adoption of the telehealth nursing app.
Solution:
Just focus on the planning and designing of the telenursing app development.
Make a user-friendly UI by considering the elderly age patients in mind (because if they find it easy to operate then you don't need to worry about the other age groups).
And to make it more engageable, implement simple games in the app.
Challenge-2: Security concern
"81% of telehealth providers are concerned about data leakage" – (Source)
A data breach in the telenursing app is critical as it may put you at reputational and financial risks.
Solution:
Your app must be compliant with all the data privacy laws like HIPAA, PHIPA, PIPEDA, GDPR etc.
A real-world example of a telenursing app (recent development)
PointClickCare (A healthcare software provider in Canada and the USA) recently launched a telemedicine service for skilled nursing facilities.
Its platform helps hospitals to connect with post-acute and long-term care providers.
This will support hospitals to provide 24/7 care services without putting existing medical staff under a high work burden.
And here is what its senior vice president and general manager of senior care – Travis Palmquist is saying about telemedicine for nursing facilities.
"Telehealth is no longer a futuristic concept in long-term care, it's table stakes." – (Source)
How we can help you start telenursing services in Canada and the USA?
We're an Ontario-based healthcare-specific IT company.
In other words, we only entertain healthcare IT projects for startups, organizations, entities, and individuals.
And in the past 8+ years, we've successfully delivered 250+ healthcare projects.
When we say 'healthcare-specific', we mean it in all directions (including our 50+ team too).
Yes. We have a team of healthcare-focused IT professionals that includes – UI/UX designers, app and web developers, business analysts, compliance specialists, QA engineers, integration experts, and RPA specialists.
And here is how we can add value to your telehealth nursing business idea!
Telehealth nursing consultation:
Our healthcare-specific consultant will help you in –
Analyze the market potential including in-depth competitor analysis
Deciding the functionality of the telenursing app that meets all your patients, nurses, and business needs
Creating a list of the feature and usability requirements in the software
Selecting the future-proof tech stack so that your app can perform beyond 2030
Identifying the right approach for integration (with EHR/EMR, IoT, LIS, HIS etc.)
Helping you stay HIPAA-compliant
Help you calculate investments and ROI
Custom telenursing app development:
It means – we'll build a telenursing app from scratch as per your features, workflows, usability, and branding requirements.
And for that, we offer 3 trending development methods.
1. Native app development:
Native apps are faster and offer more functionality compared to others.
Because the developers write a separate codebase for both iOS and Android.
However, it'll increase the overall development costs and time-to-window.
But if you have a large capital investment and a strong vision to cover the global market, native app development is the best for it.
2. Cross-platform app development:
In this development approach, developers don't need to write a separate codebase.
Meaning, with a single codebase, both iOS and Android apps can be developed.
This saves a lot of time and eventually reduces development costs.
However, compared to native, cross-platform is slower and has a limited UX and functionality.
But it's a better option if you don't have high capital for a telenursing app.
3. MVP app development:
MVP stands for "Minimal Viable Product."
And it is famous among startups as it requires low capital to start – at the same time allows you to launch the app in the market in less time.
If you choose MVP then we'll hand over the app with some basic features and functionalities for your early-stage users (patients and nurses).
And then, as per the valuable feedback from the users (about features, usability, performance etc.), we'll improve the functionality of the telehealth nursing app, as per your requirements.
Amazon, Facebook, Airbnb, and Dropbox are examples of MVP app development.
(In case, if you don't want to go for custom solutions due to the low capital and time-to-window, don't worry, we have something extraordinary for you!)
Our white-label telenursing app!
First, what is white-label?
It's nothing but a ready-to-use app!
Just like the below images.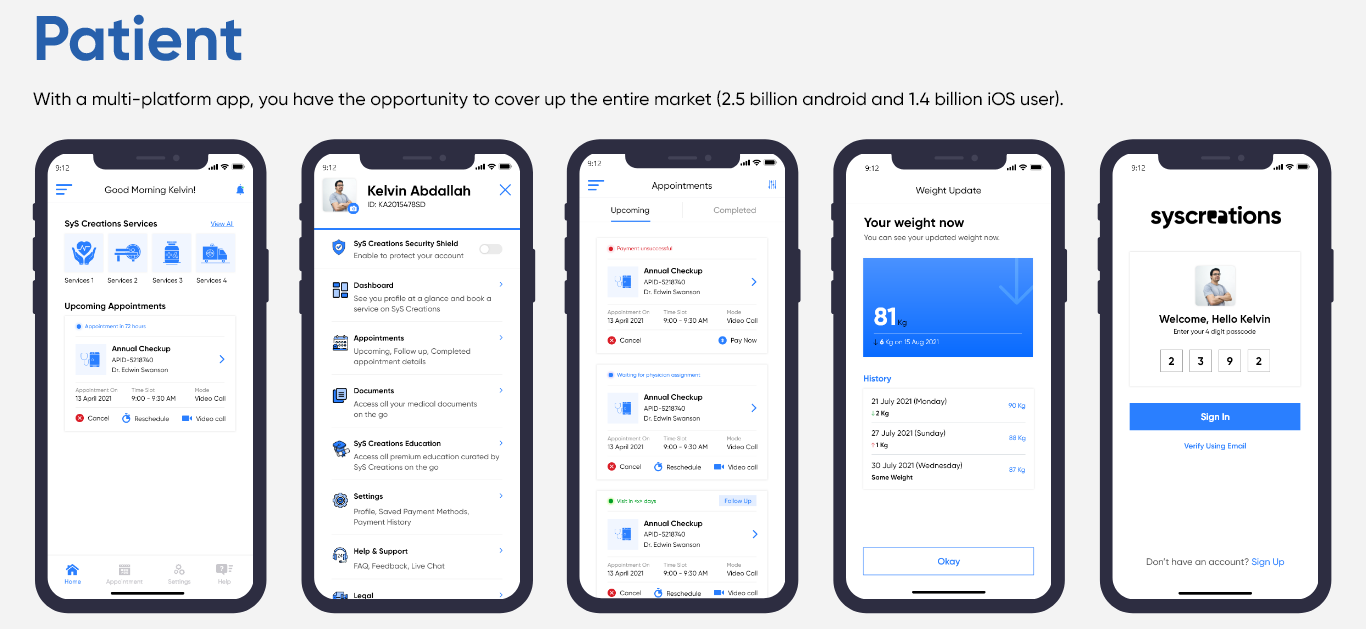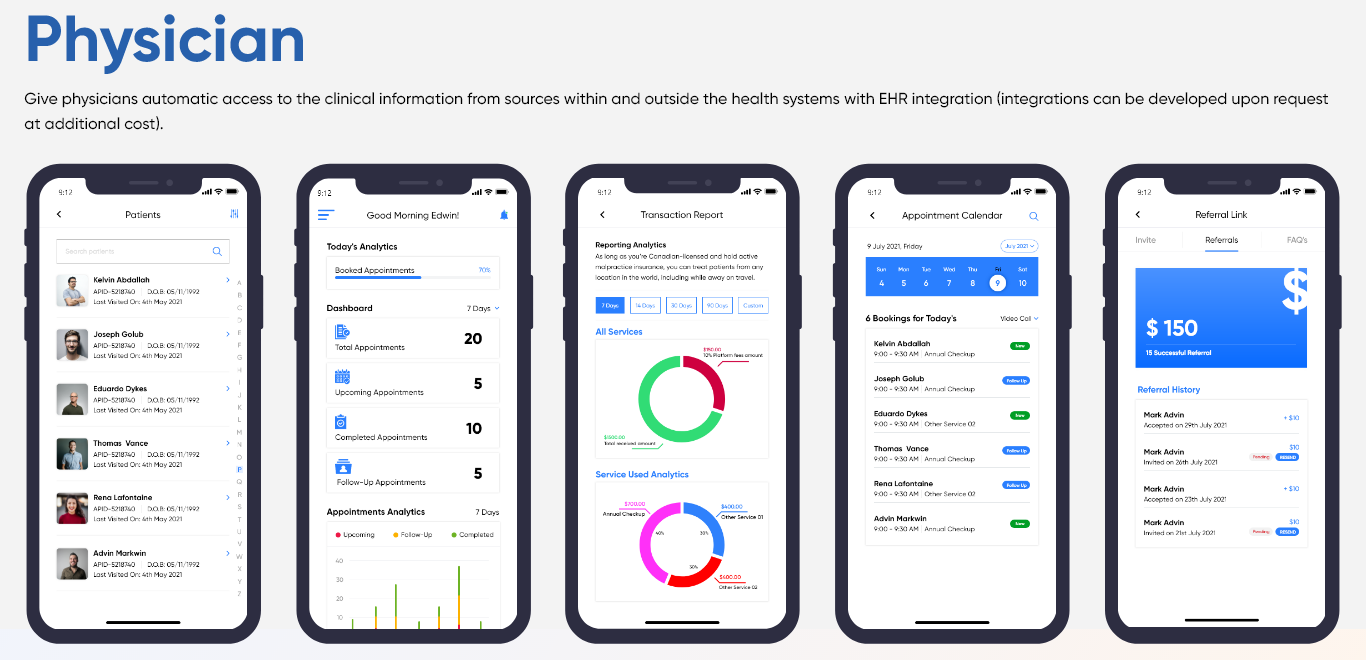 But before we hand it over to you – we do customization as per your workflow and branding requirements.
And what makes it special is that – we just launched it recently.
Means, it has all the features that are required to start a telenursing service in Canada, the USA, and beyond.
In fact, it is compliant with HIPAA, PHIPA, and PIPEDA.
Also, it gives you access to unlimited and secure video and voice calls.
In case you're wondering, explore the real-screenshot of our white-label telemedicine app.
Still not convinced?