Mental Health Telemedicine App: 4 Myths to Know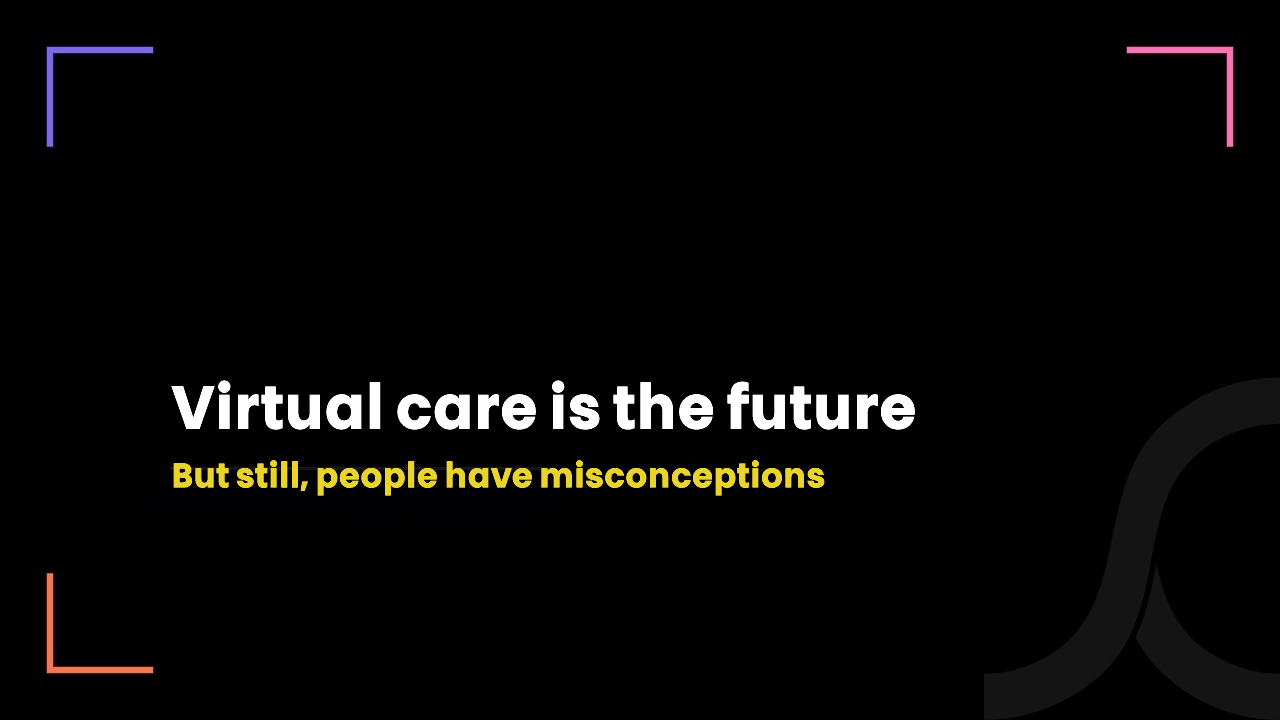 1 month ago
Good mental health is not a destination. It is a process.
Telemedicine makes the process peaceful and convenient for the patients and those involved in their care.
Despite its endless benefits, people still have doubts and misconceptions at the same time.
For instance,
Is the mental health telemedicine app effective?
Now that COVID-19 is gone, does anyone needs telepsychiatry?
Is the future of telemedicine for mental health promising?
Digital youth mental health startups are not receiving positive responses from patients and investors.
So, in this blog, we are going to answer those questions and misconceptions with some real-world case studies to help you start a mental health telemedicine business effortlessly.
Mental Health Telemedicine: Answering Some Common Questions and Misconceptions with Real-world Examples
Let us give you the reasons for listening to us.
We are healthcare-specific IT professionals working with a solid vision to redesign healthcare.
In the journey of 8+ years, we have successfully delivered 20+ mental health telemedicine apps for startups, individuals, and organizations.
Hence, we understand every ins and outs of traditional and modern mental health care approaches.
Answer-1: Mental health telemedicine app is effective in all senses!
Let's understand it with a simple difference.
Traditional mental health care:
Wait days or sometimes weeks for appointments
If the condition is not ideal, a patient still needs to travel to the clinic
No real-time care support
Patients can't measure their progress
Telemedicine care:
Patients can book an appointment with just a few clicks
Some digital youth mental health startup offers 24/7 care support
Allows patients to involve in their self-care
The progress report boosts the confidence of the patients
No travel. No waiting hassles.
Comfort. Comfort and comfort.
You have got your answer!
Answer-2: People are truly seeking telemedicine for mental health
The current healthcare ecosystem of the USA and Canada is struggling due to the healthcare staff shortage.
Because of that reason, half of the patients in the US don't receive treatment due to the lack of care accessibility.
A shortage of mental health practitioners means many children are unable to get treatment or have to endure long wait times. A state telemedicine program is allowing Texas children to see therapists at school. https://t.co/FpSEMpTfnL

— KUT Austin (@KUT) September 9, 2022
On the other hand, mental health cases are rising at a rapid pace.
So, people are considering mental health telemedicine as the most convenient solution.
In case you are wondering, here is an image from the case study conducted by the Price Waterhouse-Cooper.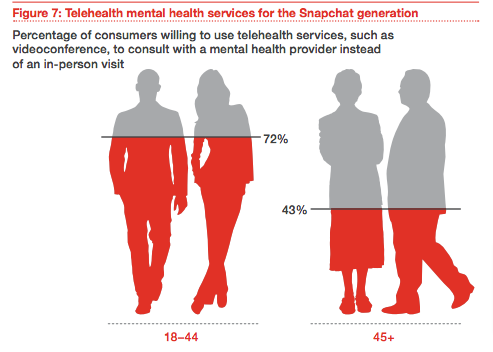 Answer-3: The future of telemedicine for mental health is more promising with the advancement in technology
Nowadays, patients require everything in just one place.
And fulfilling the patients' digital healthcare needs is the greatest practice to grow as a digital youth mental health startup even in the highly competitive market.
This means if you are planning to build a mental health telemedicine app, consider patients' needs as the top priority.
Technology advancement in mental health is truly fulfilling the needs of the patients while at the same time improving mental health outcomes.
Implementing the following technologies into your telemedicine mental health app will help you stay ahead of your competitors.
1. Healthcare IoT or wearable devices
The purpose of IoT is to analyze, collect, and share the patients' vital body signs data (blood pressure, oxygen level, heart rate, etc.).
This allows healthcare professionals to monitor the patients' real-time health condition at any time, from anywhere.
This means, the integration of IoT with mental health telemedicine apps improves treatment outcomes, lowers clinical visits, and saves time and medical costs.
2. Mental health chatbots
Healthcare chatbots proved revolutionary in mental health treatment.
Helping patients in real-time with a clinically approved solution makes mental health chatbots game-changing.
Some of the powerful features of mental health chatbots are:
Appointment booking
Health records access
Order prescriptions
Real-time chat with providers
Mental health assistance
Just imagine the outcome of the mental health telemedicine app integrated with the medical chatbot!
Young people's voices and mental health matter 🤝

More than 251,000 young people have accessed the U-Report #MentalHealth chatbots. Deployed in 2021, regularly updated and providing tips and breaking the stigma around mental health among young people. pic.twitter.com/puKzaoao7i

— UNICEF Innovation (@UNICEFinnovate) September 14, 2022
3. Artificial Intelligence
IoT and chatbots are the two primary sources of data.
By running the AI algorithms into large-scale clinical and patients data, you can
Identify the most appropriate care plan
Predict the care outcomes
Lower the life-threatening medical errors
As a result, it not just improves the patient care experience but also gives you a high ROI by saving time, costs, and resources.
Read our useful article on: How is AI used in healthcare?
Answer-4: Digital youth mental health startups are skyrocketing
A poll from the American Psychiatry Association found that there is a massive rise in the popularity of telemedicine for mental health.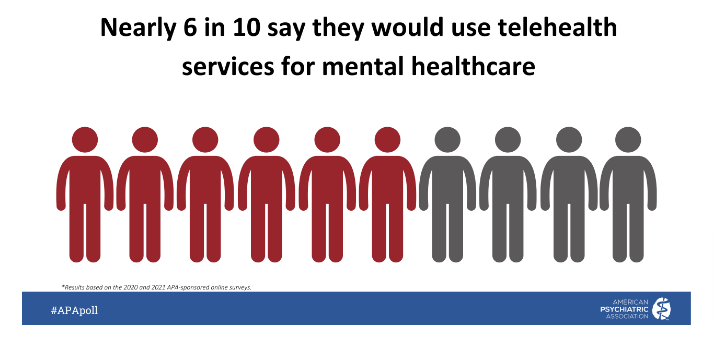 The rise in adoption is encouraging entrepreneurs, individuals, and organizations to start or build mental health telemedicine apps.
For instance,
Hopscotch, a New York City-based digital youth mental health startup has raised $8M in seed funding.
We are proud to announce our seed round of funding led by @InspiredCap and @greycroftvc. This is a critical milestone that will allow us to address a national mental health crisis through insurance-covered treatment and expert resources for families.https://t.co/gA6uexE48J

— Hopscotch (@JoinHopscotch) September 13, 2022
It not just provides virtual care solutions to patients but also assists the youth mental health care specialist in providing more engageable and accessible evidence-based care.
The future of telepsychiatry is promising as more and more patients are adopting virtual care solutions.
Read our related article on the Best telepsychiatry apps
In case you are wondering, here is a market overview by Grand View Research.
A Few Tips to Start a Mental Health Telemedicine Business!
We know that you have an idea of developing a mental health telemedicine app.
Hence, we are going to share our combined 250+ years of experience as healthcare-focused IT professionals.
Select a futuristic tech stack
Multiple care solution means multiple revenue streams
Implement an online pharmacy store to gain more customers
Don't try to avoid the compliance laws
Keep pace with the patient's unique needs
Have significant investment capital? Offer virtual reality care solutions as it is the future of mental health.
And if you are looking for a North American and healthcare-specific technical, business, and compliance specialist, explore our solutions and expertise!
Know how we deliver more than just a solution here!