Grin Dental Telemedicine Platform Expands to Canada: Build App for Dentists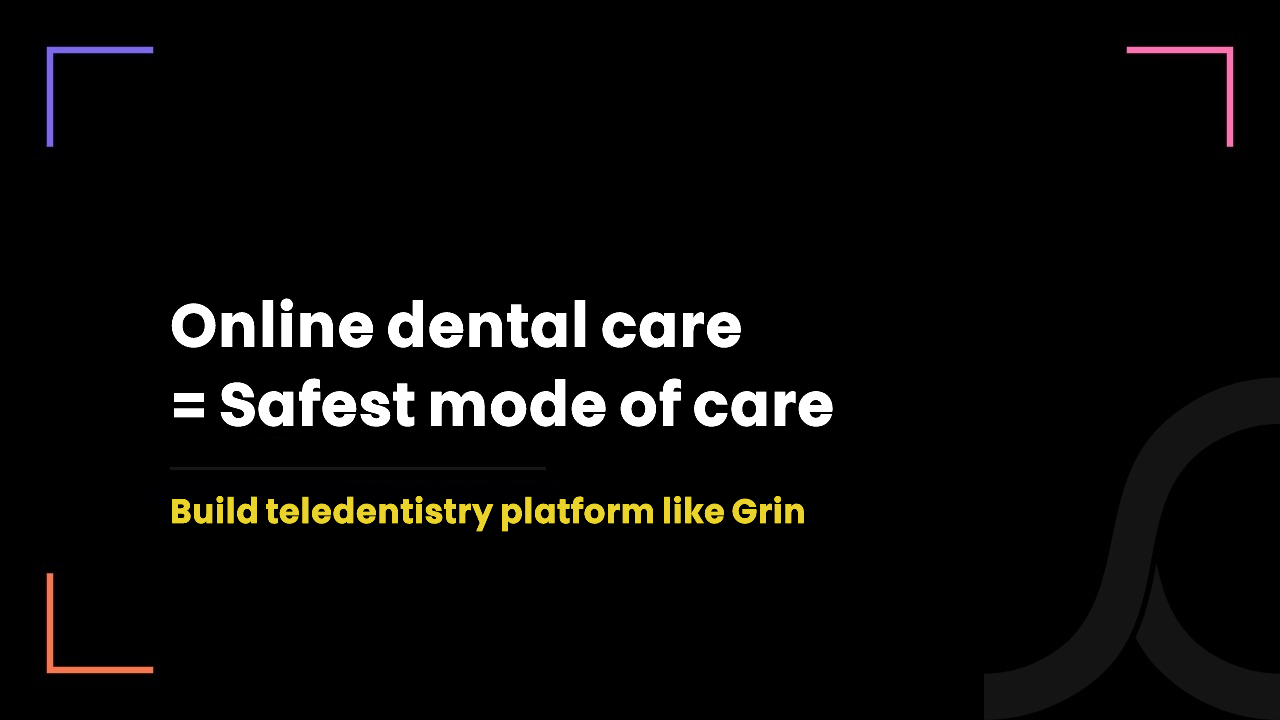 2 years ago
When Grin closed $14 million in April 2021, we anticipated that it would soon expand to other markets. And that's what just happened.
As per its official press release, New York-based teledentistry platform, Grin, is now expanding to Canada for the sake of taking a huge bite of the second-most fruitful market for healthcare startups.
Grin has announced that its dental telemedicine system is now available for the users of Canada through local orthodontists across Canada.
You must read: How to Start Virtual Dental Clinic with Teledentistry App?
How does Grin - best app for dentists - offer world-class dental telemedicine service?
Grin's solution includes the Grin app, Grin Scope and Grin Scope Mini. Here, the Grin app is software and Grin Scope is hardware to let users scan the teeth and make a small video of their teeth to share it with orthodontists.
Grin app for dentists and users: Users can book virtual appointments with orthodontists or dentists. Users can chat, voice call or video call with orthodontists. Users can share images with orthodontists. Overall, an app is a most easily accessible medium for users to connect with providers virtually.
Grin Scope: This is an FDA-approved medical hardware device that attaches to the lens of users' mobile cameras, the way it shows in the following image. Because of this device, the camera of the mobile device keeps only teeth in focus and generates a sharp and clear image or video of teeth formation.
Every week, the app reminds users to scan their teeth and share results with an orthodontist. At the orthodontist front, they can see all uploaded photos or videos by users and track the overall progress of teeth straightening.
How does Grin - the teledentistry platform - make money?
Grin follows the SaaS model. Its major target audience is orthodontists and dentists. Grin lets them use its technology and in return, charges a monthly fee.
The most basic plan costs $199 per month with an additional cost of $24 for each Grin scope. By paying $199 per month, providers can offer teledentistry services using Grin app for up to 300 active patients per year and per practice location.
Grin also offers one more plan which costs $300 per month. This plan supports up to 600 active patients per year and per practice location.
A major benefit of building app for dentists like Grin is safe care
During the pandemic time, dentists are at the highest risk while checking patients. There are several incidents where virus transmission happened between patients and dentists.
Thus, several dentist associations suggest dentists to avoid being in close contact with patients while treating them.
For instance, the Royal College of Dental Surgeons of Ontario advised dentists to consider the use of teledentistry for the remote assessment, triage, and provision of dental care when possible.
Teledentistry platform does not only deliver dental care virtually, but it streamlines the entire clinical workflow from appointment booking to consultation to ePrescription, medicine delivery and even follow-up appointments.
Because of its end-to-end approach, patients do not need to leave their homes for a single time throughout their care cycle.
This ensures a safer environment for providers and safe care for patients. 
Our other useful resources:
Grin isn't the first dental telemedicine solution for Canadian people
Since 2020, several telemedicine startups have been experiencing unprecedented growth.
However, at the same time, the need for a medical specialty-specific telemedicine platform has also been emerging as the 'one fits all' approach does not apply in healthcare.
Thus, several healthcare entrepreneurs are now opting more for medical specialty-specific telemedicine platforms rather than building general-purpose telemedicine platforms.
For instance, they prefer to build dedicated telemedicine platforms for mental health, for eye care, for dental care, for dentists, for vets etc.
Talking about the Canadian teledentistry market, Dentist Online has already been dominating it. This Toronto-based startup offers virtual care as well as in-person appointments with dentists and orthodontists at over 96 locations in Ontario, Quebec, British Columbia, Saskatchewan, and Nova Scotia.
Planning to build app for dentists like Grin? We have experts, expertise and experience
We're an Ontario-based healthcare-focused IT company and telemedicine tech is something we are most confident at.
We build custom full-fledged as well as MVP versions of telemedicine mobile/web apps. We even provide a white-label telemedicine solution.
Since we are healthcare-specific, we have on-ground knowledge of Canadian and USA healthcare markets, compliance requirements and user needs.
Where our healthcare-specific knowledge helps us most is delivering clinical value to our healthcare clients in addition to providing them with peace of mind.
If you are planning to build an advanced platform, we are clever enough with IoT, AI, machine learning technologies as well as EMR/EHR integration.
So, just let us know your interest. We will welcome you with free consultation along with a free personalized quote.