Tips for Successful Digital Transformation in Healthcare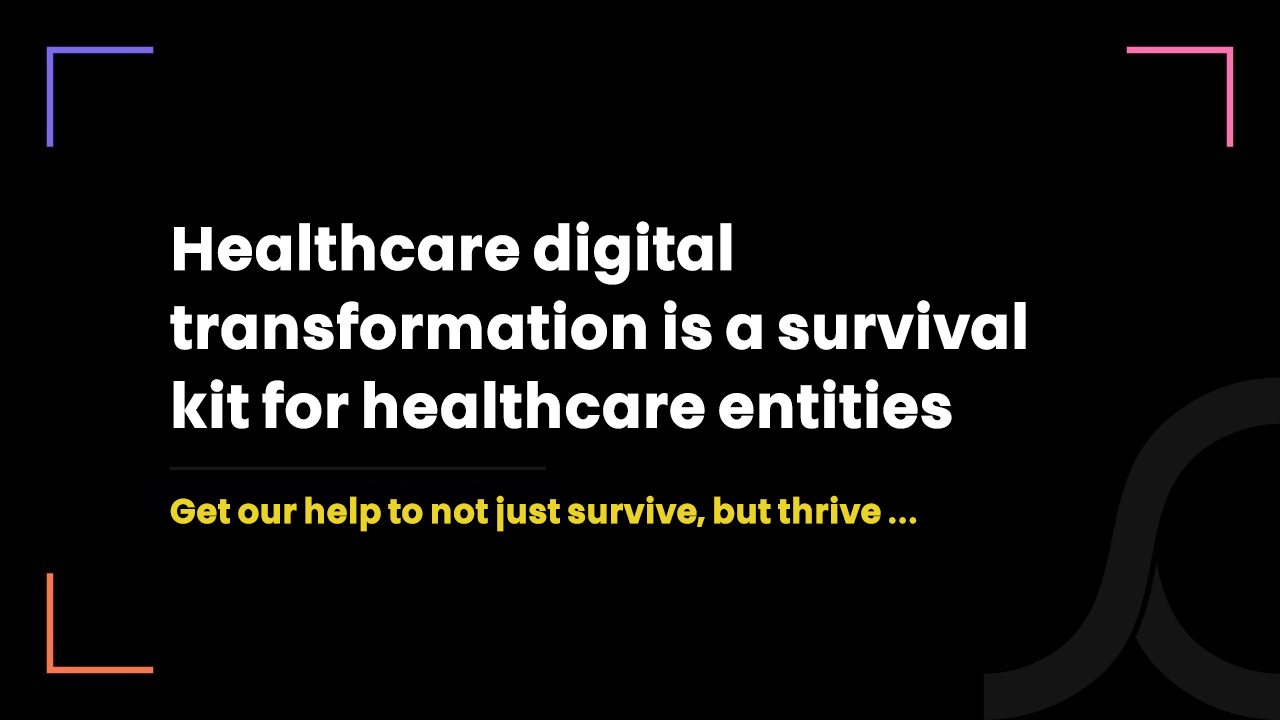 2 years ago
What we all failed to achieve in the last 2 decades, pandemic did it in just 1 year. It solved all economic, regulatory, technological and social uncertainties of the healthcare ecosystem.
More informed decision-making with clinical data, contactless care with telemedicine, round-the-clock patient monitoring with IoT-enabled digital solutions, AI-driven crisis management and patient engagement with chatbots are some of the clinical use cases getting popular rapidly.
The best part of pandemic-fueled digital transformation in healthcare is that all healthcare providers, startups, consumers and regulators are on the same page that makes digital transformation more patient-centric and sustainable! 
Our other very interesting healthcare resources:
What's coming next for healthcare digital transformation?
Digital transformation is key to achieving a healthcare ecosystem where only streamlined clinical workflows exist that confirm enhanced patient outcomes without stretching providers to their limit.
An AI-enabled clinical decision support system (CDSS) that helps clinicians prepare care plans based on accurate clinical decisions will be employed at crucial points of the patient's clinical journey to make it more result-oriented.
A super healthcare app - equipped with telemedicine, remote monitoring, online pharmacy and healthcare eCommerce modules - will replace all healthcare apps as it offers more clinical values from a single app than an individual app for each clinical value!
One of the biggest barriers stopping small-medium scale healthcare organizations from digitally transforming their practice is regulatory compliance. So, regulators and healthcare organizations will mutually set the new regulatory standards that will multiply the scope of healthcare technologies without posing risk to the personal data of patients.
Overall, digital transformation will push the healthcare ecosystem to its 2.0 version!
Tips to make the digital transformation of your healthcare organization successful
While on a journey of digital transformation, healthcare organizations come across decades of technological change and innovative disruption which are both good and bad.
Thus, it becomes urgent to identify what's working currently for them and what's not! Here are 3 pro tips to win digital transformation!
Look beyond your industry to learn new lessons
The best source to learn innovative strategies and business lessons is beyond your industry. Redefine the boundaries and broaden your perspective to identify what other businesses of different industries are doing extremely well that may fit in your industry as well.
For example, we grabbed the idea of a super healthcare app for one of our healthcare clients from a GoJek app that belongs to the taxi and on-demand industry. GoJek offers more than 20 on-demand services from a single platform!
(Currently, our compliance specialists are running a compliance audit on that super app. So, it will soon become a market reality!)
Don't overlook patient experience and expectations
Every digital transformation journey ends at what customers think of new innovations and how they adopt them. Thus, the approach you should choose to digitally transform your medical business should be more customer-centric and less market-centric.
Recently, a telemedicine app owner approached us to add a symptom checker feature to it. When we asked, he wanted it because the Babylon app has one similar feature. Our business analysts later ran a market survey and found that the majority of users don't trust results shown by the symptom checker!
So, identify the blind spot the healthcare market has. And the best way to identify it is to understand and study your users rather than your competitors!
Put extra emphasis on compliance
Compliance is required not just because it is legally mandatory, but also because it ensures data protection and helps organizations earn the trust of users and investors.
However, you should plan different compliance strategies for your organization and its IT infrastructure as there are different technical and administrative requirements.
You should read: Why Should You Hire a Healthcare Compliance Consultant?
Seize some inspiration from these companies which did digital transformation in recent years
To see the much broader and brighter side of digital transformation, let's not just limit our learning to healthcare only. Following are multi-industry examples but with more focus on healthcare.
Limited to brick-and-mortar stores for several years, IKEA digitally transformed customer experience with a new eCommerce website that is best-in-class.
It has also acquired TaskRabbit startup to let its customers find people to help with the assembly or delivering furniture purchased at IKEA to their apartment. It has also launched a smart home project that includes intelligent kitchen equipment and lighting.
Sensing the customer need, IKEA later introduced AR in the customer journey which helps customers to make decisions and virtually "furnish" the apartment before making purchases.
In 2020, Canada's one of the oldest pharmacy retail chains launched a mobile app named Be Well to bring together health, wellness and rewards.
With this app, Rexall Pharmacy is now able to engage more its users by easing all their health-related pain areas. Be Well app is equipped with purposeful features that enable users to track health, wellness & medical history, earn & redeem points and connect to local Rexall pharmacies and have access to expanded online pharmacy services.
Amazon has been investing huge in healthcare to take its bite out of this multi-billion dollar industry. First, it acquired online pharmacy startup PillPack and then launched its own virtual care platform - Amazon Care.
Using Amazon Care, users can virtually talk to medical specialists and even call them for at-home follow-ups, tests and treatments.
Amazon Care app is very feature-rich. It shows the flow for choosing between text chat and video, as well as a summary of care provided through the service, with invoices, diagnosis and treatment plans all available for patient review.
These are the most prominent upcoming startups in the healthcare industry
Based on our interaction with 100+ entrepreneurs in the last 1 year, we have hand-picked some of the most game-changing upcoming healthcare startups.
Social media platform for healthcare providers
We have noticed several healthcare providers are proactively using social media platforms to share their ideas, validate information, build a network and connect with patients.
However, they face several challenges as there are only one or two region-specific dedicated social media platforms for healthcare providers.
One healthcare-centric social media app - known as LinkedIn for doctors - is Doximity. The fact that it has more members than the American Medical Association clearly depicts the scope for such purpose-specific social media apps for clinicians.
Healthcare entrepreneurs have already identified its scope and thus, we are anticipating more such apps in the market anytime soon.
You'll find this useful: LinkedIn for Doctors – Create Your Own App Like Doximity
Dedicated telemedicine platform for each medical specialty
'One-fits-all' approach does not work in healthcare as each medical specialty has different clinical workflows which a general-purpose telemedicine platform cannot streamline.
For instance, what works best for teledentistry can't work best for telecardiology or teledermatology.
Thus, there will be a new trend emerging in the telemedicine market with medical specialty-specific telemedicine platforms.
Digital solution for chronic care management
The number of people having a chronic illness is ever-evolving which puts an extra burden on healthcare infrastructure. It is also very tedious and inconvenient for patients having chronic diseases to visit the clinic regularly as they require continuous care.
Most importantly, patients can't keep a record of their vital body signs in such a way that it helps physicians to identify the medical progress in the next consultation.
To address all such issues both patients and clinicians are facing, several entrepreneurs are putting forward disruptive ideas in the form of digital solutions for chronic care management and it will soon change how chronic care is currently delivered.
3 lessons we learnt during the research for preparing this resource for you
Clinics and several hospitals are technologically underdeveloped. They require digital transformation on an urgent basis. Otherwise, healthcare startups will acquire their patients!
Digital transformation in healthcare should be more centralized around streamlining clinical workflows. Because almost all existing problems of the healthcare system lie within the current clinical workflows providers are following!
Digital transformation is 10% of technology and 90% of people!
Do you agree? Share your thoughts with our healthcare IT experts!