What is the Best Way to Grow a Pharmacy Business?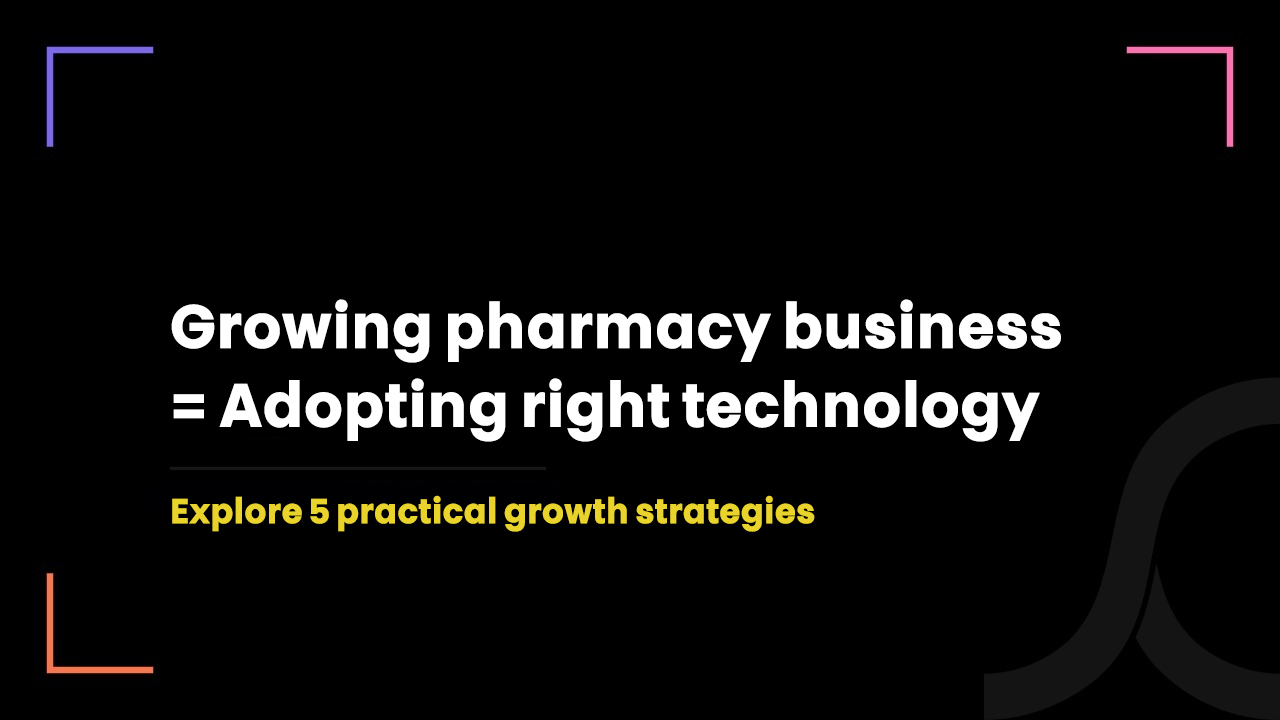 5 months ago
Pharmacists before March 2020 - Pharma industry must not adopt technology as it is already doing well.
Pharmacists after March 2020 - We must adopt technology otherwise we won't survive!
Pharmacists after Canada reached vaccination target - Post-pandemic era is so near. Markets are opening. But what can we do to grow?
Well, we are here to help you grow your pharmacy business despite the market challenges and the pandemic.
Our other very interesting healthcare resources:
Top 5 practical ways to grow pharmacy business in Canada, USA
We have been dealing with healthcare IT for more than 8 years. And one thing we always observe is how different healthcare entities adopt technology while keeping future market needs in mind.
But when it comes to pharmacists, they have always shown a very casual approach toward technology, until the pandemic hit us.
During the ongoing pandemic, they don't have any choice but to adopt technology as that's the only way to address the new market needs and grow the pharmacy business.
But when countries like Canada have already reached their vaccination target, pharmacists had another challenge - to be prepared for the post-pandemic market needs while ensuring their current revenue and keeping risk low. 
Following are the 5 different growth strategies pharmacies can apply to grow their business.
1. Online pharmacy or pharmacy mobile apps
During the pandemic so far, many brick-and-mortar pharmacies had built their mobile app or web app and started delivering their pharmacy services online.
Through mobile/web apps, pharmacies are acquiring more customers, delivering them the convenience of ordering medicine from the comfort of their homes, reducing medication errors, and generating multiple revenue streams.
Most importantly, pharmacies turned into online pharmacies and now target entire provinces and even entire countries rather than just a suburb or neighborhood without spending huge on expansion.
They are even going the extra mile and helping patients to take pills on time with automatic reminders and never letting them run out of medication with the automatic refill features of an online pharmacy app.
This current trend will surely continue to soar even in the post-COVID era as customers always prioritize convenience and time-saving.
You must read: How to start a digital pharmacy like Capsule?
2. 'Beyond the pill' approach
It is being proved wrong that a pharmacy is meant to only deal with the medication needs of patients.
Several pharmacies have already adopted the 'beyond the pill' approach and started offering healthcare eCommerce as well as virtual care services to let patients receive 360-degree care from their online pharmacy app.
The best example here is PocketPills - Canada's most popular and modern pharmacy - which last year added telemedicine features into its online platform and rolled out a virtual care service.
As an upshot, patients are now able to talk to doctors, get e-Prescriptions, and receive medication (at their doorstep) using a single platform. 
This not only assures a remarkable user experience but also guarantees extra revenue streams.
3. White-label pharmacy apps
Building a custom pharmacy app is not at all an affordable option. So, those pharmacies which cannot afford custom pharmacy app development have an affordable white-label pharmacy app option to own the pharmacy app by customizing it according to their needs and brand.
Kroll, which is Canada's most popular pharmacy management system, offers a white-label pharmacy app named Kroll PharmaConnect.
Our business analysts anticipate that more tech companies will offer such white-label pharmacy apps to empower pharmacists with the right tools and technology.
Talking about Kroll PharmaConnect, it costs only $650 as a one-time acquisition fee and $150 as a monthly subscription charge.
It can also be integrated with Kroll PMS to receive prescriptions directly from PharmaConnect's user app to Kroll PMS.
White-label pharmacy apps including Kroll PharmaConnect come with all basic and advanced features such as easy signup, past prescription history, new prescription order, prescription refill, reminder, etc.
Thanks to the value it provides at an affordable price, the majority of all pharmacists that do not afford custom solutions will opt-in for white-label pharmacy app solutions like PharmaConnect.
4. Back-office task automation with RPA
According to our internal survey, almost 73% of pharmacy staff are engaged in data entry, data management, and other back-office tasks and almost 37% of them feel bored doing the same repetitive tasks. 
Using RPA technology, pharmacies can automate all back-office tasks and utilize back-office staff for more strategic tasks.
Software developed using RPA technology gets installed on every computer of pharmacies. This smart software is trained to complete a specific task such as billing or prescription validation. Thus, it automatically executes the task at a fixed time or after a certain event.
Pharmacies can automate several tedious tasks such as patient intake, insurance validation, order entry, billing, etc.
With this, pharmacies can achieve ultimate productivity, almost zero medication errors, and the happiest workforce.
Most importantly, pharmacies using RPA technology can process prescriptions 5X faster and save a lot of money and time.
5. Outstanding customer service
You might be already doing a fantastic job when it comes to customer service. But there is always scope for improvement, especially after the pandemic.
You must invest in customer service tech to let your customer service team easily and productively solve the questions of customers.
Your customers should be able to talk to pharmacists through chat, video call, or voice call to solve their doubts regarding their medication plans. 
If not through the customer service team, you can invest in a chatbot to solve all doubts of customers 24/7 within seconds without any human intervention.
Key features and functionalities that your pharmacy app should have
1. User-friendly interface
A pharmacy app should have an intuitive and easy-to-use interface that allows users to quickly find what they are looking for.
2. Medication reminders
Users should be able to set medication reminders and receive notifications to ensure that they never miss a dose.
3. Prescription management
The app should allow users to manage their prescriptions, including refills, reminders, and alerts for expired prescriptions.
4. In-app purchases
The app should allow users to manage their prescriptions, including refills, reminders, and alerts for expired prescriptions.
5. Pharmacy locator
The app should have a pharmacy locator feature that allows users to find nearby pharmacies and easily access their contact information.
6. Health tracking
The app should allow users to track their health metrics, such as blood pressure, glucose levels, and weight.
7. Secure messaging
The app should have a secure messaging feature that allows users to communicate with their healthcare provider or pharmacist.
Here is how we can help you grow your pharmacy business
We're an Ontario-based healthcare-focused IT company.
We can help you grow your pharmacy business with technology and our decade of healthcare IT, business, and compliance knowledge and experience.
We accommodate healthcare-specific app developers, designers, business analysts, and compliance specialists who are all well-versed in implementing technology at your pharmacy. 
For instance, we can design and develop a pharmacy app for you. The outcome would be a very large customer base and the happiest customers.
We can help you implement and launch the Kroll PharmaConnect white-label app. The outcome would be an easy and affordable acquisition of your own app.
We can help you automate your back-office processes with RPA. The outcome would be cost and time-saving.
We can help you solve your compliance challenges. The outcome would be peace of mind!
In short, the outcome of SyS Creations being your tech partner is the growth that you are desperately looking for!