What is Hospital at Home and Which Technologies it Requires?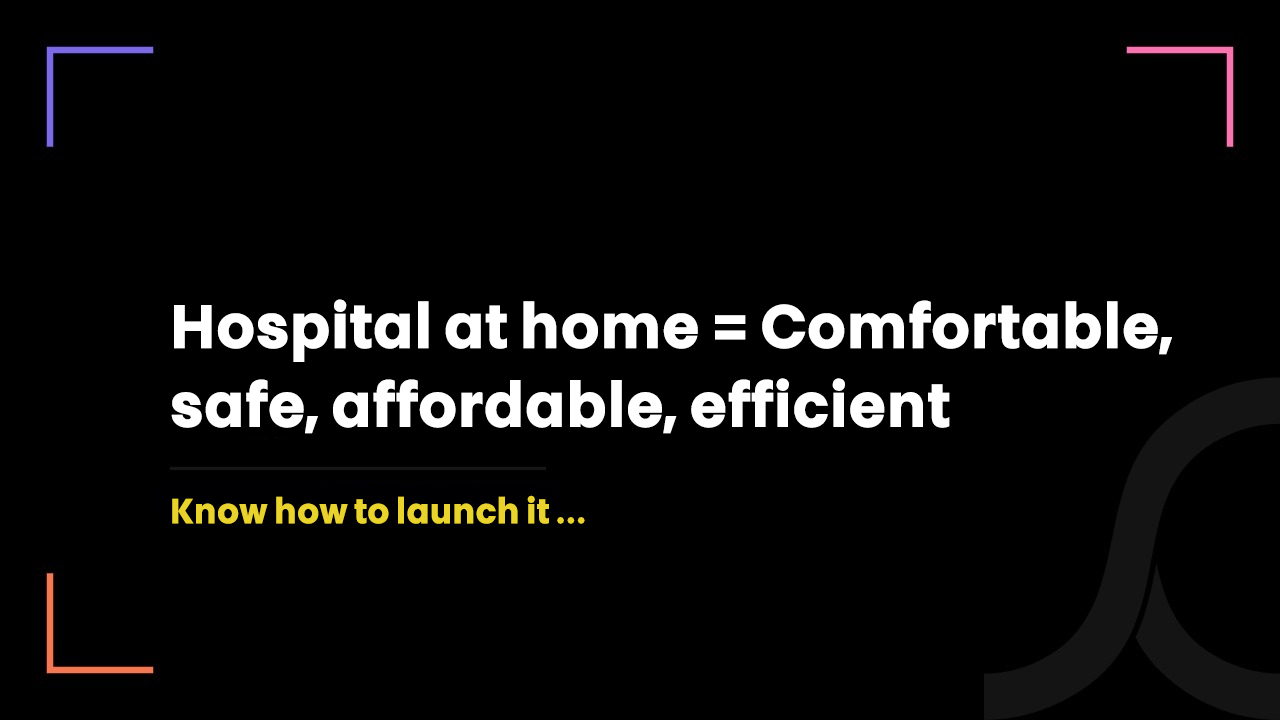 2 years ago
The other day, I was searching for good TED Talks videos.
After scrolling the YouTube window for several minutes, a TED Talks video titled 'Why the future of hospital will be your own home | Neils van Namen' grabbed my attention.
I started watching it and very soon got excited as I finally found someone who is fascinated by the idea of the hospital at home!
Neils van Namen - who has been in healthcare for over 20 years - stated in his TED Talks video that almost 64% of patients are avoiding care due to cost. And even when they do get treatment, hospitals often make them sicker.
He further said his mom who was 82 years old (in 2018 when he spoke in TED Talks), was avoiding going to the hospital because she finds it difficult to plan and manage the journey.
That's not just about his mom, many elderly people are avoiding care or keep delaying it for so long that a small healthcare complication becomes a life-threatening disease.
Many times, patients leave the hospital more disabled than when they came in.
While convenience is what patients fail to find in a hospital, their major concerns are unnecessary healthcare costs and stays.
So, what's the practical solution?
Well, what about bringing a hospital at home?!
Our other useful resources:
What is hospital at home (HaH)?
Hospital at home is an advanced care delivery model in which healthcare providers set up cutting-edge hospital tech and devices at patients' homes and provide medical services by visiting patients at their homes and virtually through telemedicine.
One of the major goals of the hospital at home care delivery model is to let patients receive care while being surrounded by their loved ones and in a comfortable home environment.
Particularly, two large patient groups - seniors and kids - can benefit most from the HaH care delivery model as they find it more difficult to be comfortable with an intense hospital environment.
HaH is considered one of the safest and effective care delivery models due to more patient-focused personalized care, a lower rate of hospital-based issues such as infection and lower possibilities of virus transmission as care is provided by the same team in an isolated environment.
British Columbia has invested $42 million into the hospital at home project
In November 2020, B.C. rolled out a pilot project of the hospital at home by partnering with Victoria General Hospital.
The pilot project is designed to treat some of the patients at their homes - rather than hospitals.
The major goal of the HaH project is to reduce the burden healthcare facilities have been facing due to the pandemic.
However, under the HaH pilot project, majorly elderly people are receiving medical services at their homes.
But they are planning to expand it more.
According to Dr. Elisabeth Crisci, who is leading the project, "It is an opportunity to offer safer, more patient-centred care for our patients and for less cost. It is the right thing to do."
Top hospital at home service providers in Canada
HaH care delivery model has been very popular and successful in the UK and Australia. And now, it is getting popular in Canada as well. (Otherwise, the BC government would never have invested $42 million into it!)
The following are top healthcare centers providing hospital at home services in Canada.
Victoria General Hospital or Royal Jubilee Hospital
They started HaH services in fall 2020. Their healthcare team which includes physicians, nurses, allied health and pharmacists look after patients both in-person and through virtual care methods.
However, it requires referral to receive healthcare services at home as it is not suitable for every patient.
Northern Health provides a short-term HaH program - generally for 3-7 days. However, the program is still limited to the Prince George Area as it is under trial.
Its care team includes doctors, nurses, licensed practical nurses (LPN's), pharmacists, social workers and respiratory therapists who provide in-person and virtual care.
Victoria Hospitals Foundation
Victoria Hospitals Foundation is also running a pilot hospital at home project to discover how it can enhance patient outcomes compared to hospital care.
The project is led by Dr. Sean Spina and a team that also studies its effectiveness in terms of overall patient safety and convenience.
They are also testing mobile technologies which help care teams to provide quality care even in a non-clinical environment.
Which technologies does it require to launch a hospital at home program?
Well, one thing is very clear, without technologies, the HaH program can be a disaster - for both patients and healthcare providers.
Here, by technologies, we mean healthcare IT platforms (mobile app/software) that optimize the clinical workflows of home healthcare services.
This is why it is a more rational idea to discuss healthcare IT platforms required to run the HaH program with respect to every step of HaH's clinical workflow.
Step #1:
A patient books an appointment with a healthcare provider to get a referral note for HaH.
Healthcare IT platform: Appointment booking platform
Step #2:
A healthcare provider virtually talks to a patient, checks his medical condition & history and validates whether the patient meets clinical criteria for receiving medical care at home or not.
Healthcare IT platform: Telemedicine or virtual care platform
Step #3:
A healthcare provider forms a care team that visits the patient at his home and provides the treatment. This care team needs to be in collaboration and track the patient's medical condition from one place.
Healthcare IT platform: Clinical collaboration platform
Step #4:
A care team monitors the patient and his vital body signs remotely as it is not feasible to be physically around the patient all the time.
Healthcare IT platform: IoT-based remote patient monitoring
Step #5:
Be it diet, medication or workout, the patient has strict guidelines to follow. He may have some doubts about his care plans.
Healthcare IT platform: Medical chatbot (can answer all questions of the patient within seconds at any time)
Step #6:
A healthcare provider wants a patient to proactively participate in his patient journey which results in quicker recovery.
For that, the healthcare provider needs a medium to share resources with a patient, receive feedback, track the patient's progress and always be connected to him.
Healthcare IT platform: Patient engagement platform
Don't worry. We can empower you to run a hospital at home program with a single IT platform
We're an Ontario-based healthcare-focused IT company - has been building innovative IT platforms, both mobile apps and software, for 7 years.
Our healthcare developers, designers, business analysts and compliance specialists have healthcare-specific skills and knowledge that they will utilize to build your custom IT platform for running the HaH program seamlessly.
Your custom IT platform will have features around entire clinical workflows - from virtual visits to remote patient monitoring, patient engagement, clinical collaboration.
Being a Canadian company, we understand the gravity of compliance. Thus, we only build healthcare IT products compliant with all applicable data privacy laws.
What unique we have is our healthcare IT expertise as we only entertain the healthcare industry.
And what unique we'll provide to you is peace of mind by solving all of your technical and compliance challenges!