Your idea doesn't need only a mobile app development company in 2022
2 years ago
You know this, and many proven sources have been published that 80-90% of apps launched in App Stores are uninstalled just after a single-use, and 77% of users who install an app uninstall it within the first 3 days of usage.
Does mobile app development companies fix that?
Theoretically, an app that offers unique value, superb usability, excellent performance and accessibility is more likely to succeed.
But practically, the app with great UI/UX, easy navigation, hand-picked feature set, military-grade security, reliable workflow, simplicity, and sustainability is more likely to be successful.
We do not want you to focus on development but think about the users, think about the compliances, think about the regular app updates with new features and, most importantly, think about the mobile app milestones.
How do you be different with iOS 14 widgets features, and how does your app perform in iPhone 12 max pro?
Why is security a primary concern for your app?
Secure apps are what users and governments want! A secure mobile app is nothing more than the app itself with strict app access control and data security measures. However, strict app access control and data security measures implementation are daunting tasks.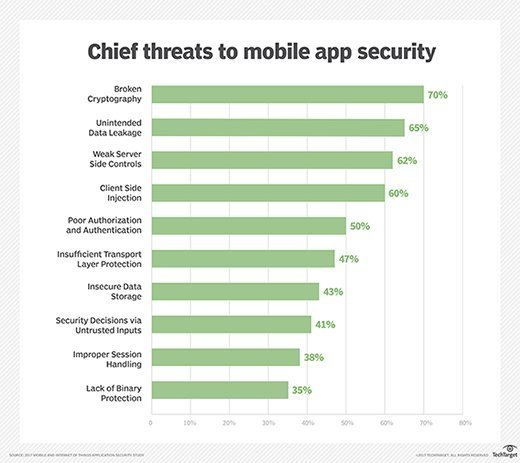 We accommodate a dedicated team of security experts who carry out a security audit to determine the app's security gaps and help the development team implement the security solutions to fill those security gaps.
Every small observation and testing of an app makes your mobile app user engaged!
Users first install and then use a mobile app for a specific purpose. The precise app UI helps users to satisfy their objectives very conveniently. A poor app UI makes it very difficult for a user to navigate app pages or find app features he is looking for.
As you can see in the following image, the first example of app UI does not drive the user journey forward because of reading and understanding the menu options. Simultaneously, the second example of the app UI facilitates users to perform tasks conveniently with a straightforward menu options view.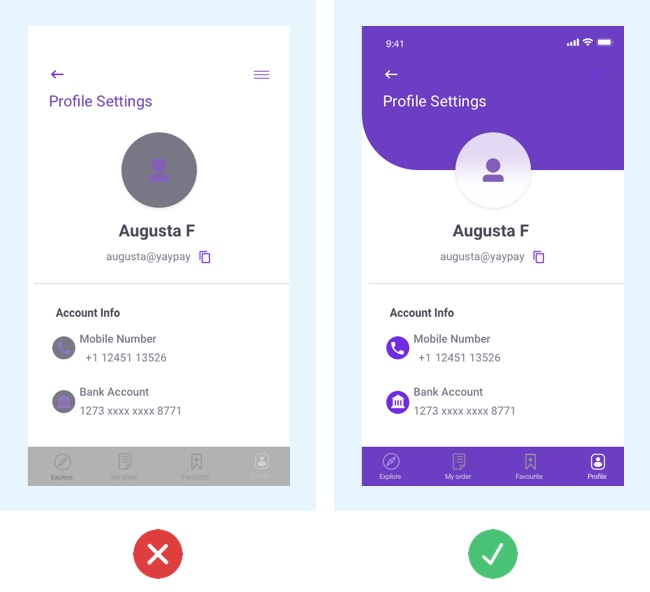 The following are other great examples of the best mobile app UI our app designers recently designed for the telemedicine app.
We designed it in such a way that most 3 possible purposes of the users can be satisfied instantly. These 3 purposes are, search for a doctor, search for treatment and select doctors directly.

Here, a user gets most of what he is looking for because of personalization.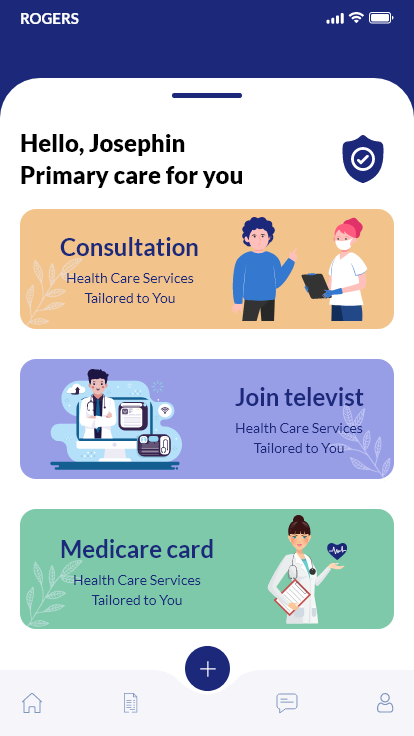 Here, users can access all the essential information which is presented systematically.

You're an entrepreneur or an enterprise, but see these top mobile apps in Toronto that monetise well
The following are some of the Canadian-made successful mobile apps. .
This is one of the best public transit applications available in Canada. It is known for its simplicity and accuracy. The way it shows multiple information about several transit options on a single app screen even with the large fonts is the outcome of precisely-designed app UI.
Why successful?
Excellent app UI

Real information with high accuracy

Solve the real problem

Flipp was designed with a single goal - make shopping fun again. The most unique feature of the Flipp app is that it allows users to search local flyer deals and coupons by item, brand or category. Flipp claims that users can save up to 20-50% on items using its app.
Why successful?
Transparency

User-centric

Feature-Rich

Offer value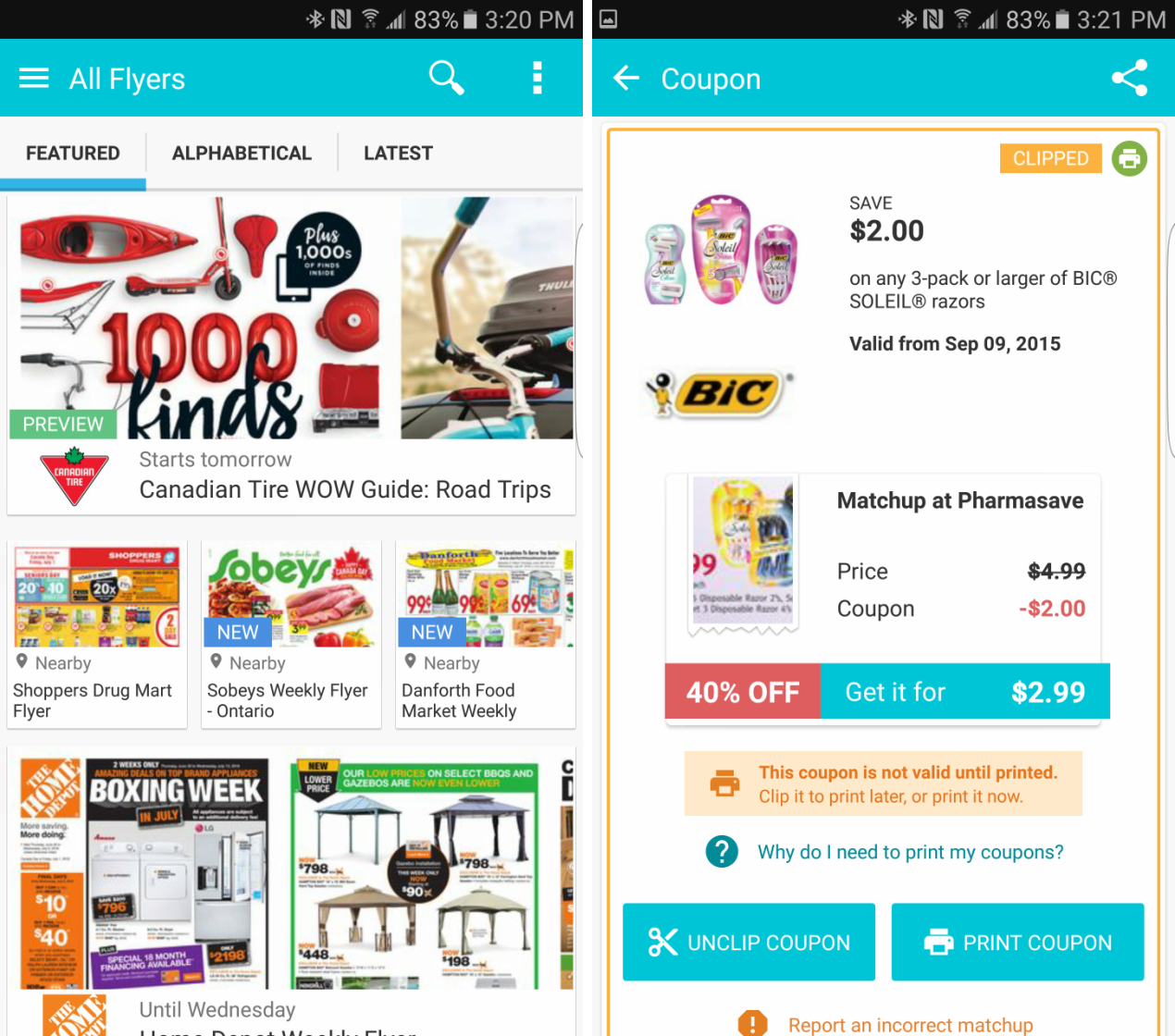 1Password is a very useful app in today's era when individuals have multiple online accounts on different websites with different passwords. The app helps users to manage their multiple passwords. It stores all passwords in a secure place and with tags available, users can easily find the password of any of his online accounts.
Why successful?

Apps performed by users such as Ontario lottery app, police scanner app, Toronto parking app, Ottawa taxi app, and London drugs photo, Some of other food for thoughts

The automotive industry has the least number of successful mobile apps. Meaning, there is very little competition and easy to reach break-even point quickly. An automotive repair app aims to automate tasks related to repair auto shop management. It is equipped with useful features such as point of sale, invoicing, estimation, and history of the automobile.
People nowadays seem fond of on-demand services. This unique model of service delivery costs less and offers convenience to the people. The on-demand handyman app connects handymen with users who want to get some work done in their home. The user can book the appointment with a handyman, chat or call to him and pay the service charges very painlessly from the app itself.
There is a cutthroat competition in the logistics business and thus, it is crucial to get a competitive edge. The uber for trucking app streamlines the majority of processes in the logistics industry especially the sales process.
It enables individuals or companies to book the logistics service, track shipments and make the payment. It also helps logistics companies to increase efficiency, productivity, eliminate manual work and track & monitor every small movement of the trucks.
Why should you address or know mobile applications law and how do we help in that?
Compliance is one of the biggest challenges as developers are generally unaware of the applicable laws or they lack the expertise to develop an app which obeys all laws.
Talking specifically for Canada, all mobile apps which collect, use or disclose the personal data of the users should adhere to federal law - PIPEDA - imposed by the Canadian federal government.
PIPEDA governs data collection, usage and sharing practices and ensures data privacy. If your app is found non-compliance with PIPEDA, you will be liable for the fine up to $100,000.
We do not consider ourself as the top mobile app development company in Toronto, but accommodate the team of compliance experts who can be part of your app success by helping developers to decode the mobile app laws regulations and implement those in the app.
Just to share with you how apps make money and how you should consider one of the models for your business idea
The app monetization strategy largely relies on the app type and market. However, there are three major ways all apps make money.
Freemium is the most widely used mobile app monetization model. Under the freemium model, users can access a limited number of app features for free and need to pay a fee for using other premium services and features.
Under the subscription model, users select any subscription plan according to their preferences and pay a fixed weekly, monthly or yearly fee whether or not they use the app.
Advertising is the most basic yet commercially successful monetization strategy. Under this strategy, the app sells its online space to other companies which publish their company ads on the app. However, it severely affects the user experience.
Apple just launched a screen time API for app developers
At Apple's Worldwide Developers Conference this Monday, it rolled out a new Screen Time API that lets developers access a framework that now actualizes parental control experience.
This API can set restrictions like locking accounts in place, preventing password changes, filtering web traffic and limiting access to applications.
With this API, it becomes easy for parents to choose the apps and websites they want to limit without compromising user privacy.
Mobile apps are way beyond the imagination for the last few years. How mobile apps automate business processes?
Needless to say that the businesses performing day-to-day business operations manually waste many productivity hours and increase errors which eventually affect customer experience and business performance.
A mobile app can automate many business processes with its ability to perform repetitive tasks automatically or helping employees to speed up time-consuming business operations.
A mobile app can automate,
Repetitive tasks and processes

Document management

Difficult decision making

Research

Marketing activities

Communication process

Sales process
For example, the appointment booking app can automate the entire appointment booking and management process. Using the appointment booking app, users can book, rebook and cancel the appointment with a single tap. The app reminds automatically for the upcoming appointments. Businesses can also manage the appointments from the single dashboard. This is how it completely eliminates the manual appointment booking and management process.
To automate complex business processes, our best app developers take the automation with a mobile app to the next level with the use of robotic process automation and intelligent process automation.
The intelligent process automation gives intelligence to the app. Such apps that are working on AI and machine learning technologies can itself make decisions and process dynamic data to automate the complex process.
We not only offer development but our company help you to define your MVP or roadmap or structure or workflow with compliance
Technologies, platform, security, compliance, business model, feature-set, market research, marketing plan are some of the zero-tolerance areas for successful mobile application development. Any small goof-up here can spoil your entire business plan and dream!
We are not only a development company but we do discuss the business or idea of it. Our team studies the market, assesses your requirements and prepares the detailed technical and business documentation for your app.
The technical documentation includes,
Technologies your app should work on

Platform your app should be developed on

App workflow

App security measures

Feature-set implementation
The business plan includes,
High ROI best practices

Profitable business model

Market research

Feature-set

Top user groups and their characteristics

Marketing strategy
Your decision might hold on a question: how much does it cost to develop a mobile app?
After reading this, you might know that it depends on many technologies, platforms, number of features, the complexity of features and the app category. It fully depends on the features you would like to include. You can consider MVP models too for your business.
Let's not believe in rough estimation. Let's get in touch and talk (talk@syscreations.ca) about some real business. Our technology department is best to decide what suits best for the respected industry and you only need to make a decision after having a clear plan. Rest will be taken care of by us.