What is Physician Burnout and How to Prevent it?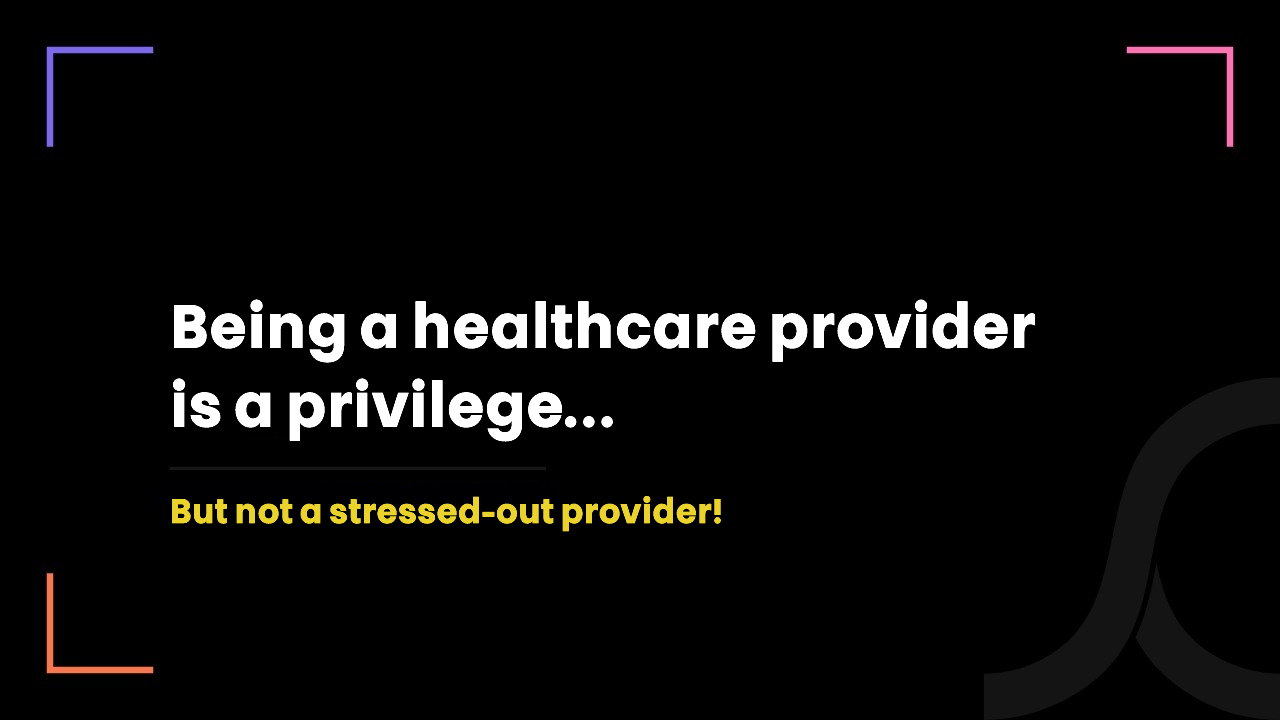 2 years ago
As per the survey, almost 50% of physicians in tier 1 cities of Canada go through some level of burnout.
If you are wondering, a physician burnout or medical burnout has been classified as the physical and mental state of healthcare providers where they feel stressed out.
It is a public health crisis as it directly affects the delivery of quality care. And most importantly, it influences the wellness and mental health of our heroes, our healthcare providers.
Each one out there has a solution to reduce medical burnout. But none of their solutions deliver a guarantee of the result without compromising the quality of care.
Thus, we are here with an aim to deliver practical and tested ways to reduce physician burnout with technology. 
Our other fun and valuable resources:
Here is how tech strategies help in reducing physician burnout
1. Making the repetitive tasks automated
As per our internal survey, a physician in Canada spends almost 2 hours every day in data entry and administrative work.
This is extra work on top of their clinical work. If we free up physicians from this data entry and administrative work, we can help them save 2 hours every day which ultimately reduces physician burnout.
So, here is how automation comes to the rescue.
It is a basic computer program or software which gets installed on the computer or laptop of a physician. That program is trained to complete a list of fixed tasks on a physician's computer by itself with the highest accuracy and within minutes.
It can make patient data entry into the EMR/EHR of the physician automatically.
It can submit reimbursement requests on behalf of the physicians automatically.
It can prepare invoices, write ePrescriptions, gather patient info, prepare a post-discharge guide for patients etc.
Overall, it frees up physicians from the tedious work by executing their data entry and administrative work by itself.
You must read: Use cases of automation in healthcare
2. Faster and paperless patient onboarding
Patient onboarding is crucial for patients, but at the same time, it is very frustrating for physician office staff.
And if the staff makes some blunders while onboarding the patients, the frustration would pass on to physicians.
For instance, when a patient visits the clinic, the front desk staff asks for his personal and demographic information which they later add into the patient portal and share with the physician. But if they enter the wrong information, physicians have to go through several challenges during care and billing.
Additionally, a physician every time needs to inform the front desk staff that he is ready for the next patient which is a tedious process.
So, to avoid all such frustration while onboarding patients, physicians can deploy a waiting room that is available on the internet.
It enables patients to fill out all of their personal and demographic information online as well as fill out patient intake forms from their mobile devices which directly share with physicians.
Moreover, patients are able to online check in to the clinic from their home, from parking or while on the way to the clinic (just like web check-in you do before your flight) and when it is their turn to be seen by the doctor, patients get a text message.
So, this way, physicians can make the entire patient onboarding process a faster and paperless process.
It leads to an easier and smoother patient onboarding at the physicians' front which reduces their unnecessary efforts.
Explore more: Make Waiting Room in Doctor's Office Smarter & Faster
3. Reduce in-person patient appointments without affecting revenue
When a patient physically visits the healthcare provider, he spends more time in the clinic and the healthcare provider needs to ensure a good patient experience that consumes a lot of time.
As per our internal survey, a physician needs to allocate at least 45 minutes to each patient visited in person.
But when a physician uses a telemedicine tool to consult a patient, an average virtual visit lasts only about 20 to 30 minutes. Why?
Well, in a virtual visit, the app itself automatically onboards the patients and leaves only virtual consultation and e-prescribing parts on the shoulder of physicians.
Also, advanced telemedicine features optimize the patient care workflows which saves the clinical time of physicians.
For instance, an online referral system integrated with a telemedicine platform automatically attaches the clinical data as well as patient data into a referral note and allows healthcare providers to choose referral notes from ready-made templates.
Meaning, providers reduce time utilization for referral note-making to more than 50%.
You won't regret clicking this: What is a white-label telemedicine platform?
4. Find less time-consuming ways to engage patients in their care cycles
Patient engagement is crucial for clinical outcomes and the faster recovery of patients. But it is really a challenging and time-consuming task for physicians to engage patients in their patient care lifecycle.
Physicians manually need to share diet plans, workout activities, post-discharge self-care assessments, medication plans and sometimes even remind patients of different levels of self-care.
Moreover, when the patient gets confused with diet, workout, medication and any sort of self-care assignment, he prefers to talk to physicians which is an extra burden for physicians' already busy day. And since they are their existing patients, physicians can't deny them.
Here, a patient engagement tool plays a major role. It automatically shares useful resources with patients and facilitates physicians to manage all patient profiles at a single location and anytime talk to them or share any sort of resources with a single click.
Outcome? Well, it reduces the time physicians spend on patient engagement efforts that result in free time for physicians to get some fresh air and relax.
Learn something new today: How to choose the best patient engagement tool?
Conclusion
Burnout is what happens when you try to avoid being human for too long.
So, why not - this time - allow these tech strategies to serve you with less life of a physician and more life of a human?