Top Cancer Care startups + Our Tech Help to Deliver Modern Cancer Care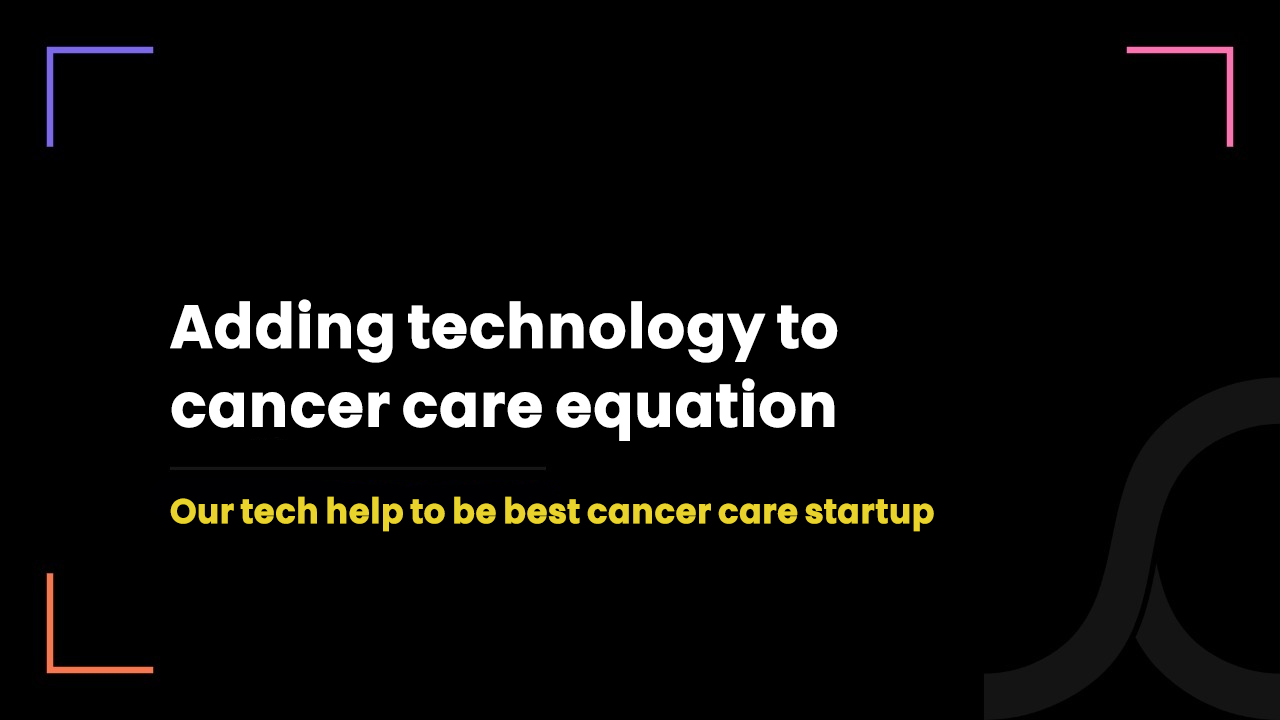 2 years ago
We are not going to go all philosophical or catchy today because today, we talk about the most sensitive topic in healthcare.
Cancer that targets everybody and everyone they can – males, females, and children, young and old, wealthy and poor — kills millions and infects millions more each year.
Palliative care is an important component of cancer care that is provided alongside therapies to delay, halt, or cure the disease. Cancer, as well as its treatment, can result in physical symptoms and adverse effects.
They can also have psychological, social, and economical consequences.
However, today we are here to talk to you about the What ifs? Of technology in cancer care and how recently healthcare startups encircling cancer care have risen.
If technology can be used to meet specific care requirements and is created in a safe, secure, well-regulated, and ultimately helpful way for patient care, it may be worth exploring.
Take a look at the top 10 cancer care startups that are making a difference in the treatment approach through technology
1. Grail Bio
The Founder of a circulating tumor Cancer detection platform based on DNA. Received unicorn status totaling the amount of funding to $2 billion. Taking early cancer detection to the next level.
2. Adela Inc.
Started from Toronto University Health Network (UHN) raising $60 million in just one year developing cutting-edge early cancer detection technology using a simple blood test.
3. Savor
A healthcare startup to provide nutritional services to patients suffering from cancer. Savor's Ina® is a virtual "Intelligent Nutrition Assistant" chatbot that offers tailored nutrition advice 24 hours a day, seven days a week through SMS text on a smartphone.
4. Path AI
A Boston (US) based startup that uses AI-based solutions for clinical diagnosis and treatment plans for or in cancer patients became one of the top AI startups with a total of $90 million that they are investing in making cancer care more affordable.
5. Repare Therapeutics
Based in Montreal, Canada, it is a company that develops precise polymerase inhibitors for synthetic lethality in BRAC tumor cells. With a total raised funding of $155 million for dedicated cancer treatments.
6. Bayshore Telemedicine
This company based out of Ottawa, Canada may not be a start-up. But a recent venture in using telemedicine for cancer care is something new.
7. SmartTab
Founded by CEO Robert Niichel, CEO of Véloce Corporation, develops wireless ingestible medicine delivery and monitoring devices that are revolutionary. They have targeted medication delivering tech using AI and IoT ingestible reducing medication side-effects among cancer patients.
8. Geneseq
A Toronto-based startup that provides cancer care treatment solutions with comprehensive profiling of patients' genomics. Revolutionizing cancer care with individual cancer genome study helps develop personalized palliative care plans.
9. Gray Oncology solutions
Starting in Montreal, Canada André Diamant and Marc-André Renaud are developing a smarter approach to help cancer patients through their healthcare journeys by combining AI and operations research technologies.
10. MyPeople Health
An oncology startup out of Chicago(US) Alex Vealitzek, CEO and Co-Founder of MyPeople Health, and his team are on a quest to prevent cancer.
With its care coordination tool developed for patients seeking preventative cancer treatment and early detection screening, they assist coordinate appointments, filtering through information, keeping notes, and more.
Health technology is the platform that has the ability to transform cancer care
Technology to assist treatment is also gaining traction among oncologists and government agencies, who see its potential to improve patient care in a variety of ways.
Top cancer care startups are implementing their specialized software, which targets specific situations, using well-established gadgets from technology giants such as Microsoft and Apple.
We had to start with a generalized statement because when technology is considered in healthcare in any form the niche no longer stays niche.
So with health systems, insurers, digital health, investors, hospitals, pharma, entrepreneurs, and other important stakeholders in the oncology ecosystem working together technology is being used in many ways.
Like building more joined-up functions that improve communication, and help patients and their loved ones manage the diseases.
How we as a health tech company can help you if you want to have a top cancer care startup
A growing number of cancer patients are getting a variety of anti-cancer therapies, resulting in people living longer lives and requiring longer durations of care and monitoring. As a healthcare-focused technology company, we can assist you in building RPM systems using IoT and wearables.
A method that is both safe and effective for supporting patients during cancer therapy and managing the expanding clinical workload for cancer care.
Using Artificial Intelligence
No oncologist can go through millions of papers and therapeutic trials while keeping all of the patient's characteristics and mutations in mind. Even if we can remove tumor cells from blood and sequence their DNA as quickly as feasible, choosing on therapy remains difficult.
But, our AI experts can design algorithms that can do it for you. A deep-learning AI technology that aids in the treatment of cancer patients The AI examines hospital data to detect tumors on patient imaging. Efficiently using AI to ease caregiving is a sign of the top cancer care startups.
Scope of telemedicine in cancer care
We have helped more than 70 Canadian healthcare providers offer 5X faster and 100 times safer care to patients from the vicinity of their homes since the pandemic.
Say you want to build a dedicated patient care virtual platform for cancer patients like Bayshore. We provide a mobile/web-based white-label telemedicine solution that can be customized with bespoke branding and features and UI or an MVP while keeping financial risk low.
We have been working with cloud, Big data, and ML for almost 7+ years and can help you develop health tech that aids in next-generation treatment plans like Next-Gen targeted therapies, molecular cancer diagnostics systems that use big data, and automation.
In healthcare, the two most important things are Compliance and Integration which we are masters at. So if you plan to develop a cancer care app, software, or website with our in-house compliance specialists, we make sure your care delivery platform is HIPAA, PHIPA, and PIPEDA compliant.
We also do PIA and TRA for you to ensure that your cancer care startup and virtual care tech have no privacy vulnerabilities.
Remember uninterrupted flow of data and medical information and records is very important. As cancer care is quite intensive that requires regular monitoring. An interruption in data flow like EHRS/EMRs, and PHS of patients can have devastating effects.
We work with some of the best EHRs/EMRs integrations like EPIC, Cerner, Allscripts, Meditech, and more to provide your platform as a seamless stage for exchanging health information of patients receiving cancer treatments and integration with PMS for uninterrupted drug delivery. 
Our other useful resources:
Build medical imaging sharing platform like PocketHealth
So, our healthcare IT knowledge is what your cancer care startup needs
We are an Ontario-based healthcare-focused IT company developing and helping healthcare by providing cost-savvy and super solutions.
While we make sure you get your place amongst the top cancer care startups, the messaging protocols of HL7 and FHIR are kept in mind and executed fairly by our dedicated specialist.
Unlike others, we have a dedicated team of developers, designers, integration and compliance specialists, AI & ML experts, and we also appoint you a dedicated client manager for smooth transition and workflow management.
With one thing guaranteed that you will be amongst top cancer care startups once you join us!
Know more about us in style: What makes SyS Creations, SyS Creations!