Teen Mental Health Solutions: Know How Mobile or Web App Can Help in Therapy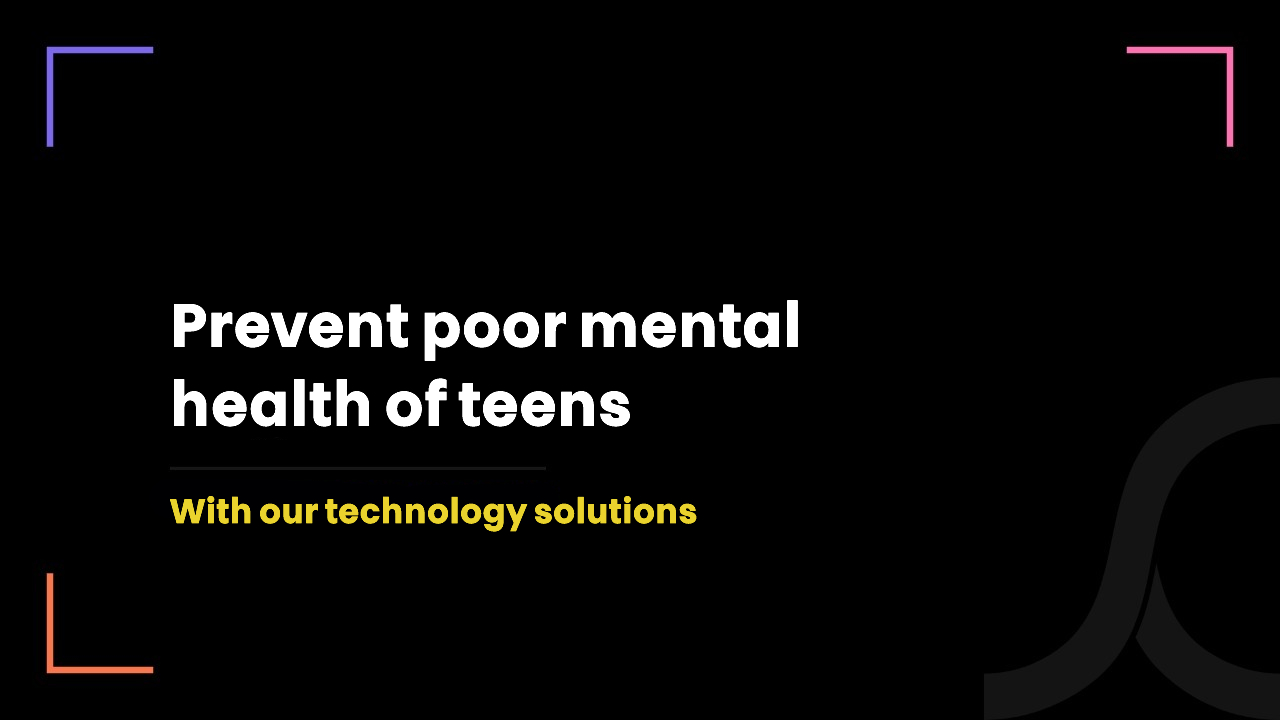 1 year ago
The impact of the COVID-19 pandemic on teen mental health is uncounted.
And many parents across the globe are anxious about their loved ones' poor mental health conditions.
As per the reports, ​​"Nearly half of the parents noticed a new or worsening mental health condition in their teen since the pandemic started".
However, the symptoms and therapy for the teens' mental health vary as per their age and mental health condition.
In this blog, we'll share everything you need to know about their adolescent mental health conditions and how technology such as mobile or web apps can support them.
What are the primary reasons behind the poor mental health of teens?
There are several possibilities behind the poor mental health condition of teenagers.
But one such possibility we uncovered is that adolescents nowadays are more social-emotional and have additional expectations from their friendships and relationships.
As a result, abnormal behaviour, stress, anxiety, depression, substance use, and anger are the common mental health conditions of teenagers.
For more understanding, explore the other reason behind it.
Friendships and relationships problems
The negative environment of the family
A busy schedule of the school
But, there is a strong connection between social media and teen mental health.
Furthermore, it is the main reason behind the social-emotional condition of teenagers.
Let's understand this in more detail.
Social media and teen mental health: What is the impact?
The average age at which a teen opens a social media account is "twelve and a half years".
We both are familiar with the current condition of social media usage among adolescents.
Moreover, multiple research found that spending more time on social media directly impacts the mental health of teenagers.
Teenagers nowadays care more about their online presence rather than their social life.
Means, social media fame and keeping up with the current trend are essential for them which reduces their live interaction skills.
In addition to this, teenagers compare themselves in the social media world in terms of likes and followers. This mindset puts them in poor mental health conditions such as depression and anxiety.
Apart from the usage, social bullying is also a major aspect that significantly impacts the mental state of adolescents.
Pew Research Center found that "One in six teenagers face at least one of six different forms of abusive behaviour online".
These are all the things that ended up in the sleepless nights, poor run in the study, and low-grade social interactions.
From that, we can safely conclude that heavy usage of social media platforms majorly impacts teen mental health.
What are the common teen mental health concerns?
Alcohol and substance abuse or substance use disorders
Attention-deficit hyperactivity disorder (ADHD)
Identity development or self-esteem issues
Mood disorders or mood swings
Out-of-control behaviours
Suicide or suicidal thoughts
Explore the common signs of poor mental health in adolescents.
Teen mental health treatment: Explore the various ways of it
The poor mental health of adolescents is preventable with a patient-centric approach and sufficient support from the parents.
Here are some of the teen mental health treatment methods you should know about.
This method is effective as children or teenagers feel more comfortable and safer in their homes.
Moreover, a comfortable environment enables teenagers to completely describe their mental state conditions which initially helps clinicians to provide an effective therapy session.
In some cases, teens require outpatient therapy so that they can live a regular life in their homes.
With outpatient therapy, teenagers need to visit the clinic or hospitals for therapy sessions.
Many teens are socially anxious about sharing their mental health conditions in a live interaction.
In such a case, an online session with the therapist is the best solution as there is no need for the teen to step out of their homes for a therapy session.
For that reason, virtual therapy sessions are easily accessible and convenient mental health solutions for teenagers.
Residential treatment center (RTC):
The residential treatment center is also known as a rehab center.
Whether a teen is suffering from substance use, behavioural issues, and mental health illness, many mental care experts suggest RTC.
RTC provides 24-hour mental care solutions so that a teen can relax in this environment by avoiding all the outside mess that affects their mental state.
Family conflict, substance use, and abuse are very common causes of poor mental health in teenagers.
For that, a family therapy session is widely usable in teen mental health treatment.
It helps other family members to support their loved ones through difficult times, which improves the family-teen relationship and overall mental health condition of the teen.
Creative therapies are simple yet effective methods for addressing emotional, behavioural, and relationship mental conditions.
Music, dance, and art are the methods of creative therapy sessions.
The role of technology solutions in teen mental health treatment
In the past few years, the healthcare industry is massively utilizing technology solutions to improve mental health clinical outcomes and mobile and web apps are playing a central role in that.
Telemedicine solutions, counselling via chat, mental health tracking, and many more app solutions have created a positive impact on the lives of adolescents.
So, let's understand this with some case studies.
Case study: #1
The case study showcases that the integration of technology in teen or youth mental health has the potential of improving treatment outcomes.
It makes the communication between the patient and clinicians impactful compared to face-to-face visits.
Explore the entire case study: Putting technology into youth mental health practice
Case study: #2
As per the Canadian Academy of Child and Adolescent Psychiatry, "The diagnosis and treatment recommendations made by child psychiatrists via teleconferencing and face-to-face interviews are similar in 96 percent of cases".
Using telemedicine apps, adolescents and therapists can easily connect with each other by avoiding a time-consuming in-person visit.
Explore the entire case study: Using Technology to Deliver Mental Health Services to Children and Youth
And if you want technology solutions for teen mental health and beyond, know how we can help you in your thought process.
We deliver next-level healthcare IT solutions for mental health concerns
We are an Ontario-based healthcare IT company.
What drives us is our healthcare IT passion, knowledge, and most importantly dedication to ease the healthcare industry's clinical approach.
With the same vision in mind, our 50+ healthcare-specific IT professionals put their combined 200+ years of experience to deliver the most innovative and influential healthcare IT solutions.
Our team includes – healthcare professionals, app developers, business analysts, compliance specialists, UI/UX designers, and QA engineers.
With them, we elevate the efforts of healthcare organizations, startups, and care providers with our world-class healthcare IT solutions.
So, turn your healthcare vision into reality with our healthcare IT understanding and epic mindset!
Explore our mental health-specific tech solutions: