How [+ Why] to Start an Online Pharmacy With a Telemedicine Program Like Mednow?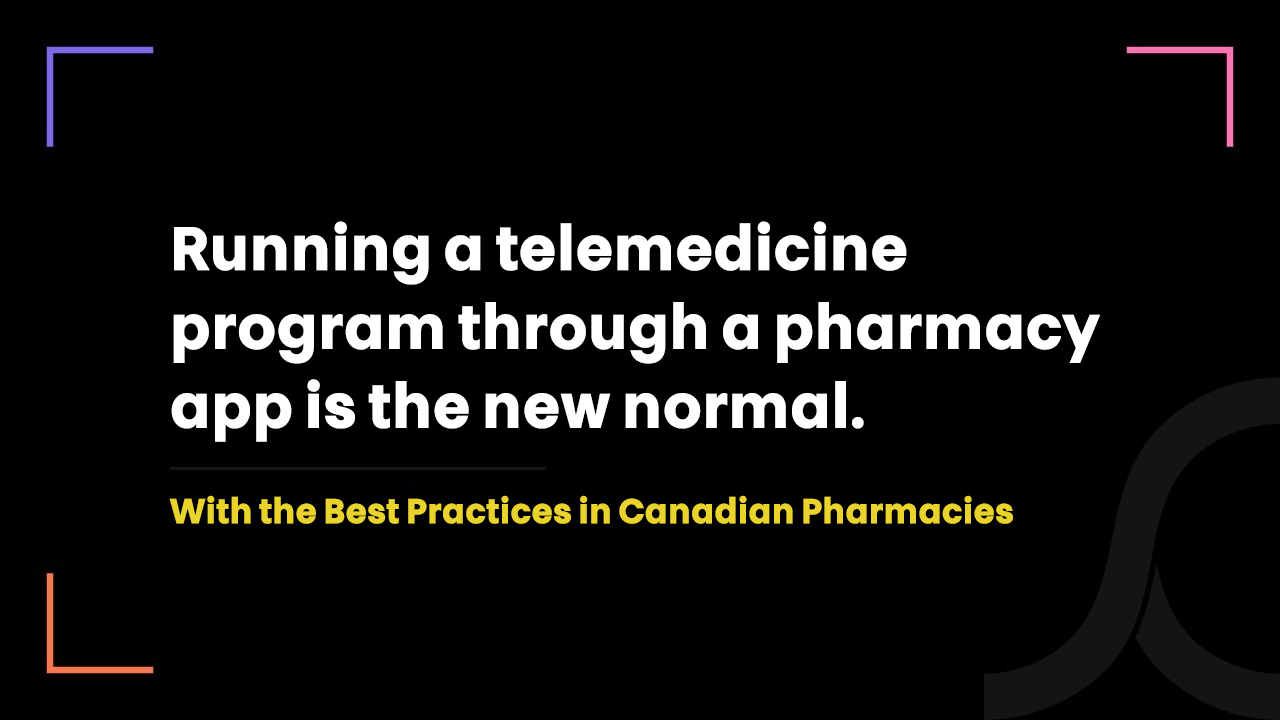 5 months ago
A startup founded in 2018 raised $37 million and began trading on the TSX Venture Exchange in 2021 - within 3 years of its inception!
The Toronto-based #healthtech startup is expected to begin trading on the TSX Venture Exchange on March 9. https://t.co/zZAdbt9ubi

— BetaKit (@BetaKit) March 5, 2021
Don't you think there must be something special about this startup?
Let's find out.
What's so unique about Mednow?
Mednow is a Toronto-based healthcare startup that runs an online pharmacy with its web app.
It enables people in Ontario and British Columbia to get prescriptions delivered to their doorstep using its robust platform.
However, here it is worth mentioning that Mednow is not just limited to the virtual pharmacy.
It also provides users with virtual care or telemedicine options.
Meaning, users can talk to licensed physicians using the Mednow platform remotely and virtually.
This way, from doctor consultations to prescriptions, the Mednow platform offers 360-degree solutions to all needs of the patients.
So, answering the question - what's so unique about Mednow - is its web app or Canada's one of the first virtual pharmacy platforms? 
Because, without its web app, Mednow is never able to solve the challenges of the users it has been solving.
The company recently released Q3 2021 financial results and it looks promosing.

How much revenue can an online pharmacy with a telemedicine program generate?
The growth in the online pharmacy market is tremendous especially, if you have telemedicine services along with pharmacy services.
Mednow released financial results for Q1 and Q2, 2023 and it looks promising.
In the first quarter of the year, Mednow achieved quarterly revenue of $9.7 Million with a 35% increase in quarter-to-quarter revenue growth leading to 1300% year-over-year growth.
The patient count has also grown by more than 13% to approximately 35,000 in the first quarter of 2023 compared to 31,000 in the fourth quarter of 2022.
In the second quarter of the year, the company revenue increased by 17% quarter-to-quarter to $11.3 Million leading to 466% year-over-year growth.
The company observed more than 9% growth in the patient count to 38,000 in the second quarter compared to 35,000 in the first quarter of 2023.
Our other very interesting healthcare resources:
Which are the top benefits of an online pharmacy platform like Mednow? 
User benefits:
Users do not need to visit the nearest pharmacy store to get the medications. 
Users do not need to wait hours at the pharmacy stores. 
Users can manage their prescriptions, refills, payment, and insurance from the mobile itself.
Users don't have to worry about prescription refills as a virtual pharmacy app supports auto refills. 
Users don't have to remember the time and dose as the virtual pharmacy app reminds the users to take medication. 
Users can schedule an online appointment with physicians and get e-prescriptions.
Pharmacy benefits:
The pharmacy can expand its market footprint without investing in brick-and-mortar stores.
Pharmacy stores can expand their business beyond the locality. 
Pharmacy stores can manage customers, staff, vendors, data, and inventory painlessly from the admin panel. 
How does a virtual pharmacy app or online pharmacy app work?
The virtual pharmacy works in 4 simple steps.
Step 1: Users either upload prescriptions or transfer prescriptions from the existing pharmacies.
Step 2: The pharmacy fills the prescription and delivers it to the users. (Users can track it online.)
Step 3: Users can enable auto refills to make sure they never run out of medications.
Step 4: Users can talk to pharmacists from the app itself in case of medication queries.
What are the profitable pharmacy startup ideas for entrepreneurs and pharmacy stores?
We already mentioned one idea - a pharmacy app + telemedicine like Mednow.
Other ideas are,
An Amazon-like platform where all individual pharmacies can register and carry out online pharmacy practice.
Online Pharmacy Only with No Physical Store:
Get a pharmacy license, develop a pharmacy app, and build the dispensing center from where you can fulfill all prescription orders - received through the app.
Here, you don't own any retail store where people can walk in and buy drugs.
Pharmacy + Healthcare eCommerce Store:
Here, you will be selling not only drugs through your app but also selling wellness products and medical devices.
What are the regulations you should meet to start a virtual pharmacy in Canada?
Healthcare is one of the highly regulated industries in Canada.
In Canada, one federal-level data privacy law (PIPEDA) and several other provincial-level data privacy laws apply to your pharmacy app.
The motive of these laws is to govern the collection, usage, and sharing of personal information of patients collected by your mobile and web apps. 
These laws have several technical and operational requirements. If you violate any requirements, you will be liable for a hefty fine. 
Thus, you must build a pharmacy app compliant with all privacy laws.
The following are some of the regulations suggested by the Ontario College of Pharmacists.
The website or app must comply with federal and provincial regulations regarding the advertising of drugs, fees, and pharmacy services.
The home page of any pharmacy site must identify the accreditation number and owner, the physical location of the pharmacy, the designated manager, and the telephone number to contact the pharmacy.
The site or app should be PHIPA compliant and protect the personal information of the patients.
We accommodate in-house compliance experts who will help you to be compliant with all data privacy laws by carrying out PIA and compliance audits.
Read the Full PIA Case Study Here!
Why is Kroll integration the most crucial technical element of pharmacy apps?
Kroll is the most popular pharmacy management solution in Canada.
More than 90% of top pharmacies are using Kroll to streamline their day-to-day tasks.
It supports e-refills, viewing medication lists, checking prices after insurance, single-click patient data, drug details, drug inventory management, etc.
To get instant access to these features along with drug and patient data, you should integrate Kroll into your virtual pharmacy app.
However, it is not as easy as it sounds.
It requires a dedicated skill set and prior experience due to the interoperability challenge.
Here, it is worth mentioning that Kroll decides to give you API access or an API license based on your business case. 
We accommodate dedicated experts to integrate Kroll into any app/website successfully and securely.
How long does it take to build the pharmacy app in Canada?
It is generally impossible to estimate the days it takes to build the pharmacy app.
But the higher the development time, the higher the development cost!
Thus, to keep development costs low, we follow the rapid agile development approach.
With it, we can develop a feature-rich pharmacy app without overshooting the deadlines and without adding extra costs. 
And not to mention, we only develop compliant pharmacy apps.
Because, being a Canadian company, we understand the gravity of compliance readiness!
We also believe in the Canadian standard of work and never do injustice with our skills and mindset by delivering poor quality.
Here are the screenshots of one of the pharmacy apps we developed in 2020
2020 was the year when we helped several Canadian healthcare providers to serve communities with quality care.
We delivered our services and solutions in record-breaking time so not a single patient of yours has to suffer.
We always ensure that we leave an impact with our work and help all Canadian residents!
We don't think of contract terms if you face any sudden challenge. We proactively help you without finding our profit.
Because we celebrate your success rather than our gain!
You should also read: How to start an online pharmacy like PocketPills?
What we can't offer to you? (Yes, there are many things that we can't do!) 
We can't offer you an app that is not compliant with privacy laws because that will put you in legal trouble and we don't want that at all!  
We can't offer you an app within a week because it takes time to create a masterpiece! 
We can't offer you an app with poor UI because we only know how to design remarkable UI. 
We can't offer you paid compliance consultations because we offer complimentary consultations to all of our clients.
We can't offer you just an app because you need to solve many of your business challenges to leverage the app! 
Let's have a productive talk!