Why Should Healthcare Startups Invest in Mobile Apps in 2022?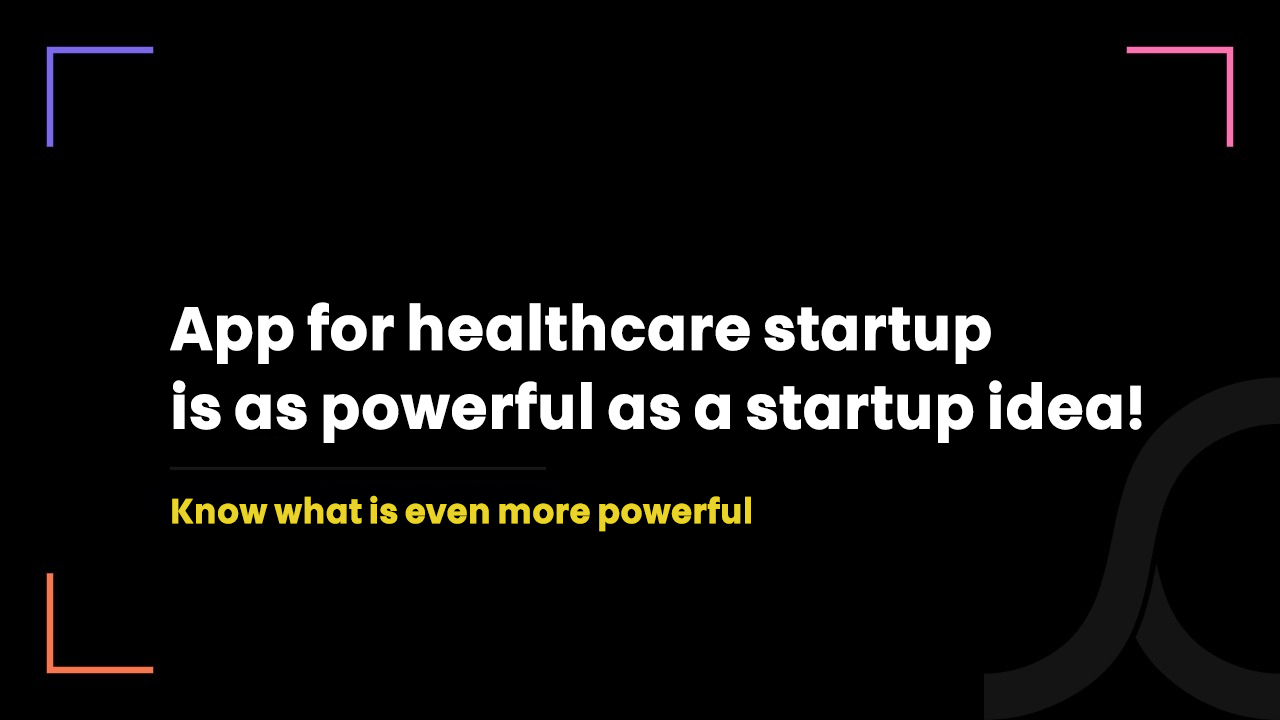 2 years ago
Many of you must be thinking how useless this blog topic is? These guys are writing blogs on apps because that's their business.
Yes, healthcare app development is something we have been doing for 7 years as a business activity. But we always aim to deliver more to our clients and community than what we achieve for ourselves and our teams.
And secondly, developing healthcare apps for startups is a costly affair - a minimum of $30000 in most cases.
Not all healthcare entrepreneurs have easy funding sources to collect this much capital funds to convert their healthcare app idea into a working reality. Thus, they must know what they can get in return if they invest their hard-earned money in a healthcare app.
If you agree, this blog is going to be the most beautiful reading and learning experience for you.
So, let's begin.
Our other useful healthcare IT resources:
6 genius reasons why healthcare startups should invest in mobile app
1. A mobile app is the easiest way to reach your target audience
You have a great healthcare startup idea. You've crafted the most profitable business model. You have tied up with industry leaders. But how would you reach your target audience and give them the platform to interact with your sales life cycle?
In the startup ecosystem, the concept of 'platform' is very popular for consumers to seek services easily.
Outside of the startup ecosystem, it can be a telephone - users calling a restaurant to order pizzas. It can also be a brick-mortar store - customers physically visiting stores to purchase clothes.
But the best thing about the startup ecosystem is it always looks for a delightful and easy platform that influences the larger percentage of consumers!
In other words, the easiest and prominent mode of communication and business interaction for both startups and consumers is a mobile app that acts as the platform connecting healthcare startups with users and vice versa.
It first helps startups to reach a large user group and then offers them the services in such a way that it engages them and gives them reasons to be loyal to the startup!
If that wasn't the benefit of mobile apps, Nike would never have built an app for selling its shoes online. IKEA would never have invested in a mobile app to let users buy furniture from home. Canada's 117-year old pharmacy chain would never have launched the Be Well app in its 116th year of market presence.
These organizations have experienced rapid growth after launching mobile apps.
2. 2020 made people search for apps to satisfy any of their needs
We all have experienced how 2020 changed consumer behaviour. The impact of the pandemic was so severe on the end-user group that the change in consumer behaviour has become everlasting rather than lasting for only a limited period of time.
As a result, even in mid-2021, they are following the same consumer behaviour 2020 had forced them to develop.
For instance, many of the patients had never ordered medicines using mobile apps before the pandemic. But the pandemic left them with no choice but to use mobile apps for medicine ordering. So, they developed a unique buying behaviour that now can only be addressed by investing in mobile apps.
Similarly, no matter which healthcare startup you are planning to start, if you fail to address the unique buying behaviour of the users caused by the pandemic, you cannot acquire enough users to survive.
3. An app is the biggest asset investors always consider before investing
As a healthcare entrepreneur, you must have several goals. One of them must be raising funds to push the boundaries of your startup and achieve exponential growth.
However, investors always put only those startups on their investment radar that have a perfect fusion of a game-changing idea and technology infrastructure fueling that idea.
For instance, Maple has raised more than $70 million just because it has the robust IT infrastructure that fuels its idea of telemedicine.
Without its robust mobile and web app, Maple would never have closed several successful funding rounds.
It is also worth noting that investors always consider extra capabilities of your technology infrastructure and how you are planning its future in terms of adding advanced features, making it more scalable, addressing compliance challenges etc.
4. Making money with healthcare app is much easier
Let's talk about the reason you must be most interested in.
A mobile app gives you the flexibility to generate extra revenue streams by adding some more features to it. Such flexibility matters the most when the market experiences sudden change due to factors that aren't in anyone's control - like a pandemic.
During the pandemic, several healthcare startups equipped with mobile apps have overnight rolled out new healthcare services from their mobile apps with an aim to generate extra revenue streams.
For instance, an online pharmacy startup - PocketPills - launched telemedicine or virtual care service from its existing technology platform.
A USA-based digital pharmacy startup named Capsule raised $300 million and rolled out its plan to build a super healthcare app that provides telemedicine, mental health, online pharmacy and healthcare eCommerce services from the same app.
It is basically aiming to generate as many revenue streams as possible!
What we are trying to say here is that an app never lets you go bankrupt if you utilize what it has to offer you - especially adaptability or flexibility!
You should read this: How to start a digital pharmacy startup like Capsule?
5. Healthcare app justifies the purpose of your startup in the best possible way
Every startup has a purpose to accomplish. Uber has the purpose to let users book cabs easily. DoorDash has the purpose to let users order food from home. Hims and Hers Health has the purpose to solve the wellness issues of users in a private manner.
Similarly, your healthcare startup must also have a purpose to ease patients' life and solve age-old healthcare challenges.
So, the best hope you have right now to accomplish whatever purpose for what you are planning to launch a healthcare startup is a mobile app!
With advanced and affordable mobile app technologies, you can be able to build a healthcare app for startups that you always dream of. And with this dream app - armed with purposeful features - you can easily fulfill your startup purpose.
For instance, if you have a purpose to end the long wait times in the Canadian healthcare system, the best way to fulfil your purpose is to develop an app that saves the clinical time of healthcare providers and streamline their clinical operations.
You can try to think of other ways that help you to fulfil your purpose. Every way will surely lead you to a healthcare mobile or web app!
6. A healthcare app makes your startup a brand! (And users only remember brands!)
A brand is a reason to choose. A larger number of users choose your healthcare startup over others if they see a brand, brand value and brand promise.
Turning a startup or business into a brand takes years. It is also sometimes beyond the direct control of startups as a brand is the perception of your startup among your user group and you can't control someone's perception.
But you can definitely give them reasons so that they themselves end up changing their perception toward your startup. And these reasons are promises around affordability, reliability, security and ease of use.
Take any startup as an example that is now a brand among users. For example, Airbnb. It offers all these promises of affordability, reliability, security and ease of use to users. Some healthcare-centric examples are Steady Health, Doximity, Maple, Ro Health etc.
So, our question to you, is there a way except for the healthcare mobile app which lets you give all these promises to your users to change their perception toward your startup?
You may have other ways. But not as convenient and efficient as a mobile app for healthcare startups!
Summing up our 7 years of healthcare app development experience in 1 sentence
Developing a healthcare app for a startup is 10% of development and 90% of ideation, workflows, documentation, UI/UX, prototyping, testing, compliance audit and piloting.
We will help you with 90% and the rest 10%!