Top Healthcare App Ideas: Will These Medical App Ideas Work in 2025 & Beyond?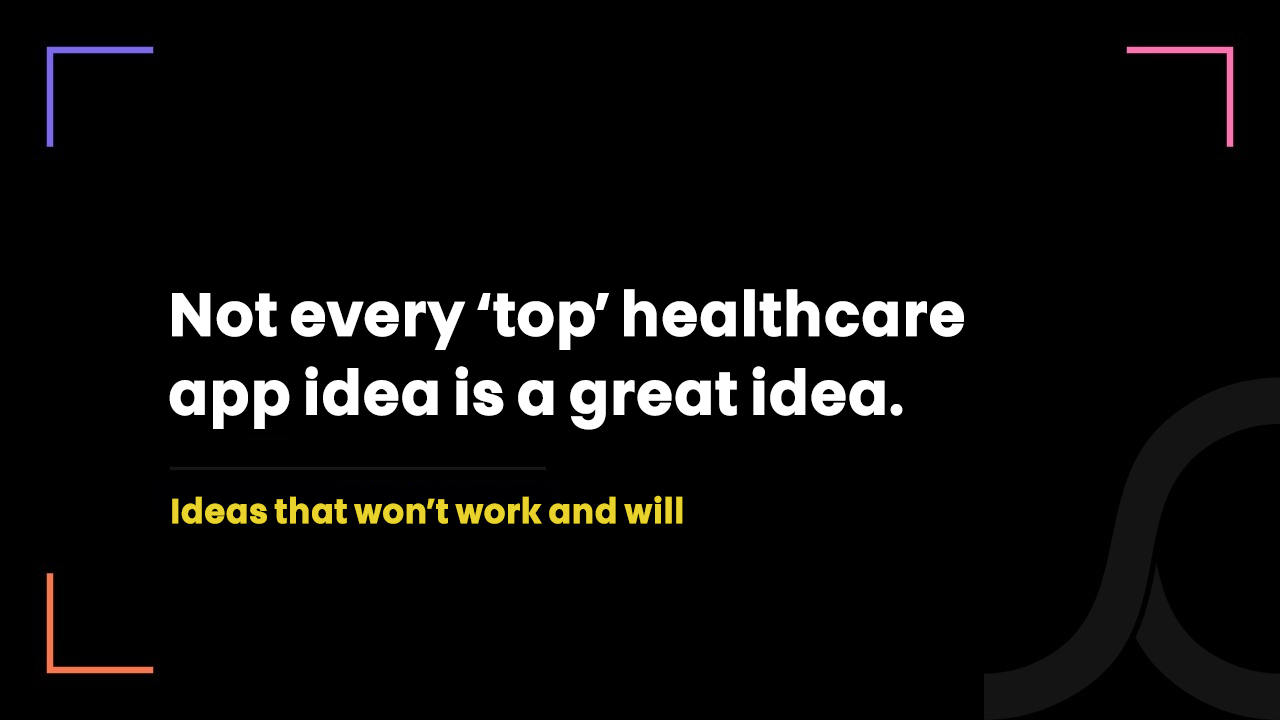 1 year ago
The healthcare sector always remains on the investment radar of investors.
You must have witnessed the power of the healthcare industry in between 2020 and 2022 when all other industries struggled to survive, the healthcare sector enjoyed an infusion of $$ from multiple sources.
The three healthcare sectors that dominated the healthcare startup ecosystem in the past two years were clinical intelligence and enablement, screening and diagnosis, and virtual care delivery.
One of the reasons healthcare startups are able to draw a silver lining during the most challenging time is the problems they are aiming to solve.
And entrepreneurs and healthcare providers have actualized many game-changing healthcare app ideas in the past two years.
However, 2022 modified the entire market scenario and user behavior dramatically.
So, the question is worth asking - will healthcare apps that were once very successful remain successful in the year 2025 and beyond?
Let's find it out.
Top Healthcare App Ideas for Canada & USA (+ Will these app ideas work in 2025 and beyond?)
We have been proactive in the Canadian healthcare industry for 8+ years.
We have extensive experience working with several healthcare providers for healthcare apps, platforms, websites, and complex EMR/EHR systems.
There are many online resources that are telling entrepreneurs to jump into the healthcare industry with 'these top' healthcare app ideas.
However, not all healthcare apps are meant to be successful - particularly in Canada due to different healthcare laws, consumers, and business models.
So, here are the top healthcare app ideas.
1) Telemedicine Apps
This is one of the most sought-after app ideas in the past two years. In this time period, it worked exceptionally well for all existing startups and even new startups.
A telemedicine app enables users to talk to licensed doctors remotely and virtually. Users are finding it more convenient, affordable, and rapid compared to in-person visits with a doctor.
There are many popular telemedicine apps in Canada such as Maple, Babylon by TELUS Health, and Akira which have doubled their revenue in 2020.
However, meeting healthcare laws while developing the telemedicine app is a major challenge.
Will this app idea work in 2025 and beyond?
Yes.
Because this tiny healthcare app idea aims to solve many real-life challenges of the users in a single shot.
It saves their time, travelling costs and supports their health cards too for free healthcare services.
#ExpertAdvise
The telemedicine market is already heating up in Canada and USA. Once dominated by only a few players, now many more startups are taking a huge bite out of it.
Thus, to survive in the competitive market, you have to take your telemedicine app to the next level.
You need to generate multiple revenue streams by introducing online pharmacy and healthcare eCommerce services from your telemedicine app like Hims and Hers.
You should also read: White-Label Telemedicine Solution
2) Appointment Booking App
The major purpose of appointment booking apps is to let patients book appointments with physicians or any healthcare providers.
Such type of app streamlines the entire appointment booking, rescheduling, and reminder process.
An appointment booking app not only benefits the users but also reduces tedious appointment management tasks at clinics or hospitals which initially saves time and operational costs.
Will this healthcare app idea work in 2025 and beyond?
No!
Because all healthcare providers are using EMRs which are equipped with appointment booking features.
Many other healthcare software including telemedicine also come with appointment booking features.
Thus, it seems very unlikely that physicians will adopt a dedicated app for just taking appointments online.
This not only costs them high but also adds an additional vendor management burden.
3) Mental Health Apps
COVID-19 and the harsh lockdown period have already pushed the mental health crisis to its peak.
During the first wave of COVID-19 in Canada in April 2020, Ipsos conducted a survey and they found that more than half of the Canadian population feel isolated, lonely, and unhappy.
In January 2022, they carried out a second survey and found the situation is worsening.
Therefore, every single entrepreneur has this healthcare app idea in their head.
A mental health app helps users fight stress and anxiety easily.
Major benefits of mental health app include,
Instant and Remote Mental Health Support From Professionals
Mood Tracking and Progress Report
Physical Fitness
Soothing Music and Mental Health Exercise Including Yoga
Pill and Diet Reminders
Will this app idea work in 2025 and beyond?
Yes.
Because the awareness around mental health is constantly increasing and people are finding mobile apps as the most accessible and affordable toolkit to manage their mental health.
In fact, IoT-enabled mental health apps are delivering epic results in all sense.
Read this blog if you're planning to develop a mental health app in Canada.
4) Online Pharmacy or Medicine Delivery App
In 2020, people preferred to buy all essential items including groceries, food, and medicine online to avoid any direct contact and catching the virus.
As expected, they found it so convenient that they are following the same buying pattern in 2022.
An online pharmacy or medicine delivery app allows users to upload their prescriptions and get medicines delivered to their doorstep.
Such an app also supports automatic refills to ensure that a patient never runs out of pills.
The online pharmacy market is so huge that even Amazon has jumped into it by acquiring a medicine delivery startup named PillPack.
Will this healthcare app idea work in 2025 and beyond?
Yes.
As it addresses the real pain of the people. It lets them save time by not visiting the pharmacy. Furthermore, allows them to manage their entire medication plan from the mobile app itself.
However, meeting healthcare compliance while developing a medicine delivery app is a big challenge.

5) Fitness and Home Workouts Apps
This is one of the most popular healthcare app ideas.
The global fitness app market size was valued at USD 1.3 billion in 2022 and is expected to reach USD 4.8 billion by 2030.
There is a very large user base who dodges the gym membership and selects the free fitness mobile apps to keep active and physically fit without burning pockets.
A home workout app also addresses all requirements of the users. Based on users' fitness goals, the app automatically suggests them workout plans.
Such personalization increases the outcome and user experience.
Generally, workout apps are free.
However, to generate revenue, they follow the freemium model under which they offer a few basic app features for free - but a subscription plan for full access to premium features.
Will this app idea work in 2025 and beyond?
Yes!
Because it offers flexibility to users to do the workout at any time. Beginners can also do proper workouts by watching workout videos on the app and also can connect with the trainer for additional tips or queries.
In addition, wearable device integration with the app is opening a vast number of doors for fitness enthusiasts to achieve their goals with ease.
6) Diet-Tracker App
Due to the pandemic, people have become health conscious like never before. They now have clear awareness that they need to build a strong immune system to beat any health challenge.
Thus, they prepare diet plans and decide to follow them. However, due to their busy lifestyle, they cannot follow the diet plan or track the food they take.
Here is where a diet-tracker app plays its role. By just scanning the QR code of the packaged food, users can add the calories they are consuming each day.
They can add it manually too.
The diet-tracker apps enabled with IoT or wearable devices are so smart that they analyze the food intake of the users and provide personalized suggestions that help users to achieve any health goal.
A few diet-tracker apps also facilitate users to virtually talk to real dietitians for expert advice.
Will this healthcare app idea work in 2025 and beyond?
Yes - but not with all.
There are many similar apps available for public use for free. However, these apps provide basic features and poor UI with lots of ads and thus, these apps are not successful.
In 2022, people have shown interest in a full-fledged diet-tracking app that solves their all diet-related challenges.
They want something easy - so easy that they only need to take the picture of the food they are having and the app automatically identifies the food and counts calories!
(Yes, such apps are available and can be developed using AI and machine learning!)
7) Employee Wellness App
With employers understanding the fact that an unhealthy employee can never attain a productivity goal, the culture of employee wellness programs is emerging quickly in Canada and USA.
An employee wellness app offers several wellness programs such as,
Online Fitness Centre
Smoking Cessation Programs
Primary Care Services
Online Yoga Classes
Family Counselling
Healthy Eating Habits
Mental Health Program
With this healthcare app idea, employers can start and manage employee wellness programs very easily from a single dashboard.
They can even track the current state of mental and physical health of all employees using insightful reports.
Dialogue is the best example of an employee wellness app.
Will this healthcare app idea work in 2025 and beyond?
Yes.
However, your target audience will be limited as not all employers are planning to start employee wellness programs.
But the good news is that they are slowly and steadily adopting the new wellness culture at the workplace.
So, if not in 2025, your app will experience massive success in 2026 and beyond.
8) Medical Chatbot App
Patients always have several questions related to their care plans, follow-ups, medication plans, diet plans, and workout plans.
However, they neither ask all such questions to providers nor do they have 24/7 easy access to providers to ask such questions.
Thus, the solution here is a medical chatbot app. Using a chatbot, patients can have answers to every question related to their health and wellness.
The chatbot in healthcare which works on AI, ML, and NLP technologies understands what the patient is asking and gives an accurate answer based on historic and real-time data.
The best thing about a medical chatbot is it works 24/7 and gives an instant answer to every question of patients.
Will this app idea work in 2025 and beyond?
Yes, with no doubt.
But the real challenge is its business model. Monetizing the chatbot is challenging.
One practical way to make money with your chatbot app is to sell it as an API to let healthcare startups, enterprises, and providers add a medical chatbot to their apps and websites without developing a chatbot from scratch.
#ExpertTip
The demand for mental health chatbots is rising at a tremendous pace.
Means, it is the best opportunity to conquer the market!
9) Women Health App
One thing is very sure. In 2025 and beyond, general-purpose healthcare app ideas which target healthcare challenges of both males and females will not work.
Because women have specific challenges and those need to be solved with a specific approach.
For instance, if you are building a weight loss app, workouts to lose weight in both cases of women and men are different.
Meaning, that a general-purpose weight loss app will not deliver results to women. To deliver results, you must develop a weight loss app that suggests women-focused workouts.
You can build women health apps such as pregnancy apps, skincare apps, weight loss apps, period tracker apps, virtual gynecologist visit apps etc.
Will this app idea work in 2025 and beyond?
Yes, it will but challenging in the USA.
Because there are several women health apps already dominating the US healthcare market. To make room in such an overly intensified market, you must have a very unique and impactful women's health app idea.
However, the women's health app market in Canada, the UK, and Asia are still in early-stage with a lot of room available for even basic yet purposeful women's health app ideas.
10) App for Chronic Care Management
There are millions of people living with chronic diseases. These patients who are diagnosed with chronic conditions require ongoing care, a perfect diet & workout, and weekly or monthly follow-ups.
What they require most is the proper self-care and records of their health data.
Using an app developed specifically for chronic care management, patients can virtually connect to providers, book follow-up visits, track what they are eating and their overall lifestyle, record their health data, and receive important reminders and a self-care book.
Such features lead to gradual recovery or a manageable condition of chronic diseases.
Will this healthcare app idea work in 2025 and beyond?
Yes, it will. Because of the following 3 reasons.
It is really clinically useful.
Market competition is still very low.
It helps providers too.
11) Addiction recovery app
What if we tell you, "Almost 21M Americans & 6M Canadians have a minimum 1 addiction!"
Here are the 3 prior reasons behind this hazardous situation.
Inferior mental health
Economic crisis
The rising rate of layoffs
But addiction recovery app, you can help people in overcoming their addiction even from their homes.
You can offer psychiatry, behavioral therapy, nursing, or recovery support via virtual care solutions.
Will this healthcare app idea work in 2025 and beyond?
Yes.
As there is a lack of support, comprehensive care, and affordable solutions when it comes to traditional addiction recovery.
But with a virtual addiction recovery app, patients don't need to travel long for the session, they just connect with the counselor in just 5 steps.
The best example is USA-based Eleanor Health which grabbed $50M in its last funding in April 2022.
12) Sleep and meditation app
A pleasant sleep and meditation is the most promising approach to overcoming poor mental health or illness.
Thus, mindfulness or meditation apps are experiencing a rising rate of the adoption.
As per the Statista, "Revenue in the meditation apps segment is projected to reach the US $6,717.18m by 2026".
Let's take an example of the most popular meditation and sleep app Calm.
It offers,
Meditation guides and daily tips
Sleep stories and sounds
Relaxation exercise
Inspiring stories and topics
Will this healthcare app idea work in 2025 and beyond?
Yes. But will need to add extra layers of benefits in order to conquer the market.
But we have an expert tip for you.
AR/VR-based meditation and sleep apps are in high demand right now.
However, there are few healthcare startups that offer AR/VR-based sleep and meditation therapy sessions.
Means, a perfect business opportunity.
The fact is, no one can run a #HealthcareStartup better than a healthcare professional.

So, here are 7 healthcare #StartupIdeas for healthcare professionals.

— A Thread —

— SyS Creations Inc. (@syscreations) April 30, 2022
You might have these doubts if you are planning to develop a healthcare app in Canada
The healthcare app development cost in North America is $30000+.
However, there are many Asia-based app agencies that can deliver you the app for under $15000.
But the healthcare app developed for the North American market by an Asian app agency fails to meet healthcare laws and remarkable mobile app UI.
Based on the region and type of your mobile app, you have to adhere to healthcare compliance laws.
For instance,
If you're planning to develop a healthcare app in Ontario, you have to address PIPEDA (federal-level privacy law) and PHIPA (Ontario's own healthcare-specific privacy law).
Similarly, if you're planning to develop a healthcare app in Alberta, you have to address PIPEDA and HIA (Alberta's own healthcare-specific privacy law).
Due to compliance challenges, it is always crucial to hire an app agency that has expertise with Canadian data privacy laws.
We're a healthcare-focused app agency with dedicated compliance experts - in addition to developers & designers!
Being a Canadian company, we understand the gravity of compliance.
Our development team works with the compliance team to develop a compliant healthcare app in record-breaking time.
We also accommodate business experts who provide you with free business consultations.
This way, we not only develop the app but help you to be compliant with healthcare laws and also with business and market challenges.
We have been serving the Canadian healthcare industry for more than 8+ years and even worked with many long-term care homes and healthcare providers.
So, allows us to pour the magic of our healthcare expertise, experience, and experts into your healthcare app ideas!