Healthcare App Script: A Powerful Ready-made Healthcare App Base for Your Complex Healthcare Solutions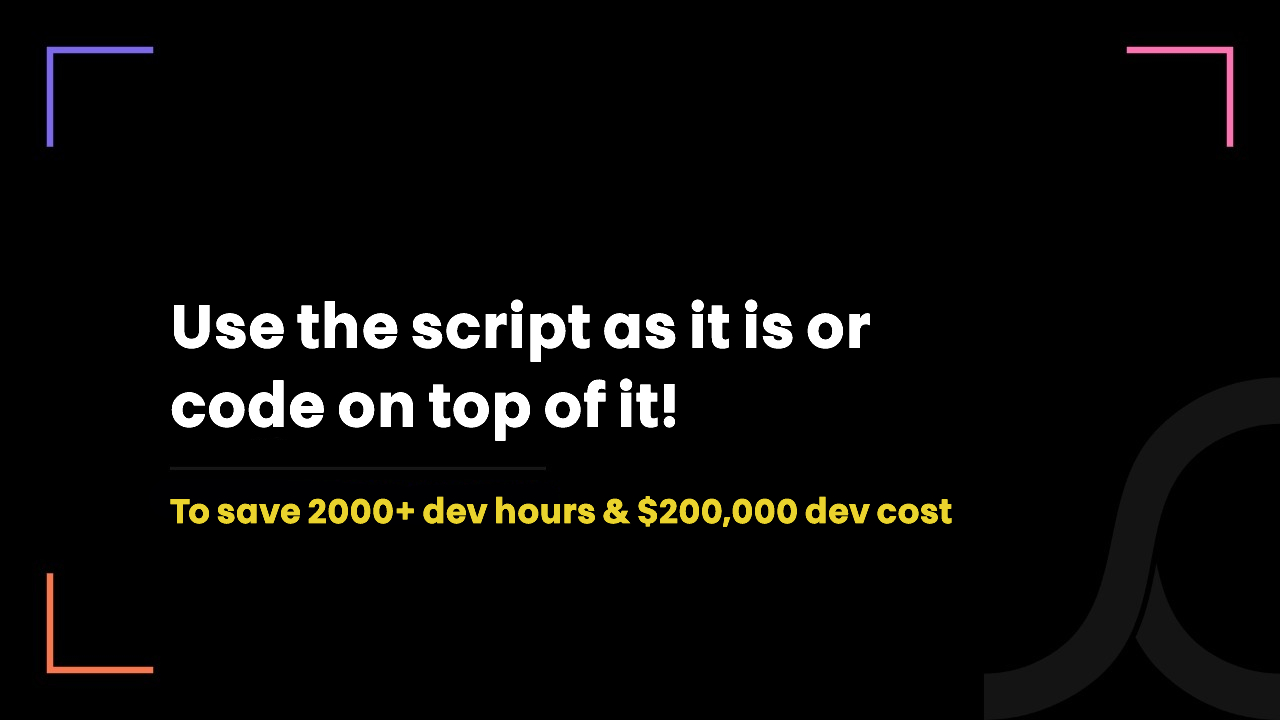 2 months ago
Healthcare app script is a kind of magic that can bring affordability and convenience to your next project!
And here is a little glimpse of the powerful healthcare script we have built which you can use as the base for your next complex healthcare application.
An Overview of Our Healthcare App Script
The base is ready so you don't need to reinvent the wheel.
Just with a little change to UI and adding the features you want that are not there in the base, you can have your feature-heavy solution by skipping 70% of the app development lifecycle.
The healthcare app source code already has everything that is required to launch the app directly in the market.
For example,
Most common and advanced healthcare app features
It's HIPAA, PHIPA, PIPEDA, GDPR, and HITECH compliant.
Performed both usability and QA testing
This way you'll easily save,
How Can You Use Our Healthcare App Script?
You can use the script as it is or code on top of that as per your requirements.
And in both scenarios, you can skip almost 70% of the development lifecycle.
For example,
If you want to use a patient portal, there is no need to develop it from scratch.
Because our healthcare app source code already has the most common features for it such as
Automated reminders via SMS or email
User permission management
With these features, you can use the patient portal right away.
But in case you want to code on top of the base to meet your unique needs, just tell us your requirements.
Our in-house development team will work as your extended team and code on top of the base as per your unique needs.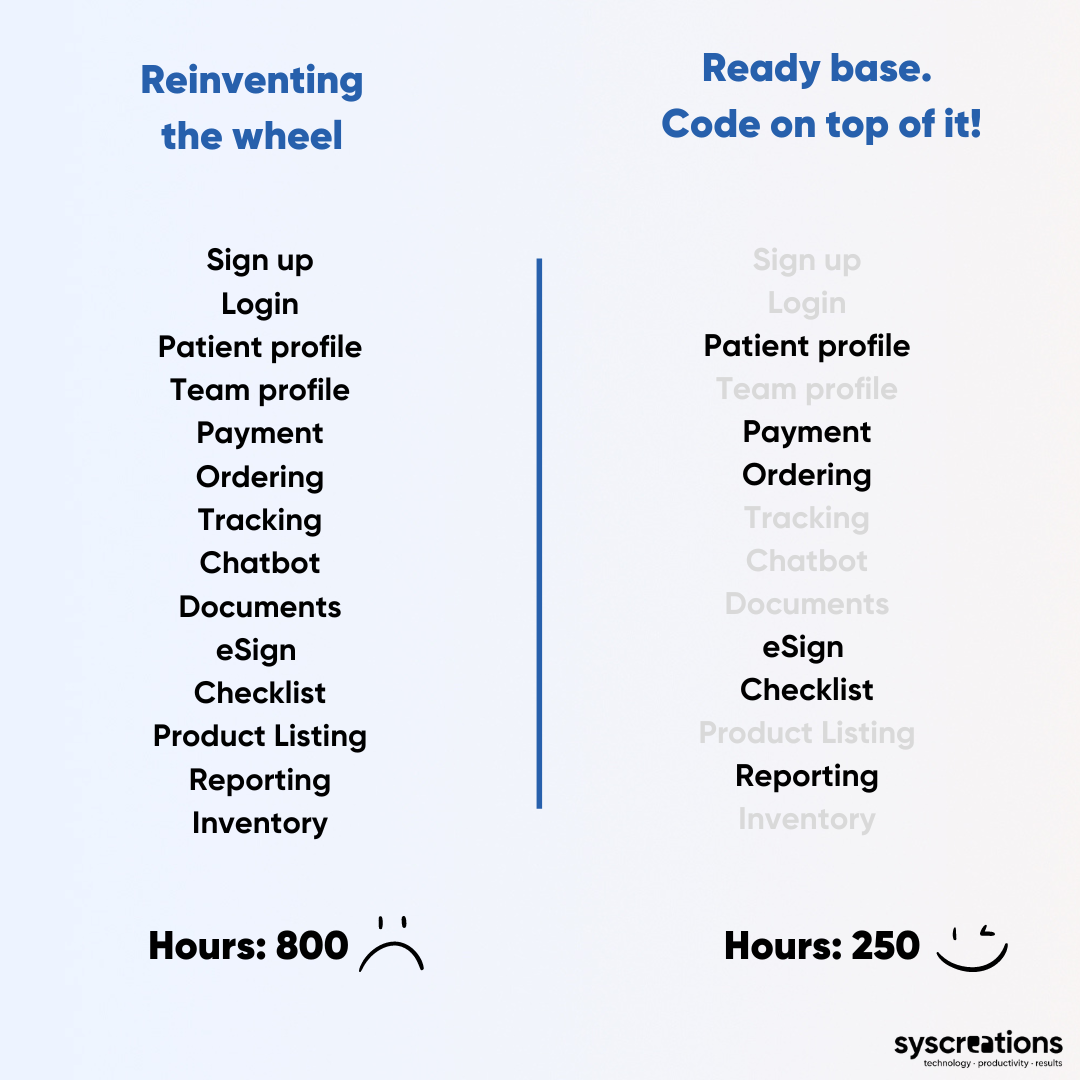 Top Features of Our Healthcare App Source Code
Secure document management with automated expiry notification
HIPAA-compliant task management tool
No-code checklist application maker
HIPAA authorization tool with eSign
Healthcare internal and external team communication
Medication tracker and reminder
Customizable notification alert
Inventory status tracking tool
Medical equipment tracking tool
User permission management
Product/service listing and management
Patient, staff check-in and check-out
Seperate portal for admin, patients and internal and external team
Real-time order/service status tracking
For Whom You Can Develop the App From Our Healthcare App Source Code?
In one sentence, for everyone.
For example:
Long-term and home care agencies
Patients and their families
Top Use Cases of Our Healthcare App Source Code
You can use it for any clinical and administrative requirements such as,
Healthcare contract or vendor management software
Healthcare team and patient communication app
Patient engagement software
Staff scheduling and management software
Healthcare asset management software
Pharmacy benefit management software
Healthcare data management software
Why Did We Create a Healthcare App Script?
We are an Ontario-based healthcare-focused IT company.
And we have been proactively working in the healthcare industry for the past 8+ years.
During this journey, we have noticed that there is a lot of time, money, and resources needed to complete a single project.
And this is all because we need to develop everything from scratch.
But there is nothing wrong with it.
However, only some have that large capital to invest and a long time window that is required to develop the entire app from zero.
On the other hand, not everyone wants to go for the SaaS product either as it comes with a lack of security, flexibility, and compatibility.
Because of that reason, we have developed a healthcare app source code.
That almost cut down 60-70% development time and costs without compromising flexibility, compatibility, and security!
How to Acquire Our Healthcare App Script?
You just need to follow the below 6 steps to acquire our healthcare app source code.
Step 1: Just fill up the contact form.
Step 2: We'll connect with you in just 2 to 6 hours and schedule a zoom meeting.
Step 3: Now, we'll give you a live demo of the product along with its cost.
Step 4: If it suits you, we'll listen to your customization requirements.
Step 5: Our development team will do coding on top of the source code as per your branding, usability, workflow, and functionality needs.
Step 6: At last, we'll perform QA testing and a compliance audit to make sure that the product you acquired has no bugs, errors, or vulnerability issues.
And this entire process will not take more than 60 business working days!
3 FAQs on Our Healthcare App Source Code
1. Can I integrate it with other health tech software?
Why not?
You can seamlessly integrate it with the health tech software you like.
For example, EMR/EHR, HIS, LIS, HIS, etc.
You can also integrate it with IoT or wearable devices.
2. How source code reduce development time and cost?
Every healthcare app comes up with some common features like login, profile management, document management, etc.
And if these are all the features you have to build when you develop the app from scratch.
But if you acquire the healthcare app source code, you don't have to spend your valuable time and money on these features.
Because the features you want are already there in the base.
This way you can skip almost 70% of the development lifecycle.
3. Is it a HIPAA-compliant app source code?
Yes.
As a healthcare-specific IT company, we understand how crucial it is to protect the patients' critical data from cyber-attacks.
That's the reason, we have a dedicated team of compliance specialists who make sure that there are no data privacy and security issues in the app.
Want to explore more?