How Minor Ailment Prescribing Software Can Help You Save 70% Time & Cost on Prescribing?
4 months ago
Exciting news for all pharmacists!
We have a special surprise in store just for you.

And it has enormous potential to,
Streamline internal workflows
Save operational time and cost
Delight customers/patients
Generate more revenue for you
But before jumping into that, let us share some important news first.
Local Pharmacies in Ontario are Now a One-stop Solution for 13 Minor Ailments!
Minister of Health Sylvia Jones confirmed the news on Twitter.
Spread the word! Starting Jan. 1, Ontarians will be able to visit pharmacies across the province to receive treatment for common ailments at no cost.

Expanding the ability of pharmacists to provide care is one way we're making it more convenient to access care in the community. pic.twitter.com/0LbtdfkFBY

— Sylvia Jones (@SylviaJonesMPP) December 28, 2022
These 13 minor ailments include,
Fever Cold sores
Oral thrush
Dermatitis
Pink eye
Acid reflux
UTIs
Menstrual Cramps
Hemorrhoids
Impetigo
Insect bites
Hives
Tick bites
Strains
This Program is a Huge Relief for Patients
Because with this program, now they won't need to wait months for getting doctor appointments.
Instead, they can easily get a prescription for minor ailments over the counter at local pharmacies or may order it online by confirming their eligibility at the ePharmacy store.
On top of that, it is a free-of-cost service for patients having health cards.
How Pharmacies Can Turn This Program into a New Revenue Door?
These 13 minor ailments are easily diagnosable.
What it requires is – a sufficient amount of awareness and self-care from patients.
And this is where an opportunity lies for pharmacists.
But how?
Let's take a look!
Right now, patients are preferring online solutions for many healthcare services.
Similarly, patients will prefer online minor ailments prescribing solutions in Ontario.
Because it offers them more convenience by eliminating the traveling and waiting time hassles.
With the adoption of a digital health platform, pharmacies can attract those patients while at the same time – streamlining their internal workflows.
One such kind of digital health solution is – minor ailments prescribing software!
What is Minor Ailments Prescribing Software?
It is a powerful tech solution that simply helps you focus on what's important.
Rather say – it eliminates manual workflows like paperwork and phone calls regardless of prescribing.
Besides, it is a web-based solution.
Hence, you and your customers/patients can access the software at any time, from any device.
And since it is a web app, it also helps you to get online inquiries for minor ailments prescribing in Ontario.
This adds an extra layer of revenue stream for your pharmacy store!
How Do Minor Ailments Prescribing Software Work?
For a better understanding, let's divide it into two segments.
The Complete Workflow for the Patient.
1. The patient signs up/logs in to the minor ailments prescribing web app.
2. Patient fills out a form to prove eligibility to get prescribed for minor ailments.
3. He makes the payment for the chosen service.
4. The patient gets a notification when the prescription request is accepted.
The Complete Workflow for the Minor Ailments Pharmacist.
1. The pharmacist logs in to the minor ailments prescribing software.
2. From the dashboard, the pharmacist can view all prescribing requests made by patients.
3. The pharmacist can either accept or decline the service request.
4. The pharmacist processes the request based on the guidelines.
5. If the condition is too complex, minor ailments pharmacists can also refer it to a doctor or ERs department.
How Minor Ailments Software Helps You Be Free From Tedious Tasks?
No doubt, this new law adds an extra revenue stream for pharmacies.
But at the same time – it has increased the work burden for them.
Because they now have to deal with patients' diagnoses and medication needs.
But with minor ailments prescribing software, you can breathe a sigh of relief.
Because it not just simplifies the prescribing process but also streamlines other pharmacy workflows such as –
1. Automated documentation that can save you almost 50% of your time
2. End-to-end workflow documentation to ensure the correct information is stored
3. Online patient intake and consent forms so that you can avoid tedious phone calls
4. Automated reminders via SMS and email to improve patient engagement
Top Features of Minor Ailments Prescribing Software
The minor ailments software is full of extraordinary features.
These features simply allow you to control every part of running a pharmacy while at the same time – helping your patients keep engaged with the care!
So, let's explore them.
Online patient intake and consent form
Appointment schedule management
Manage patients' waiting list
Set the availability of the platform
Send prescription and sick notes via SMS and email
HIPAA compliant chat messaging
Read our useful articles related to these features.
The Benefits of Having Minor Ailments Prescribing Software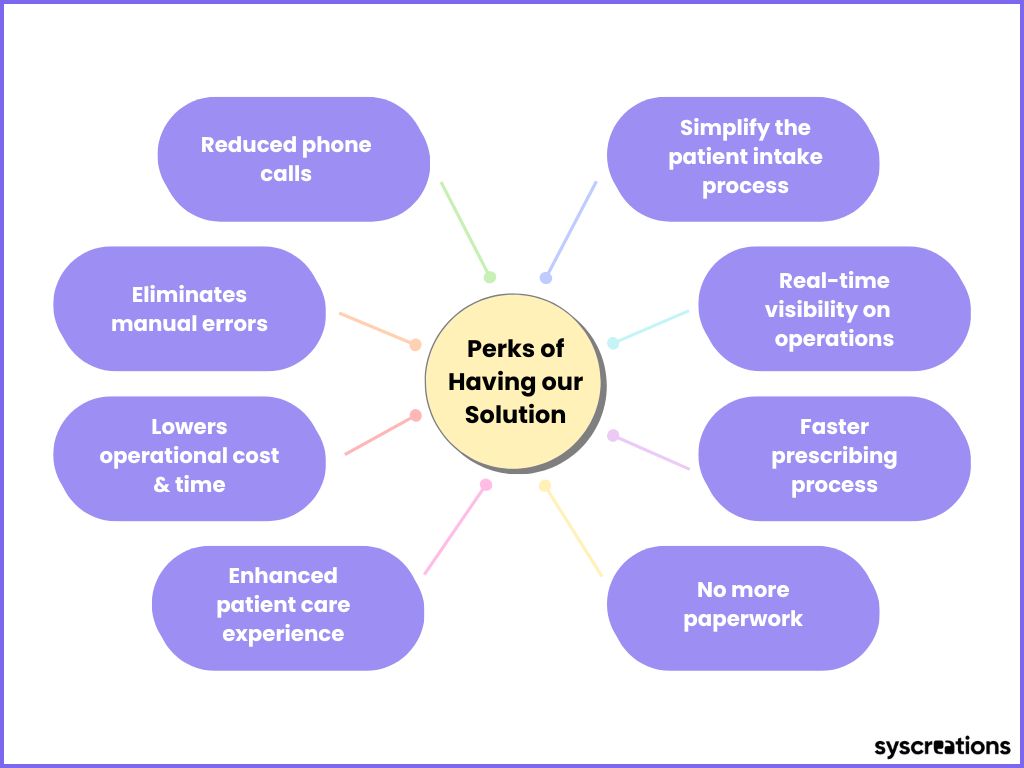 Take your Minor Ailments Prescribing Practices in Ontario to the Next Level with Our Solution
We have a HIPAA compliant solution for minor ailments prescribing.
With our user-friendly web-based solution, you can effortlessly manage all your minor ailment prescribing operations from anywhere, at any time.
For a better understanding, the following are the real screen images of our solution.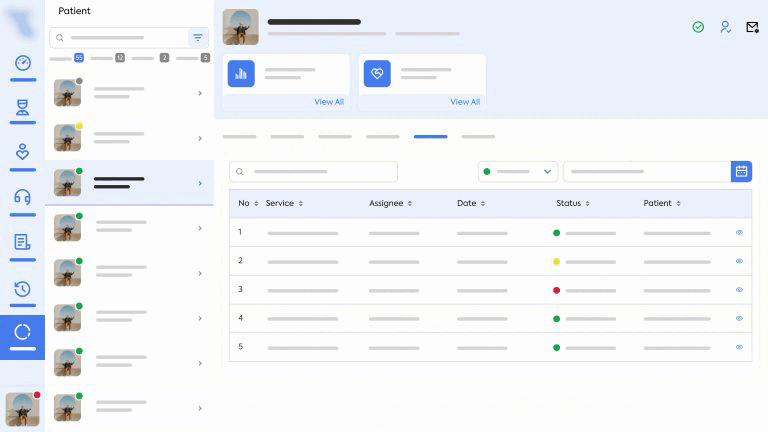 Our Solution is Built with the Most Robust Technologies
We have been serving the healthcare industry for over 8 years.
In our journey, we collaborated with several startups, organizations, pharmacies, and individuals.
As a result, we have honed our understanding of what drives success in the world of health technology.
We are proud to offer a solution built with the latest and greatest technologies.
Explore it below.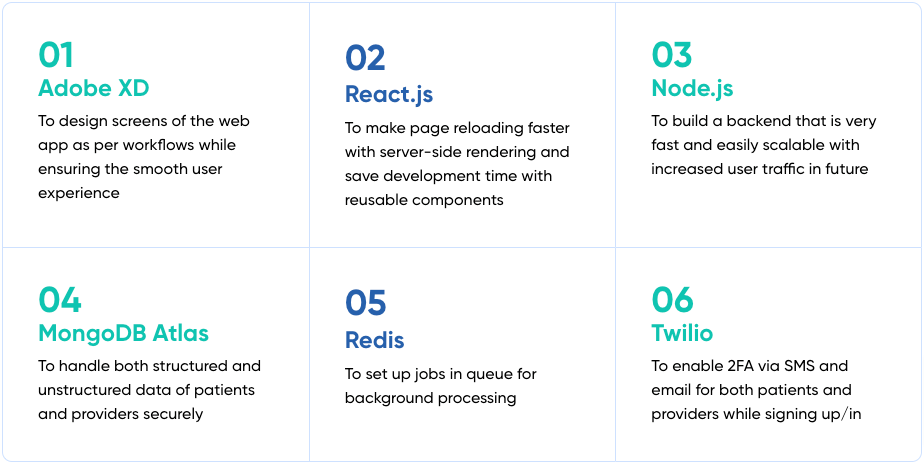 You can also Integrate Our Solution with Kroll!
Kroll is an entire ecosystem that stores patient and drug data in a well-organized manner.
This data holds the huge potential to enhance patient care outcomes.
Because it helps you get a complete overview of the ongoing/previous prescriptions and allergies of patients – at the point of care.
With integration, you can sync those valuable data directly into the minor ailments software.
This will help you,
Improve the patient care experience
Provide more reliable prescribing
Eliminates the chances of errors
Reduce operational time and cost
How Do We Reduce Time-to-market so that You Can Get the Maximum Benefits Out of the Solution?
The base is ready.
You can put it to work right away.
But if you have unique customization requirements, we can also perform it for you.
And it'll not take weeks for customization.
Because we just need to do code (according to your needs) on top of the base.
And for that, we have an in-house development team of UI/UX designers, developers, business analysts, compliance specialists, QA engineers, and integration experts.
This way, you'll get the product (that is built for you) in just a few days.
So, ready to enhance your minor ailments prescribing solutions?
Let us put our wealth of knowledge to work for you, helping you stay ahead of the curve in an ever-evolving field!

Read our other useful resources related to pharmacy tech: