Our White Label Healthcare CRM: A Solution to Improve Patient Engagement like Never Before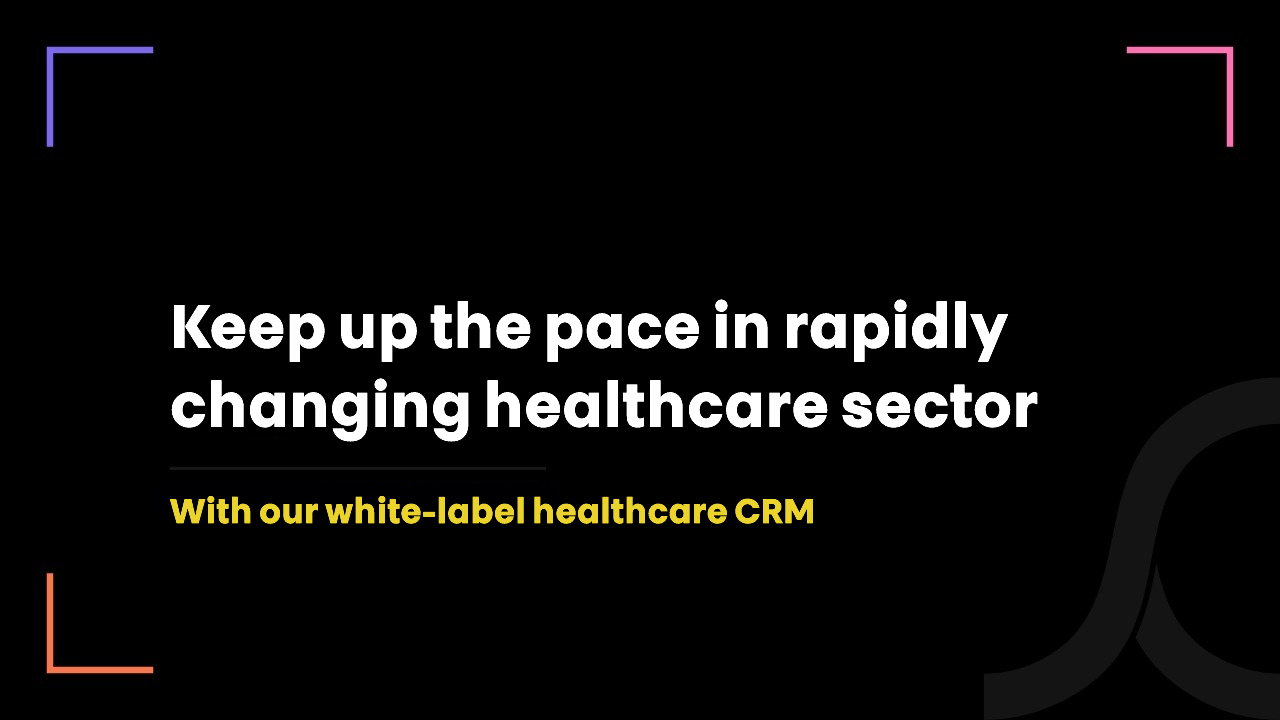 5 months ago
One more!
And, here is the quote!
"The lack of patient engagement is the Achilles Heel of healthcare delivery".
The CRM's importance in healthcare is endless as it helps healthcare providers to improve – patient satisfaction and the entire healthcare system workflows in the same spot.
For that reason, "The global healthcare CRM market size was $9,715.2 Million in 2020 and is expected to reach $37,624.0 Million by 2030".
And the most significant thing, healthcare CRM software is not limited to healthcare providers but is also useful for pharmaceuticals, vendors, and finance management.
So, in this blog, we'll cover all you need to know about our white label healthcare CRM software.
What is our white label healthcare CRM?
First, let's understand what is white label healthcare CRM is.
White label healthcare CRM is popular among healthcare institutions as it is affordable and takes less time in development compared to custom software.
It's a pre-made healthcare CRM software developed by our healthcare-specific IT professionals that customize it, rebrand it, and deliver it as per the client's requirements.
We recently launched white-label healthcare CRM software with future-ready tech stake and advanced features.
With that, you can manage all your healthcare organizations workflow such as,
Medical supplier or vendor management
Why did we launch it?
As a healthcare-focused IT company, we comprehend that patient satisfaction and a streamlined management system is the vital task for healthcare institutions.
But many healthcare organizations are still performing the same manual task which results in time-consuming workflows.
As a result, they can't focus on patient satisfaction and engagement.
For that reason, we have built a white label healthcare CRM software to address those primary challenges of healthcare organizations.
But, why choose our white label over custom CRM development?
Let us tell you one thing, we are purpose-driven people!
We only care about how to make things easier for the patients and the healthcare industry.
After identifying such a mess in the healthcare system, we did a complete market analysis and discovered that,
Developing a custom CRM needs a huge capital investment
Custom CRM development takes a lot of time
In simple terms, white-label healthcare CRM software is more affordable and convenient than custom CRM development.
Quick insights into our white label healthcare CRM software
We provide a white label healthcare CRM software that includes,
HIPAA/PHIPA/PIPEDA compliant
Customization as per your healthcare institution's needs and branding
EMR/EHR integration solutions
Feature-rich healthcare CRM software
Explore the features we offer in our white label healthcare CRM
Here is the entire list.
Customer management services
Healthcare and other team management
Third-party vendor management
Multiple platform availability
Integration with existing software
With our white label medical CRM, no need to worry about compliance
Being a healthcare IT company, we know that patient data privacy and security is the critical aspect.
Furthermore, we are familiar that not being compliant with data privacy laws means there is a high possibility of a crucial data breach which can result in hefty fines.
Thus, our white label healthcare CRM is compliant with HIPAA/PHIPA/PIPEDA compliance laws.
In addition to compliance, we have a dedicated compliance specialist who makes sure that there are no data vulnerabilities that can put patients' data privacy at risk.
We offer next-level EMR/EHR integration solutions
Patient clinical information is required in the healthcare CRM to deliver a more patient-centric experience.
For that, you must need EHR/EMR integration with the healthcare CRM platform.
And when it comes to healthcare integration, we are the Canadian masterminds!
Why? Well, we have a dedicated team of integration specialists who own the ultimate expertise and experience in the same.
With mastership in HL7 and FHIR standards, our team can easily achieve interoperability standards to make seamless data sharing between the healthcare CRM and EHR/EMR system.
How do we deliver white label medical CRM software?
Our results-driven approach helps us to deliver more than just a solution.
For us, creating healthcare CRM is to provide flexibility and scalability for the healthcare industry.
Here is how we deliver success to our clients for white label healthcare CRM software.
Discussion and team allocation:
First, we conduct a virtual meeting with you to understand your exact requirements and branding needs.
Then we allocate a dedicated team for you that includes – UI/UX designers, developers, business analysts, compliance specialists, and QA engineers.
We create a successful and futuristic design that enables you to achieve your healthcare institution's goals.
Our experienced UI/UX designers combine software structure, features, and user experience in a certain way so that you can get solid Healthcare CRM software as per your brand.
It's time for coding.
We have a frontend and backend development team that customizes healthcare CRM software as per your feature requirements with a future-ready tech stake.
QA testing, pilot, and launching:
We have a high-qualified team of QA engineers who have a single job to make your white label healthcare CRM accurate.
After the QA testing, we pilot it with a dummy user to get more precise and visual data of your healthcare CRM software.
Then after, we launch the software and deliver it to you with full ownership.
Ongoing technical support:
We offer a client-centric approach for technical support after the software launching.
Because no software in the world is 100% bug-free.
For that reason, we provide rapid technical support so that you and your organization don't face any technical concerns.
How to get a demo of our white label healthcare CRM?
You just need to call us at +1 905 635 7574 or fill out our contact us form.
We will get back to you within 2 to 6 hours.
We put our combined efforts to deliver the best healthcare IT solutions
We are an Ontario-based healthcare IT company.
Our 7+ years of hands-on experience help us to deliver robust and dominating healthcare IT solutions for healthcare start-ups, businesses, individuals, hospitals, and clinics.
With our combined healthcare IT expertise in business, compliance, and technology, we are aiming to shape the future of healthcare IT.
To accomplish that, we have a 50+ healthcare-specific IT professional who understands every ins and outs of the healthcare industry.
What makes us different from the rest is our healthcare IT knowledge, passion, and understanding!