White Label Healthcare CRM: A Solution to Improve Patient Engagement like Never Before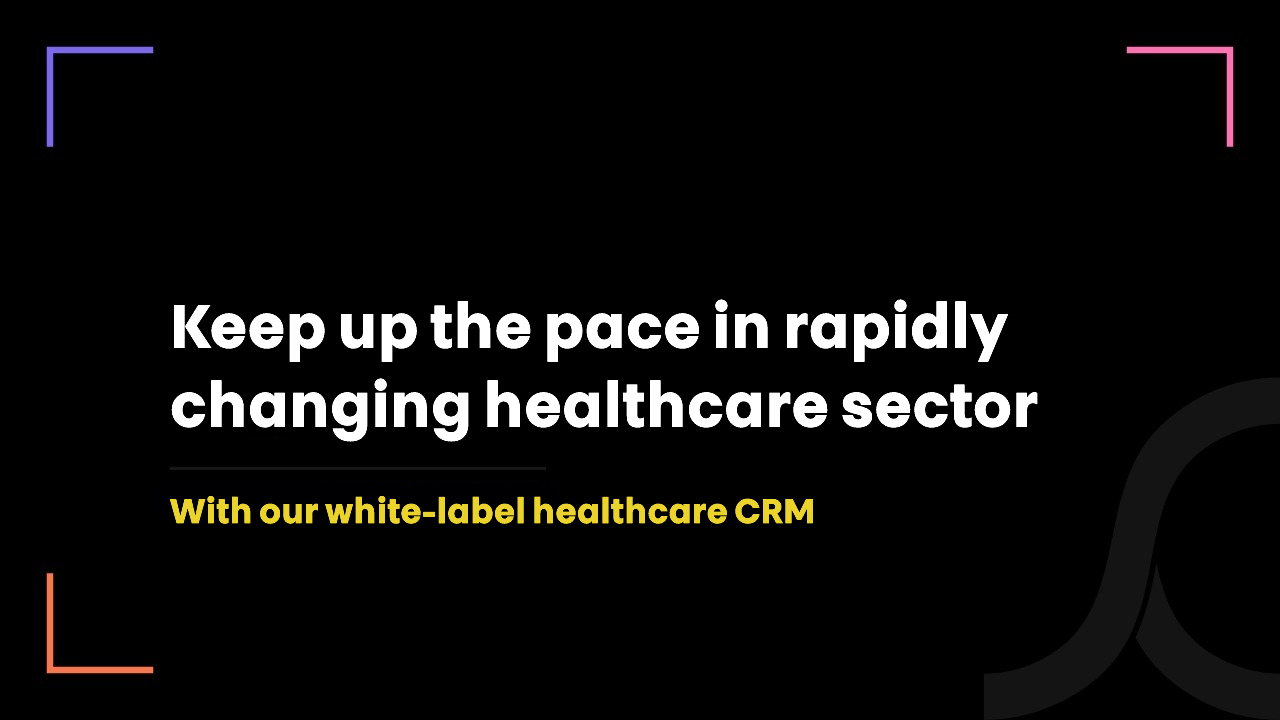 4 months ago
We recently launched a white label healthcare CRM.
It is HIPAA, PHIPA and PIPEDA-compliant CRM.
Because of its features, functionality and pricing structure, within just one month of the launch – more than 20 Ontario-based healthcare organizations have acquired it.
And in this blog, we have shared everything about it.
But before jumping into that, let us first reveal its real-screen images.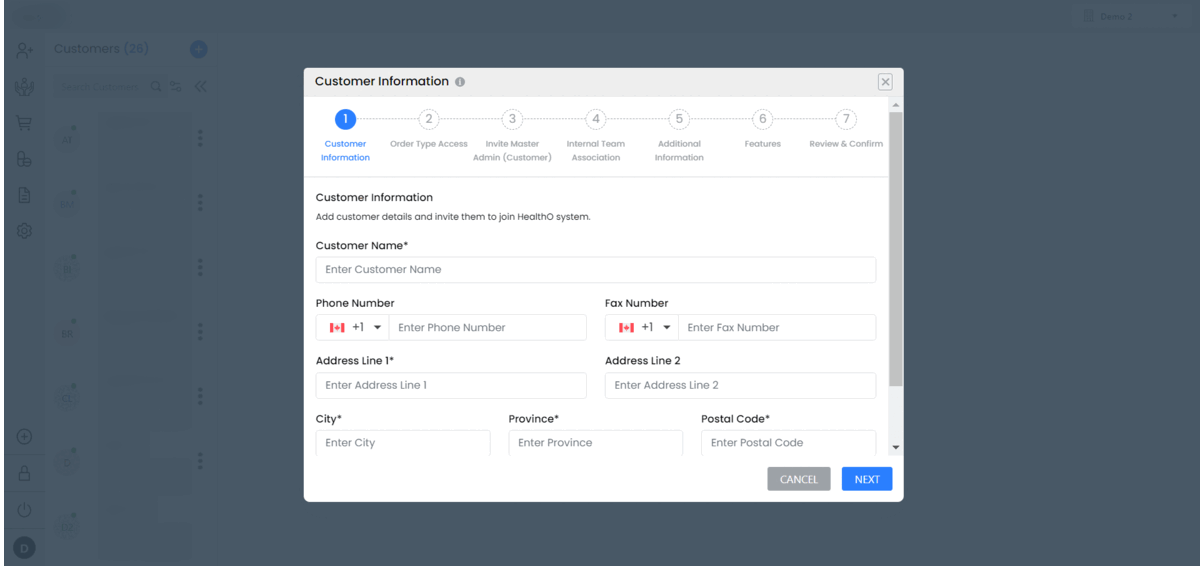 A small tour of our white label healthcare CRM software
First, let's understand what white label medical CRM is.
It's a one-type of pre-made solution.
And it is developed by our healthcare-specific IT professionals that customize it, rebrand it, and deliver it – as per the client's unique requirements.
In essence, you can customize it according to your unique needs!
These requirements may include,
Branding
Workflow
Features and functionalities
Usability
Compliance
That's the reason – our healthcare CRM software is very popular among healthcare institutions.
Besides, it is a web-based CRM solution.
Thus, you can access and use it from any device or browser you want.
Quick insights into our white label healthcare CRM software
There are multiple medical CRM available in the market.
But we bet – you won't find the functionality that our solution has!
The following are some of the few ones.
Future-ready tech stake
360° freedom for customization
Seamless integration with EMR/EHR, LIS, HIS and other health tech solutions
Comes up with multi-user architecture
It has no-code functionality.
Modern and healthcare-friendly UI/UX
The multi-layer architecture of our white label medical CRM solution
It means – you and all your internal and external users will get a separate web portal.
This helps in performing all the business and organizational tasks in a more – faster, efficient and collaborative manner.
As a result, it saves operational time, cost and resources spent on each task or activity.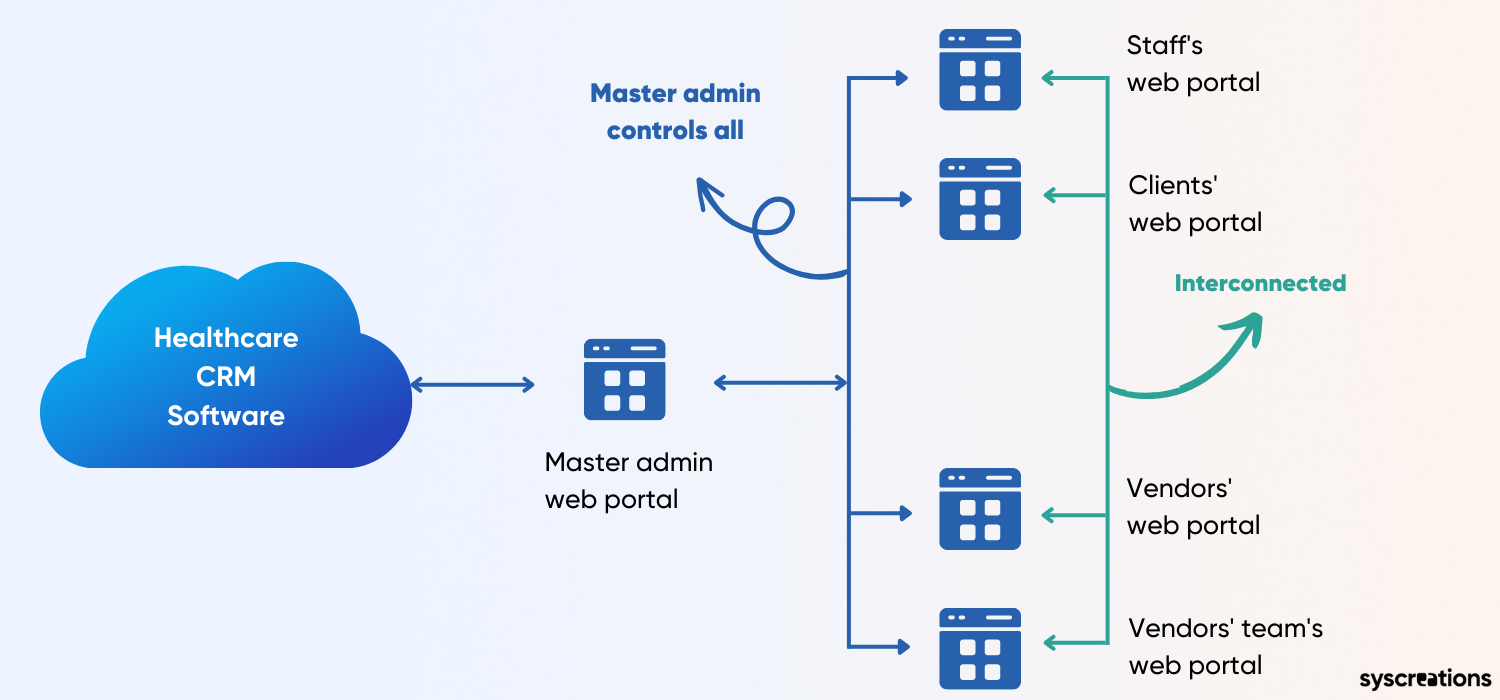 The no-code capabilities of our white label CRM software for healthcare
This is something that makes our solution the best healthcare CRM solution.
It allows you to configure the software workflow as per your need.
But what's so special is – there is no coding knowledge required for it.
You just need to 'select', 'add' and 'submit' the preferences.
For a better understanding, let us give you an example checklist feature of our solution.
You can create and configure a checklist for any of your tasks, events or activities.
And to do so, you just need to complete the 6 simple steps.
In the first 5 steps, you have to –
Give a name to the checklist
Provide field name
Select the status you want to provide
Status configuration
Share with users
Once it is done, the final step is to validate all the information and then click the 'create' button as shown in the below image.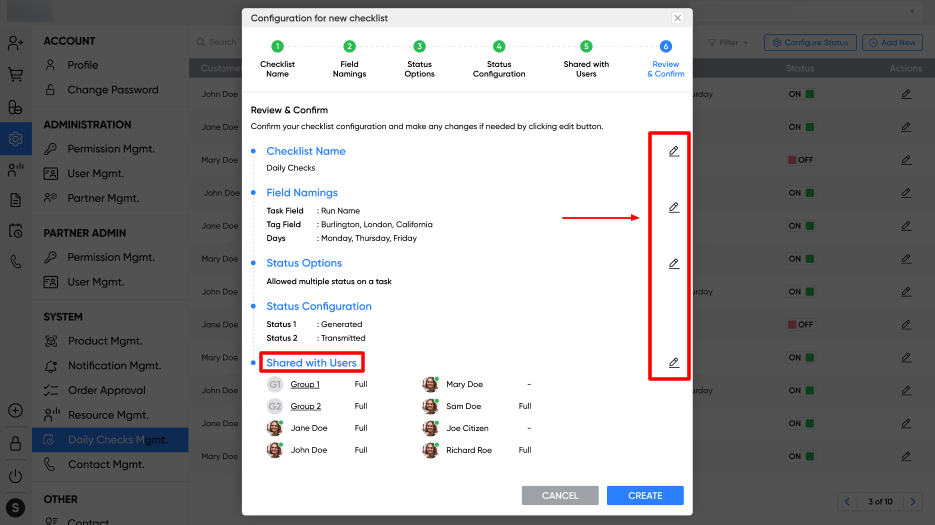 That's it. Your own customized checklist is ready.
And this entire process will not take more than 3 minutes!
Top features of our white label healthcare CRM software
There are tons of features available in our medical CRM solution.
Thus, it is not feasible for us to list each of them in this blog.
So, we have shared some of the most important ones here.
But in case you want to explore each feature – you just have to fill up the contact form.
We'll get back to you with a live demo of our product – in less than 6 hours!
And the following are the most popular features of our white label healthcare CRM.
1. Patient, providers, vendors and other user management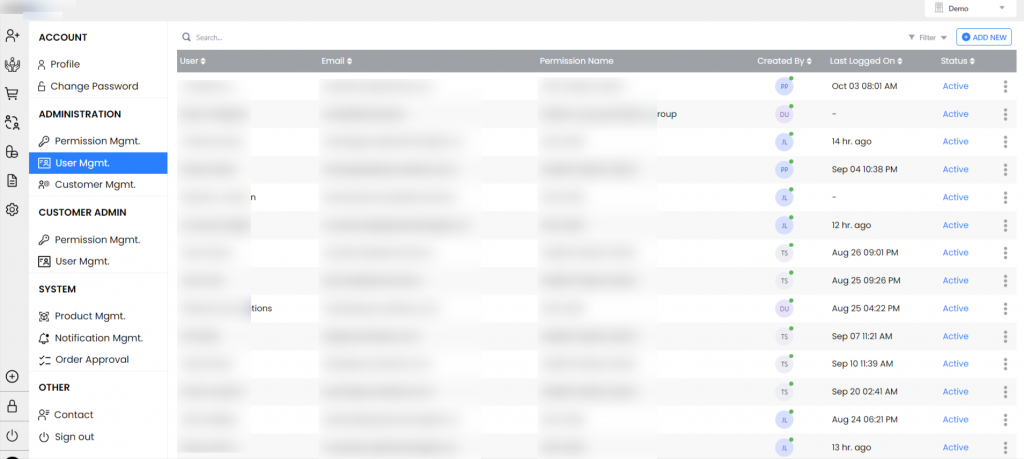 2. Allocate the internal team for patient-related or other things related tasks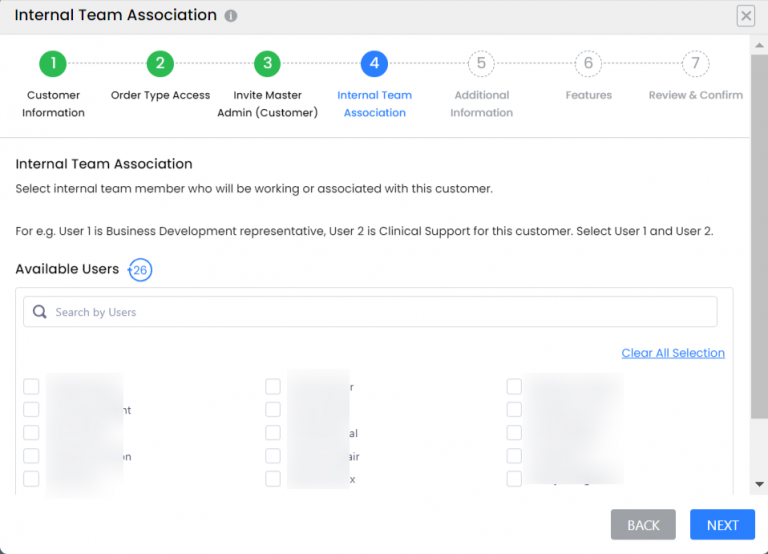 3. HIPAA compliant chat communication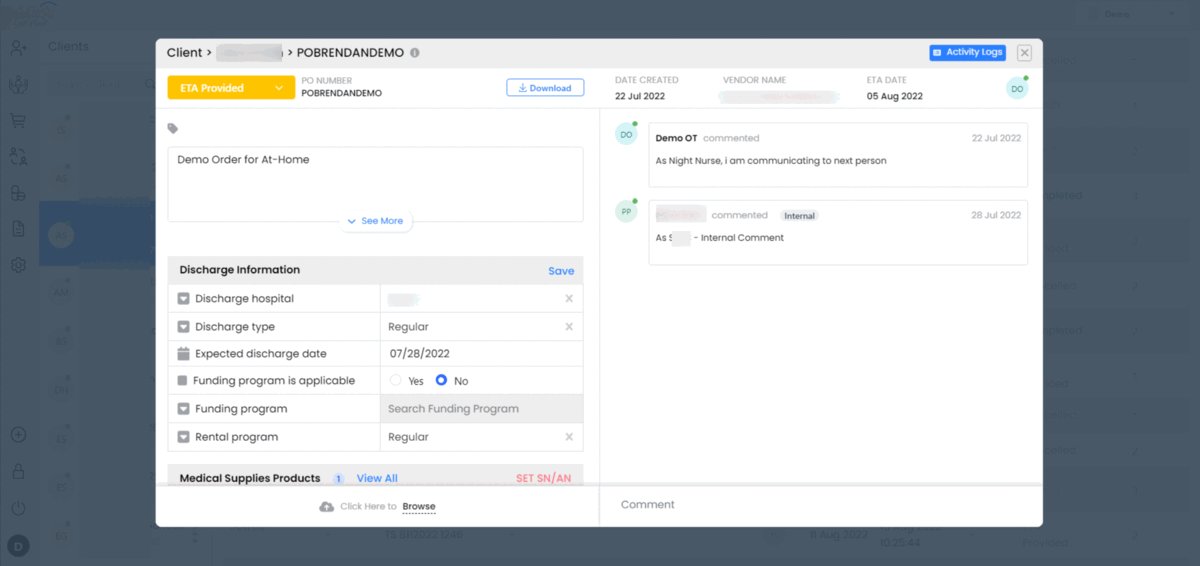 You must also read: HIPAA compliant texting app
4. Secure document management with an expiry notification setup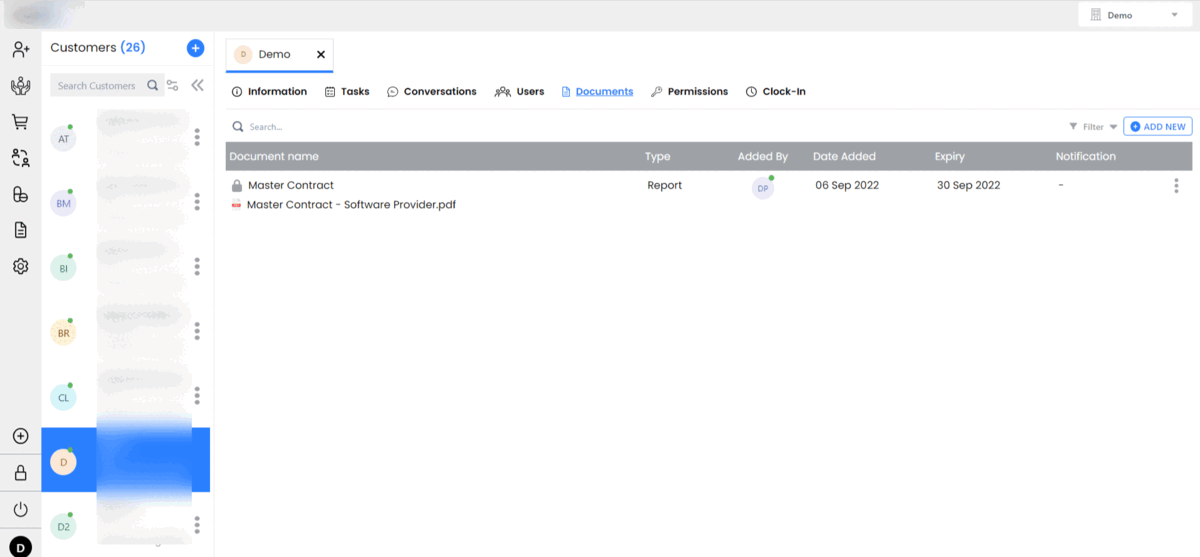 5. Task management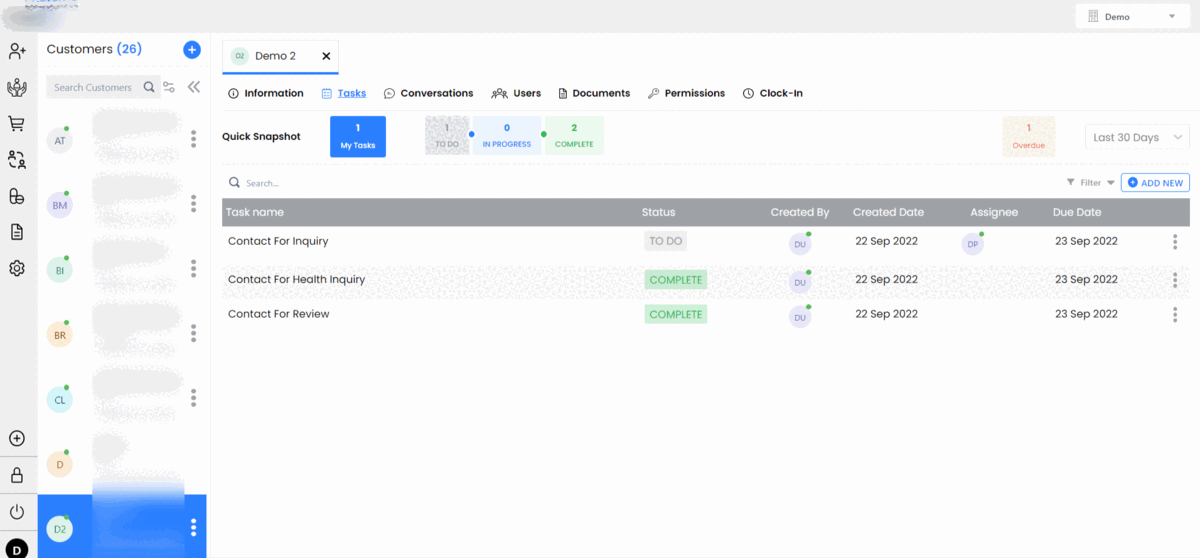 6. Internal and external user permission management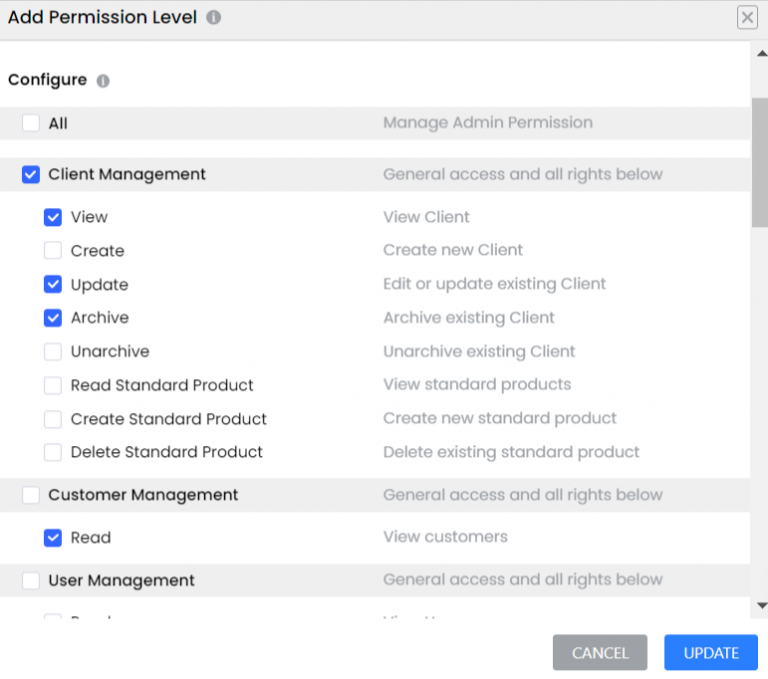 7. Create, manage and edit notifications with your own content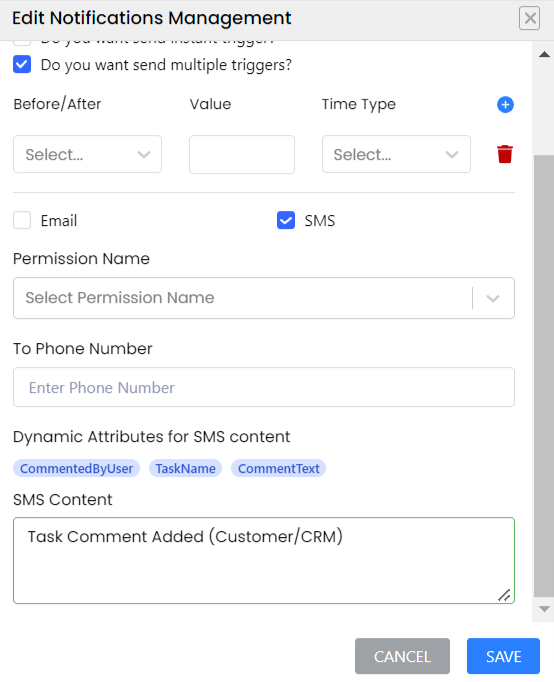 8. Inventory management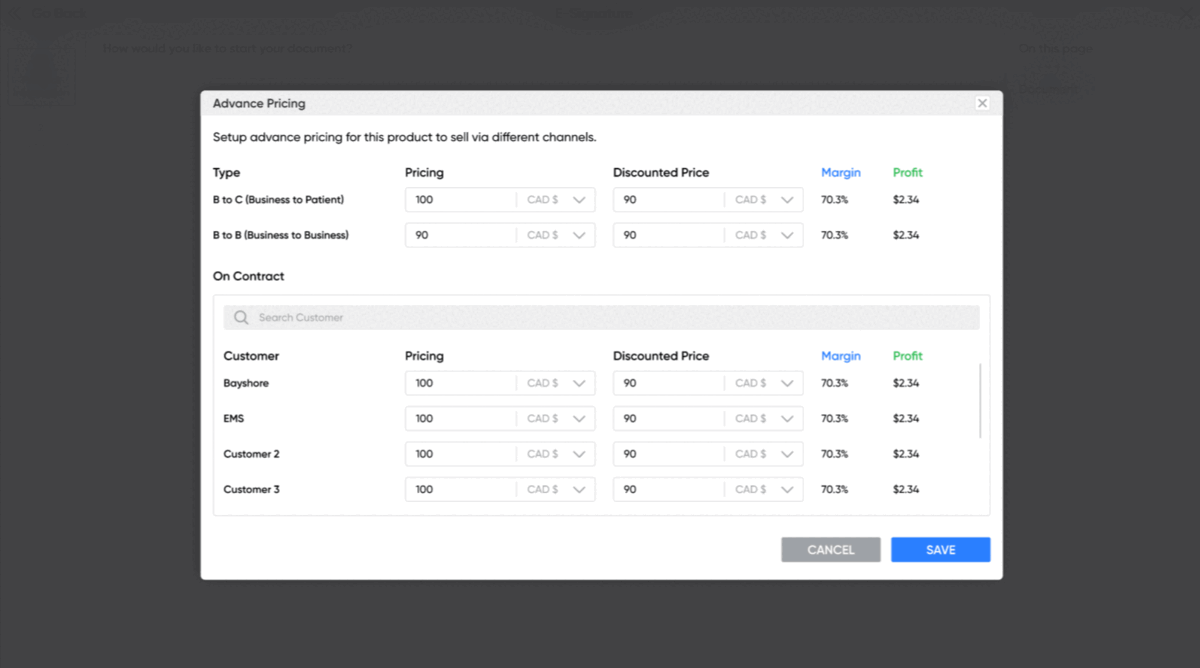 You must also explore our: Hospital inventory management software
Apart from that, the following are some other epic features.
Vendor management
Contract management
Scheduling management
Launch and run eCommerce stores
Product or service management
Warehouse management
Parallel browsing of multiple profiles
Hotkeys
Automate approval workflow
Two-factor authentication
With our white label medical CRM, you don't need to worry about compliance!
Being a healthcare IT company, we know that patient data privacy and security are critical.
Furthermore, we are familiar that not being compliant with data privacy laws means there is a high possibility of a crucial data breach which can result in hefty fines.
Thus, our white label healthcare CRM is compliant with HIPAA/PHIPA/PIPEDA compliance laws.
In addition to compliance, we have a dedicated compliance specialist who makes sure that there are no data vulnerabilities that can put patients' data privacy at risk.
You can also integrate it with your preferred EMR/EHR and other healthcare software
Integration is the key,
To save operational time and cost
To improve patient safety
To eliminate manual errors
To enhance patient care experience and overall outcomes
To reduce the work burden of the healthcare staff
Thus, our white label healthcare CRM solution comes up with seamless integration capabilities.
And you can perform various integrations such as,
HIS integration
LIS integration
In case you have no technical experts for it, well, we are the integration masterminds!
We have a dedicated team of integration specialists who own the ultimate expertise and experience in health tech integration.
With mastership in HL7 and FHIR standards, our team can easily achieve interoperability standards to make seamless data sharing between the healthcare CRM and other health tech solutions.
The pricing model of our white label healthcare CRM
Just a one-time licensing fee.
That's it.
No monthly or yearly plans. No packages. No add-ons.
You only have to pay for what you need.
Besides, there are several other benefits that come with this pricing structure.
Your own branded medical CRM.
You'll get lifetime usage rights.
An unlimited number of users can use the software
We'll host the CRM on your own server.
360° flexibility over customization
How do we deliver white label medical CRM software?
Our results-driven approach helps us to deliver more than just a solution.
For us, delivering healthcare CRM is to provide flexibility and scalability for the healthcare institution.
What you need to do is – call us at +1 905 635 7574 or fill out our contact us form.
The rest, leave it to us.
1. Discussion and team allocation:
We'll conduct a virtual meeting (within 6 hours) with you to understand your exact requirements.
Then we allocate a dedicated team for you that includes – UI/UX designers, developers, business analysts, compliance specialists, and QA engineers.
2. UI/UX design:
We create a successful and futuristic design that enables you to achieve your healthcare institution's goals.
Our experienced UI/UX designers combine software structure, features, and user experience in a certain way so that you can get solid Healthcare CRM software as per your brand.
3. Development process:
It's time for coding.
We have a frontend and backend development team that customizes healthcare CRM software as per your feature requirements with a future-ready tech stake.
4. QA testing, pilot, and launching:
We have a high-qualified team of QA engineers who have a single job to make your white label healthcare CRM accurate.
After the QA testing, we pilot it with a dummy user to get more precise and visual data about your healthcare CRM software.
Then after, we launch the software and deliver it to you with full ownership.
5. Ongoing technical support:
We offer a client-centric approach to technical support after the software launch.
Because no software in the world is 100% bug-free.
For that reason, we provide prompt technical support so that you and your organization don't face any technical concerns.
And we put our combined efforts to deliver the best healthcare IT solutions
We are an Ontario-based healthcare IT company.
Our 8+ years of hands-on experience help us to deliver robust and dominating healthcare IT solutions for healthcare start-ups, businesses, individuals, hospitals, and clinics.
With our combined healthcare IT expertise in business, compliance, and technology, we are aiming to shape the future of healthcare IT.
To accomplish that, we have 50+ healthcare-specific IT professional who understands every ins and outs of the healthcare industry.
What makes us different from the rest is our healthcare IT knowledge, passion, and understanding!
Top 3 FAQs on our white label healthcare CRM software
In case your questions are not covered here – feel free to connect with us!
We'll decode them along with a live product demo.
1. How much time you'll take for customization?
Only a few days. Not weeks!
Because the product is ready.
What we'll do is – code on top of it as per your requirements.
2. How much customization process will cost?
We have no fixed numbers for it.
Because ultimately, it totally depends on your customization requirements.
In other words, it'll depend on the number of hours our development team will spend on customization.
And according to those hours – you just have to pay a nominal hourly-based fee!
3. Can I get my own branded CRM?
Yes!
In fact, that's what we aim for.