Doctor On-Demand App Development in 2023: [Technical, Business & Compliance Guide]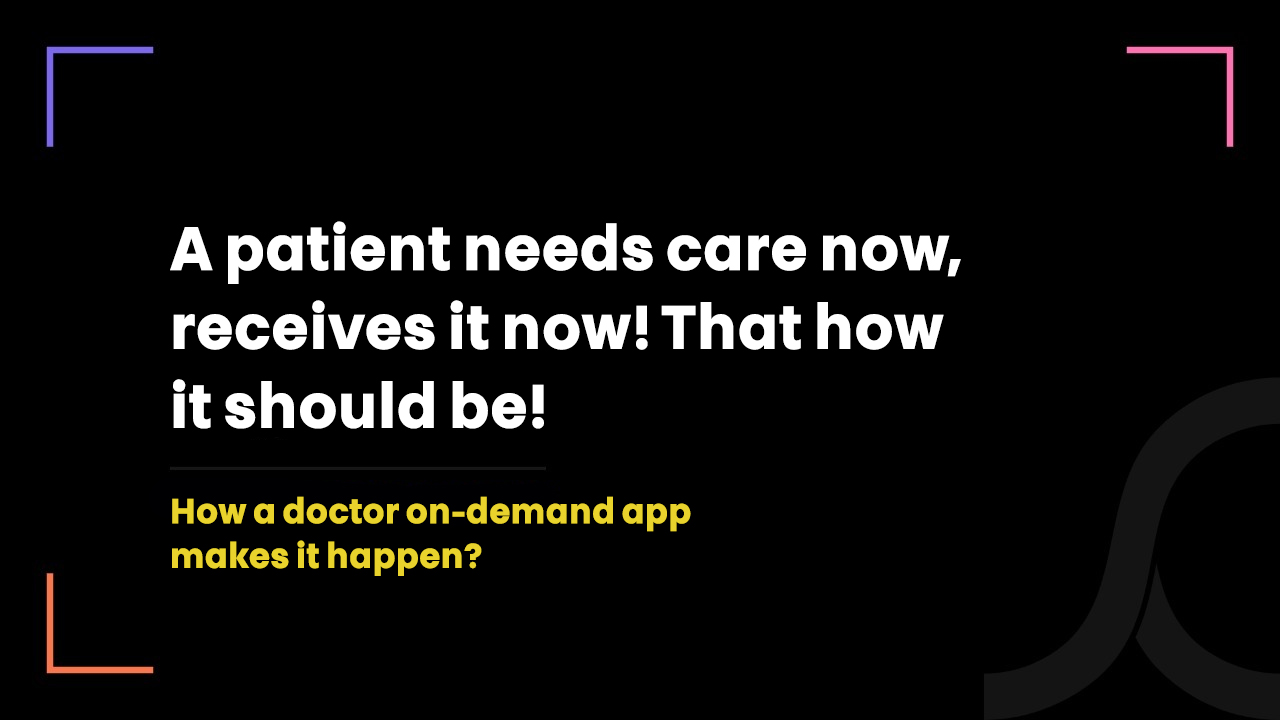 1 year ago
We all are aware of the worsening healthcare situation in Canada due to long wait times or not timely access to medical services.
It takes more than 22 weeks for getting specialized treatment after the referral from a general practitioner.
The proven and affordable solution here is the doctor on-demand app development or uber for doctors.
It does not only eliminate the challenges out of our healthcare system but also empowers the healthcare professionals to offer rapid and quality care to patients.
It is so popular among people that more than 60% of Canadians have nodded on the doctor on-demand option for the sake of rapid and quality care.
Top companies including Walmart are also adopting such an advanced yet easy care delivery model.
Walmart has tied up with a telemedicine company named 'Doctor On-Demand' to provide virtual care to its employees.
How do doctor on-demand apps work?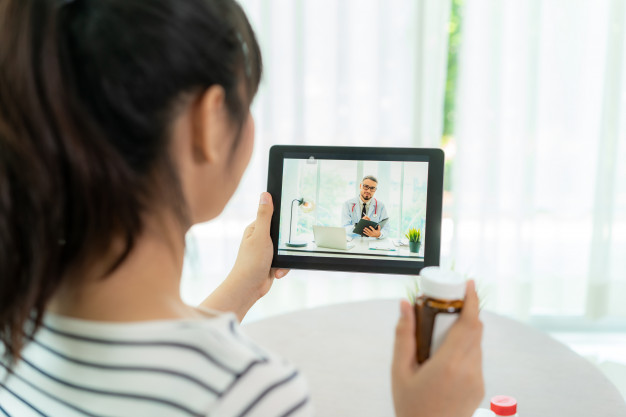 It works similar to all on-demand apps where users book the service and receive it from the service provider.
The entire concept of on-demand apps is to provide the service immediately without making users wait.
For instance, Uber is an on-demand taxi app that provides users with a taxi service within minutes.
Similarly, the doctor on-demand apps offer users medical services through a healthcare specialist within minutes. 
The following is the complete workflow.
1. Booking an Online Appointment with Doctors
The patient adds all of his personal and health card details.
The patient describes his symptoms by answering a few questions.
The patient can now either select his preferred doctor from the list of available doctors or let the app's algorithm search for the best doctor based on his symptoms and the type of care he is looking for.
2. Patient Onboarding
The doctor sends the digital intake form to the patient which he needs to fill before or during the online consultation.
Doctor and patient both can select the preferred communication method i.e., video call, voice call, or chat.
3. Video Consultation
Doctors can take patient notes besides video calls that are in process.
Doctors can take notes in customized templates or create a template from scratch.
The doctor has easy access to the patient's medical historic data, thanks to the pre-filled digital intake form and EHR/EMR integration with the app.
4. Medical and Lab Referrals
If specialized care and lab testing are required, the doctors can refer patients to labs, secondary care providers, or hospitals for more specialized care. 
Here, the app reduces burdens for doctors by auto-filling 80% of details in referral notes and ensuring it is error-free.
Read our useful resource on: Patient referral management software
5. Prescription
The doctor can explore the drug directory and write the prescription from the app itself. 
The app generates the PDF version of the prescription and saves it under the patient profile. 
The app shows patients the list of nearest or partnered pharmacies and asks patients to select a preferred one. 
Once the patients select a pharmacy, it asks patients to select between 'home delivery' or 'pick up'. 
Once selected, the app automatically sends a prescription to the pharmacy and the patients get a notification when the prescription is ready to pick up or delivered at the doorstep.
Read our useful resource on: Prescription app for doctors
6. Billing
Doctors can charge patients on the basis of pay-per-visit and the different fees for the first visit and follow-up visits.
With a built-in payment module, patients can pay the fee using several payment methods.
If a patient is insured or has a valid health card, he needs to add his insurer details which get verified by the app itself.
The built-in billing module enables doctors to submit the claim to the insurer or health ministry from the app itself.
Check out Canada's top doctor on-demand apps
Before going for doctor on-demand app development or uber for doctors app, you must study top similar apps already dominating the market.
Algo has a very useful feature. It allows patients to book an immediate appointment with the doctors and also lets them schedule an appointment.
Algo also acts as an online pharmacy and allows patients to order medication from the app itself.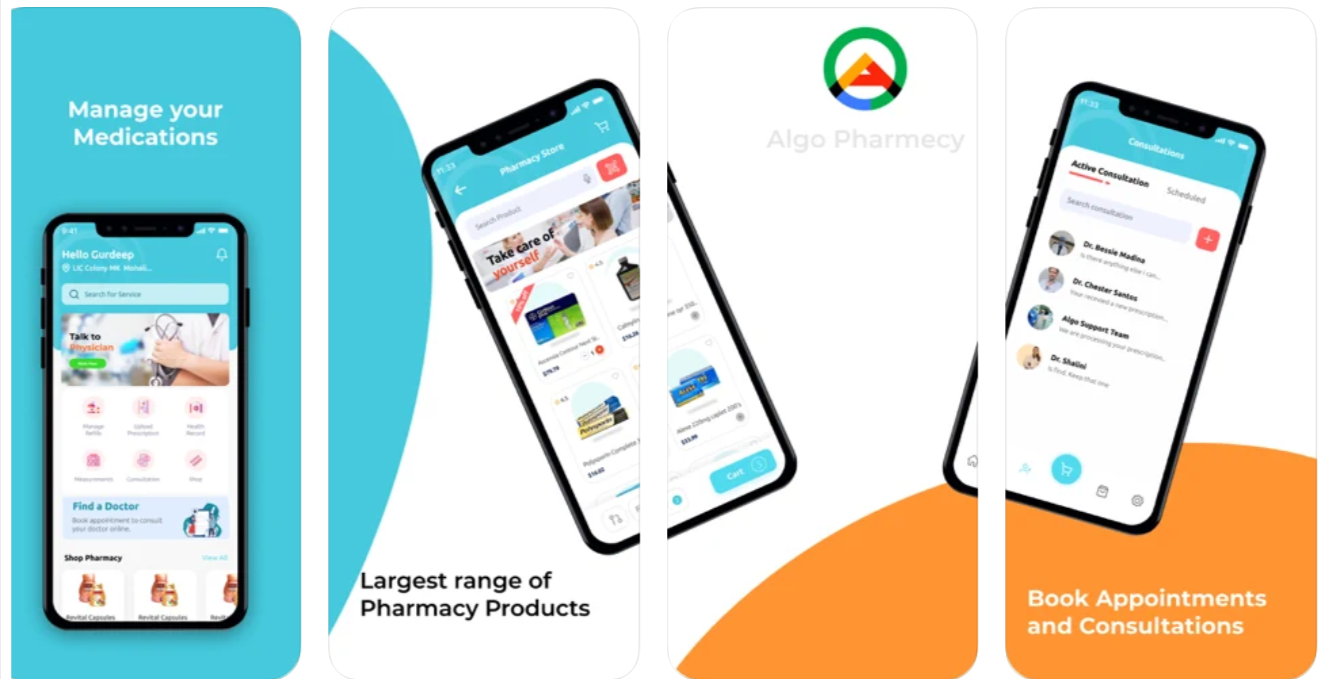 Read our detailed guide on: Develop ePharmacy app like Algo
Maple is one of the very popular doctor on-demand apps in Canada which was founded by the physician after sensing the urgency for rapid care and how technology can make it happen.
It is available in all provinces of Canada and also accepts several private insurances.
Talking about its pricing, it charges $49 per visit during the weekdays and $79 per visit during the weekends and public holidays.
It also offers family membership which costs $50 per month for up to 50 visits per year!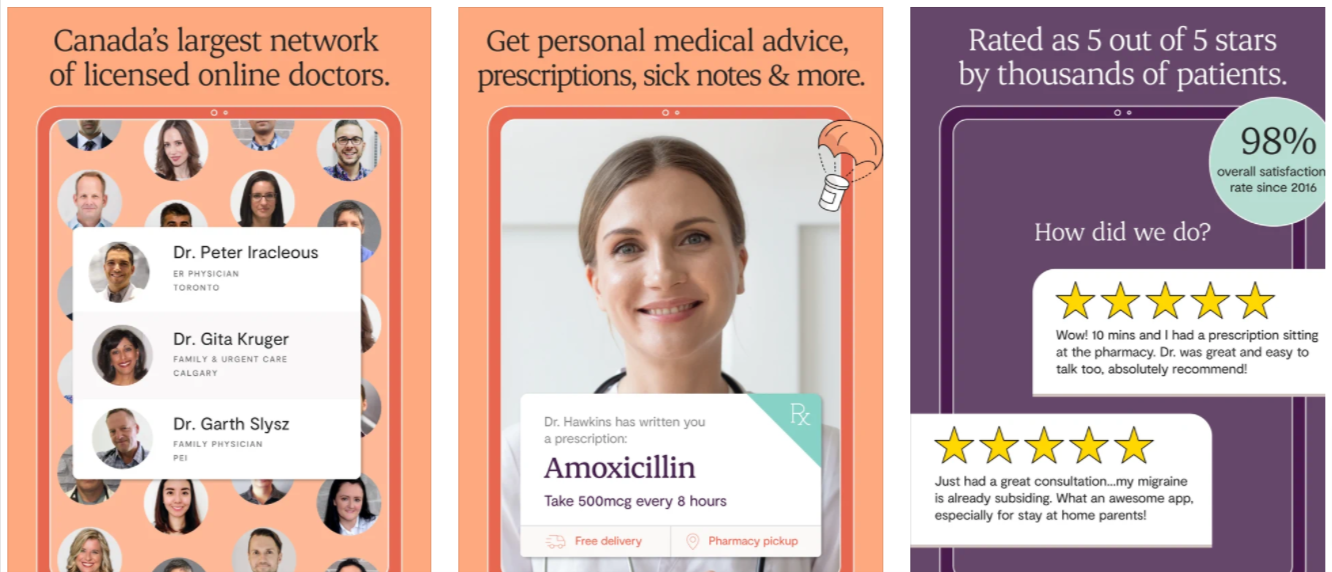 Read our useful resource on: Build mental health app like Maple
Teladoc claims that using its app, patients can talk to Canadian physicians within an hour. 
It offers 24/7 access to licensed physicians by phone, video or web.
On the Apple App Store, it has an average rating of 4.8 based on 767+ reviews in Canada.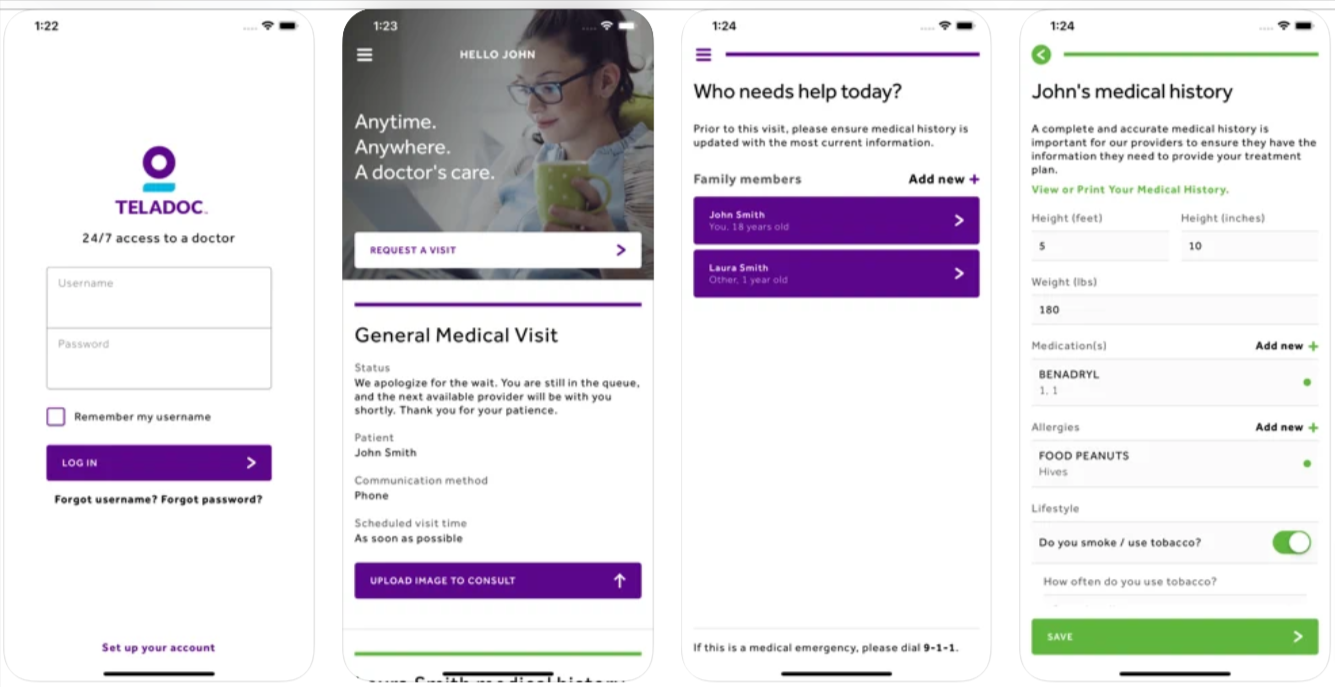 Read our guide on: Build app like Teladoc
Tia Health is a kind of doctor marketplace where patients can explore all available doctors and book appointments with the preferred one.
It also lets users book doctor appointments for others. However, it does not offer any app.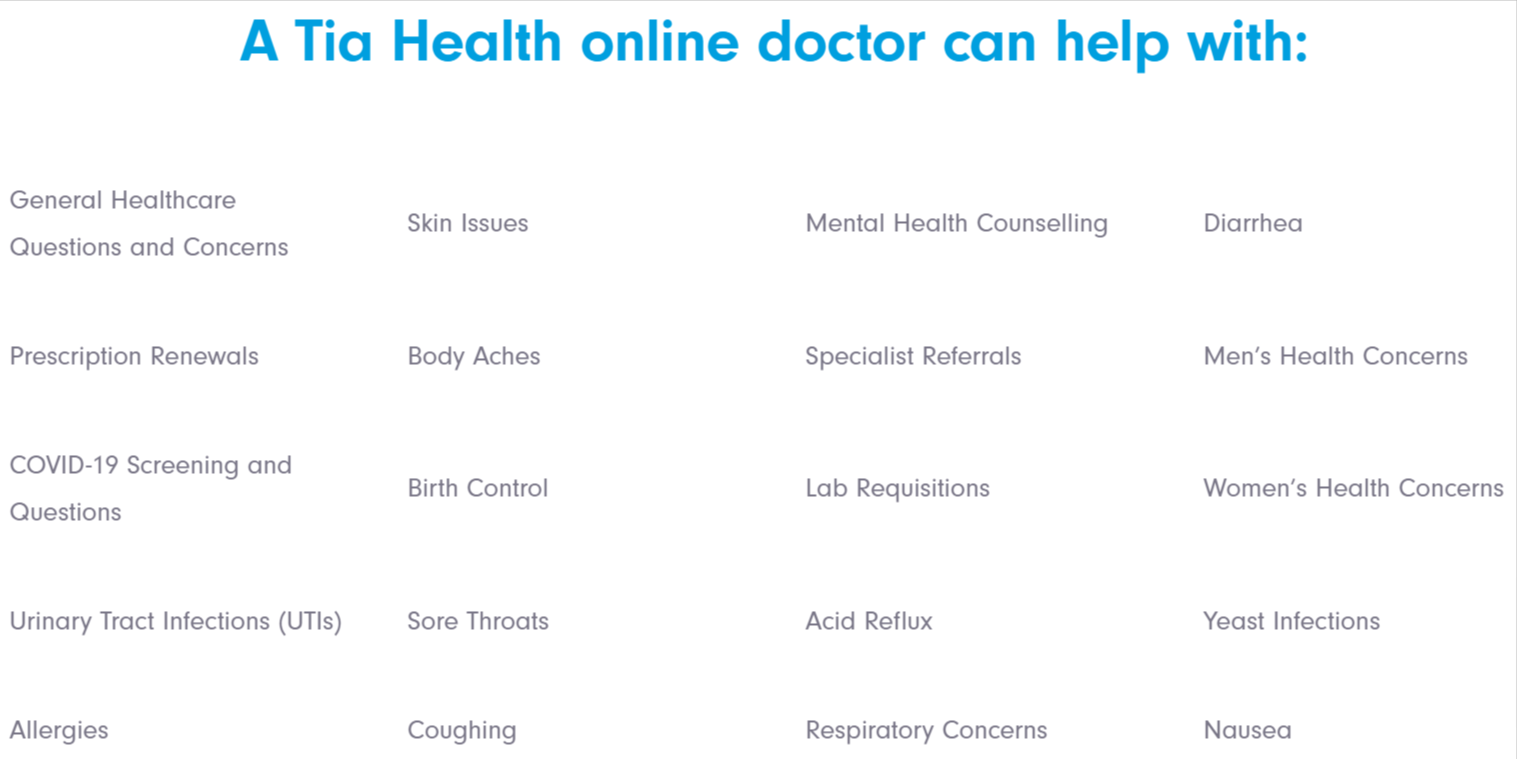 What industry experts have to say about doctor on-demand and virtual care?
This has been the game-changing care delivery model.
According to Deloitte, the investment in virtual care will be increased by more than 25% in the coming 5 years.  
These solutions aren't just limited to online care delivery. But they also widen the scope for implementing automation in clinics to eliminate tedious administrative work.
For instance, virtual assistants can handle appointment scheduling, prescription orders, and transcribing clinician notes automatically.
Following are the 5 ways virtual health will revolutionize the healthcare industry.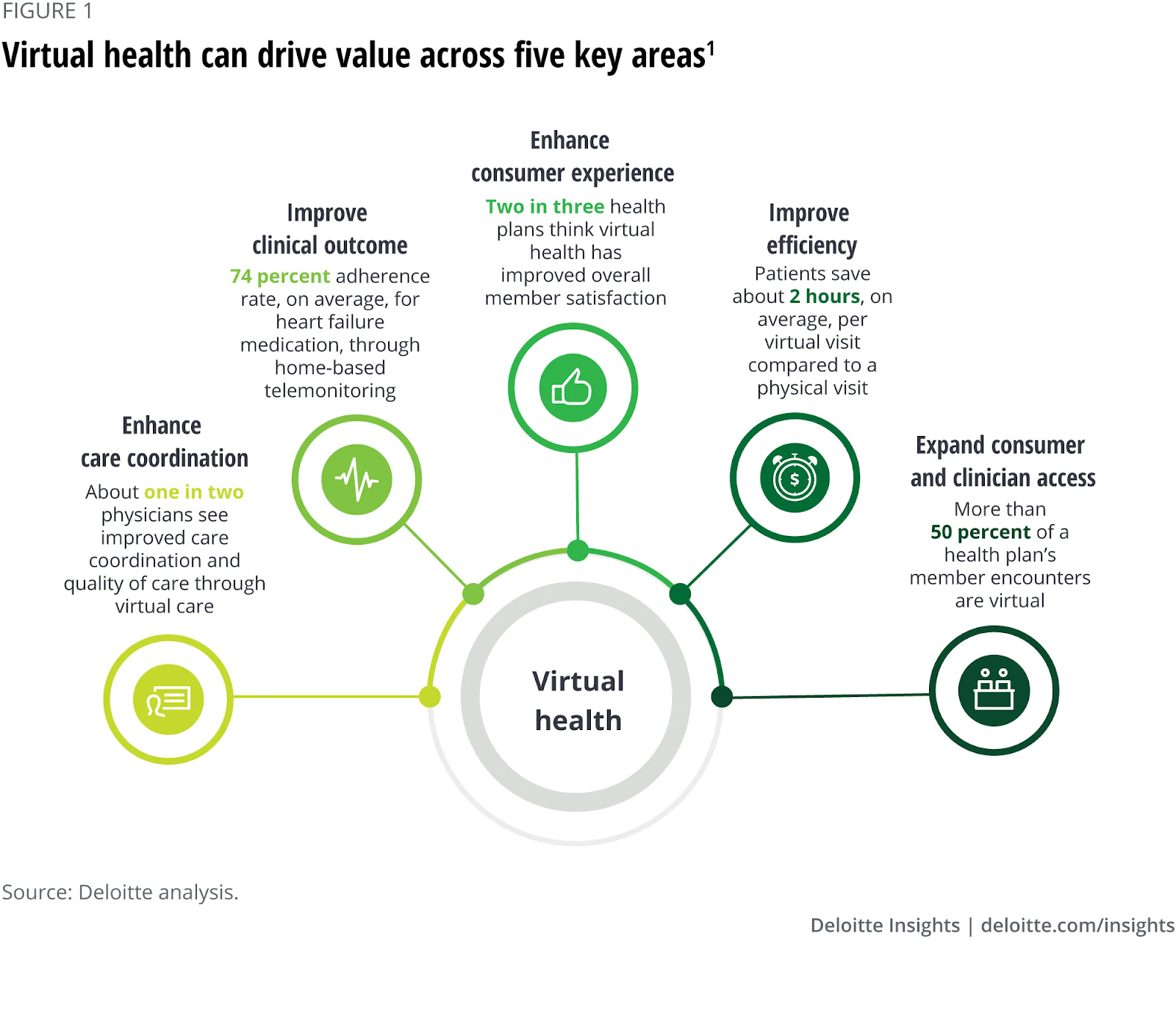 Deloitte also found that by 2040, the majority of healthcare & wellness providers and entities will shift to virtual care and on-demand models.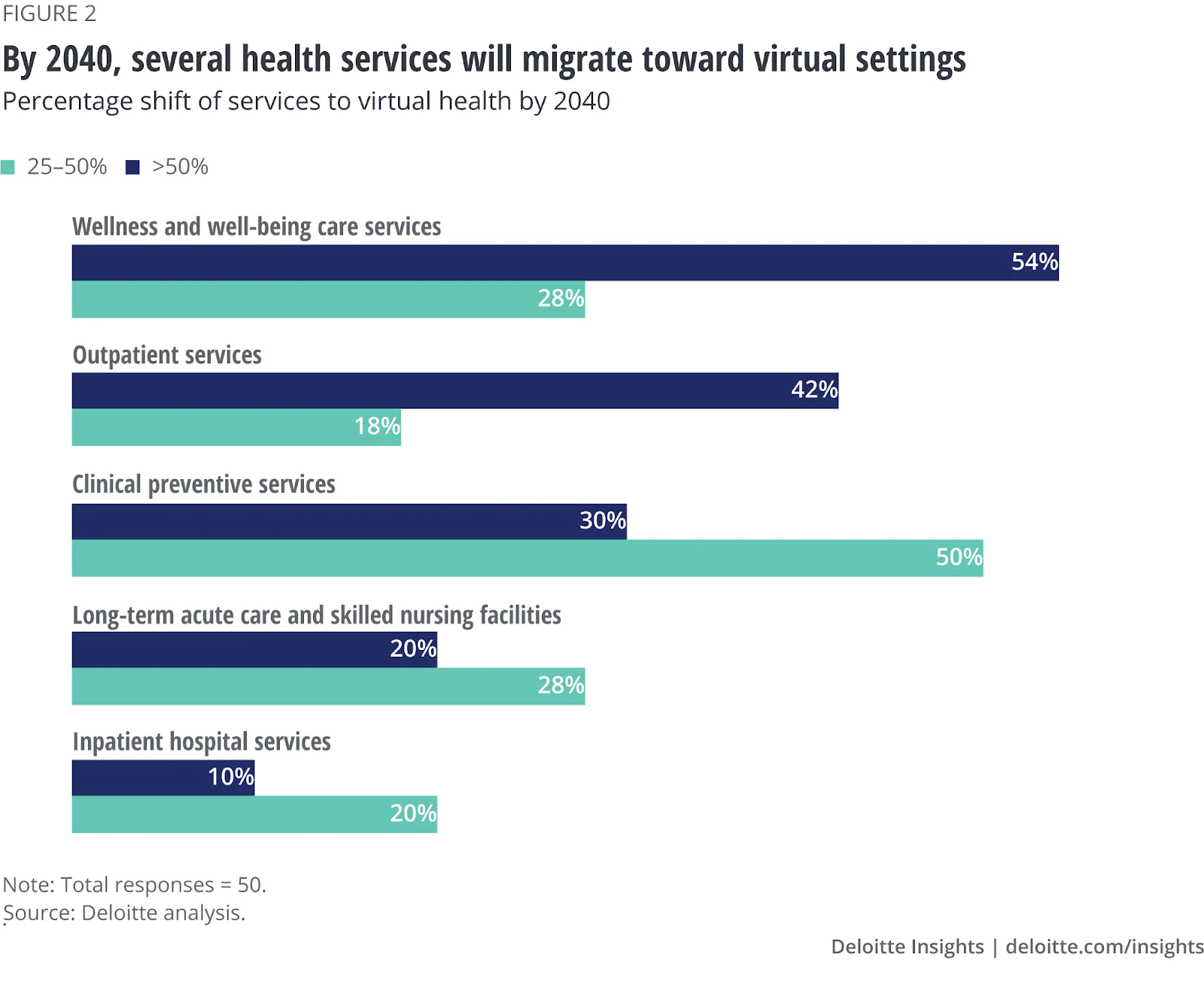 A detailed guide to doctor on-demand app development 
It is easy. All you need to do is solve technical, compliance, and business challenges associated with starting a doctor on-demand app startup.
So, our following guide will help you!
Technical Guide:
The best doctor on-demand app is all about rightly developed app modules and features.
But to achieve these features and app modules, you have to address the following technical challenges of on-demand doctor apps.
Video Calling, Chat, SMS API integration
Payment API integration
ePrescription module
Billing module for billing codes of different provinces
Health card number validation
Technical requirements of data privacy laws
Sophisticated matching algorithms
To understand this in detail, read our dedicated blog for - How to develop telemedicine app.
Compliance Guide:
Developing a compliant healthcare app or software is a major challenge.
Talking about Canada, there is a federal-level privacy law - PIPEDA, and several provincial privacy laws apply to your doctor on-demand platform.
These laws have several operational and technical requirements which you have to adhere to.
If you fail to comply with these laws, you will be liable for a hefty fine.
Following are some of the regulations.
Encrypt the data of patients once it leaves your internal firewalled servers.
Have a mechanism to confirm whether the data is altered or destroyed.
Only collect, use and disclose the PHI if the individual permits.
Do not collect, use and disclose information more than needed.
Read our guide on: PHIPA Ontario regulations.
Because of the compliance challenge, it is always advisable to hire a technical partner who is well aware of the Canadian data privacy laws. 
Otherwise, you have to hire compliance specialists from other sources which will increase your budget. 
Business Guide:
There is cut-throat competition in the virtual care or doctor on-demand market.
With new products, it will be difficult for you to survive if your product lacks novel features and does not target the exact needs of the patients.
Following are two business advice our business experts would like to give you!
Don't just limit to the online consultation. Integrate online pharmacy and healthcare eCommerce to sell drugs and wellness products from the same app. This will allow patients to get everything from a single platform and allow you to generate extra revenue streams. 
Try out some new ideas with your doctor on-demand app. You can try out Tinder-like functionalities where patients can explore doctor profiles by swiping left and book an appointment by simply swiping right on a doctor profile. 
A very useful resource: Telemedicine startup 
Top features you can include in the doctor on-demand app development or uber for doctors
To sustain a great market presence with uber for doctors, you must focus on the features of the app.
So, here are innovative features for your doctor on-demand app development.
Features for doctors:
Doctor profiles
Speech recognition
Appointment management
Mass messaging
Faster and easy access to patient health records
Appointment reminder
Connect over chat, voice, and video call
Medical notes
Sick notes
e-Prescribing
Analytics
Appointment history
Billing and invoicing
Track earning
Technical support
Features for patients:
Dashboard
Symptoms checker or tracker
Appointment booking
Appointment reminder
Medication tracker
Medication reminder
Share health records
Communicate via chat, voice call, and video conferencing
Appointment history
Secure payment
Feedback and review
Technical support
Reasons to integrate EMR/EHR with uber for doctors
Things perform exceptionally well when you integrate!
EMR/EHR integration with doctor on-demand app development enables you to easily access the patient's medical data from the EMR/EHR and vice versa.
It's essential as,
It lowers the chances of manual errors.
Speeds up the care delivery process
Healthcare professionals don't need to operate two complex systems at the point of care
We integrate uber for doctors with EMR/EHR as per your exact requirements.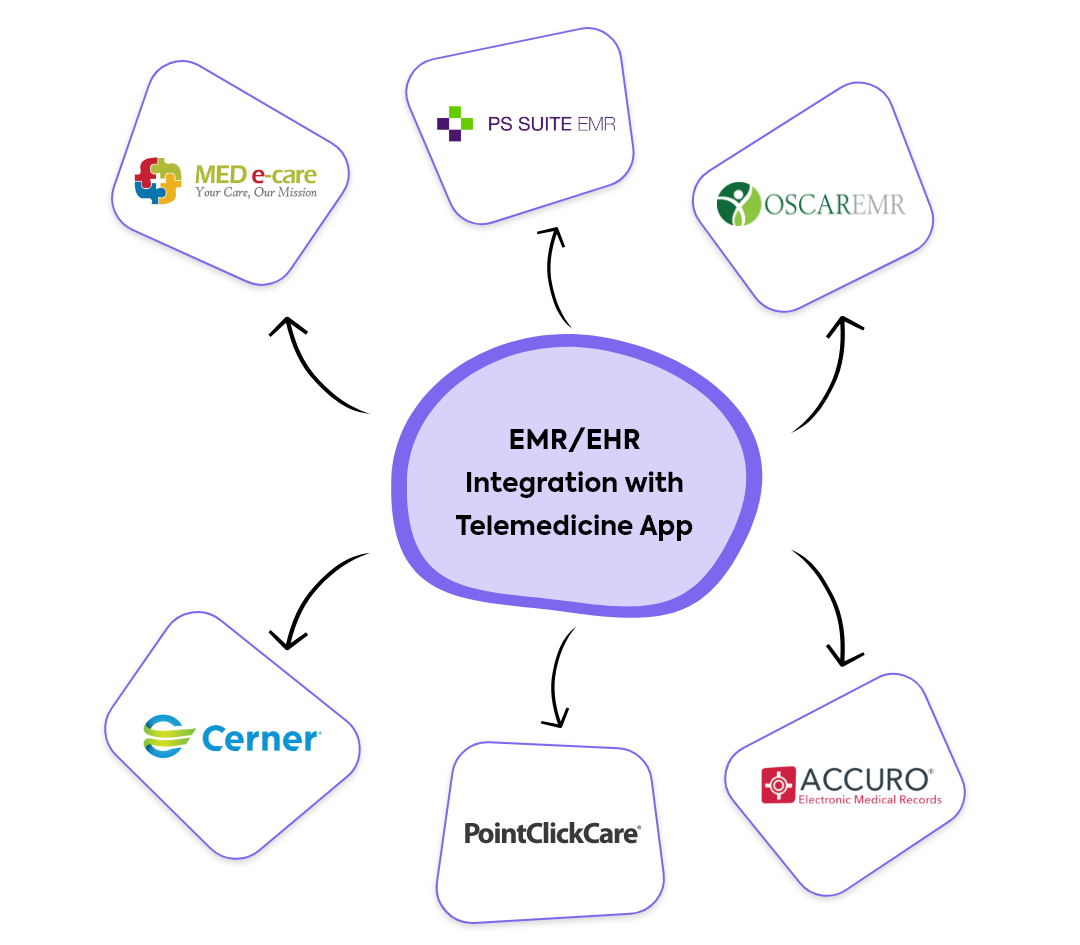 Custom Vs white-label Vs MVP doctor on-demand app development. What to choose?
As a healthcare-focused IT company, this is the most commonly asked question.
And here are the simple answers to it.
Pick custom when,
Have high investment capital
Wants more flexibility and scalability
Have long time window
Have more unique needs
Pick white-label when,
Have fewer unique requirements
Have less time window
Just want modification and rebranding
Pick MVP uber for doctors development
Have a low investment capital
Want to launch the app in the less time
Want more user-friendly mobile or web app
Check out our white-label doctor on-demand mobile and web platform
We are an Ontario-based healthcare-focused IT company. We have been proactive in the virtual care market for 7 years.
And because of industry-specific knowledge and experience, we are limitless when it comes to doctor on-demand or telemedicine.
With our healthcare app developers, designers, business experts, and compliance experts, we develop custom as well as clone doctor on-demand platforms.
We also provide an outstanding white-label doctor on-demand solution that is compliant with all data privacy laws including HIPAA, PIPEDA, PIA, PHIPA, etc.
These are some of its real screenshots.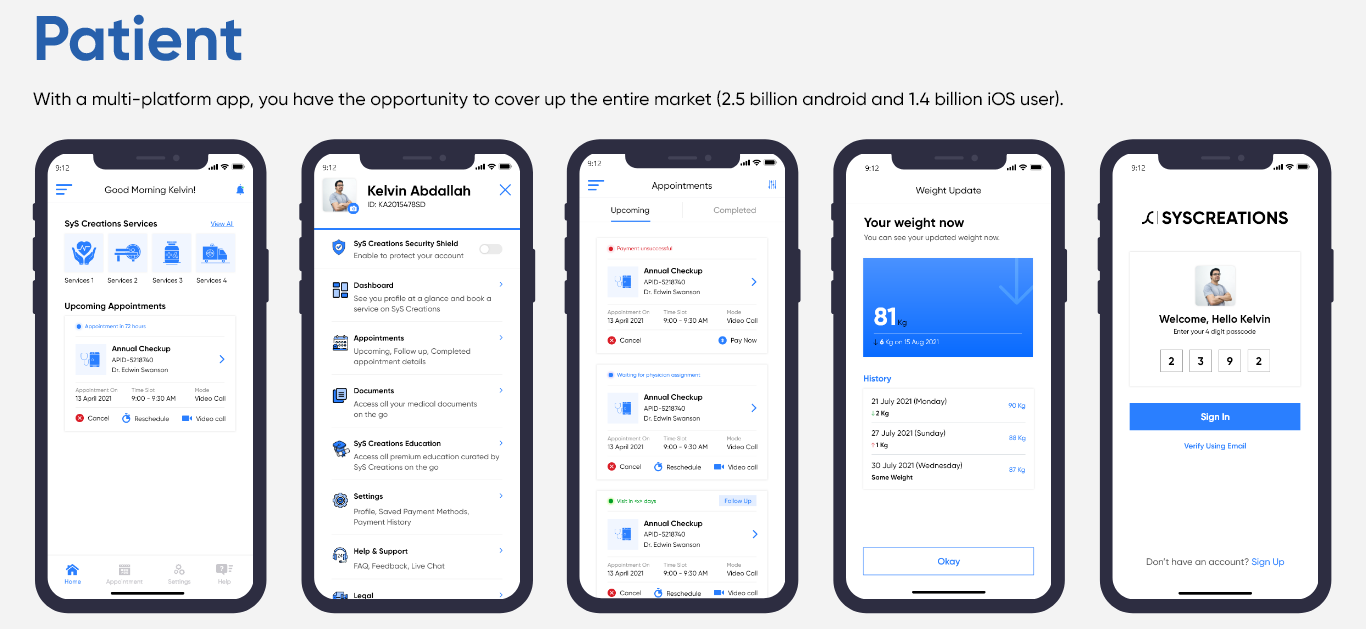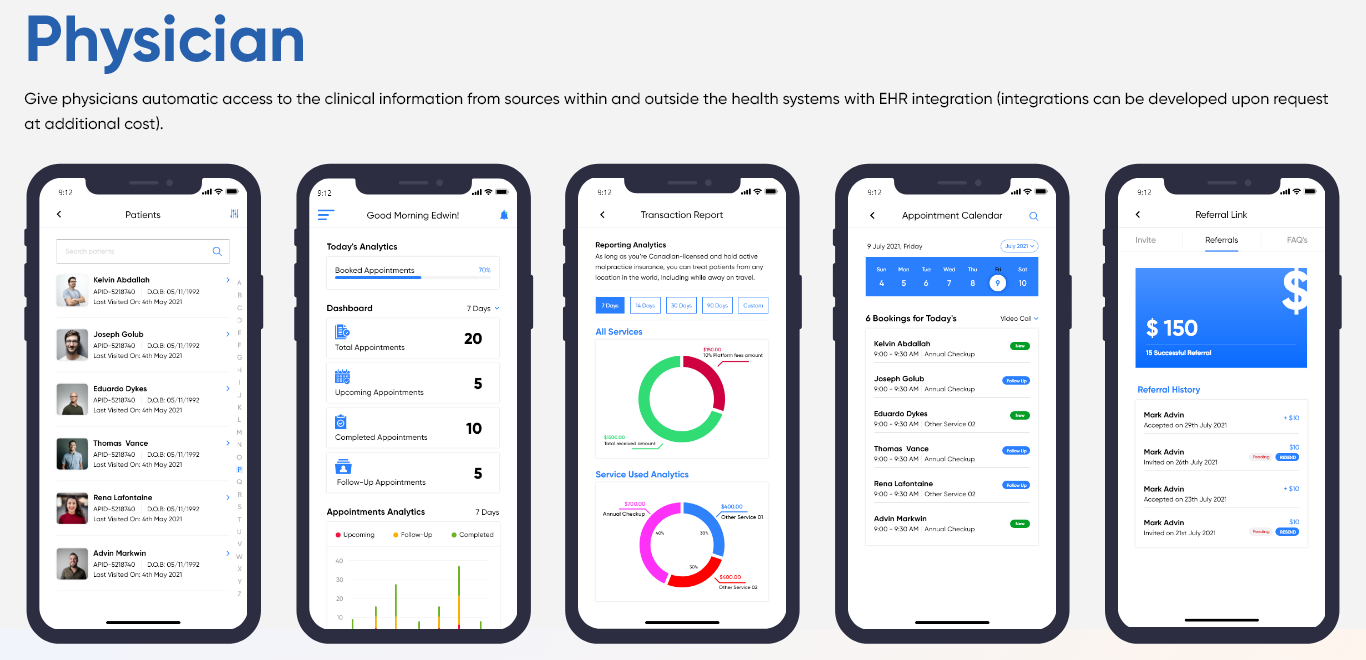 The reason why we always deliver success to our healthcare clients is that we're local experts and understand the Canadian healthcare system, market, and people! 
And because of that, we prepare the strategy and build products that directly influence every Canadian's life!
Not looking for white-label solutions and want to build a custom one?
We accommodate a force of healthcare app developers, UI/UX designers, business analysts, QA engineers, and compliance specialists who can build your telemedicine app from zero while keeping your specific needs in mind.
The following is our complete healthcare app development cycle.