Where is the Biggest Opportunity in Telehealth?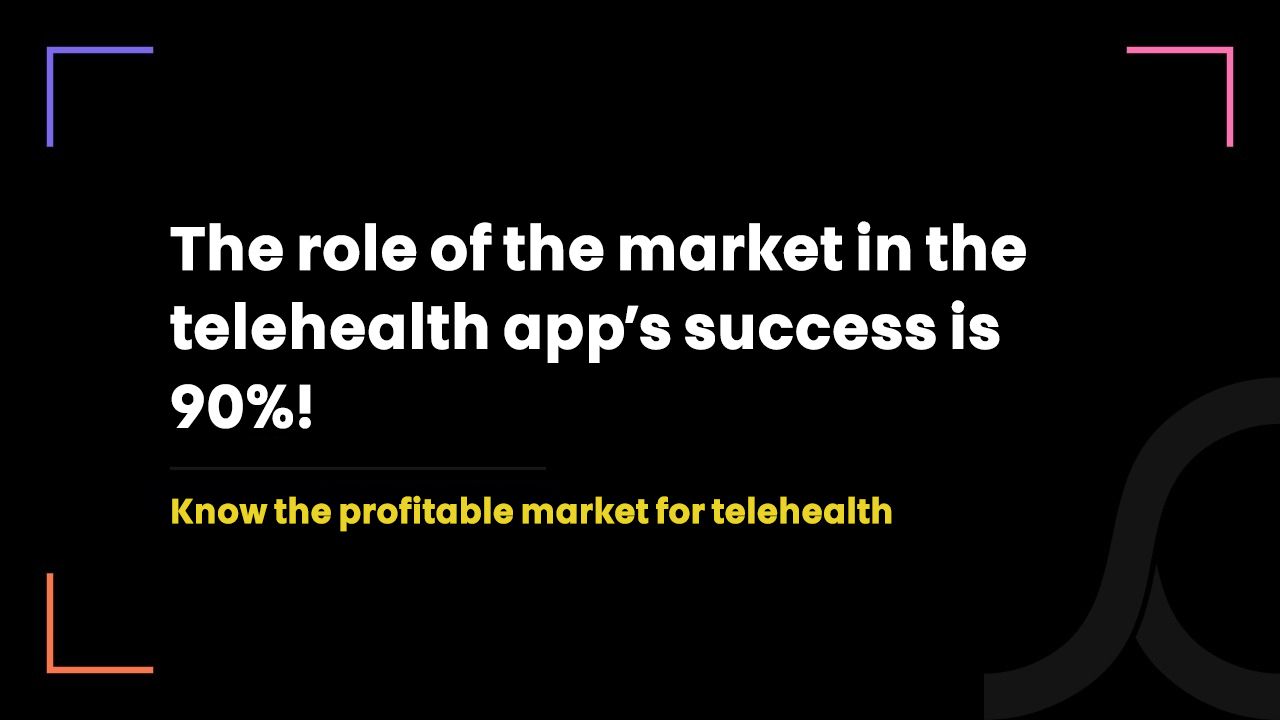 2 years ago
Telehealth is emerging as the most useful and life-saving healthcare technology during the pandemic.
But at the same time, it is emerging as a commercially successful business model as well.
Due to affordability, ease and rapid care it provides, more patients are preferring televisits over in-person visits with physicians.
And here lies the telehealth business opportunities.
Why is Canada a telehealth business capital?
The biggest telehealth business opportunity depends on the country's healthcare system, compliance requirements and market competition.
So, with regards to these factors - let's discuss why Canada is the best market for telehealth.
Canada's Healthcare System
In Canada, there is a universal healthcare system that ensures free care delivery to all patients.
However, the universal healthcare system run by the government comes with the major consequence which is long wait time or delayed care.
Thus, people with a good financial background opts-in more for private healthcare providers to get instant care without waiting.
And with telehealth solutions, healthcare providers - both private and public - can offer more rapid care to Canadians.
Don't miss to read this: How the healthcare system works in Canada? 
Healthcare in Canada is a highly regulated industry.
A federal-level data privacy law - PIPEDA - and several provincial-level data privacy laws apply to a telehealth platform.
The only goal of these laws is to protect the privacy of patients' data stored by telehealth apps.
Each law has many technical, operational and business requirements which should be fulfilled to be compliant with that privacy law.
These requirements are surely complicated.
But a telehealth startup can always hire a compliance consultant to fulfill all of the applicable laws' requirements. 
Needless to say that the chances of getting success with any new product decrease dramatically if the market has already been explored by many players.
In Canada, there are a few players dominating the telehealth industry.
But there is yet a large room remaining untouched from where a new telehealth startup can easily find the consumers and thrive its telehealth business.
Additionally, with well-defined business models, strategies and unique & useful features than competitors, the new telehealth startup can easily outperform others.
Government's Support for Telehealth
The success of any business in any country highly depends on the governments' interest and policy for that specific business.
The Canadian government seems very fascinated by telehealth.
In the major 3 provinces - Alberta, Ontario and B.C., the health card covers the televisits through the telehealth platform.
Not only this but in Ontario, the government runs its own telehealth program and during the first wave of coronavirus, the government has invested millions in virtual care.
Geographical Challenges to See Doctors
Canada has the world's one of the most difficult terrains and has a very large geographical area.
In many provinces and territories such as Nunavut, Northwest Territories, Manitoba, people are living in small communities hundreds of kilometres away from hubs.
To get access to healthcare services, they need to either travel by unpaved roads or via some regional airlines.
Here, only virtual care solutions assure timely access to care with no requirements of leaving home for seeking healthcare services.
People living in remote areas can talk to specialists sitting in Toronto or Montreal and get e-prescription within minutes.
Because of all these positive signs we are witnessing in the Canadian market, Canada has the biggest opportunity in telehealth.
Telehealth Business Opportunities in Canada (Suggested By Our Business Experts)
Being the telehealth tech experts, we are more interested in innovative telehealth business ideas rather than the typical video-call-based telehealth app.
Telehealth Integrated with Pharmacy
At the end of 80% of televisits, the physician writes the e-prescription and the patients need to get it from either an online pharmacy or physical pharmacy store.
Either way, patients face inconvenience as the first option requires a new user journey on the new app and the second option requires a visit to a pharmacy store.
If a telehealth app supports an online pharmacy, the patients get the medical consultation, prescription and medical drugs from the same platform.
This not only enhances user experience but creates one new revenue stream.
The idea of telehealth integrated with pharmacy stores is so profitable that even online pharmacies are adding telemedicine features into their app.
PocketPills is the best example here. 
Telehealth + Healthcare eCommerce
Many times, the physician suggests over-the-counter medicines which do not require any prescription.
Moreover, they sometimes suggest wellness products and medical devices for home healthcare.
So, by integrating healthcare eCommerce solutions with telehealth platforms, telehealth startups can enable patients to get medical consultations and healthcare products from the same platform and very easily.
With a healthcare eCommerce platform, the startup can sell personal care products, medical devices, workout food, supplements, perfumes, skincare products, oral care products etc.
USA-based two unicorn telehealth startups Ro and Hims & Hers follow the same strategy - selling wellness products from its telehealth platform. 
Telehealth for Dedicated Medical Specialty
With patients selecting televisits over in-person medical meetings, the different medical specialties are switching to a virtual care delivery approach.
However, there are very few specific telemedicine solutions for individual medical specialties.
And thus, healthcare providers don't have any choice rather than using general-purpose telemedicine solutions.
But these general-purpose telehealth solutions are developed by following the one-size-fits-all approach.
It does not satisfy the unique needs and clinical workflows of specific medical specialties.
As a result, the healthcare professionals cannot use it to its full potential and cannot provide quality care with great patient outcomes.
You can consider developing a dedicated telehealth platform for the following medical specialties.
We can help you with telehealth tech and compliance to claim high ROI
We're Ontario-based telehealth tech and compliance experts.
We accommodate app developers, app designers, business experts and compliance consultants who all work together to fulfil all your business and financial goals.
With our in-house compliance consultants, we ensure to deliver only compliant telehealth mobile apps.
We develop clone, custom and offer white-label telehealth solutions with EHR/EMR integration of your choice.
We have been practicing in the Canadian healthcare industry for more than 7 years and have earned ultimate authority and mastership.
On the concluding note, we would like to share our brilliant case study on telemedicine app development.
We would also like to share the screens of a telemedicine app we developed recently.