Virtual Menopause Care App: An Idea that can Save Global Economy by $150B Annually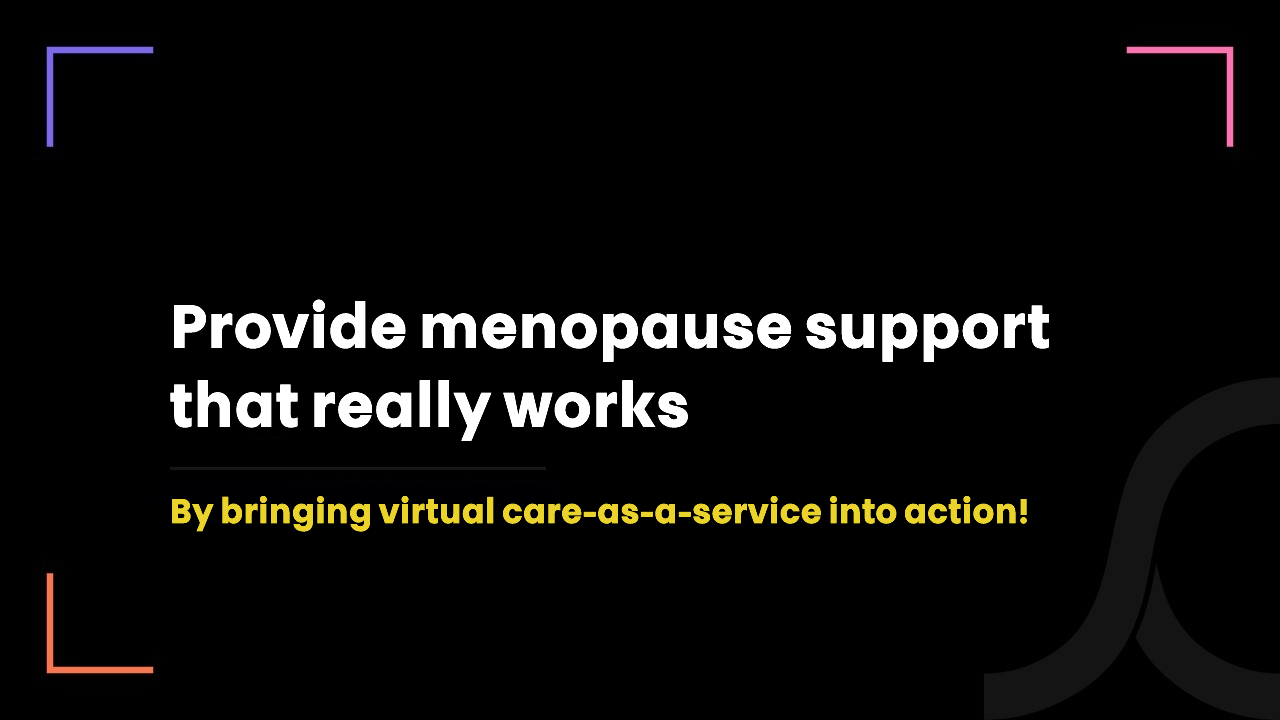 10 months ago
This blog is going to be lit!
Because after reading this article, you'll understand the positive impact of virtual menopause care and its huge market potential with high-profit margins!
What inspired us to write on virtual menopause care?
There are 3,904,727,342 females, which is around 49.58% of the world's population.
And once in a lifetime, they go through a most challenging phase which is – menopause.
But what is more challenging is that; not every woman gets the care they deserve.
And it not just impacts their personal life but also their professional life too.
For example,
95% of businesses recognize that menopause negatively impacts work
1 in 10 women leave their job because of menopause Symptoms
59% of women have taken time off work because of menopause Symptoms
But with virtual menopause care, you can easily provide comprehensive support to help women manage their every menopause symptom with ease.
How does a virtual menopause care app or platform work?
There are multiple ways to provide online menopause care with an app.
1. One-to-one virtual consultation
It's like telemedicine for menopause care!
Using it, women can easily find and connect with menopause experts – at any time, from anywhere – for their various symptoms queries, prescription routines, diet plan, etc.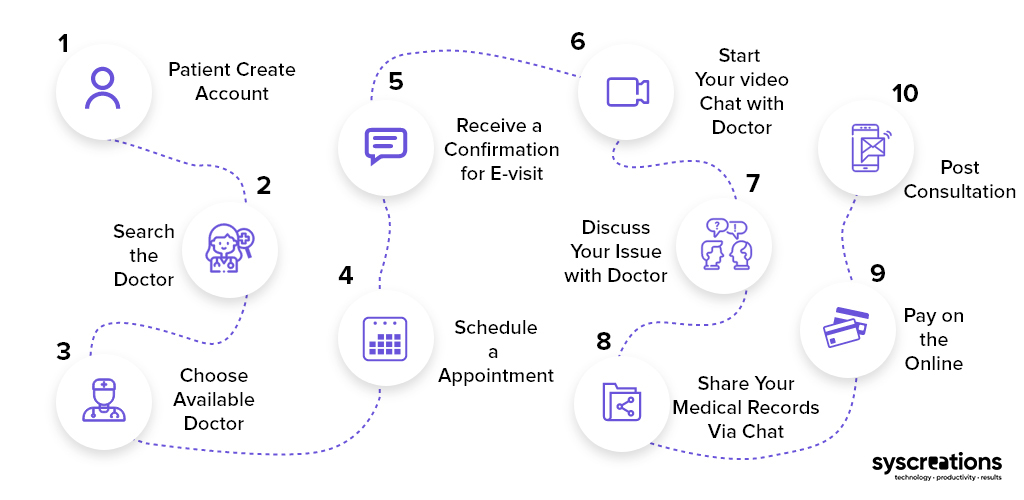 2. On-demand chat with an expert
Menopause symptoms are not just limited to physical health but also impact mental health poorly.
Because of that reason, it also requires comprehensive mental health support.
For that, an app allows females to get on-demand chat support from an expert – at the touch of a button!
3. Expert-created resources
This is one of the best things about the virtual menopause care app.
Because it allows women to manage their menopause symptoms more effectively and efficiently with curated articles, videos, audio, etc.
4. Symptom tracking
This adds an extra layer of convenience to menopause care.
Because it allows users to add their symptoms so that they can track, monitor, and improve their overall well-being with fewer efforts.
Our other useful resources:
Which menopause care solutions you can offer with the app?
In one sentence – almost everything.
For example,
Whom you can support with telemedicine app for menopause care? 
If you want to start a virtual menopause care solution – you can target two market segments at once.
1. For individual users
The menopause transition often begins at the age between 45 and 55.
And it's not that much easy for individual women to get easy access to care.
By focusing on individual users, you can easily support women but can also help individual practitioners under the same roof.
Because,
It'll help the women to get easy access to menopause care by virtually connecting with local practitioners or experts.
It'll help menopause care practitioners to expand their services beyond their organization.
2. For enterprises
As per the Menopause Charity, "almost 14 million working days each year are lost due to menopause."
And it impacts the global economy by around $150 billion annually.
But with the idea of telemedicine for menopause care can reduce this number by up to 50-70%.
You can partner with small, medium, and large enterprises to provide virtual menopause care to the workforce.
For example,
Northwell Holdings and Aegis Ventures is going to launch a new virtual care app Upliv that will help enterprises to provide menopause care solution with certified experts.
And it is estimated that it will raise around $8.4 million in seed funding.
Northwell Holdings and Aegis Ventures are joining forces to launch a new virtual care startup aimed at helping better manage menopause.https://t.co/GB7whZ3mTC

— FierceHealthcare (@FierceHealth) November 11, 2022
The real impact you can leave with an app for virtual menopause care
1. Better physical health
Women with menopause commonly observe several physical health issues due to the decline in reproductive hormones.
Fatigue, muscle pain and hot flashes are common examples of it.
This impacts their both personal and professional life.
But with proper treatment, diet, and exercise plans, you can support women to deal with all their physical challenges.
2. Better mental health
The hormonal changes directly impact the mental health of women.
Poor sleep, anxiety, mood swings, and depression are a few examples of it.
But the app allows women to get emotional support in real-time over chat or video conferencing.
3. Social health
There is no doubt that menopause impacts close relationships.
Because men fail to understand the physical and mental pain the women are facing in the menopause phase.
However, with an app, you can also provide 5 to 10 weeks menopause programs that include education on menopause, managing the symptoms at home, diet and nutrition tips and much more.
How you can make money with the virtual menopause care app or platform?
As we said earlier, there are two market segments you can cover.
And for each of them, there are mainly two business models.
Monthly and yearly subscription plan
So, let's do some basic math for it.
You are running a virtual menopause care service with a pricing of $50/month.
Under this subscription plan, you are providing physical and mental health solutions, prescription notes and personalized diet and nutrition plans.
So, let's assume that a woman requires a minimum of 6 months of support when entering the menopause phase.
Meaning, she will pay you a total of $300 for that 6 months which is your overall revenue from a single user.
And let's consider that your overall operating and acquisition costs for a single user are around $150 (which is much higher than normal).
That means, your profit will be $150 from a single user.
Now let's consider that you have 1000 users for those 6 months.
So, your revenue for those 6 months will be $300,000.
But let's consider that you spend half of the revenue on operating and acquisition costs.
Still, you will make a profit of $150,000!
And remember, your overall revenue depends on how many females are using your platform.
Meaning, the key to generating more revenue is – acquire more and more users!
Want to start virtual menopause care services with an app? Know how we can help
We are an Ontario-based healthcare-focused IT company.
And for the past 8+ years, we have successfully delivered more than 15 women's health tech solutions for startups, enterprises, organizations and individuals.
Meaning, we completely understand every ins and outs of women's health needs.
And we know that it's not easy for everyone to go for custom app development due to the low capital to invest and time-to-market.
So, by putting together our business, technical and compliance expertise and experts, we recently launched a white-label telemedicine app!
An overview of our white-label telemedicine app for virtual menopause care
First, it's a white-label platform.
Meaning, it's a ready-to-use platform that we customize as per your branding, functionality, usability and workflow requirements.
And we have built it by involving 30+ Ontario-based women's healthcare specialists in the development process.
Because we always aim to deliver a product that is reliable and easily fits into any complex needs.
And here is a real-screen image of our white-label telemedicine app.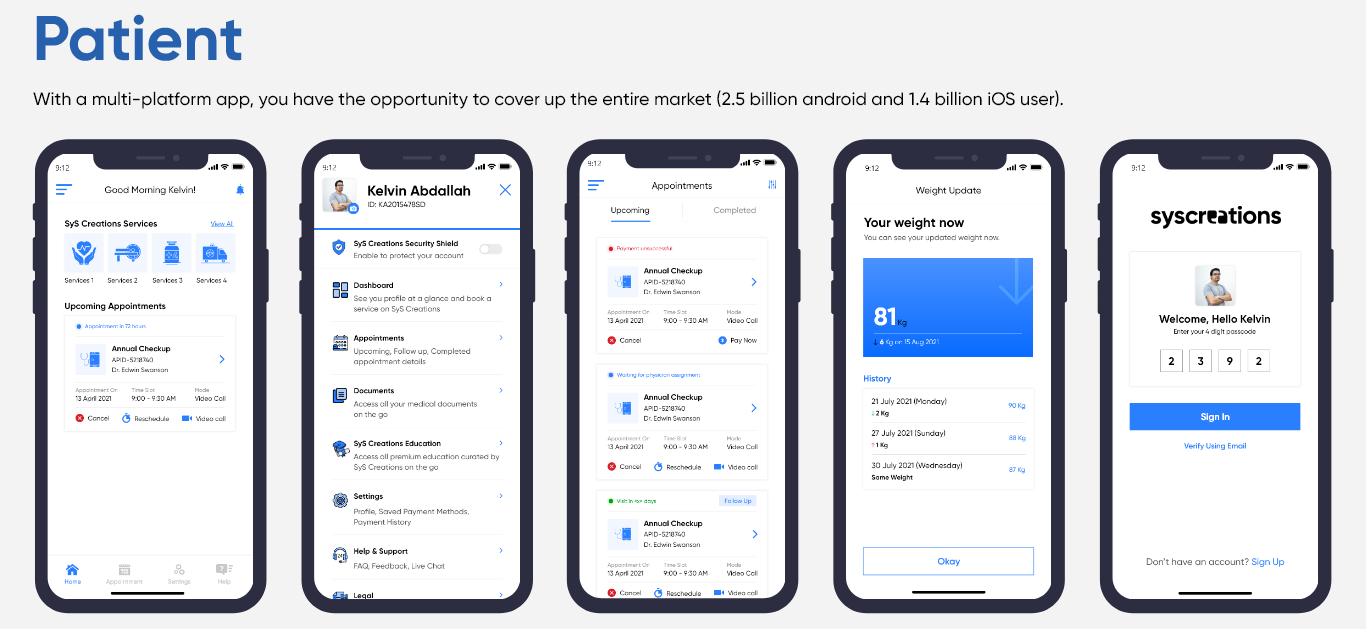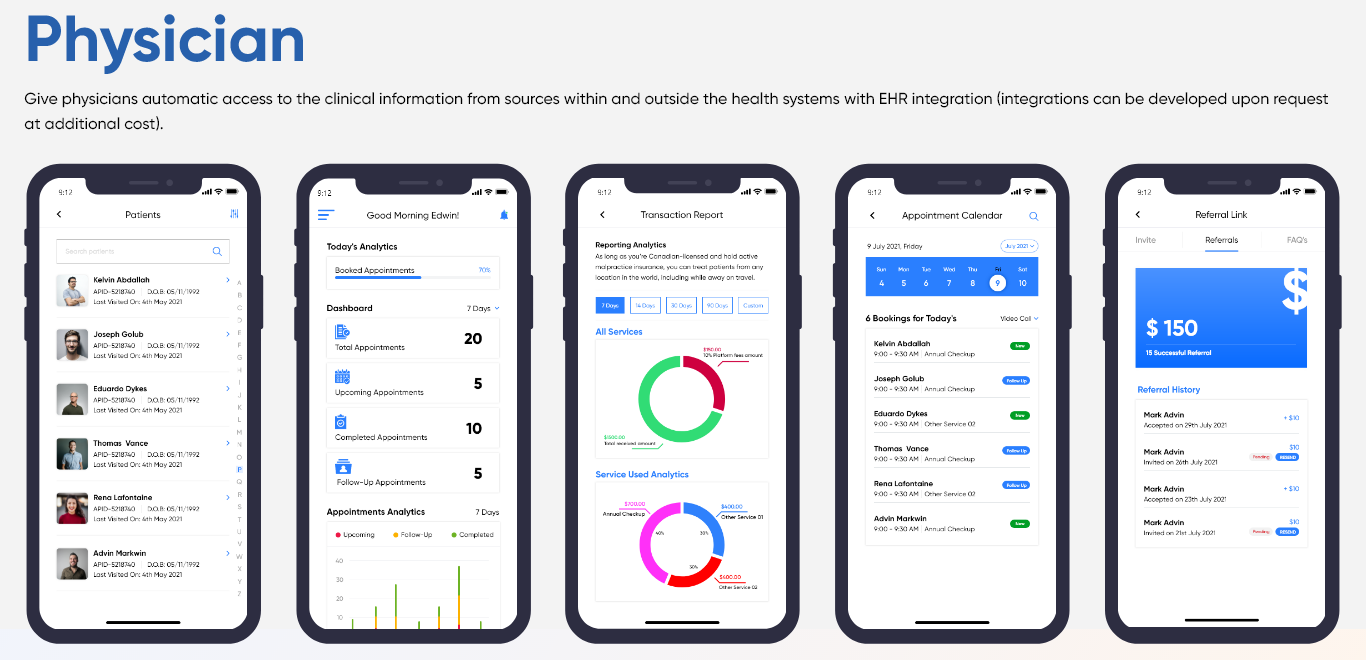 Things that make it the best HIPAA-compliant telehealth platform in the market.
It's also PHIPA, PIPEDA, GDPR and HITECH compliant platform.
It has a user-friendly interface.
Allows seamless integration with EMR/EHR, IoT or wearable devices, HIS, LIS etc.
Customize it as per your unique needs
No monthly or yearly fees. Just pay one-time licensing fees.
Lifetime usage rights for an unlimited number of users
HIPAA-compliant built-in FAX solution
Our other useful resources:
Top features of our white-label app for menopause care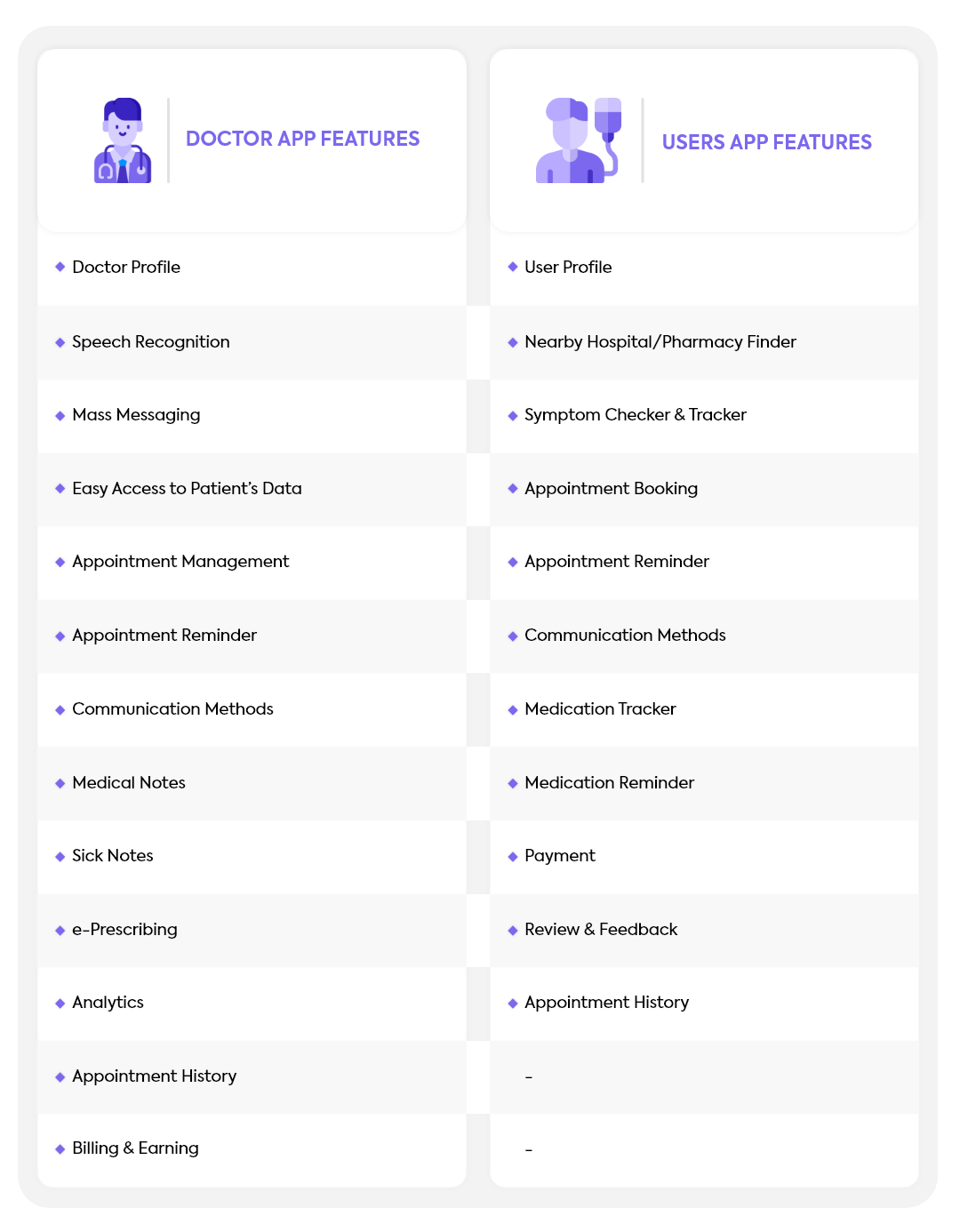 How to start virtual menopause care services with our white-label telemedicine app?
It takes only 6-steps to start an online menopause care solution.
Step 1: Fill up the contact form.
Step 2: We'll connect with you within 2 to 4 hours of time.
Step 3: We'll give you a live demo of the product along with its cost.
Step 4: If it suits you, we'll listen to your customization needs for – branding, usability, functionality and workflows.
Step 5: Our healthcare-specific developers' team will customize the entire product as per your needs.
Step 6: Now we'll perform QA testing in order to remove all the bugs and errors.
And this entire process will not take more than 60 business working days!
3 FAQs on the virtual menopause care app
1. Is it only limited to physical health needs?
No.
You can also provide mental health and well-being support for stress, anxiety, depression and poor sleep.
2. Can I integrate the app with any other health tech software?
Yes. You can!
In fact, integration is the key to improving patient care outcomes while at the same time reducing – medical errors and operational time and costs.
3. Is a menopause app a great option for businesses?
Undeniably, yes.
Because it helps them provide comprehensive support to their women workforce so that they can work to their fullest potential.