The Surge in the Pharmacy Management System Growth | 2023 – 2030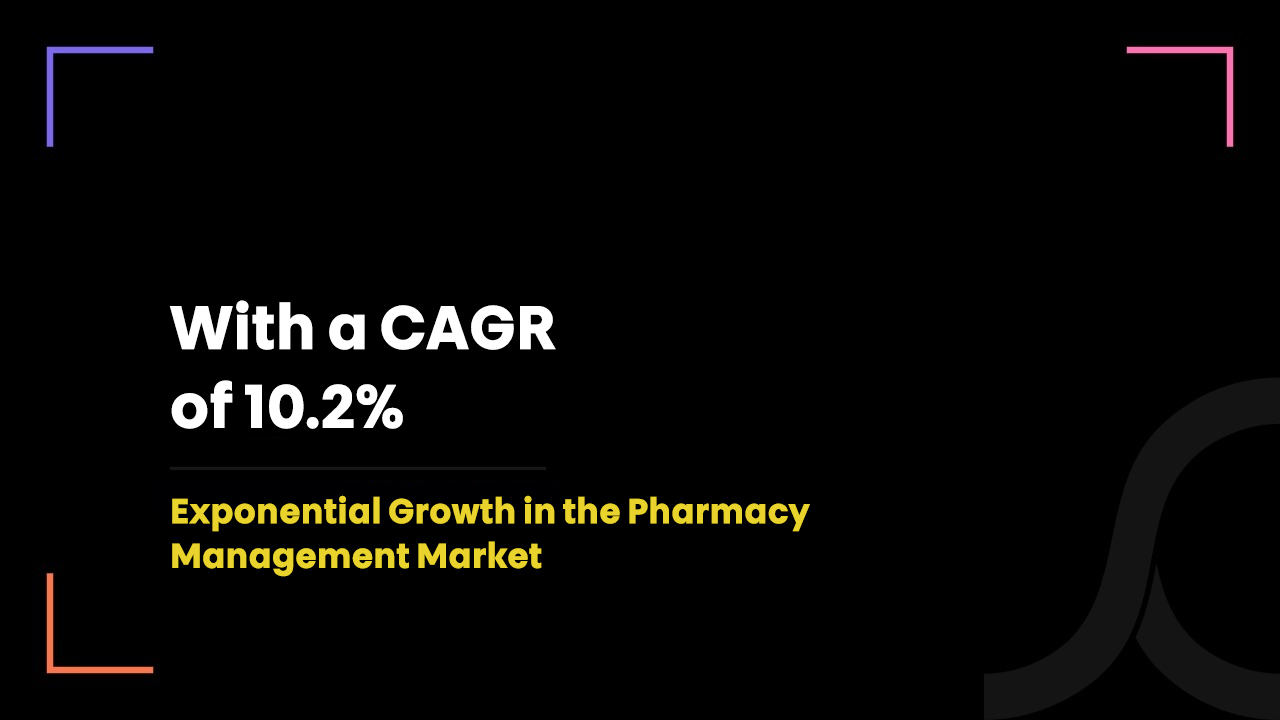 3 months ago
The pharmacy industry ensures the safe and efficient delivery of medications to patients.
With the growing complexity and volume of pharmaceutical data, the need for advanced technology solutions has become paramount.
Pharmacy management systems have emerged as essential tools to streamline operations, enhance patient care, and optimize overall efficiency.
The Expanding Pharmacy Management Systems Market
According to a recent report, the global market size of pharmacy management systems is $58.2 billion in 2023.
The market is expected to grow at a CAGR of 10.2% and reach $114.66 billion in 2030.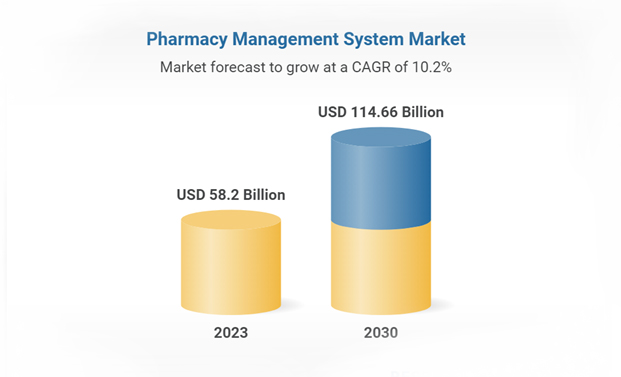 This remarkable growth can be attributed to several factors, including
The increasing adoption of digital healthcare solutions
Rising awareness about patient safety
The growing need for efficient medication management
One of the primary drivers of this market expansion is the rapid advancement of technology in the healthcare industry.
A significant contribution to the market's growth is by
The digitization of medical records
The emergence of electronic prescribing systems
The integration of pharmacy management systems with other healthcare platforms
Additionally, the increasing emphasis on patient-centered care, along with stringent regulatory requirements, has triggered the adoption of pharmacy management systems globally.
Types of Pharmacy Management Software
1. Dispensing Systems
These software solutions automate the process of medication dispensing, ensuring accuracy, reducing errors, and enhancing patient safety.
Dispensing systems help pharmacists
Manage prescription orders
Maintain inventory
Provide comprehensive medication information
Advanced features may include barcode scanning for efficient dispensing, automated labeling, and integration with electronic prescribing systems.
2. Inventory Management Systems
Efficient inventory management is critical in pharmacies to
Minimize wastage
Track stock levels
Ensure the availability of medications
Inventory management software enables pharmacists to effectively
Manage expiry dates
Monitor stock movement
Some systems may also offer predictive analytics and demand forecasting capabilities to optimize inventory levels.
3. Patient and Billing Management Systems
These systems streamline patient information management, including
Prescription history
Allergies
Personal details
They also facilitate smooth billing processes, insurance claims, and seamless integration with electronic health records (EHRs).
Patient and billing management software help pharmacies enhance customer service, improve medication adherence, and streamline revenue cycle management.
4. Clinical Decision Support Systems
These software solutions provide healthcare professionals with real-time clinical insights, drug interactions, and allergy alerts.
These systems assist pharmacists in
Making informed decisions
Ensuring optimal medication outcomes
Avoiding potential adverse effects
Clinical decision support systems leverage evidence-based guidelines and algorithms to provide recommendations tailored to individual patients, enhancing medication safety and effectiveness.
5. Workflow Management Systems
Workflow management systems optimize and automate pharmacy operations by streamlining tasks and improving efficiency.
These systems facilitate
Task assignment
Track progress
Provide status visibility of prescriptions and orders
Workflow management software ensures smooth coordination among pharmacy staff, reducing errors and delays.
6. Telepharmacy Systems
Telepharmacy systems enable remote pharmacy services by connecting pharmacists with patients through secure video conferencing or telecommunication channels.
These systems facilitate the following services in underserved or remote areas:
Medication counseling
Remote dispensing
Telepharmacy systems help improve access to pharmaceutical care and extend pharmacy services to a broader population.
7. Specialty Pharmacy Systems
Specialty pharmacy systems cater to pharmacies that specialize in providing medications for complex and chronic conditions, such as
Oncology
Rheumatology
HIV/AIDS
These systems support specialty pharmacy workflows, including
Medication ordering
Prior authorization
Patient education
Adherence monitoring
They often integrate with specialty drug manufacturers, insurance providers, and patient support programs.
You Must Also Read: Identify the Right Pharmacy Management Software for your Pharmacy
Key Players Driving Innovations in the Pharmaceutical Industry
Several prominent companies are leading the development of advanced pharmacy management systems.
Let's take a closer look at a few key players shaping the industry:
Cerner Corporation
Allscripts Healthcare
LS Retail ehf.
Safecare Technology
McKesson Corporation
Liberty Software, Inc.
Octal IT Solution
Epicor Software Corporation
GlobeMed Group
DMedHOK, Inc.
Though we don't have our name on the key players' list, we're dominating the USA and Canadian markets with our unique and custom-made software solutions.
What Makes Us Special In The Healthcare Industry?
We're working in the healthcare industry for almost a decade.
Our team is dedicated to the healthcare industry and we proudly state that we only take healthcare projects.
With a dedicated in-house team of RPA engineers, UI/UX designers, web and app developers, QA engineers, compliance specialists, and business analysts, we can assure you timely and effective solutions for your pharmacy.
We ensure that our solutions comply with healthcare regulations.
We've developed a powerful base for a pharmacy management solution.
Based on your requirements, we can modify it according to your pharmacy's workflow.
Fill up the contact form and let's discuss how we can assist you in achieving your pharmacy goals.