Best Telemedicine for Cardiologists: Explore Our Telehealth Solution for Cardiology Mobile & Web App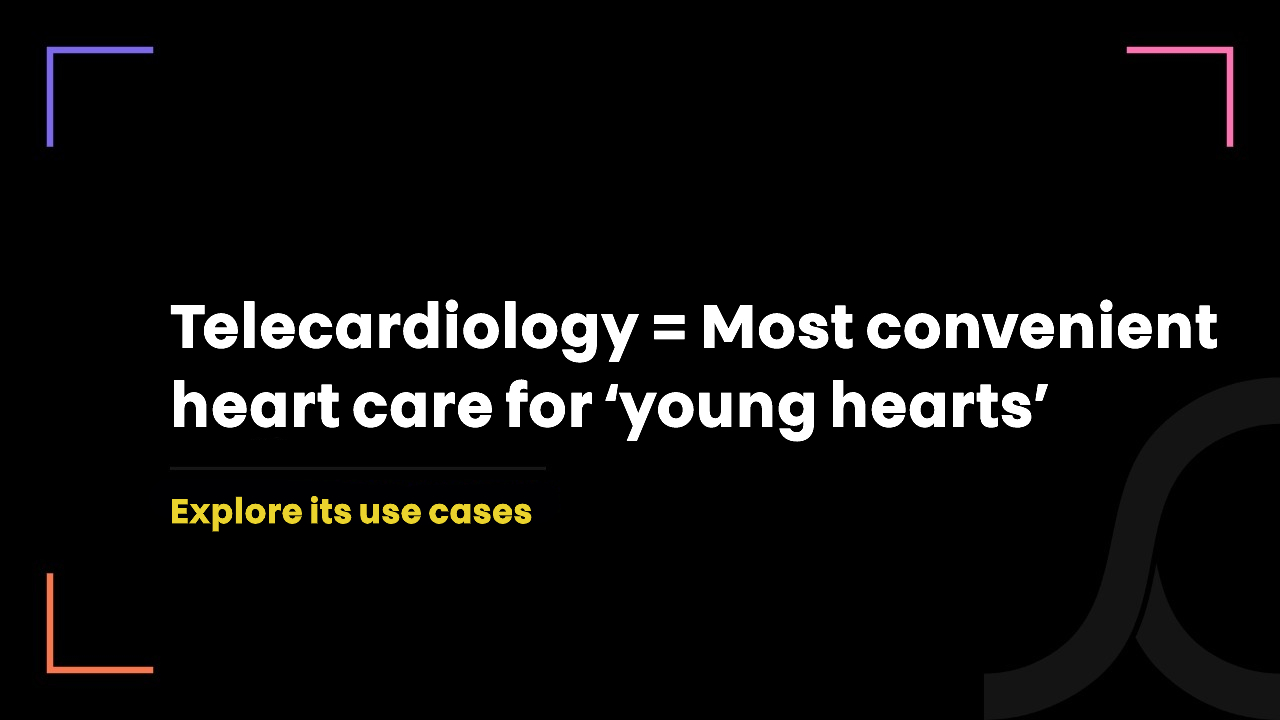 6 months ago
Dr. Eric, who is a cardiologist, attends the clinic on Friday afternoon. 
He goes into his office, turns on the tablet, opens the telemedicine app, and logs into it.
The patient with chronic heart disease is waiting on the other side – from the comfort of his home.
His patient does not need to take a day off from work or travel miles to the clinic. 
These actually are the benefits of choosing a telehealth app over in-person visits. 
So, are you in? Do you want to ensure continuity of care and a compelling care experience?
We can help you with our ready-to-use mobile and web-based telemedicine for cardiologists. 
Revealing the best telemedicine app for cardiologists – developed by Canadian developers
We are an Ontario-based healthcare-focused IT company.
We have been proactively working only in the healthcare industry – for the past 8+ years.
In our journey, we have successfully delivered more than 250 health tech solutions including 30+ telemedicine apps.
After working closely with cardiologists and understanding their clinical workflows, we have developed a ready-to-use telehealth mobile and web app for virtual cardiology. 
The following are the real-screen images of our white-label telemedicine app for cardiology along with links to its live demo.
You can access it as – a patient, a provider or a super admin.
(Note: The demo we shared is a web app solution. But we also have a mobile version of it which you can also explore in this blog. So, as per your need, you can either acquire both or individually.)
1. Super admin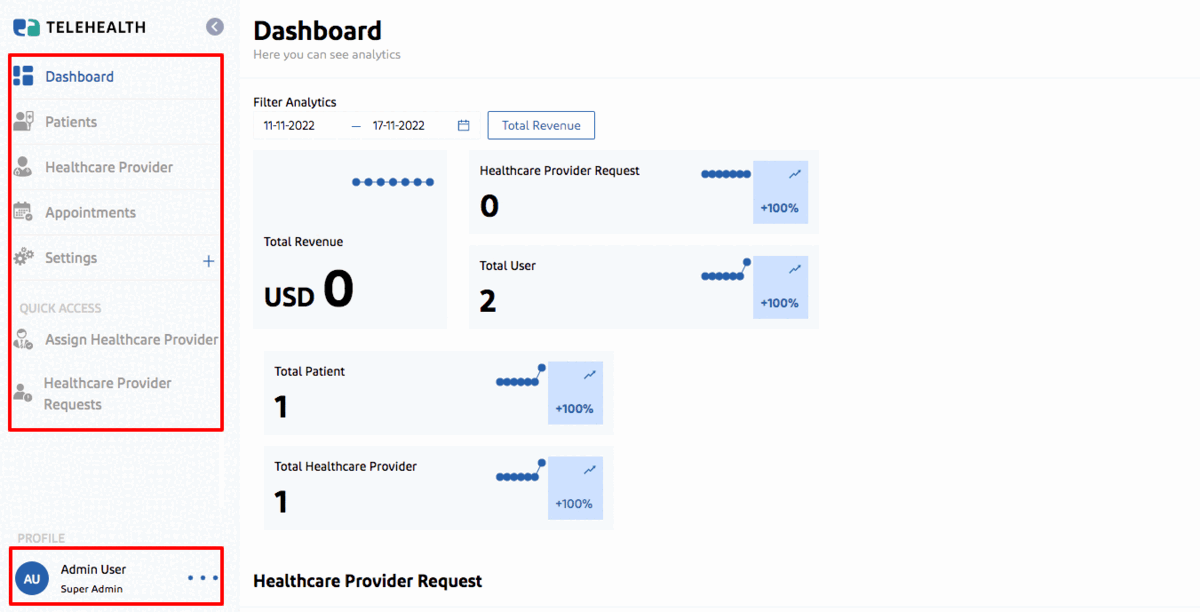 Super admin panel credentials:
Username: admin@admin.com 
Password: Admin@123 
OTP (2-factor authorization code): 123456
2. Patient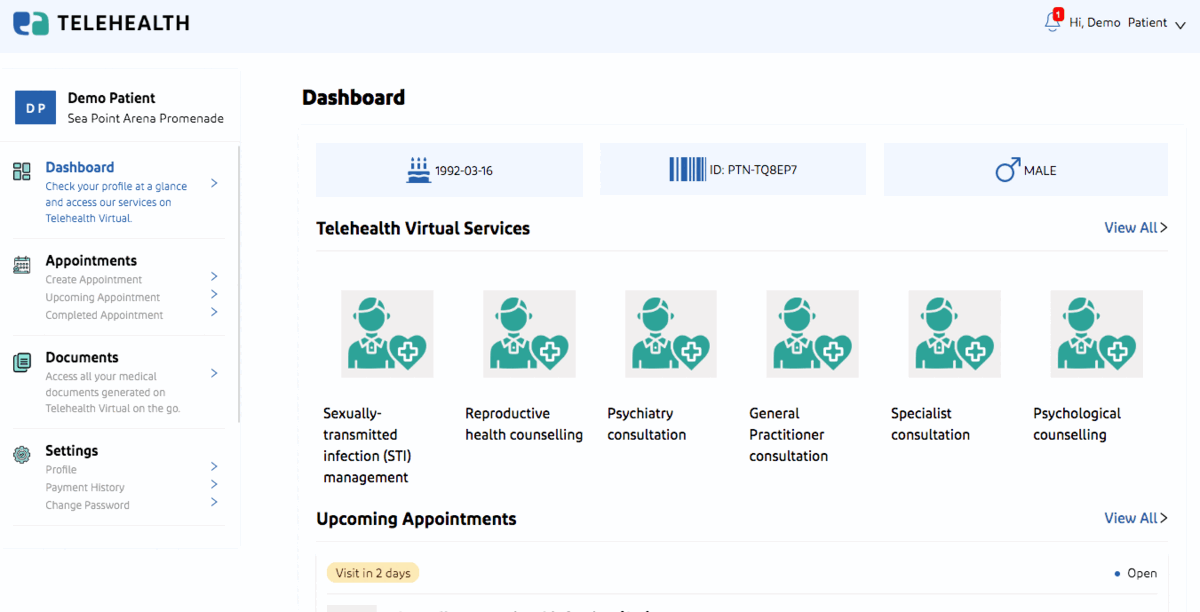 3. Healthcare provider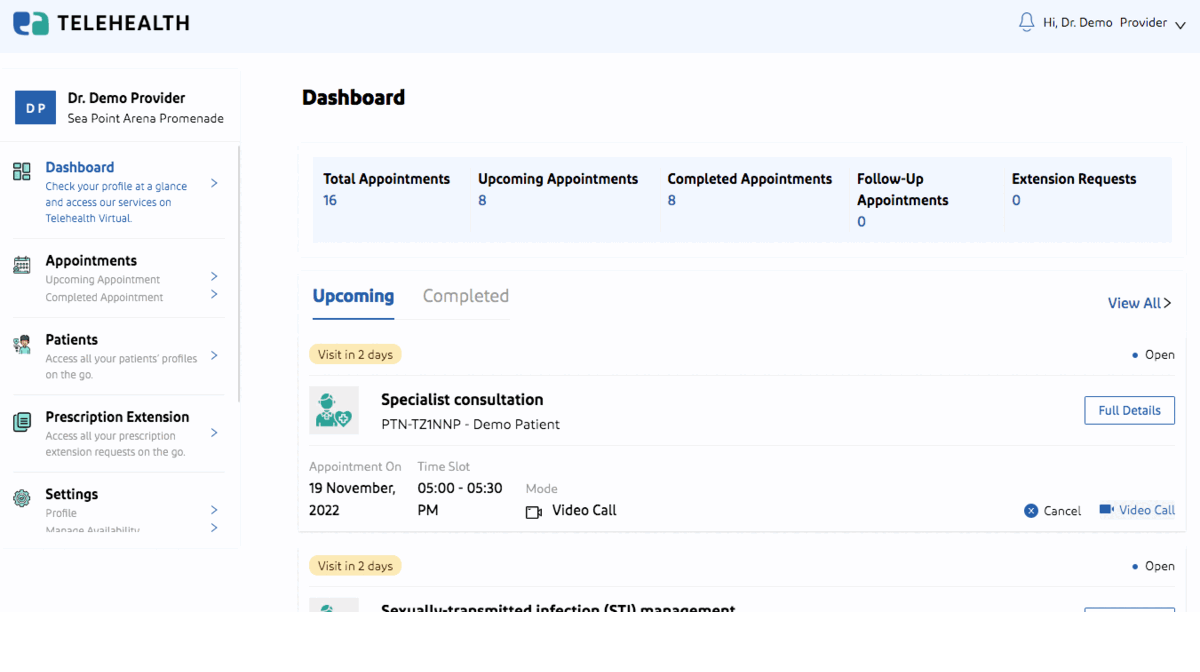 (Here username and password are auto-filled.)
For a better understanding, explore the entire blog on our white-label telemedicine solution. 
It should be noted that – we don't just provide ready-to-use telehealth solutions.
We also develop custom and clone telemedicine of popular apps such – Maple, Babylon and Akira. 
Meaning, if you have unique requirements (business, technical and compliance) for the telemedicine cardiology app, let's conduct a productive call.
Our dedicated team of healthcare app development experts will go through your unique needs and share a complete timeline of the project along with a free cost and time estimation!
The working of our telemedicine for cardiologist app
This is something that matters the most.
Because in 2023, telemedicine for cardiology is not more just about video calls! 
There are also some other functionalities you need to keep in mind – if you want to fulfill the unique requirements of your patients.
Following is how our telemedicine solution fulfills it along with streamlining the entire patient care cycle.
1. Appointment booking
The patient can book an appointment with the cardiologist (you).
You can book the appointment on behalf of your discharged patient or new patient.
The primary care provider refers his patient to you.
(No matter from which medium you receive the appointment request, you can always find details of all appointments in one place – your dashboard.) 
2. Video consultation
On scheduled appointment time, you and your patient can join the secure video call with just a single click.
You can prepare a personalized pre-visit questionnaire for the patient which they have to answer manually or select from pre-listed answers.
You have access to all medical data of your patients due to EHR/EMR integration with the telemedicine platform you are using.
To manage your multiple patients at the same time, you can create a virtual waiting room.
You can write the medical note while having a call with your patient.
You can invite a patient's primary care provider and caregivers on the same video consultation.
You can write the lab or medical referrals.
3. Prescribing the patient
You can search for the drugs from the built-in drug directory.
You can write the ePrescription within the app itself.
The patient can select the preferred pharmacy to get the medication.
The patient can also select between pick up or doorstep delivery of medication.
The prescription gets stored automatically under the digital bundle of individual patients.
Authorized persons including patients and their family doctors can anytime download prescriptions, medical notes, referral notes etc in PDF format.
4. Billing
If a patient has a valid health card, you can submit the claim with the billing code and diagnostic code to the health ministry from the app itself.
If a patient is uninsured, he has to pay you. He can make payments from the app's payment module using several payment methods.
In case, you still have doubts, watch this video. 
Top features of our telemedicine app for cardiologists
This is something that makes our telemedicine cardiology app the best in the market.
Because we have built these features by understanding the unique needs of almost 30+ cardiologist – who wants to start a virtual care clinic in Canada and the USA.
Following are the features of our ready-to-use cardiology telehealth solution.
How does our telehealth solution help cardiologists?
Currently, the adoption of virtual care is rising at a tremendous pace.
Not just for cardiology but almost for every specialty care.
The reason is – it brings convenience and affordability under the same roof!
Apart from that, the following are the top benefits of telemedicine for cardiologists.
Within minutes, the patients can book a virtual appointment with the cardiologist and have a video consultation.
It eliminates the need for both patients and cardiologists to share the same roof.
They can talk from anywhere in the world.
And this also reduces the chances of virus transmission.
Telemedicine saves many hours of waiting and the cost of travelling.
And since telemedicine is covered under OHIP, MSP and AHCIP, it is free for patients covered by any of these health cards.
Many times, follow-ups do not require a physical meeting.
With automatic reminders for follow-up and easy access to patient's medical records and medical notes of all previous consultations, telemedicine promotes patients' journey to recovery.
Easy cardiovascular diseases diagnosis 
Be it arrhythmias, aorta disease, coronary artery disease or pericardial disease, cardiologists can easily diagnose patients – thanks to the integration of an IoT-based heart monitoring system with a telemedicine app.
Better coordination between GPs and secondary care providers 
Cardiology telehealth solution provides diagnostic support for GPs.
And if needed, GPs can also refer patients to specialists with easy-to-generate and semi-automated referral notes.
Specialists can provide virtual care to patients from the same platform and after seeing the patients, they can submit the report to the GPs from the telemedicine app itself.
This way, it completely optimizes the referral-consultation process!
You should read this: How telemedicine referral works? 
How does a remote cardiac monitoring system integrated with telemedicine apps benefit you?
The major limitation of telecardiology is that it still requires some sort of physical contact while measuring the vital signs of the patient's heart.
But if you integrate a remote cardiac monitoring system with your platform, that monitoring system measures the vital signs by itself and shares the data with the telemedicine cardiology app in real time. 
So, with this, you can easily know the real-time condition of the patient's heart – without manually checking it or asking the caretaker to check it.
The major benefit of such an integrated system is that cardiologists can also access the historic vital signs data of patients.
With this, they can easily find the patterns and detect many severe heart diseases in the early stage.
Canada's top hospital based in NL is running a remote cardiac device monitoring program. 
Watch this video to know more. 
Our other useful resources on telemedicine:

How can we help cardiologists? Know our skillset with our telemedicine case study
We recently helped a team of Ontario-based healthcare professionals with their telemedicine app development needs. 
Their major requirements were,
A local technology company that can understand the Canadian healthcare system
A HIPAA/PHIPA/PIPEDA compliant telemedicine platform.
Built-in online referral system
We addressed each requirement with our earned expertise in the Canadian healthcare sector. 
We helped them with not only the development part. But with compliance and business too.
Because we are just limited to healthcare!
And with industry-specific knowledge, there is nothing in healthcare that is impossible for us. 
You can read the full case study here.