The Minister of Health's recent statement Creates Opportunities for Developing Digital Health Solutions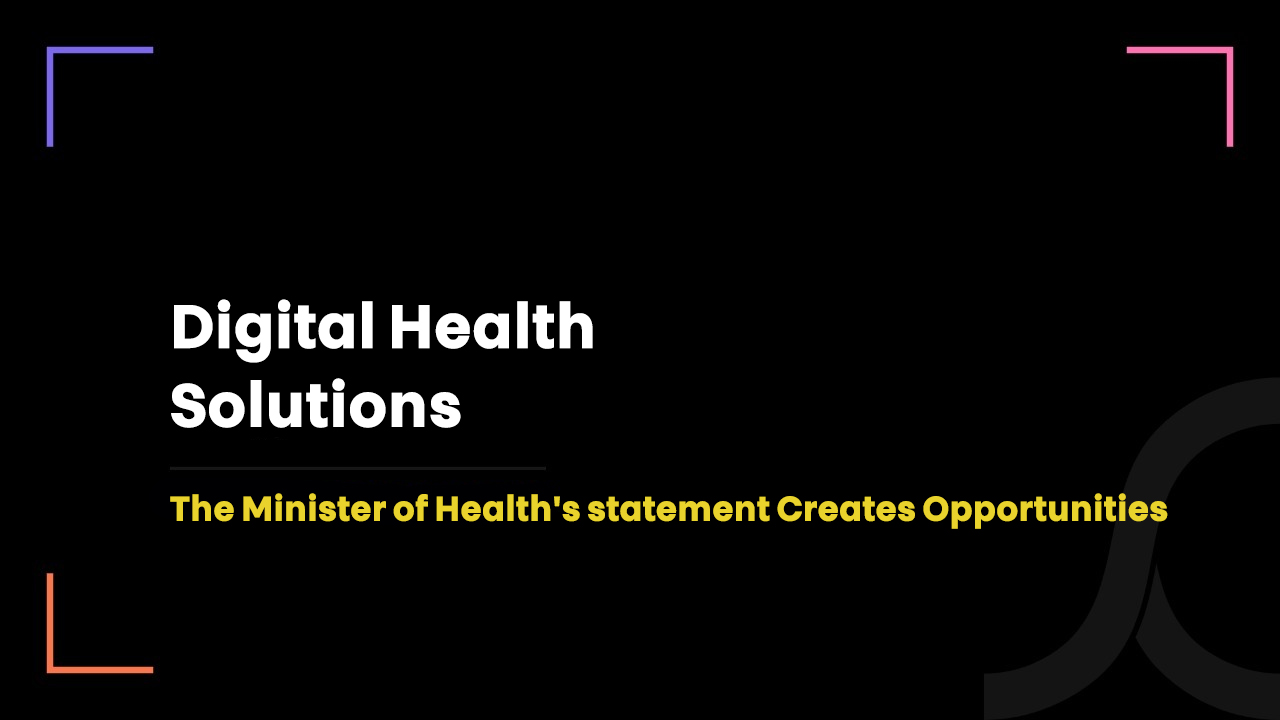 3 weeks ago
The Minister of Health's recent statement on the Canada Health Act has highlighted the need for further improvements in the Canadian healthcare system.
The statement emphasizes the importance of accessible and publicly funded healthcare for all Canadians and the government's commitment to protecting it. The Minister has outlined steps that will be taken to eliminate patient charges for medically necessary services, including the use of digital health solutions.
This statement creates opportunities for the development of innovative solutions to improve access to healthcare services and ensure that they are available to everyone, regardless of their ability to pay.
In this blog, we will explore the implications of the Minister's statement and the potential for digital health solutions to address the challenges facing the Canadian healthcare system.
If you're interested in developing digital health solutions that support the principles of universal, accessible, and publicly funded healthcare, here are some things to consider:
1. Partnering with Provincial or Territorial Governments: The government's commitment to accessible and affordable healthcare for all Canadians presents an opportunity for individuals or organizations to partner with provincial or territorial governments to develop and implement digital health solutions. This could include solutions that improve access to healthcare services, reduce costs, or improve the quality of care.
2. Focusing on Telemedicine: The shift towards virtual care during the pandemic has created a growing demand for telemedicine and other digital health services. Developing solutions that make it easier for patients to access healthcare services in their homes could be a valuable area of focus. For example, remote monitoring devices and teleconsultations can help healthcare providers deliver care to patients who cannot or prefer not to visit hospitals or clinics in person.
3. Streamlining Healthcare Delivery: The government's efforts to eliminate patient charges for insured health services could create opportunities for individuals or organizations to develop solutions that streamline the delivery of healthcare services and reduce costs for patients and healthcare providers alike. This could include solutions that improve communication between healthcare providers, reduce appointment wait times, or improve medical records' accuracy.
4. Focusing on Chronic Disease Management: Chronic diseases, such as diabetes, heart disease, and arthritis, are a growing burden on Canada's healthcare system. Developing digital health solutions that focus on prevention, early detection, and management of chronic diseases could help reduce costs and improve patient health outcomes.
5. Investing in Artificial Intelligence (AI) and Machine Learning (ML): AI and ML can transform healthcare in Canada by improving diagnosis, treatment, and patient outcomes. Investing in these technologies could drive innovation and improve Canadians' care quality.
6. Collaborating with Healthcare Providers: To develop effective digital health solutions, it's important to collaborate with healthcare providers, including doctors, nurses, and other healthcare professionals. By understanding their needs and challenges, you can develop solutions that address their pain points and improve the quality of care they provide.
7. Addressing Privacy and Security Concerns: The use of digital health solutions raises important privacy and security concerns, including issues related to data protection, consent, and access control. To develop solutions trusted by patients and healthcare providers alike, it's important to prioritize privacy and security in all aspects of your work.
8. Leveraging Open Data: Canada has a wealth of open data related to healthcare, including data on hospital performance, health outcomes, and health spending. We recognize the value of leveraging this data to develop insights and solutions that drive innovation and improve healthcare outcomes for Canadians.
9. Considering Rural and Remote Communities: Many rural and remote communities in Canada face unique challenges when it comes to accessing healthcare services. Developing digital health solutions tailored to these communities' needs could help improve access to care and reduce health disparities.
10. Engaging with Patients and Caregivers: Patients and caregivers are essential stakeholders in developing digital health solutions. By engaging with them throughout the design, development, and implementation process, you can ensure that your solutions meet their needs and are aligned with their values and preferences.
As a health-tech company, we can address many opportunities and challenges in support of Canada's commitment to accessible, affordable, and high-quality healthcare for all Canadians.
We are committed to working collaboratively with stakeholders across the healthcare industry to make this a reality.
Through our work with LTC Pharmacy, we have reduced transcription errors significantly, improving patient safety and outcomes. We also assisted a development firm in filling 47 security gaps to develop a HIPAA-compliant healthcare app, ensuring the privacy and security of patient data. During the pandemic, we developed a HIPAA/PHIPA/PIPEDA-compliant telemedicine app, expanding access to healthcare services for Canadians nationwide. Additionally, our testing process for a US-based telemedicine app was 5X faster, saving two human resources billing while ensuring the app met regulatory requirements.
These case studies demonstrate health-tech solutions' impact in improving the accessibility, quality, and affordability of healthcare services in Canada.
By working collaboratively and focusing on patient-centered solutions, we can help shape the future of healthcare in Canada and beyond.